Outlook Stuck & Not Responding When Sending/Receiving E-mails
Ashwani Tiwari | Published: December 27, 2019 | MS Outlook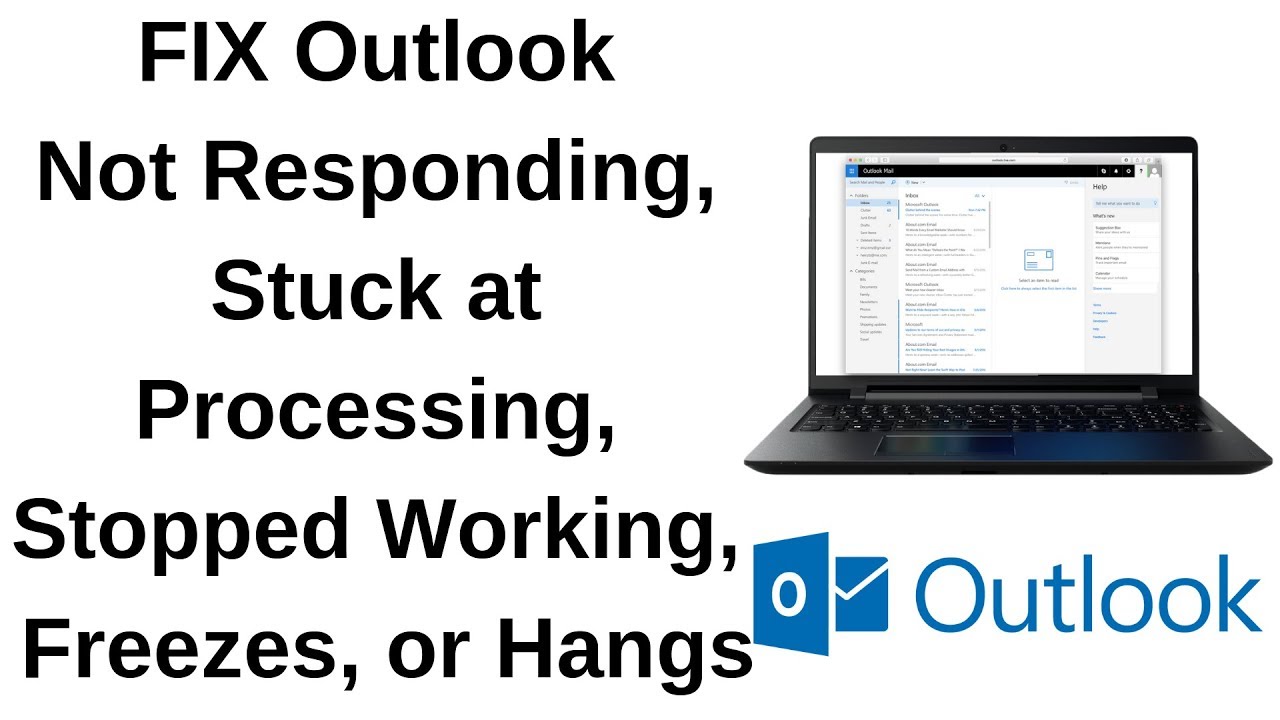 You were composing an important an email & suddenly your outlook stuck on sending email. Your Outlook hangs on loading profile or freezes while replying to an email. Or simply your Outlook is not responding.
If you are facing these kinds of problems then no need to look further. In this blog I am going to tell you easy ways to correct this.
Outlook Stuck at Processing, To Start Outlook in Safe Mode Follow These Steps:
In Windows 10- click Start >> type outlook.exe/ safe >> press Enter
For Windows 7- click Start >> type outlook.exe/ safe in Search Programs and Files box >> press Enter
Windows 8- choose Run in the Apps menu >> type outlook.exe/ safe >> click OK
Close Outlook then open it again normally.(FOR ALL WINDOWS OPTIONS)
If Outlook Stuck Or Hangs For Other Reasons Then, Follow These Steps:
If a dialogue box has been opened: anything you do in outlook, it asks for confirmation. For example if you will delete any contact. Outlook will ask if you are sure want to do that. If you avoid to choose anything, Outlook won't let you do anything else. In this case, check for dialogue box. Press Alt+Tab to see what is it, that stopping your outlook from responding.
Check if your Outlook got stuck on working on large processes: if you are deleting or moving thousands of messages at once. Outlook might appear like it got stuck. But actually it is working behind the scenes. Check the status bar at the bottom of the screen. Give some time to Outlook. Outlook should start working again.
Install latest Windows & update Office: It is recommended that your Windows should be latest and your windows applications up-to-date. For better user experience and better running of Apps. To install latest version and update Office check Install Office updates.
Repair Office programs: It can resolve your issues of Outlook hangs / freezes while performing operations. To do this quit all running program. In Control Panel you can choose Programs and Features. Right click Microsoft Office 2016 / Microsoft Office 2013 then click Change.
Repair outlook data files: If your Outlook stuck or freezes its better to repair your Outlook PST / OST files with scanpst.exe of Inbox repair tool. To do this exit Outlook and go to Repair Outlook Data Files (.pst and .ost) and follow the given steps.
Create new profile: you can create new outlook user profile & check if still your Outlook hangs. To create new profile choose the following options:
In windows 10- click start >> choose control panel & press Enter >> choose User Account >> Mail >> Show Profiles.
For windows 8- In Apps menu choose control panel >> Mail >> Show Profiles
For windows 7- click start >> control panel >> Mail >> Show Profiles.
>> Choose Add & type a profile name in Profile Name >> choose OK.
>> Enter Email address with password for the primary account in Outlook then, follow the steps to create a profile.
>> After creating profile, on the Show Profile choose Prompt for a profile to be used.
>> Start Outlook & choose your new profile.
Conclusion:
In this article, I have discussed all the solutions to try when your Outlook stuck and do not respond. There are numerous options you can choose to resolve this issue. It is advisable that you use latest version of windows and up-to-date windows applications.
You can repair your programs & Outlook data files by running scanpst.exe. You can also create new user profile in Outlook.