How to Import PST Files to Office 365 Mailbox Manually? Top Solutions
Summary: In this post, you will get to know the different solutions to Import PST Files to Office 365. You can choose either a free manual method or expert suggested utility. Read this write-up and follow the step by step solution for the same operation.
Nowadays, migration from desktop-based Outlook to Office 365 OWA becomes a very common thing. It's because users are getting a wide range of functionalities & features over the cloud platform. The best one is, of course, Office 365. Most of the users are familiar with its interface and its application. Office 365 is just a web-based version of desktop Outlook with more features.
But, the problems are, it is not at all an easy task to import Outlook pst file to outlook 365 if you don't know the right approach. Therefore, to help users to make this task simple, we have written this technical post. This post will explain to you how you can safely perform the above operation without any hassle.
Also Read:- Export address book from outlook 2019
Top 3 Methods to Import Outlook PST to Office 365 Account
Microsoft provides two methods of manual approaches using which users can move pst files to the outlook 365 clouds.
Apart from this, you can also use trusted and secure software for the same operation ensuring maximum security of data. All solutions are explained here:
"Hello, I am Rachel. Recently, I have bought Office 365 subscription plan and create an account. But, there is no option to import PST files to Office 365 mailbox, like it was in Outlook email client. I am not much of a technical user. Please guide me with a method to resolve how to import outlook 2010 pst file to outlook 2019. Thanks in advance."
Also Read:- Import Outlook Calendar to Office 365
Method 1: Automated Way to
Transfer PST Files to Outlook 365
The most trusted and verified software by Microsoft MVPs is Outlook Office 365 Import Tool. Free download demo version of the application.
It is the only solution that overcomes all the limitations of manual approaches. It supports migrating email, contact, calendars, the task from PST files to Office 365 account. Also, capable to maintain folder hierarchy throughout the process. This tool supports the Incremental Import approach which allows us to migrate only new or updated data from a PST file.
Moreover, the date filter is also available for selective Outlook data migration from the PST file to O365. Also, the software is available for all Windows Operating systems.
Also Read: How to Export Office 365 Contacts to VCF
Steps to Move
 PST Files to Office 365
Follow the listed steps and easily migrate Outlook emails, contacts, calendars, tasks, notes, etc. to Office 365 account.
Note: Login via Office 365 admin account if the user wishes to import Outlook PST file into multiple Office 365 accounts simultaneously.

Also, to import PST in Office 365 shared mailbox. And login via User credentials to import multiple Outlook PST into your own Office 365 account.

Pre-Requisites to Import PST to Shared Mailbox in O365 Using Software

Add Admin Impersonation Permissions in Exchange Admin Center.

Specify Mailbox Import Export Permissions to the Discovery Management Role Group.




Then Allocate UserMailbox Permissions to the Assigned Admin Account.


Step 1. Firstly, Enter Office 365 Admin or User credentials for login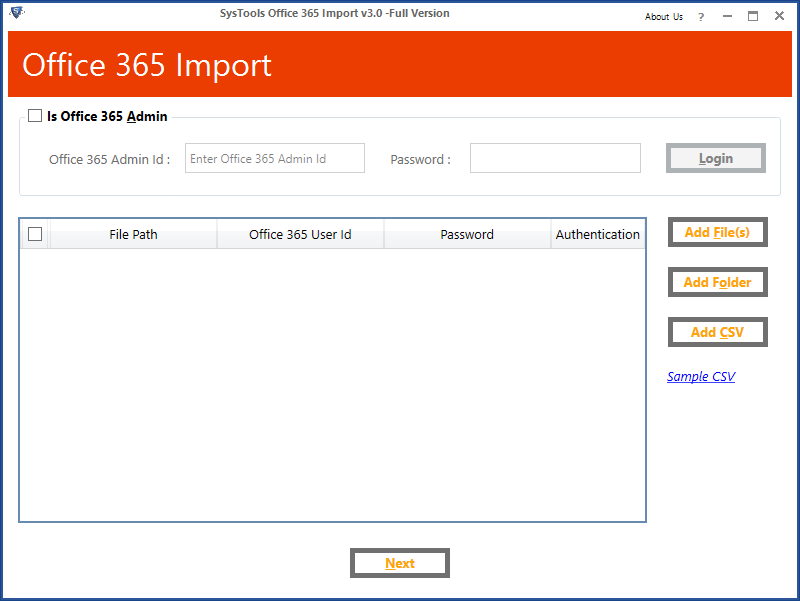 Step 2. After that, click on Add File / Add Folder / Add CSV option for importing PST files.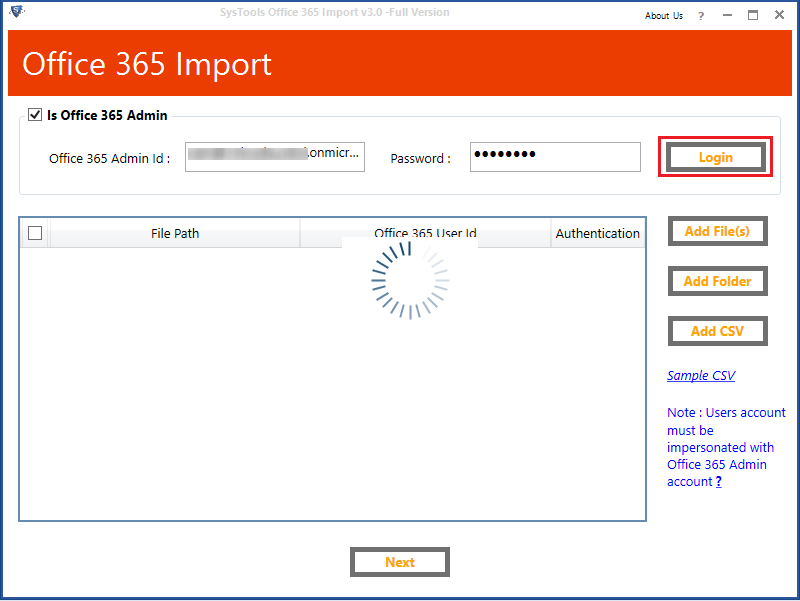 Step 3. Map each PST file with its destination client ID.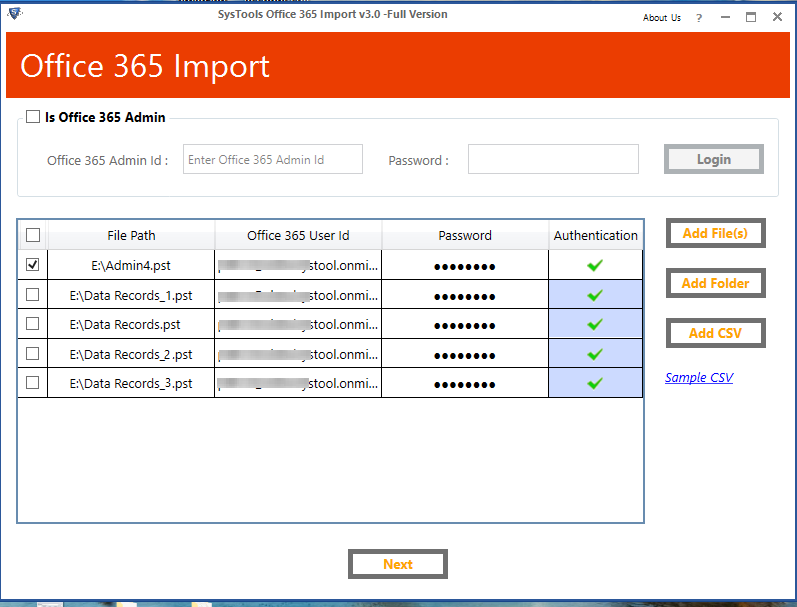 Step 4. Now, Select the Category of data your need to Import and Apply filter for each selected category.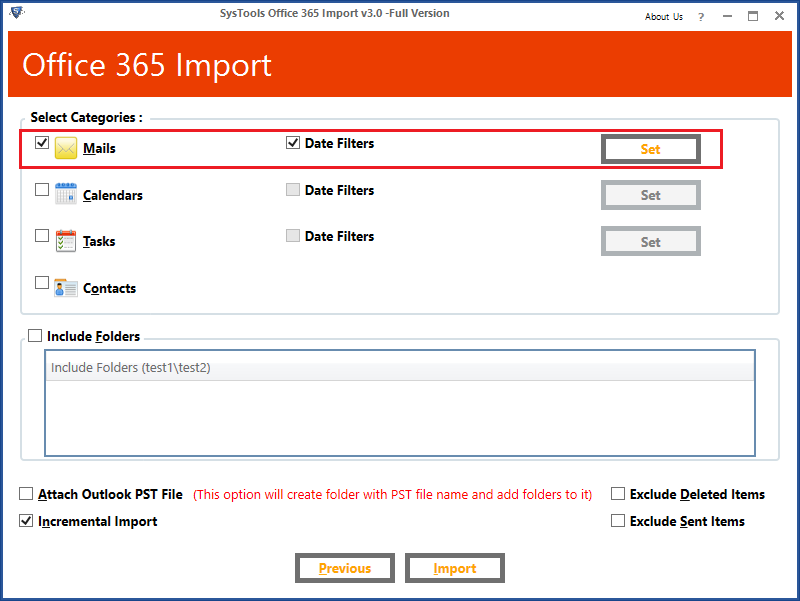 Step 5. Finally, Click on the Import button to start the import process.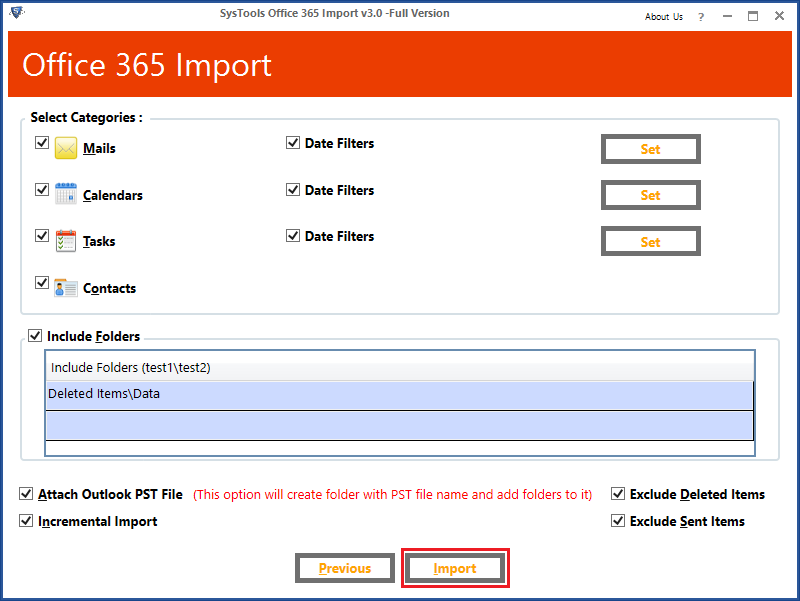 Why Use This Utility Over Others?
Import multiple PST files to Office 365 mailbox quickly.
Incremental import option to import new or updated files.
Support Login using both Admin or User account credentials.
Allows to Import PST to Office 365 shared mailbox.
No file size limitation to moving Outlook data files to Office 365.
Easily import large-size PST files to Office 365 users' accounts.
Support to Migrate Unicode and ANSI PST to Microsoft 365.
Move Data File from Outlook 2019, 2016, 2013, 2010, 2007, etc.
Method 2: Import Outlook PST into Office 365 – Drive Shipping
Office 365 has provided its own method for its users to Import PST Files to Office 365 Mailbox. It is basically used to bulk move pst files to Office 365 account.
Drive Shipping Workaround copy the Outlook PST file on a drive and manually forward the drive to Microsoft. Once Microsoft validates the file, it moves the data from the drive to the Microsoft cloud.
Here, users can select the desired PST data and import it into target mailboxes using setting filters. And, when the import job begins, the O365 Import service migrates the PST data to Office 365.
For a Complete and step-by-step guide to using the drive shipping method to import Outlook data files to an office 365 mailbox.
Limitations Associated With Drive Shipping Method
This method also has some downsides that must be considered before approaching this workaround.
Currently, the Drive Shipping method is available in the United States, Australia, Canada, the Republic of Korea, Brazil, Japan, the United Kingdom, Southeast Asia, Europe, India, and East Asia.
This method is available through the MS Enterprise Agreement (EA). It cannot be available via. Microsoft Products & Services Agreement (MPSA).
The cost associated with the drive shipping method to upload a PST file Office 365 OWA is $2 USD/GB of data. For example, if you ship 1 TB of PST files, the cost should be $2,000 USD.
A maximum of 10 hard drives can be the ship for an individual import job.
A time-consuming procedure and data item of more than 150 MB will be skipped during the migration task.
Users cannot import Outlook PST file that has 300 or greater than nested folders.
Network Upload to Import Outlook PST File into Office 365
Use Network Upload to import outlook pst files to outlook 365. It is a free manual method. To use this process one requires high and sound technical skills.
This technique is very complicated and not reliable for non-technical users. But if you still want to use this technique, follow these below-mentioned steps to bulk import PST to Office 365.
In the Network Upload method, you have to perform 5 steps.
Know These Before Begin
By default, the Mailbox Import Export role in Exchange Online is not assigned to any role group. You need to get this role. Use the Organization Management role group to assign Mailbox Import Export to your mailbox.
Another way is to create a new role group, assign a Mailbox Import Export role, and then add yourself as a member.
Apart from this, also you need to be assigned to the Mail Recipients role in Exchange Online which is by default assigned to Organization Management and Recipients Management role groups.
Or to use Network Upload to import PST files to Office 365 you need to be a Global Administrator in your Office 365 organization.
Step 1: – Download the Azure AzCopy Tool & Copy SAS URL
Open https://protection.office.com and log in to Office 365 organization using Administrator account credentials.
Go to the Security & Compliance Center and select Data Governance >> Import
A new Import dialog box will appear, choose + New Import Job
The New Import Job wizard will be displayed. Give a name to the Import Job and click Next
Do, you want to upload or ship your data? Window hit on Upload your data and click on "Next"
A new "Import Data" window will be displayed. You need to do two things here: Copy SAS URL and Download & Install Azure AzCopy Tool
A pop-up will appear, choose Run to install Office 365 Network Upload tool completely.
Note: Copy your SAS URL carefully in a text file as it is unique to your organization. You will need it later for transferring PST files to Office 365. Download Azure AzCopy version 7.1.0 only.
Step 2: – H
ow to Transfer PST Files to Outlook 365
Open your command prompt by typing "cmd" in the Run window
Go to the directory location where you have installed Azure AzCopy.exe
Perform the following command with the following syntax
AzCopy.exe /Source:<Location of PST files> /Dest:<SAS URL> /V:<Log file location> /Y
The actual command will be like this
AzCopy.exe /Source:"\\FILESERVER1\PSTs" /Dest:"https://3c3e5952a2764023ad14984.blob.core.windows.net/ingestiondata?sv=2012-02-12&se=9999-12-31T23%3A59%3A59Z&sr=c&si=IngestionSasForAzCopy201601121920498117&sig= Vt5S4hVzlzMcBkuH8bH711atBffdrOS72TlV1mNdORg%3D" /V:"c:\Users\Admin\Desktop\AzCopy1.log" /Y
Step 3: – Create a Mapping File of Imported PST
This is the most crucial step of the Network Upload method to migrate pst files to office 365. After the complete upload of PST files to Azure Cloud Storage, create a CSV file that will specify the mapping of the PST files to which mailbox it is to be moved.
This CSV file will be required in the next step where you need to create an Import Job.
Step 4: – Create Import Job in Office 365
Log in to your Office 365 account and do the steps as shown in step 1
This time select the following options in the dialog box
On the Import data page, select the following options
Select the Mapping File option in the next window and choose "Validate"
After successful validation, click on Save and finally select Close after the job is created
Step 5: – Filter and Start PST Import Job
A window will be displayed, in the Security & Compliance center, and select Ready to import to Office 365
On the flyout page, click Import to Office 365
After clicking that, the filter of your data page will be displayed. You can easily apply filters according to your requirement and import your organization's PST files to Office 365
Limitations of the Network Upload Method
As you can see, the network upload method is very complicated and lengthy to use. It requires high technical knowledge.
The steps are too hectic and time-consuming. If the PST file size is more than 20 GB, then it will create a lot of issues.
You have to save the PST file on the server or shared folder.
To overcome that, we have come up with an extremely extraordinary solution for importing multiple PST files into Office 365 which is discussed in the next section.
Conclusion
In this article, we have discussed two manual approaches that can import PST files to Office 365 mailbox. Due to the limitations of the Network Upload and Drive Shipping method, we also discussed an automated solution. It overcomes all the downsides of manual approaches and moves Outlook PST into Office 365 in the minimum time of utilization. You can first try the free demo version of the tool which allows you to transfer 25 items per folder from a PST file into Office 365 OWA.