Repair OST File – Guide for How to Repair Corrupted OST File in Outlook
Points to be Discussed Here:

The post will elaborate on the process of repairing OST files through different methods along with all essential information.
Offline Storage Table (OST) is an offline folder file in the MS Outlook email application. Offline folders make it possible for the user to work offline and then sync changes with the Exchange server the next time they connect. A user can easily perform actions such as reading or deletion of existing mail, draft saving, the composition of new emails, etc. The ability to work offline is useful in platforms with limited or unreliable connectivity. In addition, Exchange Server damage does not affect the OST File. But, sometimes the OST file gets corrupted and users need to repair the OST file before accessing it.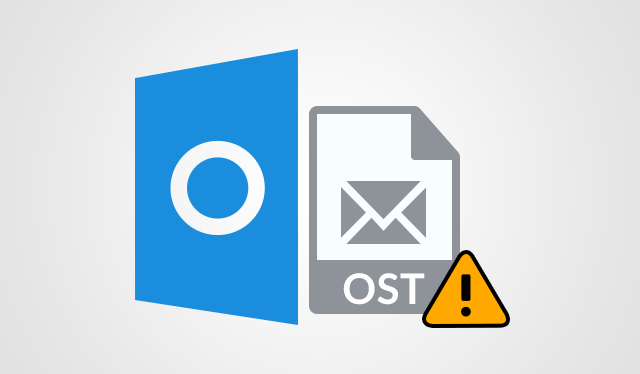 Primarily the release of MS Outlook 2010, we were capable to repair a corrupted OST File. However, with hands-on with this updated version or its older version, Microsoft has extracted the repair tool like "Scanost.exe". Therefore, its restoration has become a challenging task. Still, there are methods to recover corrupted OST Files. Find all reliable solutions to repair OST files in Outlook.
Quick Solution to Fix Corrupt OST File:

OST file corrupted and unable to access. Perform the steps:

Firstly, Download and Install OST Repair Tool
Then, Browse corrupted or damages OST file
After that, software will repair corrupt OST file and save 
Finally, access the OST file in Outlook 
How Does Outlook OST File Gets Corrupted?
There is a number of reasons for the Outlook OST file to get corrupted. When this happens, OST files may become completely unreadable. Some of the software and hardware reasons that might corrupt OST files. Before proceeding with the OST repair solution. Let's first list all possible reasons for OST corruption.
When an offline OST file is about to reach its stipulated limit, it turns corrupt or even becomes inaccessible.
Abnormal termination of the MS Outlook program can corrupt Outlook.ost file.
Inappropriate Microsoft Outlook Add-in can result in OST file corruption.
The unexpected performance of the device can be due to the malfunctioning of any item or due to bugs and virus infection.
The bad functionality of the network cards, cables, routers, and other similar devices directly affects the functionality of the Outlook OST files.
The sudden power failure may lead to OST file corruption if, the instance occurs when a user is actually working with the OST file.
Methods to Repair Corrupted & Damaged OST Files in Outlook
A user-repair corrupted and damaged OST file easily with the help of the following manual workarounds. In the upcoming section, we are going to describe all the workarounds to repair OST files step-by-step. You just need to follow all the steps carefully to get a better result.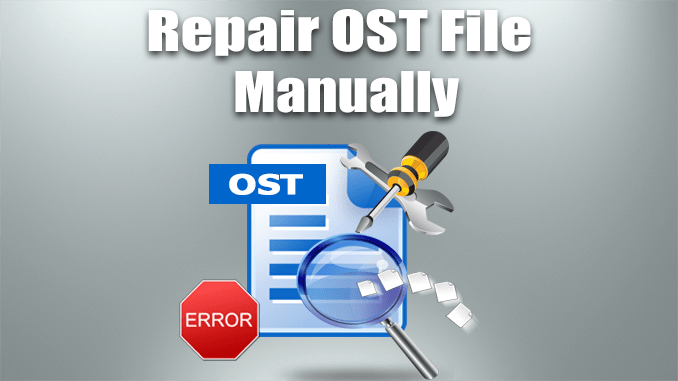 Method 1: Repair Outlook OST File Using Upload Folder
It is the easiest way to repair the OST file and fix the corruption issue. Simply perform the steps:
Firstly, right-click on the OST file folder, and select Properties.
When the dialog box displays, hit on the 'Clear Offline Items' option under this dialog box.
After that, choose the "OK" option to move forward
Now, on the Outlook ribbon, select Send/Receive option
Lastly, click "Update Folder" to save the changes.
Note: – Now check whether the OST file is repaired or not. If not then move to the second workaround.
Also read:- How to Delete & Recreate OST File in Outlook
Method 2: Repair OST File With In-Built Tool Scanost.exe
Microsoft Outlook consists of an in-built tool i.e. scanost.exe, try this utility, and repair the OST file easily. Follow the steps listed below:
Initially, Stop the MS Outlook application before starting the repair procedure.
Now, start Scanost.exe

by double-clicking on it, the default location is

drive:\Program Files\Microsoft Office\OFFICE12

(the destination folder path may be different depending on your Outlook version).

In this step, if you have several Outlook accounts, the tool will pop up to select the OST file

that you want to repair. Simply select the corrupted OST file and proceed.

If you are prompted to Work Offline, hit on "Connect

" and select the option according to your desire.

Lastly, choose the repair errors checkbox

to automatically fix errors while scanning the OST file. Afterward, click on the

Scan

button.
Note: – The utility is proposed by Microsoft. So it is a free utility, so you can use this for free. If the problem persists and you are not able to fix the OST corruption issue and unable to repair the OST file. Then move to workaround 3.
Method 3: Repair Corrupt OST File by Recreating A New OST
MS Exchange Server uses an offline OST file, which is a copy of the information saved on the email server. If anywhere you encounter issues with the OST data file, then you can Delete the existing OST file and recreate the OST file.  the process is applicable for Outlook 2019, 2016, 2013, 2010, and the below versions. You should have to perform this process wisely, only if your OST file is not usable anymore. It will help you to repair the OST file but some data loss may occur.
Method 4: Disable Firewall & Anti-virus settings to Repair OST File
The user can turn off the antivirus program, and other firewall settings, as some applications (like Outlook), are programmed to scan and detects problems for every incoming and outgoing email. An enabled antivirus setting may block the normal working of the MS Outlook at times, so you may need to disable the settings and restart the system to view the changes. Sometimes this trick works to repair corrupted OST files. Which is actually not corrupted but blocked.
Method 5: Launch Outlook in Safe Mode to Repair Corrupted OST
The main purpose to start MS Outlook in safe mode is to disable any add-ins that may occur errors during the rebooting procedure. It permits working safely without any files or add-in being corrupt. This command will not repair the OST file but provide access to an inaccessible OST file. Simply utilize this command to launch Outlook in safe mode:
"outlook.exe /safe."
Drawbacks Of Executing Manual Methods to Recover Damaged OST File
This is only capable of repairing only minor OST file corruption issues
There is no surety to recover data from the OST file
Does not provide any guarantee for the safety of the data
The scanost.exe tool is unavailable in Outlook 2010, 2013, or later release
Method 6: – Repair Corrupted OST File Without Any Data Loss
The user can go with an alternate approach to repair the OST file. As we know that the above-mentioned manual solution contains some drawbacks. So, we come up with an appropriate method to repair corrupt OST Files such as OST Recovery Software. With the help of this tool a user can easily repair damaged and corrupt OST files. The software facilitates an understandable user interface even a novice user also avail it. The tool is capable enough to fix a highly corrupted Outlook OST file within a few minutes. The application has some amazing functionalities, some are listed below:
Repair and Restore OST files into multiple file formats
Split exported File into the small size to avoid corruption
Retains metadata like the read/unread status & message date
Repair .ost file of both compressible & high-level Encryption
No file size restriction for repairing orphaned offline OST file
Supports Outlook 2019, 2016, 2013, 2010 and all below versions
Why OST File Gets Corrupted in Outlook? – User's Query!
The queries mentioned below are taken from different discussion sites. Simply read and understand the different scenarios of OST file corruption and know how to repair the corrupt OST file?
"My Outlook account OST file corrupted and restrict me to open. Now I want to know how can I remove corruption from OST file. Please guide me the easiest solution to fix corrupt ost file Outlook 2013."

"The Exchange OST file corrupted and creating lots of trouble. I want to repair corrupt OST file by myself. Please guide me complete steps here to repair corrupt OST file in Outlook 2016."

"I am not getting why OST file gets corrupted in Microsoft Outlook 2016? Now I am urgent need to repair corrupt OST file without losing information."

"Microsoft Exchange OST file corrupted and not opening. Now looking for a verified solution to resolve the OST file corruption issue. Is anyone here to help me with proper guidance? To fix corrupt OST file for Microsoft Outlook 2013."

"How to repair corrupt Outlook.ost file? I am using Windows 10 and Outlook 2016 with Exchange Server 2016. My Outlook OST file gets corrupted. Please suggest me a valid way to repair corrupt OST file."

"My old OST file gets corrupted, I don't know how? But, now I want to make it healthy. Please suggest me a professional way to repair corrupt OST file. I am new to repair OST, so please suggest me the easiest way."

"My main concern is how do I repair a corrupt OST file? Please suggest me a trusted way to repair Outlook OST file. Please reply soon, Thanks in Advance!"
Note:- After analyzing all the above queries. We can say that OST file corruption is a common issue faced by users. In case of OST file corruption, you need a repairing solution to fix the OST file corrupted issue. Above in this post, I have explained the free manual solution to repair corrupt OST data files. After performing the steps listed above you can easily fix the OST file always corrupted issue.
Final Verdict
At times, corruption is unreliable in Outlook data files that can restrict the user to execute normal functioning. The in-built solutions are not a successful technique to completely rely on to deal with OST corruption problems. Moreover, the proposed tool uses a safe, secured, and swift method to repair OST files, instantly. We described both methods users can opt for any one of them as per their need to repair the Outlook OST file. I hope after going through all steps, now you have resolved your query on how to repair a corrupted OST file? Still have any doubt, feel free to contact me.
Repair Corrupt Outlook OST File – FAQ
Is It Possible to Repair a Corrupted OST File Without Microsoft Outlook?
Yes, it is possible to repair corrupted OST files without Outlook 2019, 2016, 2013, 2010, 2007, and below versions. But, for this you have to use the software explained in this post.
Can I Repair Damaged OST File Without Exchange Server?
Yes, you can easily recover damaged or corrupted OST files even without Microsoft Exchange Server. Simply download software from the above-given link. However, in this situation, the manual (free) method will not work.
SCANOST.EXE is Unable to Repair Large Size OST File (85GB) – What to Do?
In many situations, scanost.exe does not work. Then, it is not capable to fix highly corrupted OST file issues. To overcome this situation try the automated solution explained in this post.
After Repairing Corrupted OST File, Can I Access Outlook 2019?
Yes, Once the OST file has been repaired, you access it on Outlook 2019, 2016, 2013, 2010, 2007, and below versions. So, use the tool and repair the damaged OST file.