Most Popular Methods to Repair Outlook Data Files
Ashwani Tiwari | Modified: March 20th, 2021 | MS Outlook
Having you as a reader on this page means you want to know how to repair Outlook data files. Hold on, as this blog will not waste time suggesting some outdated and ineffective methods to you. Get all the popular and 100% working solutions to repair Outlook data files here.
How do You Know It is the Time to Repair Outlook Data Files
Everyone know that if the Outlook has stopped working completely, it might be because of the corrupted data file. It that point, repairing the PST file is obvious. However, there are other situations that should be considered as the symptoms of corruption and users should repair corrupt Outlook data files without wasting any more time.
If Outlook shuts down unexpectedly while users are working on Outlook
If one or multiple Outlook folders are not accessible
If there is a virus attack on a computer
How to Repair Outlook Data Files: Solutions You Can Trust
Two methods are trusted by Outlook users in order to repair data files. Read on to learn the complete procedures to apply both the approaches. The discussion will begin with the manual method.
Manually Repair Outlook data Files with scanpst.exe
With every Outlook, an Inbox Repair Tool or scanpst.exe is added. This utility can fix minor corruption of small sized data files.
1. Exit Outlook and Open SCANPST.EXE by going to any of the following locations
Outlook 2019: C:\Program Files (x86)\Microsoft Office\root\Office16
Outlook 2016: C:\Program Files (x86)\Microsoft Office\root\Office16
Outlook 2013: C:\Program Files (x86)\Microsoft Office\Office15
Outlook 2010: C:\Program Files (x86)\Microsoft Office\Office14
Outlook 2007: C:\Program Files (x86)\Microsoft Office\Office12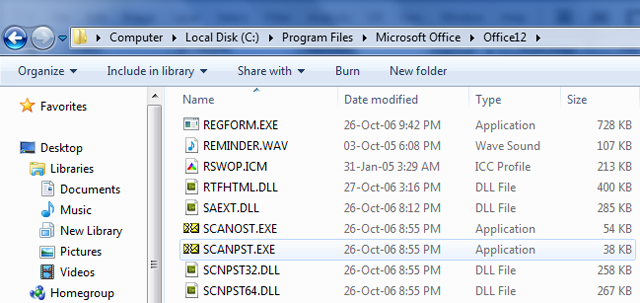 2. Click on Browse button and navigate to the location of the Outlook PST data file to select it.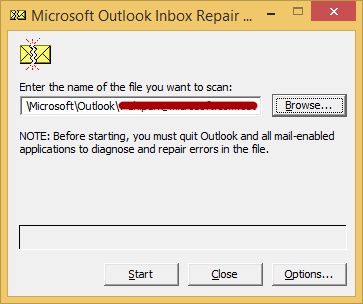 3. After selection, click on Start to initiate the scanning process.
4. If there is any error, the tool will notify that. Then users have to choose Repair to start repairing the corrupt Outlook data file.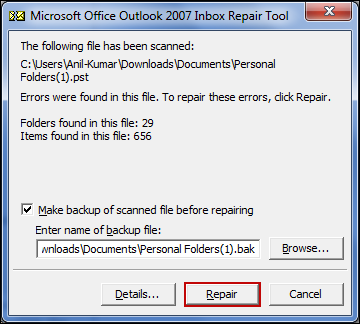 5. Users can view the results of repairing. Now, they can start Outlook and check the profile associated with the repaired Outlook data file.
Note: Each time users use this tool to scan, it creates a new log. If one chooses not to create a new log, they can go to the Options section and make sure that new scan results are recorded in the existing log file.
What are the Limitations of Native Tool
Though Scanpst.exe is a native option offered by Microsoft, it will be foolish to think that this tool does not have any drawbacks. This tool has its own limitations too and these are:
It can only repair Outlook data files that are less than 2 GB in size
Users complain of having to use this utility for multiple times even to fix small errors
It repairs only minor corruptions hence not compatible with the complex corruptions of the present time
This tool often gives rise to errors such as "scanpst not responding after clicking repair"
Hassle-free Technique to Repair Corrupt Outlook Data Files for Smart People
PST Repair Software
Download Now Buy Software Now
(100% Secure)
For the clever people who know the value of time will not go for this manual method where there is no guarantee of accuracy or success. Such people always prefer using SoftwarePro Outlook Recovery Tool. This application is one of the top choices of professionals and corporate users when it comes to repairing their Outlook data file PST.
If you also want to repair corrupt PST file in a single attempt, download this software and start following the steps written below.
1. Open this efficient software that can repair Outlook data files without a miss.
2. Click on Add Files button to add any number of Outlook PST data file.
3. In the preview section, have a look at the complete data that the tool repaired.
4. Choose the output file format (PST or others) for the data file content.
5. Select the folder to store the repaired data and click on Export button.
Once the users implement these steps, they will get all the Outlook data file repaired. Then they can import these files in Outlook or any other email client of their choice.
Added Benefits of Using this Automated Tool
If the 100% success rate of this software is not enough, here are some other reasons for choosing this software over the manual method to repair corrupt Outlook data file.
Repair Orphan PST File without Outlook Installation: Since this tool is not dependent on Outlook installation, users can repair Outlook data files that are orphan with this tool.
Works of Any Size of PST file: Whether you have ANSI PST file of 2 GB or Unicode PST file of 50 GB, this tool will repair in no time.
Repair Any Level of Corruption: With "Quick" and "Advance" scan modes, this Outlook data repair utility can remove minor and major corruptions respectively.
Multiple Options to Save Repair: Once the data file is repaired, users can save the data in default PST file along with MSG, EML, HTML, PDF, and Office 365 (directly import into Office 365 account.)
Selective Data Recover Option: With this program, users can save the selective items after they repair Outlook data files. The section can be done based of date range, or chosen folder, or individual items.
Numerous Essential Features: Apart from the mentioned features, this tool also offers to maintain folder hierarchy, not exporting empty folder, split PST file, Ignore System Folder, flexible naming conventions, etc.
Search Outlook Data File: If users are unaware of the location of Outlook data file, they can easily find that with the Search option of this tool. It can find the data file for a single drive or the whole computer.
Conclusion
If the Outlook data file becomes damaged or corrupted, or it stops working for no apparent reasons, users search for the answer to this question how to repair Outlook data files. This blog provided the ultimate solutions to repair MS Outlook PST data file of any version.
With the given full guide, users should not have any trouble fixing the corruption of the data file. However, for complete corruption removal from the PST file, there is no better option than the application mentioned here.