Inbox Repair Tool / ScanPST Not Responding After Clicking Repair: Solved
Ashwani Tiwari | Published: December 1, 2018 | MS Outlook
Scanpst not responding after clicking repair issue means double trouble for an Outlook user. The scanpst exe not responding during repair means that the PST data file is already corrupt. The Microsoft Outlook inbox repair tool not working issue will only make the bad situation worse. Unfortunately, this condition is not uncommon as we have come across this related user queries in Microsoft Outlook technical forums:
Here in this blog, we will discuss solutions for all googled queries related to this Inbox Repair tool not responding during repair process.
Scanpst Not Responding When Repairing: User's Case Study
User A said:
"For the last few days, I am having some serious trouble with my MS Outlook 2010 version. I thought of trying the built-in tool of Outlook, which is also known as Inbox Repair Tool or scanpst.exe. That tool was also able to locate the corruptions of PST file. But the problem started when I attempted to repair those corruptions. As soon as I clicked on the Repair button of inbuilt utility, Scanpst.exe became not responding during repair process or after clicking repair button. I had to end task by going to Task Manager to get back to the normal mode. Nonetheless, the same problem happens whenever I try to fix PST data file using that tool. Please tell me a way out of this disturbing situation."
User B said:
"In order to fix inaccessible PST file issues in my Windows 7 system, I tried scanpst.exe, which I thought to be a trustworthy solution to solve PST file problems. But I was wrong. That tool was not able to fix PST corruption, it ends up like Scanpst not responding after clicking repair. It clearly shows that this tool does not have the ability to resolve PST file corruption issues for some reasons and end up with scanpst freezes during repair. Due to this reason, I could not use MS Outlook 2016 for several days. Therefore, I am requesting all my fellow Outlook users of this forum to respond and provide me with a reliable technique to fix scanpst crashes during repair process."
As readers can see, they are not the only ones having this 'Scanpst.exe not responding during repair' problem. Many Outlook users face scanpst exe crashing issue when they attempt to fix the damaged PST file with Inbox Repair Tool. Now comes the question of how to get rid of Microsoft inbuilt utility stops working after clicking repair button problem. We will be discussing this in this write-up, that will include the major reasons and mending approaches.

Why Does Scanpst.exe Fail to Respond?
Before we move towards the solution of this problem, readers must be interested to know the cause of this problem. Here are some of the major causes that are responsible for "scanpst.exe crashes on repair" problem.
Improper Installation of Scanpst Tool: If the tool is not installed properly and has some sub files like dll files missing, it can malfunction.
Outdated scanpst.exe: Always use the same version of Microsoft Outlook and scanpst.exe. If Inbox Repair Utility is not updated according to Outlook version, it will fail to repair PST file and result in scanpst.exe hangs on repair process.
Severe PST File Corruption: If there are some major damages in the PST file that are beyond the capacity of ScanPST, it will stop responding.
Broken PST File Header: Scanpst tool mainly works based on the headers of PST file items. If the headers are broken, the tool will fail to mend the PST file and therefore, may become irresponsive.
Oversized PST File: Scanpst not responding when repairing can also result if PST file size has reached its threshold, which is often the case.
Issue with Exchange Server: If the Outlook is connected to Exchange Server, this issue may occur due to some problems in Exchange.
Best Solution to "Scanpst Not Responding After Clicking Repair" Problem
Many random sites will suggest readers to use various manual methods to fix the scanpst tool to get rid of this problem. However, we will not do that. Why? Because we care for our readers and know the value of their time. We will only suggest the best solution that is not only superbly efficient but also cost-effective. It effectively resolves 'scanpst exe not responding during repair' issue.
In case the scanpst.exe freezes on Repair process and stops responding, simply stop using it and switch to trusted utility to repair corrupted Outlook PST files. This application is a one-stop solution to all PST file corruptions since it is built with advanced technology. Even if the PST file has all the issues that can cause the Inbox Repair tool to freeze, this alternative software will not have any trouble to fix those files. This tool can also repair Outlook BAK files created by Inbox Repair Tool and remove SMIME and OpenPGP encryption from Outlook emails. The trial version of this application is available for free which allows to repair and recover Outlook .pst files and preview them in the panel. And the full version license can be purchased at an affordable price if you prefer to export or save the repaired files in PST, MSG, EML, HTML or in Office 365. Here is how you can run this utility in a few quick steps:
Explore How to Fix Inaccessible PST File
Launch the software and click on Add File button.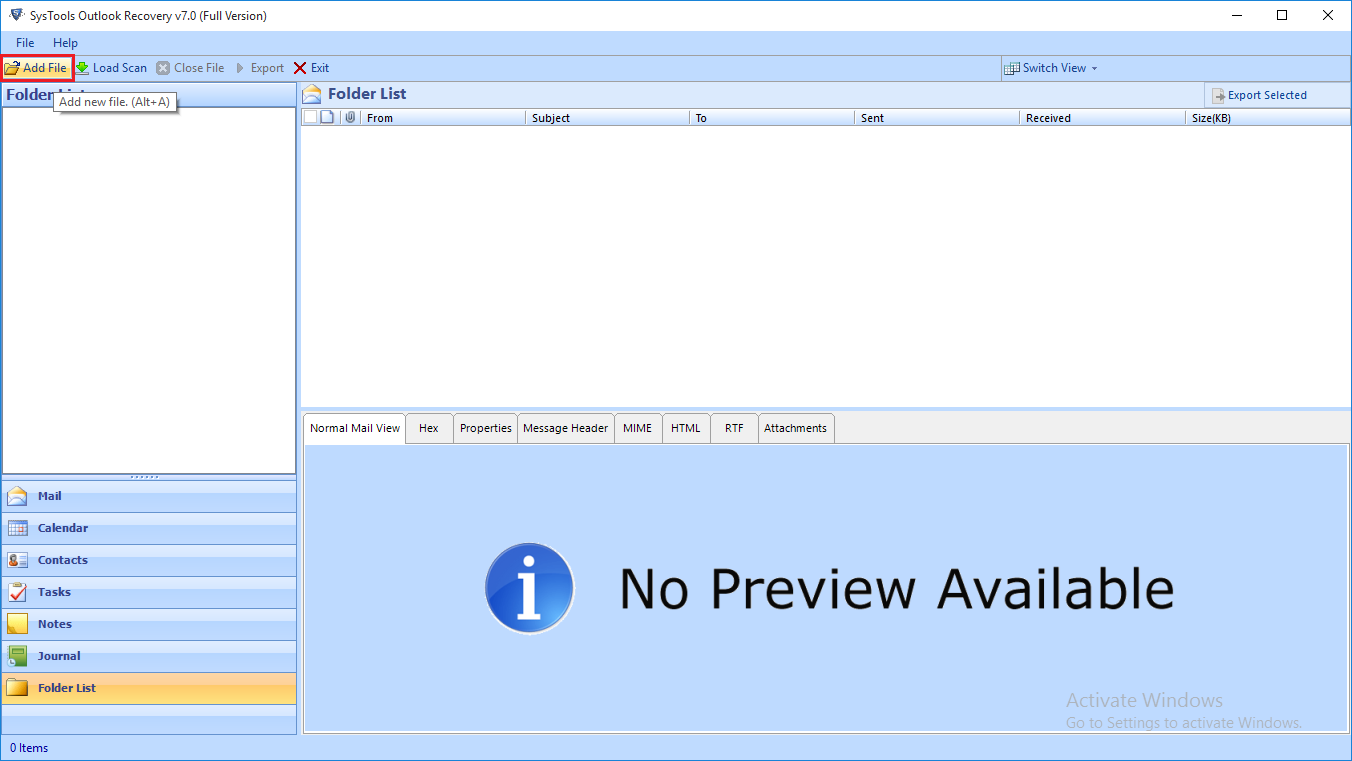 Either choose Select File to add the PST file or choose Search File to look for the PST file.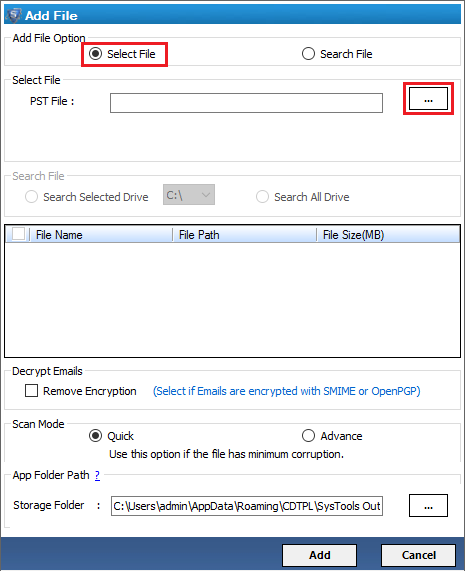 Select Remove Encryption option to decrypt PST file.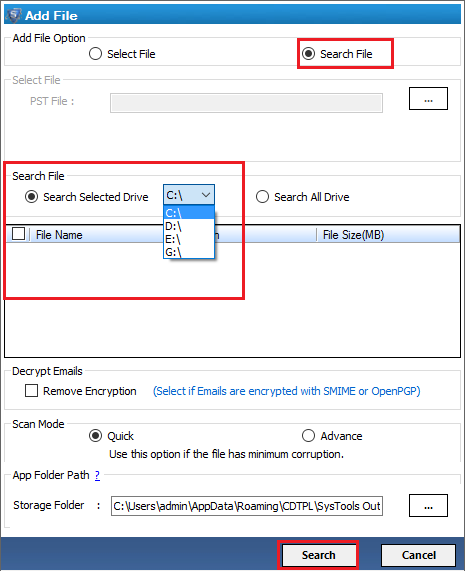 Select between Quick and Advanced scan mode depending on the type of PST corruption (Quick for mild corruption and Advanced for severe corruption). Click on Add.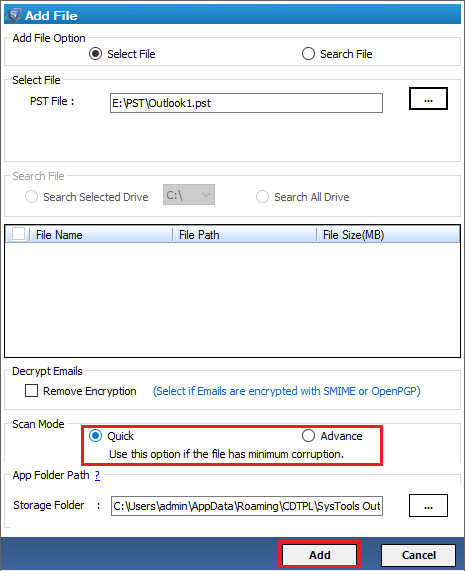 The application will scan and preview all files including the deleted files in red color.
Click on Export button to export the complete PST file.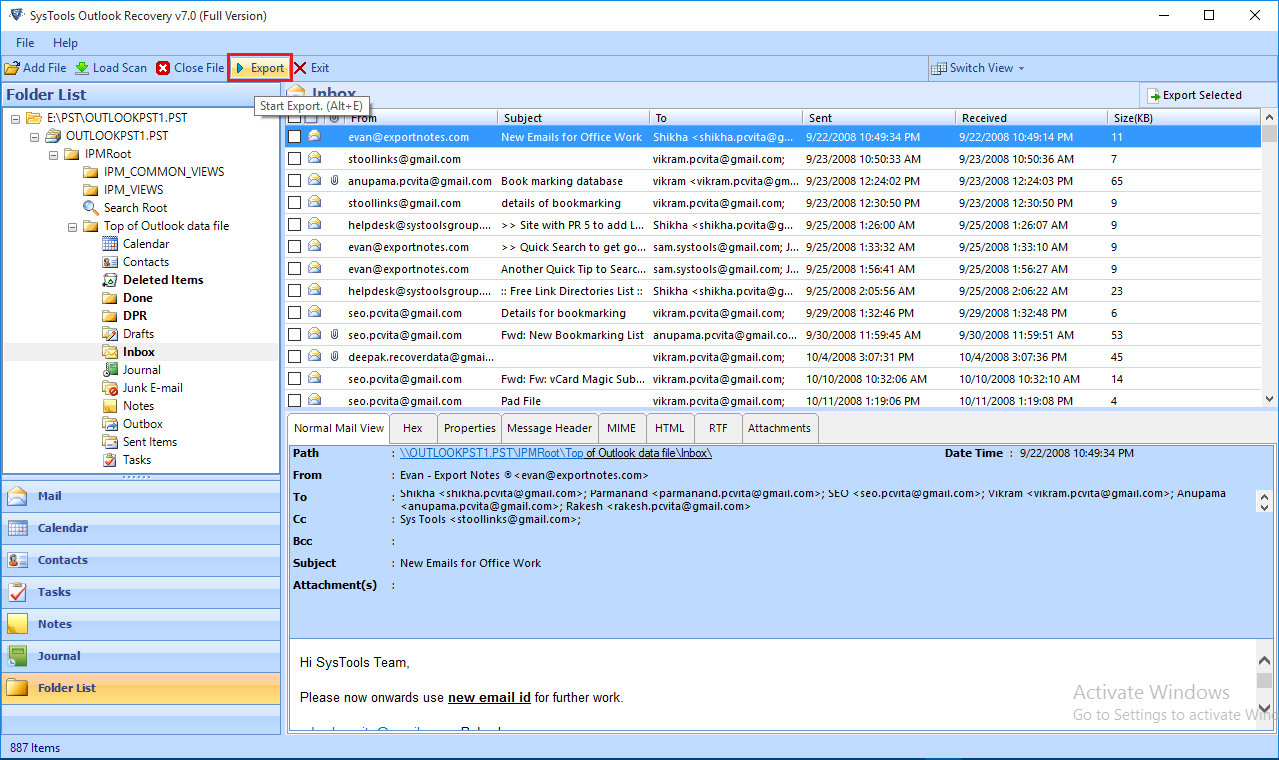 Next, select PST or any other format in which you want the files to get recovered.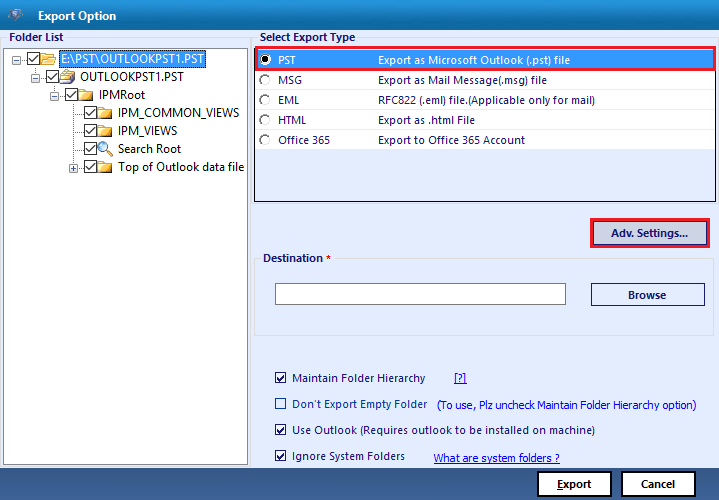 Click on Adv. Settings to split PST file in a certain size, export data of a certain time interval or any particular category.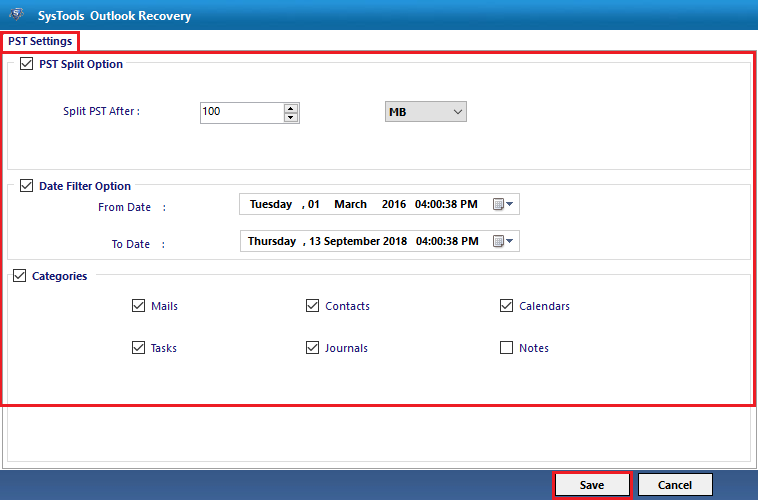 Choose the destination folder and other general settings.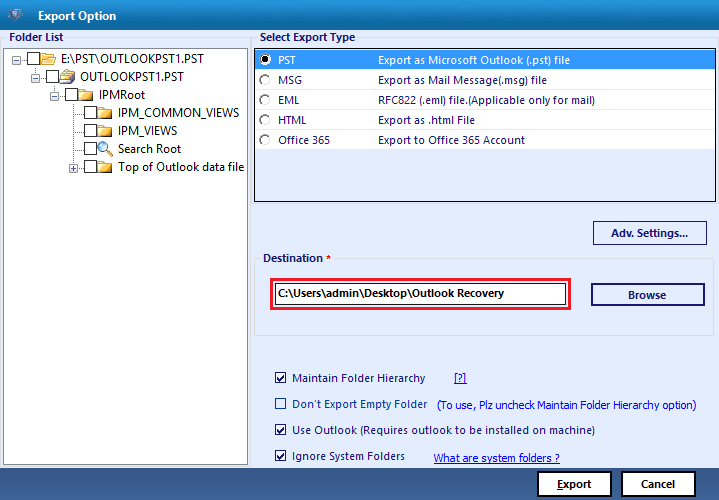 Click on Export button to recover all the items of PST file.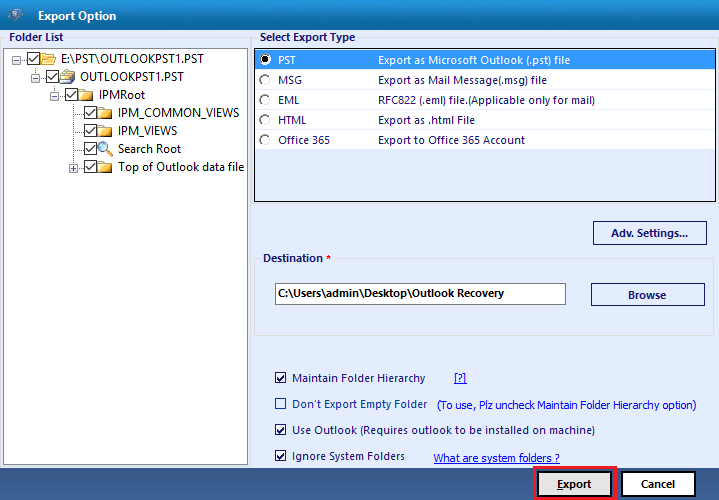 Final Words
Here, we have talked about the most convenient way to get rid of "Scanpst not responding after clicking repair" problem. This is a commonplace problem for Outlook users and may occur anytime due to PST file damage. When Scanpst exe not responding during repair problem occurs, do not waste your time by trying to fix the scanpst freezes during repair issues. Rather, opt for the alternative third-party application which is considered as a robust solution to fix PST file corruption while 'scanpst.exe crashes on repair' issue due to its high success rate.