Import and Open OST File in Outlook 2019, 2016, 2013, 2010
Ashwani Tiwari | Published: February 11, 2021 | MS Outlook
Summary:
You are searching for how to import OST into Outlook. Because you want to Open OST in Outlook. This write-up will guide you to a simple and authenticated solution.
In this post, I am not going to explain the situation and reasons. Why are you in need to import OST in Outlook? Let's talk about a solution directly.
Steps to Import OST in Outlook and Open
It is sure that you don't have access to your IMAP Outlook account. In this case, you have to perform two simple steps.
Step 1: – Export OST File in Outlook PST Format
Use the OST to PST Converter Software to open old OST file in Outlook all versions. In case if you have an orphaned OST file then also you can use this tool to import OST files into Outlook and open them. It is possible to move OST files that are damaged.
Moreover, This software maintains the integrity of the data. This application assures you not to lose any data from it. This is compatible with all windows versions. If you are interested and willing to have there are demo versions you can choose that.
Steps to Open Old OST file in Outlook Easily
Download Software:
Download Software
Windows OS Buy Software Now
(100% Secure)
Step 1: – Install the Software and Run on your system. The home screen will appear as shown below.
Step 2: – Browse your OST file from the system into the software panel. Choose either the Search or Browse feature according to your need.
https://www.systoolsgroup.com/imgp/hiw/ost-converter/v5/2.webp
Step 3: – Preview complete data on the software screen. It will help you to import the required OST in Outlook.
Step 4: – Select the PST radio button and browse the path to save the exported file and click the Export button.
Now you have the PST file which you can import in Outlook 2019, 2016, 2013, 2010, 2007, etc., versions. Move to step 2.
Step 2: – Import Step 1 Exported File into Outlook
Follow the steps listed below. To complete this step Outlook must be installed on your system. The import process may be different in order Outlook 2007, 2003, 2002 versions.
Here I am going to explain the steps for Outlook 2019, 2016, 2013, and 2010. Simply follow and open OST into Outlook.
Step 1: – Launch Microsoft Outlook on your computer system. Click on the File tab from the menu bar.

Step 2: – Click on the Open & Export option and then Import/Export option.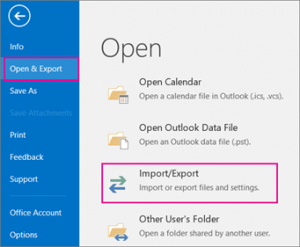 Step 3: – Now a new wizard will appear. Select Import from another program or file option and click on Next.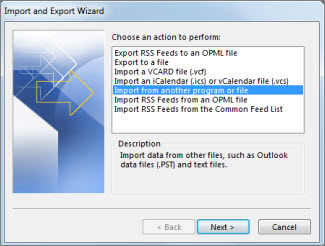 Step 4: – Now a new window will appear, simply select Outlook Data File (.pst) option. After that click on the Next button.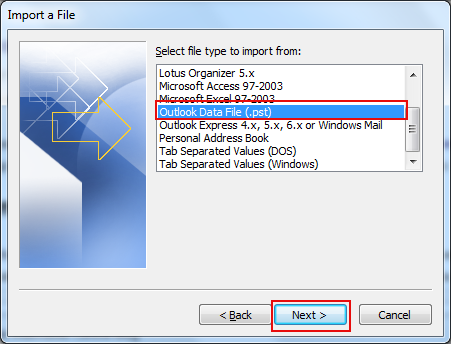 Step 5: – Browse the PST file (which you created in step 1) by clicking on the browse button. After that opt right option Replace duplicate with items imported and click on the Next button.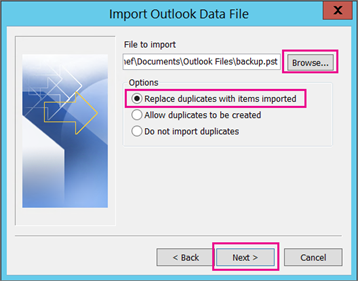 Step 6: – Select features if required (include subfolder) after that opt for either Import items into current folders or import items into the same folder in. After that click on the Finish button. You have successfully imported OST into Outlook. Go to the dashboard and open imported files.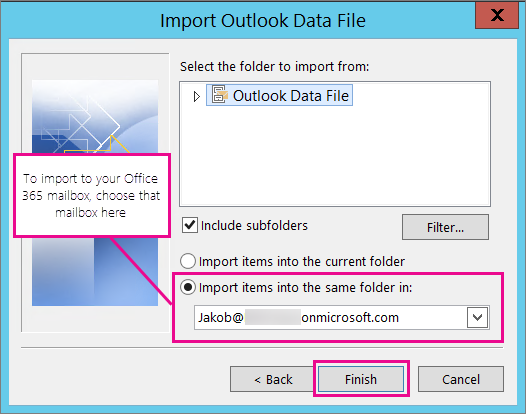 Note: – If you have IMAP Outlook, then configure your mail id in it. It will automatically recreate a new OST in your new Outlook.
Why Use software to Import OST to Outlook?
There were simple reasons that user needed this software are mention below:
Simple User Interface (User-Friendly)
Compatible with all Windows versions
Convenient to open OST file in Outlook 2019, 2016, 2013, 2010, 2007, etc.
Maintain folder Hierarchy
Keep Meta Properties.
100% secure utility.
Accept large size OST files as well as maintain data integrity.
Why Open Old OST File in Outlook?
There was always a question like a user gets disconnected from the Exchange Server due to some possible reasons and their Outlook profile is recreated. They want to know about the method to access and open old OST file in Outlook 2019
If we talk about the above question then the answer is NO, there is no in-build option to import OST file in Outlook 2019, 2016, 2013, 2010. Therefore in any possibility, users cannot access their email messages and other items. User needs to change their file using Exchange server either archiving method if they want free service.
Those who want to save their time as well as data from the loss they can choose OST Software to open their OST file in Outlook 2019 or other versions of windows.
Location Where Your OST File Has Been Stored:
For The Outlook 2019 / 2016 / 2013 / 2010 User:
The users can easily find their storage location by performing the below steps:
Open Outlook and click on File
Click on Account Setting under Account Information Window
Click on Data File in it.
Move to the file location, select the OST file, and click Open File Location.
Method to Open Old OST file in Outlook Manually
By Utilizing these Archive Features you can open OST file in Outlook using 5 simple steps:
Go to the Start menu and open Microsoft Outlook.
Now, go to the File and click on the Archive button.
Window pop-up on your screen, choose the file you want to Archive.
Browse the location where you want to save your PST file.
At last when you click OK your process of archiving starts.
Note: This may not able to translate all the files. Using this process may not change large amount of data. Although this may reduce the clarity of your image. Converting bulk of data may create complexity.
Limitation of Free Tricks to Open OST in Outlook:
As with the help of this trick, it is not possible to import email, calendar, contacts, etc into PST format using drag and drop. The manual method is not wrong but it is also not reliable. You will definitely find an error while importing a large amount of data.
No doubt that there were numerous software available in the market but if we talk about my perception I would like to suggest you use SysTools Software. This will open old OST file in Outlook 2019 / 2016 / 2013 / 2010 / 2007 etc.
Final Declaration:
After assuming the scenario I concluded that the user faces a problem when they manually open old OST file in Outlook 2019 / 2016 / 2013 / 2010. It is a waste of time to do a conversion single file at a time.
So, It will be good to use the software instead of doing a manual process. It is not only a waste of time, but it may also damage your file or having a tendency to lose your important data while importing OST to Outlook.
So, you are advised to try the software to open old OST file in Outlook 2019, 2016, 2013, 2010, 2007, etc.
Frequently Asked Questions
Is it Possible to Open OST in Outlook without IMAP Setting?
No, If you want to open the OST file into Microsoft Outlook then you must configure Outlook with the IMAP setting. But you can remove this limitation by exporting complete from into PST file format. Now you can easily open it in Outlook.
Where Can I Find My OST File?
The complete guide explained here in this post. Read the blog and know where to find the OST file.
Can I Open My Friends Outlook OST file in My Outlook?
If your Outlook configured with IMAP configuration then you can open it in your Outlook. But in the case of POP configuration first, you have to create PST then access it in your Outlook. So you can import OST in Outlook.
Can I Open Orphaned OST File into Outlook?
Yes, by using the steps explained in this post. You can easily open an Orphaned OST into Outlook.