Outlook Hangs When Clicking in Conversation History Folder: It's Resolved
Ashwani Tiwari | Published: January 8, 2019 | MS Outlook, Technology
Do you know, that you are in the right place? Here, you will find the solution to Outlook hangs when clicking in conversation history folder. Basically, this write-up will let you know the free and instant techniques to resolve Microsoft Outlook hangs, freezes, or crashes issues when a user checks his/he conversation history in the mailbox. Explore the steps to fix Outlook hangs issues without any data flow hindrance. Read the complete article to learn more about this Outlook conversation history crash issue which can appear on any Microsoft Outlook account regardless of the version. That is, this is a common problem faced by many Outlook 2019, 2016, 2013, 2010, 2007, 2003 user in Windows OS.

Outlook Freezes When Opening Conversation History – The Reader's Query
"I am utilizing the MS Outlook for email communication. But, when I open any of the email messages in conversation history folder in Outlook 2016, Outlook is getting hang and not responding. That is, Outlook 2016 conversation history not responding and this is happening from yesterday night. Please suggest me if any settings are needed to be changed to fix this issue: Outlook hangs when clicking in conversation history folder. Any help would be kindly admired. Thanks in advance."

"Today! I confronted an error message from my Outlook that says Outlook (Not Responding). Mainly, when I try to view the conversation history, my Outlook application will freeze for 10-15 seconds. If I try to see the exact conversation history via Outlook.com I have no issues at all. I already tried to run MS Outlook in safe mode and without any add-ins, and the issue remains the same. Now, I need a permanent and instant alternative to fix Outlook conversation history not responding issue perfectly."
Is it that much tiresome error that it looks like? There is the end number of users who are continuously searching the tricks to resolve this Outlook conversation history freezing issues and Outlook hangs when clicking in conversation history folder. As we all know, that the Outlook prominently used email application all over the globe. It facilitates multiple features and functionalities to its users. But, sometimes most of the users are facing this kind of problem while they are working on Outlook platform. So, here in this article, we are going to provide you with the complete guide to resolve this issue effectively.
Fix Outlook Hangs When Clicking in Conversation History Folder Issue
Here, in this segment, you will get the manual solution to repair Outlook not responding when clicking in the conversation history folder issue. The free solution is explained in a descriptive manner. You just need to follow all the listed steps appropriately to fix Outlook conversation history not responding issue and to get a satisfactory outcome.
When Microsoft Outlook occurs this error. To resolve this issue you can go and check the Organizational Forms library on the folder which is named as Public Folder. After that, you have to make sure, that the correct message class is available there. This commences an additional call out to the Public Folder server to repair the message class. Because of the delays in Autodiscover and public folder feedback times can cause the issue which is Outlook to hang.
For instance, a class forms current reports is "IPM.Note.Microsoft.Conversation". This cumbersome issue can also be overestimated if the public folders are not configured in an appropriate manner. However, they are on previous unsupported versions of MS Exchange 2007.
Additionally, support has determined in two possible client-side approaches. Single one from these eliminates a default MS Outlook function. Moreover, it is directly and fully eradicates the Outlook hang issue:

"ExcludeHttpsAutoDiscoverDomain"

"DisableOrganizationalForms"

Here, are the full registry path, DWORD, and the value for each as follows:

Another one is:

Subsequently, you have to disable the Organizational Forms Library functionality in your Outlook application.
Lastly, your organization may utilize some of the above-stated functionality. It is suggested to test or deploy the technique to a subset of users. Firstly, confirm it relieves the problem or if it leads to unintentional consequences.
Another: Outlook Conversation History Not Responding Issue
"I am utilizing the outlook lock up every single time to open the conversation history folder. But, currently, I faced an error that says Outlook is not responding. Mainly, this occurs when I tried to load more than one Outlook profile. But, when I run my Outlook application in safe mode it is working appropriately and disabling all the add-ons doesn't work. I already tried so many manual solutions to resolve Outlook hangs when clicking in conversation history folder issue. But, I am totally unable to get the expected outcome. So, what should I do in this situation? Please suggest me an alternative to resolve the Outlook freezes when opening conversation history issue properly. Thanks."
Repair Outlook Not Responding Error Instantly
This kind of issues occurs due to corruption in Outlook PST file. And if you are using a manual way to resolve Outlook hangs when clicking in the conversation history folder problem so you are not taking the right decision here. You should have to aware about the face i.e., the free approach is very tricky and to perform this process a user required high technical knowledge. So, it is better to choose an alternative which provides you surety to give proficient output. This is a third party application named as Outlook Email Recovery software repair Outlook 2016, 2013. With the help of this utility, you can easily resolve all kind of Outlook related errors like Outlook hangs, freezes, crashes or not responding issues. Mainly, this application facilitates an efficient and user-friendly interface. So, a novice user can simply utilize the product without taking any external help. This software is consisting of multiple advanced features which make the recovery procedure effective.
How Does it Work?
This is only four steps procedure to implement the process to fix the error such as Outlook hangs when clicking in the conversation history folder. To perform these steps, you do not require to waste your valuable time. Simply follow the below-listed steps to resolve Outlook freezes when opening conversation history issue without any hassle using PST File Recovery utility.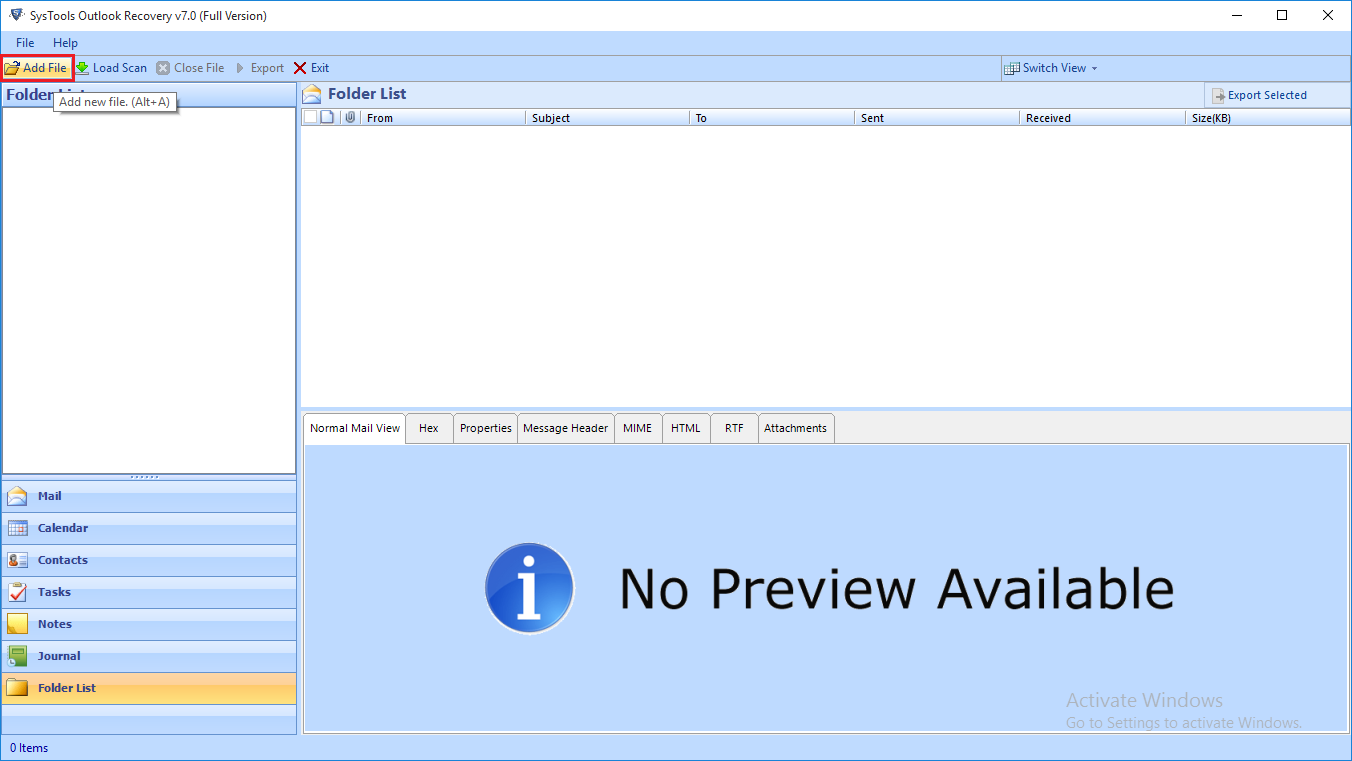 First of all, download and launch the software into your local machine
After that, view Outlook emails with their integrated file before you recover Outlook folders and files utilizing the software.
Here, simply recover and fix corrupted Outlook PST data files in different versions of Outlook like MS Outlook 2019, 2016, 2013, 2010, 2007.
At last, save the fixed damaged Outlook data files utilizing the application.
It's Time to Conclude
Almost all Outlook related issues occur due to corruption in PST data file. Mainly, in these circumstances, it is highly recommended that do not opt the free solution to resolve the Outlook hangs when clicking in conversation history folder issue. Because manual technique having some limitations that may affect the procedure badly. So, it is better to go with an alternative defined as Outlook File Recovery software to fix Outlook hangs, freezes, crashes problem and other Outlook error messages. This is a standalone utility to resolve All types of Outlook related issues without any hindrance. Moreover, it does not associate with any kind of data loss activity. It executes a safe and secure procedure to provides you with the desired result.