PST File Too Large Cannot Delete – Fix This Issue Here
Ashwani Tiwari | Published: April 15, 2021 | MS Outlook
The PST file too large cannot delete the file. What would I do in this situation? I read elsewhere that these files are limited to 2GB, but this PST is just 944MB. This is a business email account with a lot of restriction on what I can do in Outlook.
Whenever I try delete an email from my archive.pst, I receive the following message:
The size of the file [path] archive.pst has reached its limit. Pick any objects that you no longer use and delete them permanently by pressing SHIFT+DELETE to reduce the sum of data in this format.
User query #1.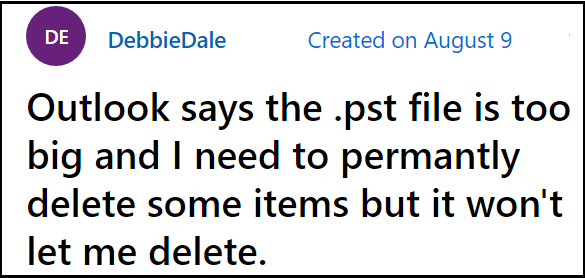 User query #2.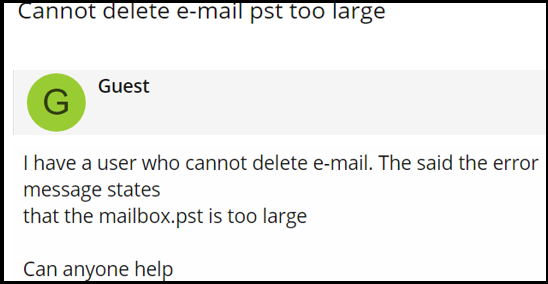 After discussing the user queries, let's have a look at the possible reasons behind PST file too large cannot delete.
Why PST file become oversized?
Whenever user send or receive emails, the Outlook mailbox become larger in size. Eventually the large mailboxes takes longer time to open and search the data. Many email providers, including Microsoft 365 limit their mailboxes size to avoid the complication while loading the files.
One more thing when you store your information in PST or OST then chances are less that it will shrink into size automatically.
Fix PST File Too Large Cannot Delete Issue Professionally (Recommended)
Use the PST Splitter Tool to quickly split all safe and infected Outlook data files without having installed MS Outlook. Break an oversized Outlook PST file into smaller bits while keeping all the data intact. This tool makes it easy to divide PST files into various categories such as Mail, Contacts, Calendars, Notes, Tasks, and Journals.
Utility divides PST files by Size, Date, Year, Folder, Email ID, and Category
Tool allows you to add one or more PST files or folders (s)
Allow splitting of Outlook Archive PST Files or Active PST Files.
Divide file by including several user's email ID in a CSV file.
Outlook PST can be divided into several date ranges without exceeding the file size limit.
Split a single PST file into several files ranging in size from 1 MB to 1 TB, depending on the situation.
Allow users to search for files in a specific drive to reduce PST file size.
Break Outlook PST files into folders, e.g. Create a separate file for each folder or a single PST for all MS Outlook (32/64 bit) versions that support PST (ANSI & Unicode) formats.
Steps to Break Large Outlook PST file using Professional Tool
Step 1. Launch PST file Splitter on your system.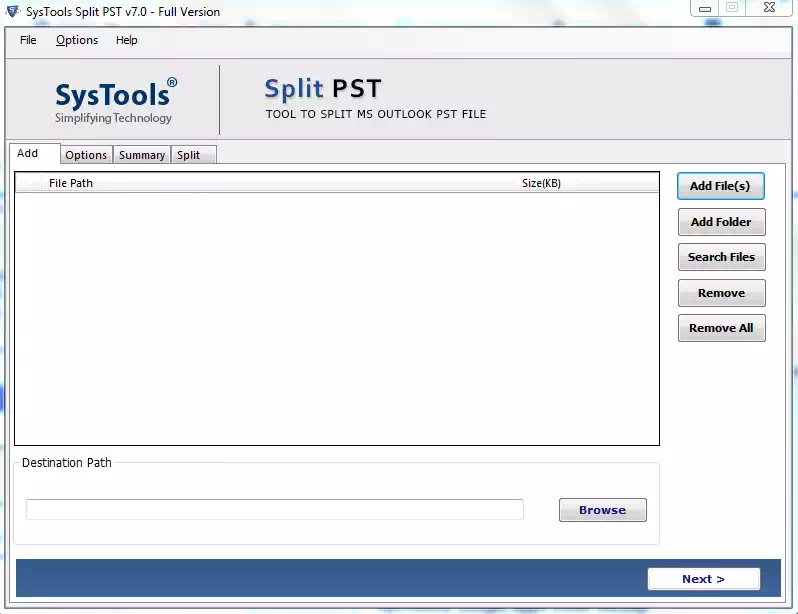 Step 2. Click on Add files or folder (s) option. Provide destination path to save the resultant files.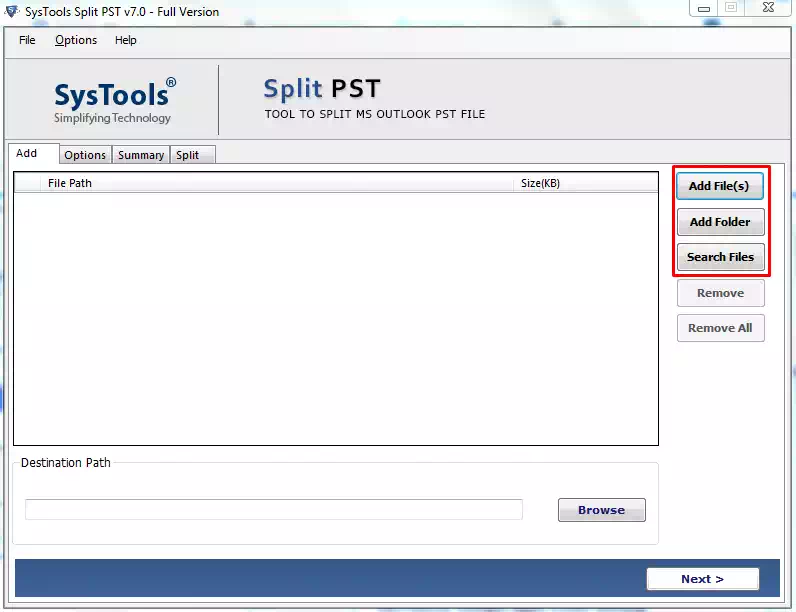 Step 3. Select Split option accordingly as shown below. And provide required details.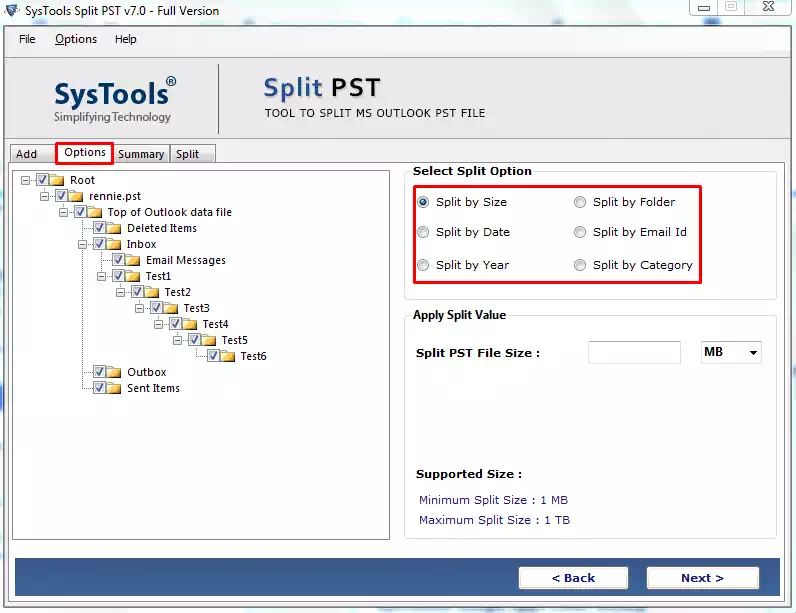 Step 4. Check the Split information and click on Next button to proceed.
Step 5. Now, the utility will initiate dividing of PST files.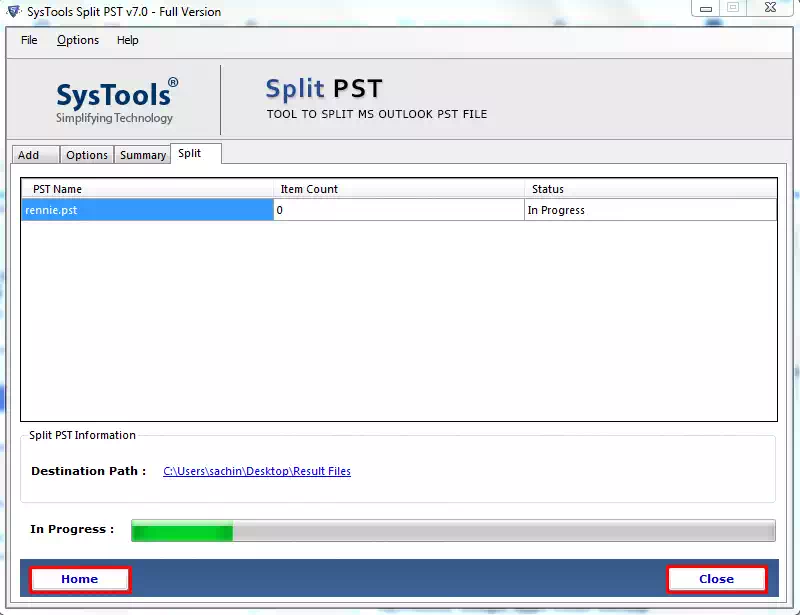 Manually Fix the PST File Too Large Cannot Delete Issue
Outlook has provided methods to deal issues when application faces complications due to the large file. We have mentioned two manual methods to fix large size issue.
Read More- Shrink PST File in Outlook
Method #1. Compact the PST file in Outlook 2010/2013/2016/2019
When you delete items from an Outlook Data File (.pst) Outlook compacts the file in the background while you're not using your computer so Outlook is still functional.
Notice that Outlook can only compact a file if it contains more than 20% 'white space' (unused space).
You may also manually start the compact process by following the steps below, which would take time depending on the file size.
Select File >> Account Settings >> Account Settings from the File menu in Outlook.
Click the Data Files tab in the Account Settings window, then choose the.pst file to compact.
Click Settings afterwards.
Hit on Compact Now and then OK in the Outlook Data File box.
Method #2. Fix 'PST File Too Large to Open' Issue via Scanpst.exe
If you encounter error "PST file too large cannot delete" you can try Scanpst.exe software on the large sized file. Use Microsoft's built-in Inbox repair tool, which is located in the MS Office folder on the system drive by default. When such oversized PST file size issues arise, this tool comes as a lifesaver.
1. Open the scanpst.exe application and use the Browse button to select the PST file you want to reduce.
2. To begin the process, click the Start button.
3. Choose "Make a copy of scanned file until repairing" then select the destination folder to save the backup file from the drop-down menu.
4. Finally, click the Repair button to begin the repair process.
NOTE – Make sure to take backup of PST data, because scanpst is programmed in such a way. If any block of information of your data files are corrupted or unable to read, scanpst will remove that particular block to make it readable.
You can also try the Recommended tool instead, if you want to avoid any uncertainty after completion of process. It supports to fix PST file too large cannot delete issues by breaking into small files.
Manual PST File Size Reduction Techniques Have Limitations
Although the manual methods are totally free, they do have certain drawbacks when it comes to splitting a huge PST file. Here are the other restrictions you will face that will be operating with a manual method.
The procedure is lengthy and puzzling.
Data failure is a very real possibility.
Technical skills are required to operate the functions.
There is no assurance that the results will be accurate.
Unable to maintain data integrity.
Conclusion
Outlook users often have problems with large PST files. This complicates the regular functioning of the Outlook application. We have provided three outstanding solutions to fix PST file too large cannot delete problem. Choose the solution that's right for you, taking into account all the perks and cons of each solution.