How to Split Archive PST Without Outlook? – Powerful 2021 Technique
Ashwani Tiwari | Published: June 9, 2021 | MS Outlook
This article is for those users who are irritated by the large size Outlook data file, which causes Outlook to operate poorly. Oversized Outlook PST files degrade system performance and make it difficult to save PST files from corruption. To avoid future corruption, you need to break oversized files into smaller sections. This blog will teach you How to Split Archive PST created by Outlook 2019, 2016, 2013, 2010, and 2007 using best and expert suggested solution.
About Outlook Archive
Outlook offers archiving of emails and data items. When users choose to archive Outlook emails it means moving emails of the network mail server to the local system. Users will still be able to access those archived files in the Outlook platform.
But problems arise when the archive file size is too large to manage by the Outlook application. In that case, user seeks to split Outlook archive.
Split Archive PST Without Outlook in the Easiest Way
The main issue is that Outlook does not offer direct functionality to crop the size of PST. Therefore, it is preferable to use the effective and demanded PST splitter tool of 2021. It supports to divide archive files without Outlook in a safe and secure manner. Additionally, this solution supports dividing ANSI and UNICODE type file. If you choose this solution, you won't face any data failure or corruption issues afterward.
Here are some prominent features it offers:
You can split Outlook archive into smaller ones without losing any data.
Perform on ANSI and UNICODE file types.
Users can create new folders to store the PST file.
Software with an easy-to-use interface that produces results in a few simple steps.
Users can divide your large-sized files ranging in size from 1 MB to 1 TB.
Offers 6 Distinctive Methods to split archive PST by:

Date
Size
Year
Folders (for example, contacts, messages, etc.)
Email ID
Category
Steps to Split Outlook Archive into small parts are;
Step 1. Launch the splitter tool on your system.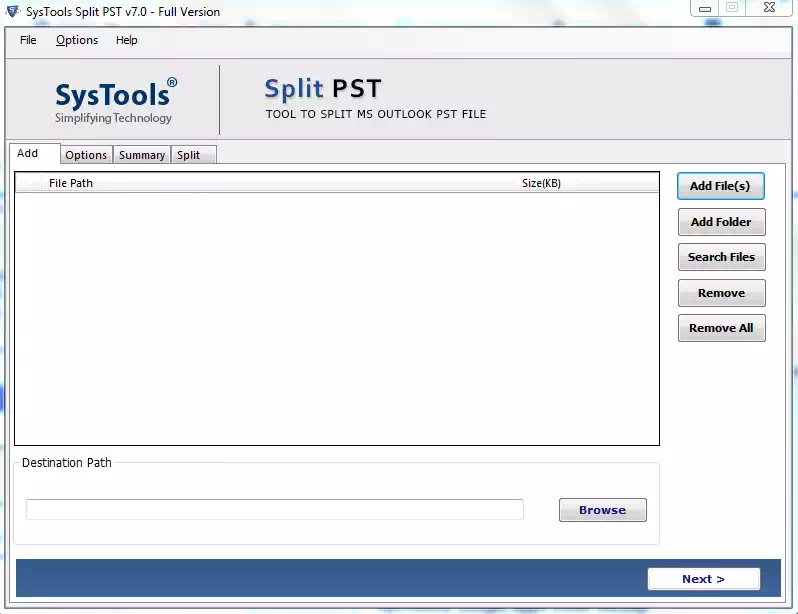 Step 2. Click on Add PST files or folders. Browse destination location to save the resultant files.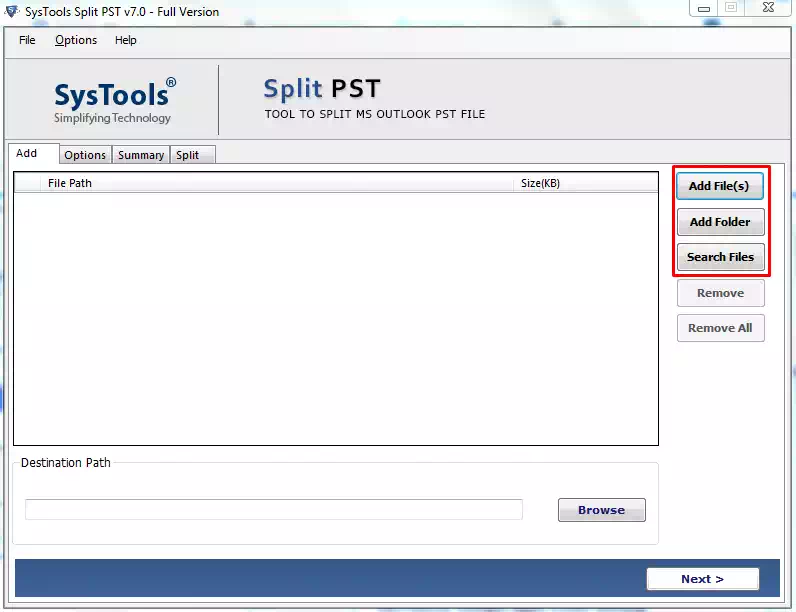 Step 3. Choose the options to split – Size, Date, Year, Email ID, and Category according to your preference.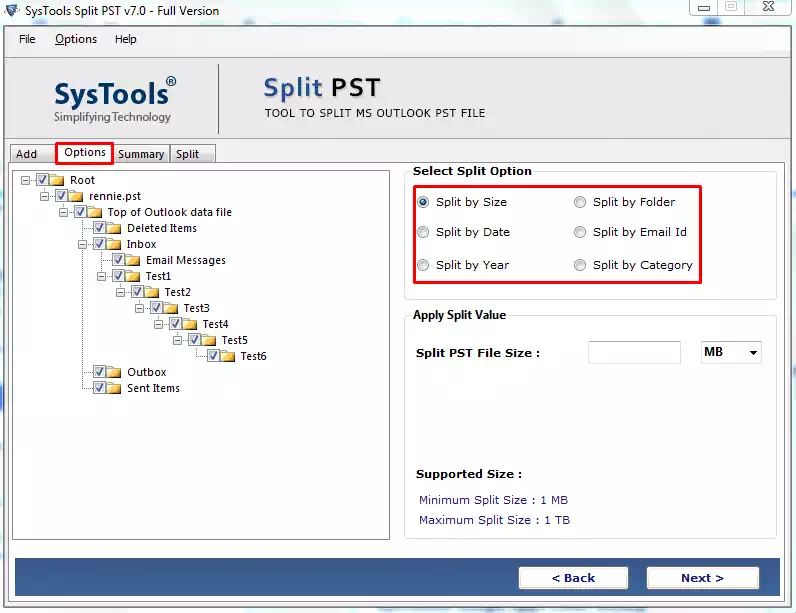 Step 4. Check the shown summary of Split Information and click on Next button to continue.
Step 5. The process of splitting PST files into smaller parts will gets completed within minutes.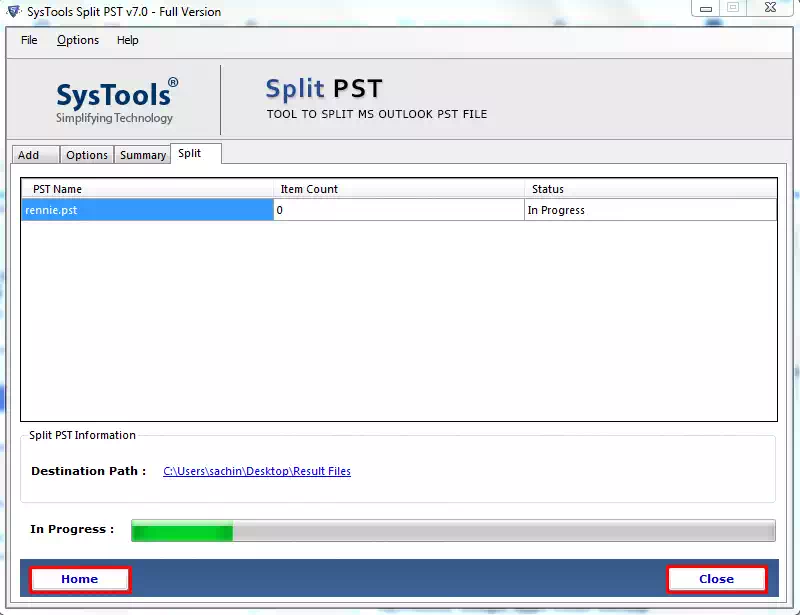 In this way, you can easily split Outlook archive into the desired size. Now you know how to split archive PST in the easiest way possible.
Prominent Reasons to Break Files
MS Outlook saves emails and other information in PST files, which are growing in size. Previously, there was a size restriction placed on PST files in general. Hence, the maximum size restriction in MS Outlook 2000 and 2002 was set to 2 GB. Outlook 2003 and 2007 had a limit of 20GB, however, with the launch of versions 2010 and 2013, the limit has been increased to 50GB+ expendable. Later on, the default PST file size limit in Outlook 2016 is 50GB, which may be expanded to 4 PB (4000 TB).
This is the reason if a user is currently using MS Outlook 2002, which has a maximum storage capacity of 2GB, that user will need to split archive PST into smaller files at regular intervals. The same goes with 2003 and 2007 Outlook versions of PST files, which enable a maximum size of 20 GB, resulting in a performance issue in Outlook.
It is difficult to handle big Outlook PST files since they slow down MS Outlook's performance. So, users need to break the oversized PST file into smaller portions to avoid this sort of problem in the future.
Sending/receiving activities on a large-sized PST file might also be time-consuming. It is necessary to divide a huge Outlook PST file into smaller chunks.
Author Suggestion
Up to this point, we hope that you know that how to split archive PST. We've covered the smart solution for breaking up large size of PST files in Outlook 2019, 2016, 2013, 2010, and 2007. The professional software helps you to split Outlook archive in just a few simple steps. It alleviates all of your concerns about the security of your mailbox data.