Top 2 Ways to Reduce PST File Size Without MS Outlook
Ashwani Tiwari | Published: June 16, 2020 | MS Outlook
As we know, the data can store in the PST file up to a certain limit can cause many errors. In the case of MS Outlook 2002 and earlier versions, the PST file was saved in ANSI format that has 2GB of size limit. Whereas for Outlook 2003 and above editions, the UNICODE PST file is generated that has up to 50GB size limit. But, an issue occurs when the PST file is oversized. Also, this is one of the most commonly asked queries such as how to reduce PST file size?
So, today we consider this issue and come up with various techniques. Hence, we will describe free manual and professional methods to reduce Outlook data file size by splitting the PST file.
Advantages of Reducing PST File Size
It proves helpful for the users to manage Outlook mailbox data.
Splitting large PST file can overcome some problems like hanging and Outlook's slow performance.
It avoids the MS Outlook corruption issue.
Also Read: ScanPST Not Responding After Clicking Repair
Free Methods to Reduce PST File Size Instantly
The manual way is obtainable in two different workarounds. Both are discussed properly, you can follow any one of them as per your comfort.
Workaround 1: Use Compact Now Utility
1. Initially, choose the File tab and hit on Info.
2. Now, choose the Account Settings option, then again click Account Settings to proceed ahead
3. Select the Data Files option and click on Settings. After that, choose the preferred file and press Compact Now
4. At last, click on OK to end the process
For MS Outlook 2003 and 2007 Versions
1. Navigate to the File tab and select the Data File Management option
2. Double click on the Data File and select targeted file
3. Now, click on the Setting and opt Compact Now option to move forward
4. Finally, click on Exit to finish the process.
Workaround 2: Archive Emails in Outlook
1. Click on the File tab and select Info and choose Tools option >> Clean Up Old Items
2. Select an Archive dialogue box displays on your screen. Simply click on the 'Archive this folder and all subfolders' option. Then, opt the file and folder to archive.
3. Now, check the Include items with Do not Auto Archive option to archive the desired files to consist of automatic archiving.
4. Lastly, hit on OK to end the split PST files procedure
What If Manual Fails?
Yes, there are high chances that the manual method can fail. Because the free method does not have the ability to split corrupted PST file. Even the MS Outlook installation is necessary to perform the dividing Outlook data file procedure. But, no need to worry! Go through the upcoming segment, we will discuss an eminent approach to break PST file.
An Automated Technique to Reduce PST File Size
After understanding the fact, that is the above stated manual solution does not have the capability to reduce PST file size effectively. Do not worry! You can use the "PST Split" tool to divide PST into multiple files. It is one of the perfect and powerful applications to split oversized PST files without any data loss. Even, the tool supports breaking up corrupt PST file without Outlook installation.
PST Splitter Software
Download Buy Software Now
(100% Secure)
However, the application supports all editions of Windows Operating System. The software provides several enhanced features for reducing Outlook data file size. You just have to simply free download and use the utility to resolve to break up large PST file issues without any data loss.
Step by Step Guide to Reduce PST File Size Immediately
Below here, you will get the instructions to truncate the Outlook PST file. You just have to follow all the steps sequentially to implement the procedure. Let's begin:
Step 1: Install and run the Software on your local machine.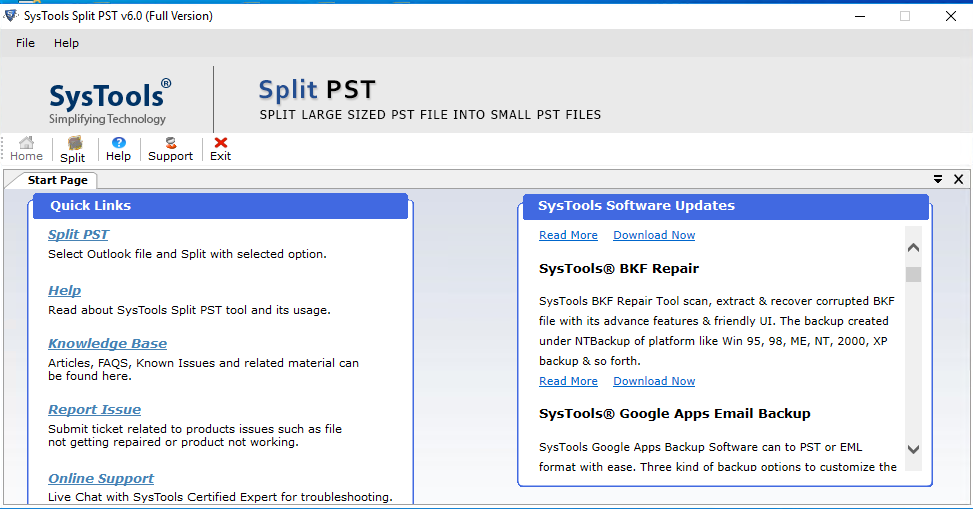 Step 2: Now, click on the Split button to add a Large PST file.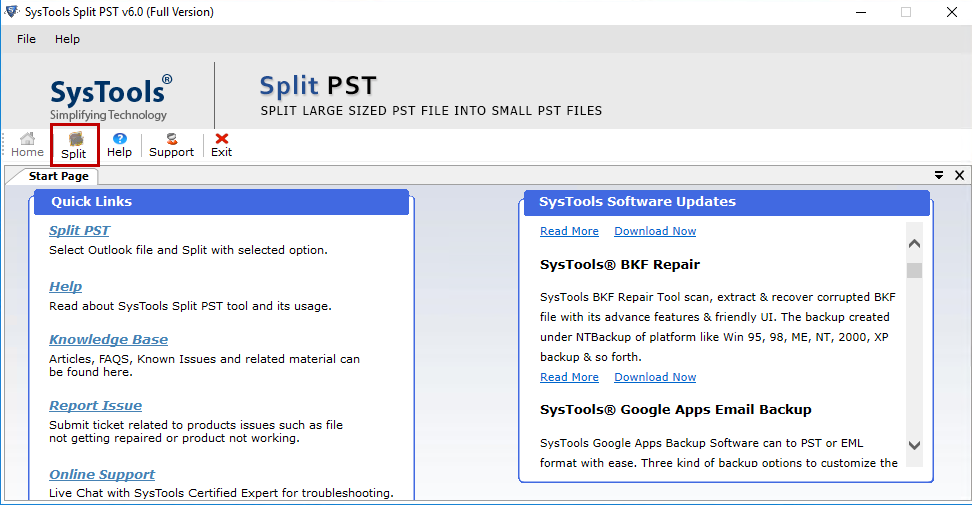 Step 3: Once you browse the Outlook data file, the software provides you 5 different modes to split PST like by date, folder, year, size, and email id. Here, you can select a mode to proceed further.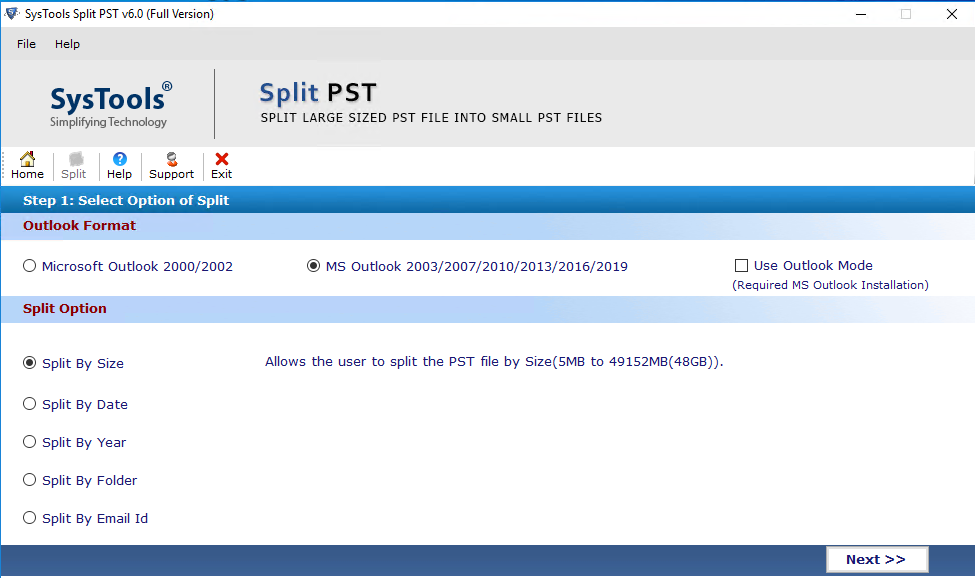 Step 4: Add the required details and click on Next to split oversized PST file.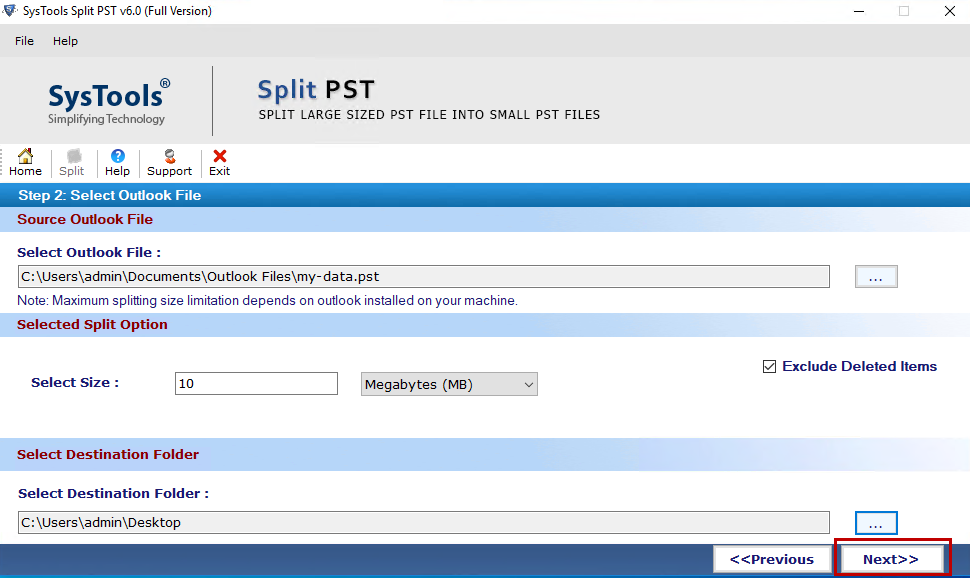 Step 5: Lastly, click on the Split button and check the status report in the software panel.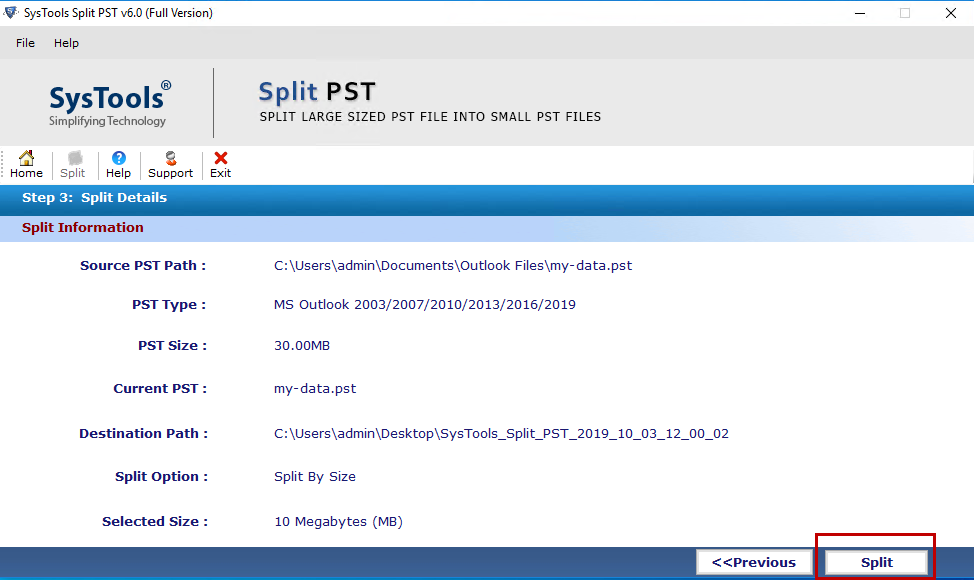 Final Verdict
An oversized PST file can cause corruption and many other issues in the MS Outlook application. In this situation, many users require to reduce PST file size. Therefore, in this article, we have mentioned the free and automated techniques to reduce Outlook PST file size by splitting PST into multiple smaller parts. But, the manual solution is having some limitations which affect the breaking up PST file procedure.
Thus, It is recommended to go with the above-suggested alternative technique to get the preferred outcome.