How to Get Data Back from RAW Partition – Know Here
You might already know that unless you convert the RAW partition to an NTFS file system, you won't be able to use system storage.
Isn't Converting of Drive will Remove Saved Data from Drive?
Well! Yes, it will. But we are going to provide the solution to get data back from the raw partition before converting it to the NTFS file system.
In this blog, we will demonstrate a direct and most appropriate solution to learn how to retrieve data from raw partition. If you have some concerns, go through the entire blog.
What Do you Understand by RAW Drive?
If the operating system you are currently using does not recognize the file system on your hard disk. The hard drive's status changes to RAW at that point. The hard drive will not enable access to its storage at this time. On the other hand, its capacity used space, and empty space everything will be shown as "zero." Everything that was initially stored on the "RAW" disk has been lost. You can't view them or move them to a secure location for later use.
How to Convert the RAW Drive to NTFS?
The data on your hard disk or partition become inaccessible when they are set to RAW status Furthermore, you cannot utilize it for data storage until the RAW hard disk is formatted and converted to NTFS. But how can you fix the RAW drive and convert it to an NTFS file system without any data loss?
Converting your disk deletes all of the files contained on it. You can't even open the folders on your RAW disk to save your files since it's inaccessible. This makes backing up your data very impractical.
Hello, I had excess space on a hard drive and expanded it in disk management, but I did not format it because it contained data. And now it's displaying as a RAW HDD, which I can't open unless I format the disk. Is it possible to restore the date that I believe is still on it?
Is it Possible to Recover Data Back from RAW Partition?
Yes, data can be recovered properly with RAW Hard Drive Recovery Tool. An advanced tool that does not just support RAW files. It also restore data from corrupt NTFS Boot sectors. It can get back data from an internal drive, and an external hard disk or drive. It also shows deleted data in red so that it may be easily identified.
How to Get Data Back from RAW Partition?
If you receive an error message while accessing the preferred drive, such as "disk not formatted, do you want to format now?" Or simply couldn't access the data from the RAW drive
Note – Make sure to avoid the same RAW partition to download and install the Recovery tool. It will overwrite the RAW files that will complicate the recovery procedure.
Execute The Steps Listed Below For Raw Partition Recovery
Step 1. Download and launch the Deleted Partition Recovery Software on your Windows system.
Step 2. Select the RAW disk partition and click on the Scan button. It will begin the scanning and recovering data from an invalid dynamic disk.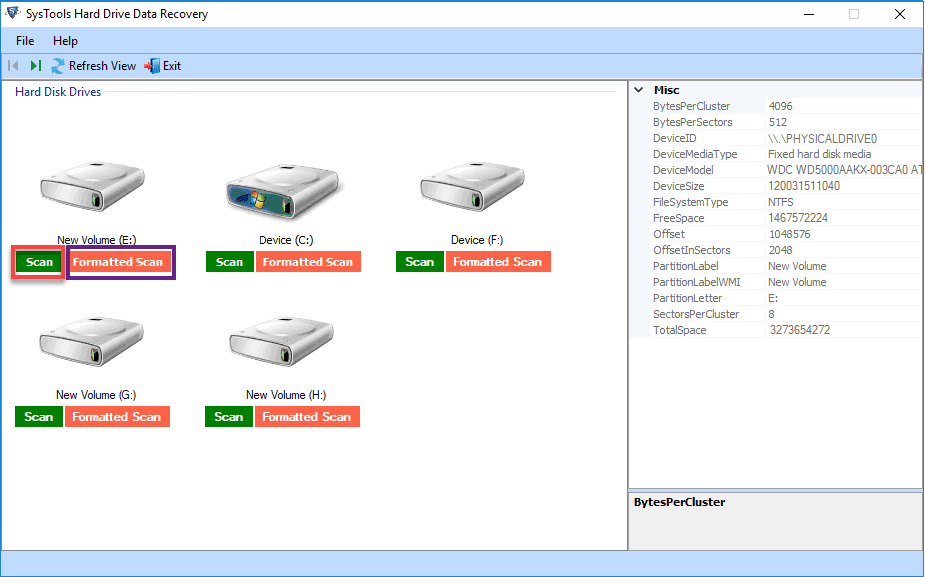 Step 3. Once the scanning completes, all the recovered data from GPT protective partition will be shown on the software panel.
Step 4. Select the files you want to recover data from deleted partition in Windows and click on the Save button to proceed.
Step 5. Now choose the destination location to save the recovered data from an invalid dynamic disk to a safe location. Avoid choosing the same RAW drive partition to save the recovered permanently deleted data from the hard drive.
Once you are satisfied with all the setup click on OK to begin the exporting of recovered hard drive data from a dead computer. This is how to get data back from RAW partition.
Now you can format the drive and change the file system to NTFS and restore your recovered files to continue normal usage.
Main Reasons That Cause RAW Drive Partition
Here are prominent reasons that are responsible for RAW drive partition. It is necessary to know about them so you can learn how to avoid them in the future.
Unexpected power failure while the system is still working.
Improper or erroneous changes made to a hard disk partition.
Connecting hard drive to television that has its own format.
Virus invasion, malicious software installed on the system.
Physical damage to the hard drive can also lead to RAW-type disks.
USB flash drive unplugged while copying is going on.
Conclusion
In this blog, we have covered user query how to get data back from RAW partition. We have provided an assured and tested recovery solution for complete data recovery. You can try the demo version of the tool and recover the file to get the licensed version at a reasonable price.