How to Save Google Contacts to Computer / PC – Solved
Ashwani Tiwari | Modified: November 6th, 2020 | Technology
Summary: This guide elaborates on how to save Google contacts to computer. It comprises of two methods. The first method shows how to download contacts from a single Google account, while the second method displays saving contacts from multiple Google Suite user accounts to your PC. You can choose your preferred method as per requirements.
Users often wish to export their data from Google account into the system. The exported data varies from emails, contacts, calendars, and several kinds of documents. In this article, we have fixed our eyes on the contacts or address books.
This article focuses on saving Google contacts. If you wish to download other items, consider reading our other articles:
Methods on How to Save Google Contacts to Computer
A quick search on the internet forums will give you plenty of queries related to downloading Google contacts from a single account. The method to do so is also very easy. But, what about those people who are not satisfied with this method?
Read this Spiceworks forum user query as an example:

SO, for those users who wish to find the method to save contacts from several Google Suite accounts at once, we have included a special method.
So be clear about your requirements and choose the method best suited for your needs.
I. Download Contacts from a Single Google Account to PC
Go to Google contacts on your web browser and login with your Google credentials.
Look for the Export option on the left hand side and click it.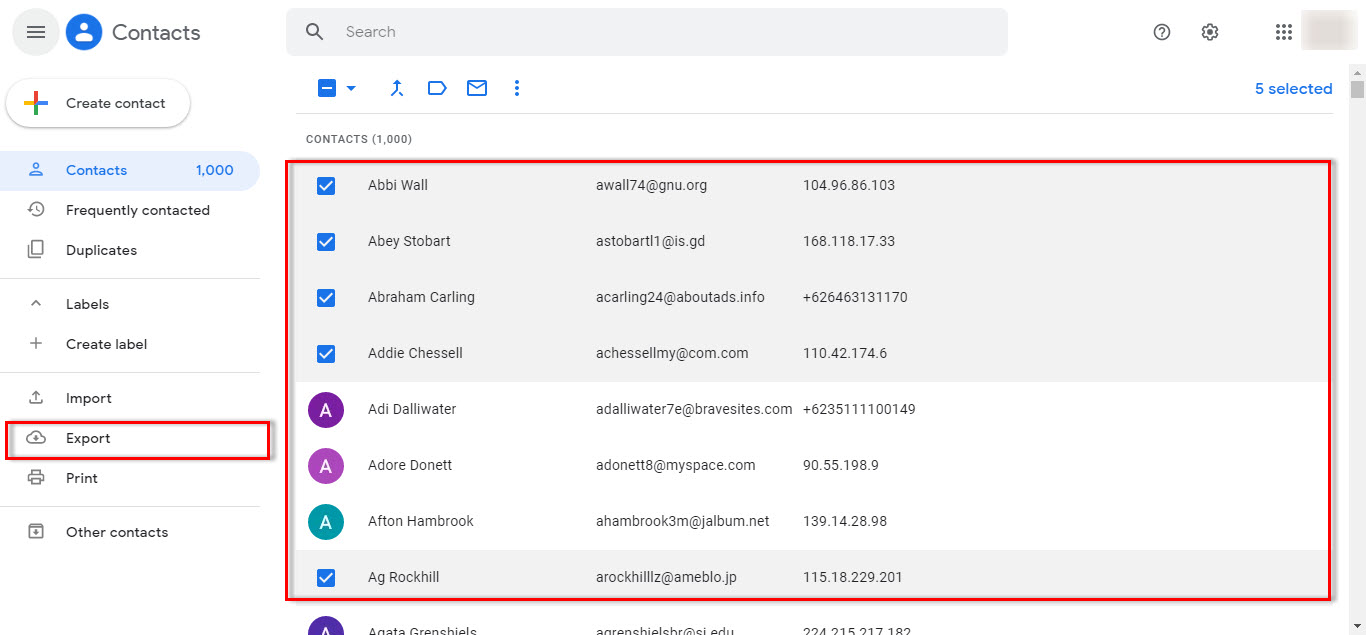 You can also select specific contacts and then click Export to save only those contacts.
Choose the preferred option to download contacts (vCard, CSV) and click Export button.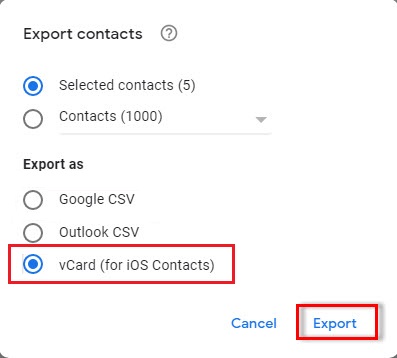 The browser will download the contacts on your computer in the selected format.
That's it! If you have 4-5 more Google accounts to save contacts, simply sign in using those Google account credentials and download the address book with the same steps.
However, if you have multiple users accounts of a Google Suite domain, you can save your precious time and efforts by using the below-given method. It will save Google contacts to computer from multiple Google Suite accounts at once.
II. Save Google Contacts to Computer from Multiple User Accounts (G Suite)
We will be using a trusted professional utility for this, as there are no manual/native solutions to resolve this task. You can download the free version of G Suite Backup Software on your Windows system and test to see if it saves all your contacts in a hassle-free manner.
It actually goes one-step further than your everyday tool, as it also supports exporting the emails, calendars and drive documents, Only if you chose to do it. Other settings include filters, multiple exort formats, etc. So, give it a try.
Here's how it works:
Run the tool on your Windows PC and click the Backup button.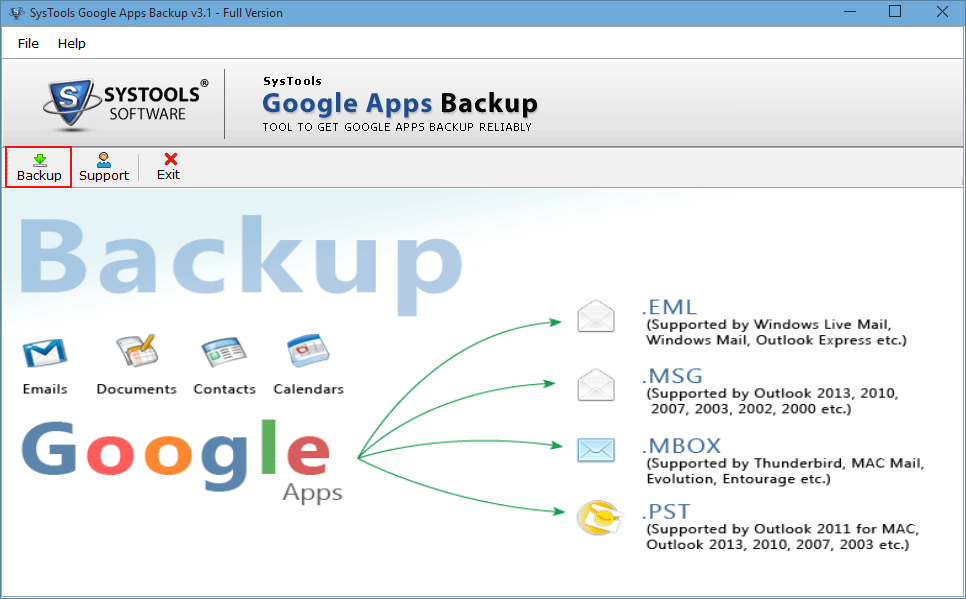 Select Domain Users option to save contacts from several Google Suite accounts.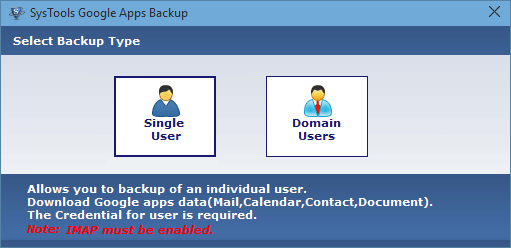 Enter your admin credentials and import a CSV file containing all the user accounts from which to download contacts.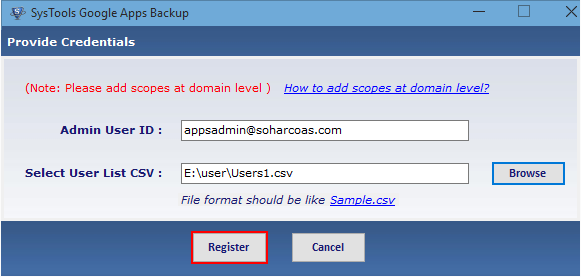 Select Contacts from the category and apply additional settings as per requirements.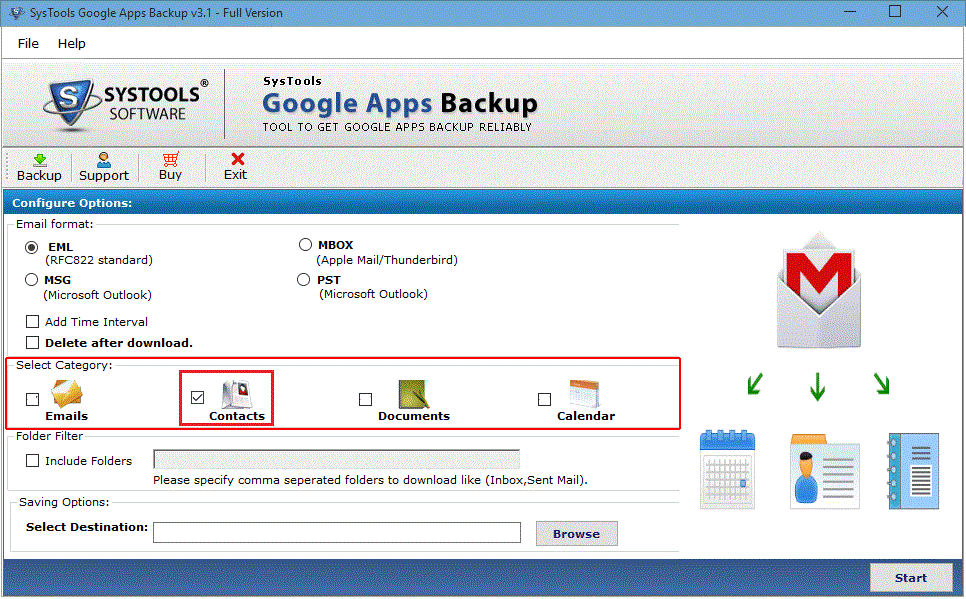 If you chose PST option, the contacts will be downloaded in a PST file compatible with MS Outlook. All other options will save Google contacts to computer in .vcf file format.
Set your preferred destination location and click Start button to start downloading Google contacts.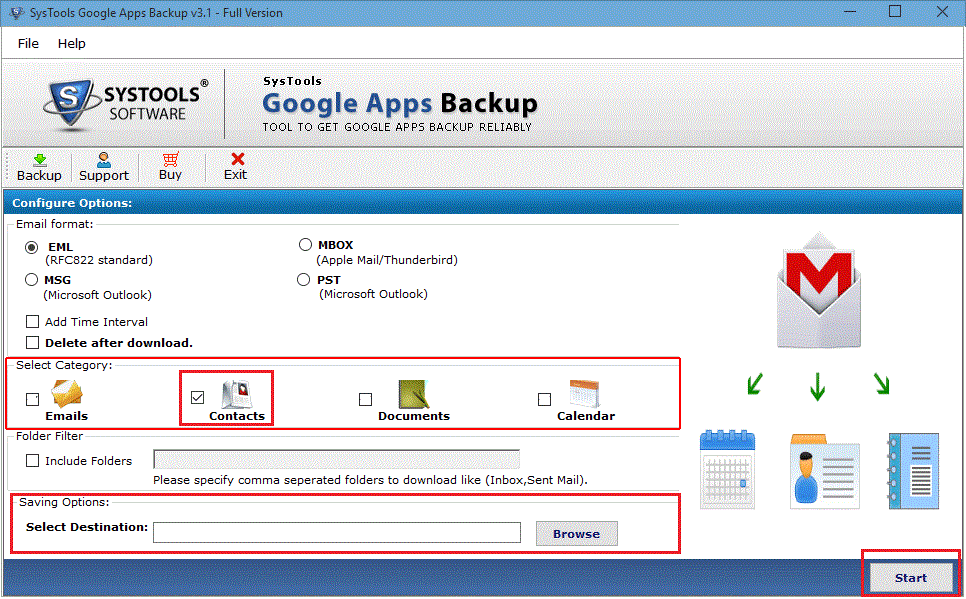 With this method, you can successfully export G Suite contacts without failure.
Final Words
There are plenty of reasons to learn how to save Google contacts to computer. For some users, backup is the main concern, while others want to access the contact list in a different application. Regardless of the reasons, it is clear that there are two kinds of user queries – One wants to save contacts from personal Gmail accounts, while others wish to download address book from Google suite domain. We have covered both these Google services and provided methods to download Google contacts to PC. Hope it helps the concerned party.
Some FAQs to Wrap Up
Does the manual method involve some trick or hidden charges?

No, the explained manual method is completely free and does not include any tricks and/or charges.

Is it possible to save multiple address books from a Google account at once?

Yes, the native method provides you with the option to save multiple address books at once.

I am unable to find any method on how to save Google contacts to computer from multiple accounts of a domain. Is it even possible?

If you are referring to Google Suite accounts, then yes, it is possible. Use the second method to export contacts from several accounts belonging to a single domain.