Want to Download All G Suite Emails? Find the Best Methods
G Suite being a cloud storage service, has the main purpose to increase storage space beyond the limits of a hard drive. It is most widely used for business purposes which means it gets important for users to keep sensitive data safe and secure. But, sometimes there is no security factor, which makes a person worry about the data. If you want to save file online, there might be a chance of data corruption. Therefore, in order to prevent the loss of confidential data, it is quite important to download G Suite emails for the backup purpose. Here, we are going to discuss different methods by which you can easily save Google Apps data without any risk.
Best Tricks to Download G Suite Emails
Go through the following methods that will help to download Google Apps data & save to your local storage.
Method#1: Google Takeout
Google Takeout is a simple and easy tool for downloading data from some Google apps user accounts. Follow these steps:
Start with Sign-in to G Suite account.
In the top-right corner find Profile icon >> now click on Google Account option.
Now click on Data & personalization option in the menu bar.
Scroll through the page and click on Download your data feature.

Click the Deselect All button and choose only Mail.

Choose one of these two archive file extensions: ZIP (most preferred) and TGZ
Select the Delivery method and tap on Create Archive button
The archiving process will take place. Wait for a while.
Once the process completes, a download link containing the exported data will be sent to your Google Apps account.
Extract the data fom archive file (.zip/.tgz) & save to system.
Method#2: G Suite Backup Tool (Recommended)
Users can opt for a reliable and instant solution, i.e., G Suite Backup software. It is designed in such a manner to backup and export G Suite email and items, i.e., contacts, calendars, etc., for Business and Work. It allows the user to migrate All or Selected Domain mailboxes in one click.
Also, maintains folder hierarchy as before even after exporting the backed up G suite data. The best part of this tool is that it offers "delete after download" feature by which users can delete G Suite account data from the server simultaneously.
The free version of the software can be found here:

Steps to Download G Suite Emails Using the Proven Tool:
Start the tool on your Windows machine and click the Backup button.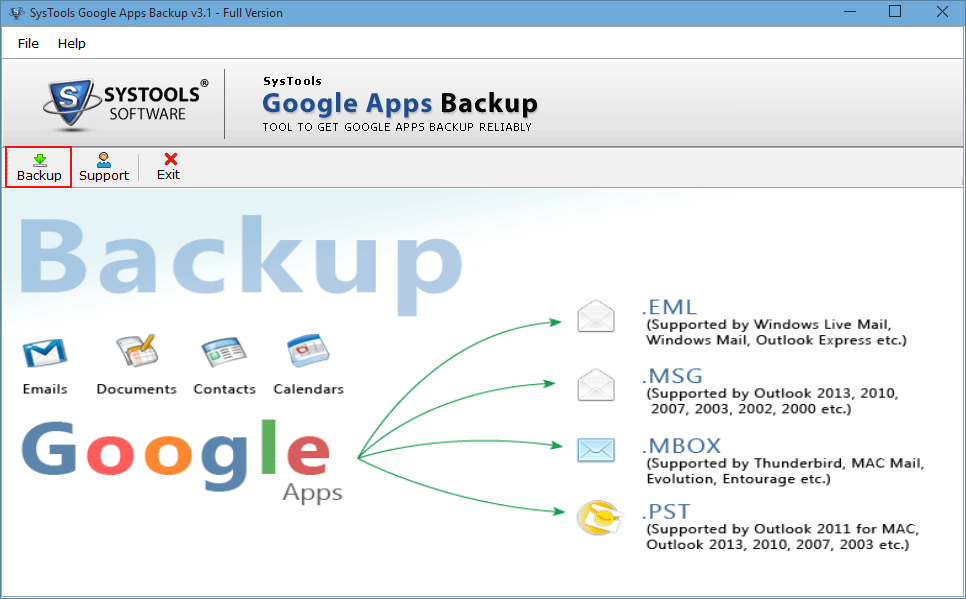 Choose Single User for downloading emails from single account and Domain users to download emails from multiple accounts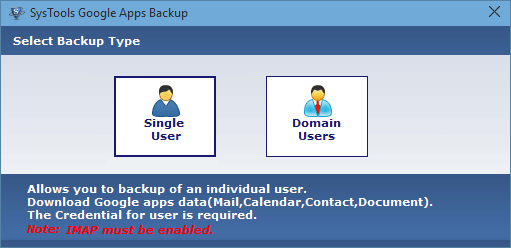 Authenticate your account details.

Select the format and apply filters to download G Suite emails.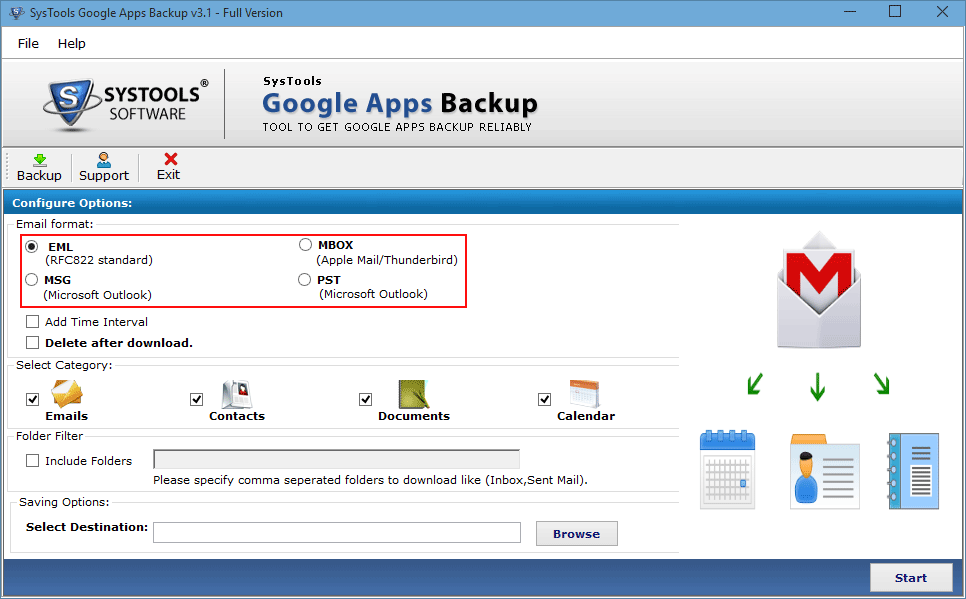 Select Mails from the category and click the Start button to start downloading emails from G Suite account.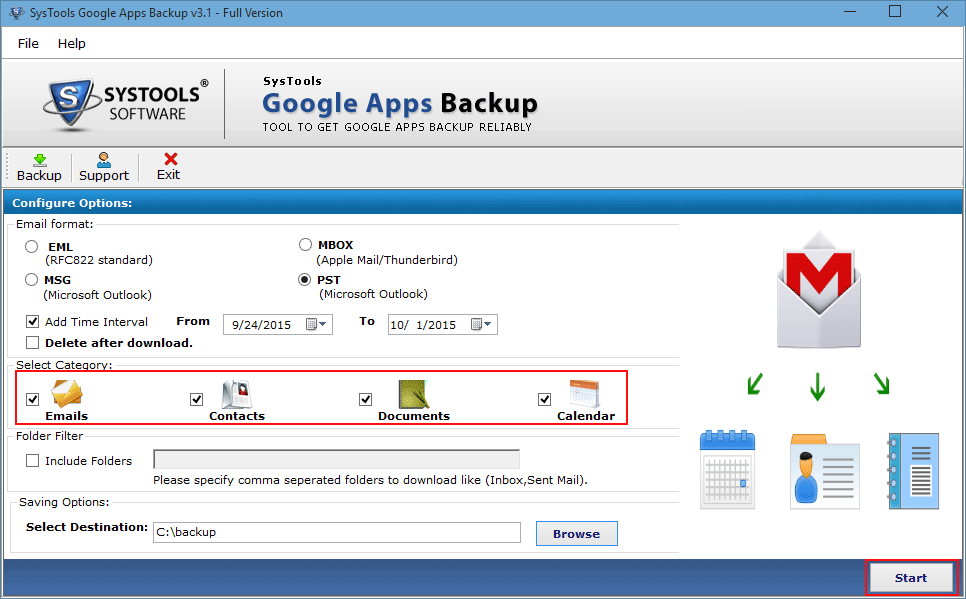 Method #3: Using Data Export Tool
Sign in to your G suite admin account.
Head to G Suite Admin Console and click the arrow (<) button.
Select Tools and click on Data Export.
Now, click the Start Export button.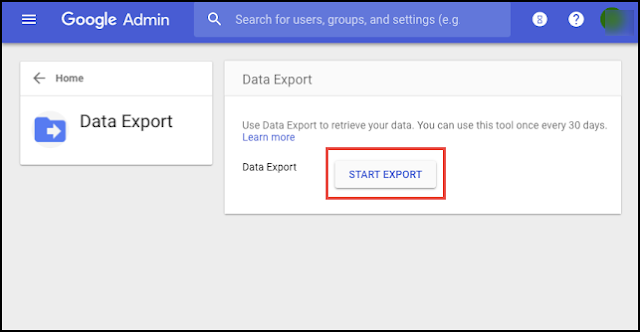 After a week, you will receive an email with the download link to download G Suite emails.
Open the email and download all the G Suite emails on your system.
The following section is to have control over the former employee's mail account, and will block the former employee's access to your account data and is ONLY provided for security concerns of various organizations.

This is NOT a method to download G Suite emails.
To Restrict Others from Accessing G Suite Account Data
Here is one more manual method to download G Suite emails and data.
First of all, remove data from a mobile phone connected to account. Login G Suite admin account to G Suite administrator console, select Users, enter the user's name, then choose Account option. You can see all the mobile devices connected to account under the account section. Choose either Wipe this account to remove organization's data from a device, or Wipe this device to remove all data from device. Now, repeat this process for every connected device.
Secondly, change the user password and then, create a new password. You will need it later.
Select Reset sign-in cookies that require the user to re-login all devices.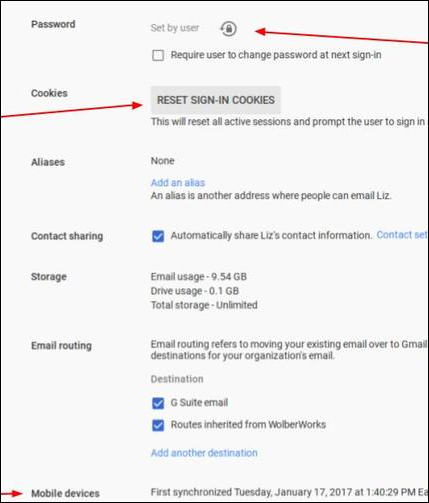 Return to user's main settings page, next scroll down to the Security section (you may require to choose Show more). Repeat application specific passwords and authorized access items listed below screenshot. Make sure that you turn-off two-step authentication.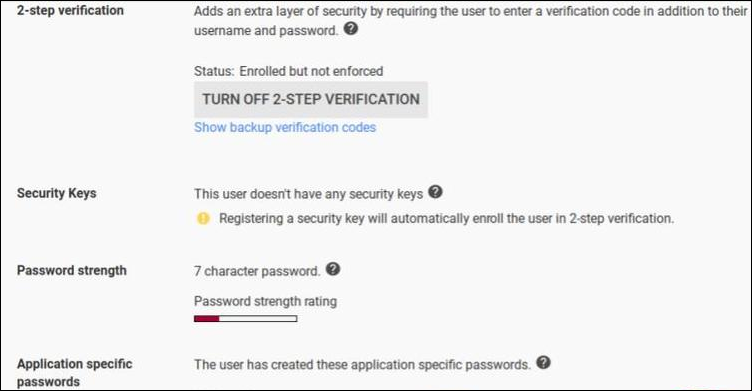 After that, login to a former employee account and delete any recovery phone or email address associated with that account.
Now, you have control over the former employee's mail account, and will block the former employee's access to your account data.
Bottom Line
To have a backup of G Suite account is very important nowadays. By this, users can easily protect Google Apps data without any risk or data loss. Therefore, in this blog, we have discussed simple steps to save G suite data securely. However, manual method may lag sometimes when data is huge, so users can go for an automated solution, i.e., G Suite Backup. It is the best solution that helps to Export And download G Suite emails and other data on a local machine without any data loss.