How to Export G Suite Contacts to CSV File or VCF File – Two Methods
Ashwani Tiwari | Published: September 5, 2020 | G Suite
G Suite (formerly known as Google Apps) provides cloud-based service to its users. It lets you work directly on the cloud and store data on its server. So, organizations don't have to worry about maintaining hardware for different applications. Lately, it has been seen that G Suite users want to export their data to local computer. Out of all the data items that are in demand for export, today we will focus on exporting G Suite contacts to CSV file.
Of course, we will also show you the method to use VCF format for the same. If you want to do it with emails and calendars, you can get instructions to export G Suite calendar to ICS file as well as how to download G Suite emails in our other blogs.
Before starting with the methods, here is a user query that will give readers a better insight of the situation and help you export contacts from G Suite in an efficient manner.

Because of queries such as this one, the second method we provide here is specifically for G Suite administrators to export contacts from multiple G Suite user accounts at once. So, let's get started!
Methods to Export G Suite Contacts to CSV File / VCF File
Users can export their G Suite address book using two methods. The first method is the native Google feature to export the data from one account. While the second method makes use of an alternative to export contacts from G Suite multiple user accounts at once.
Method 1 to Move G Suite Contacts to CSV File
The instructions are as follows:
Log in to the G Suite account with your credentials.
Open Contacts.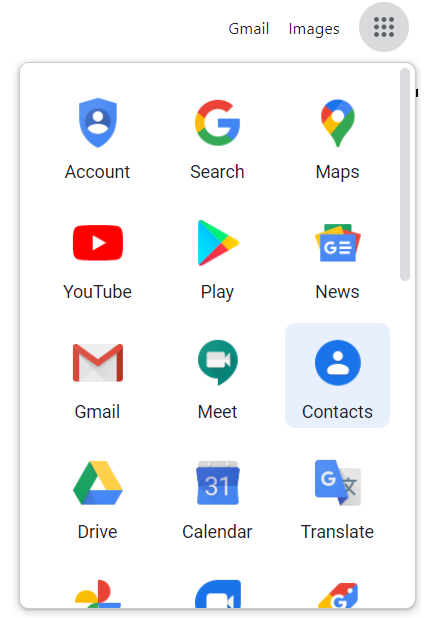 In the Contacts tab on your browser, look for Export option from the left panel and click it.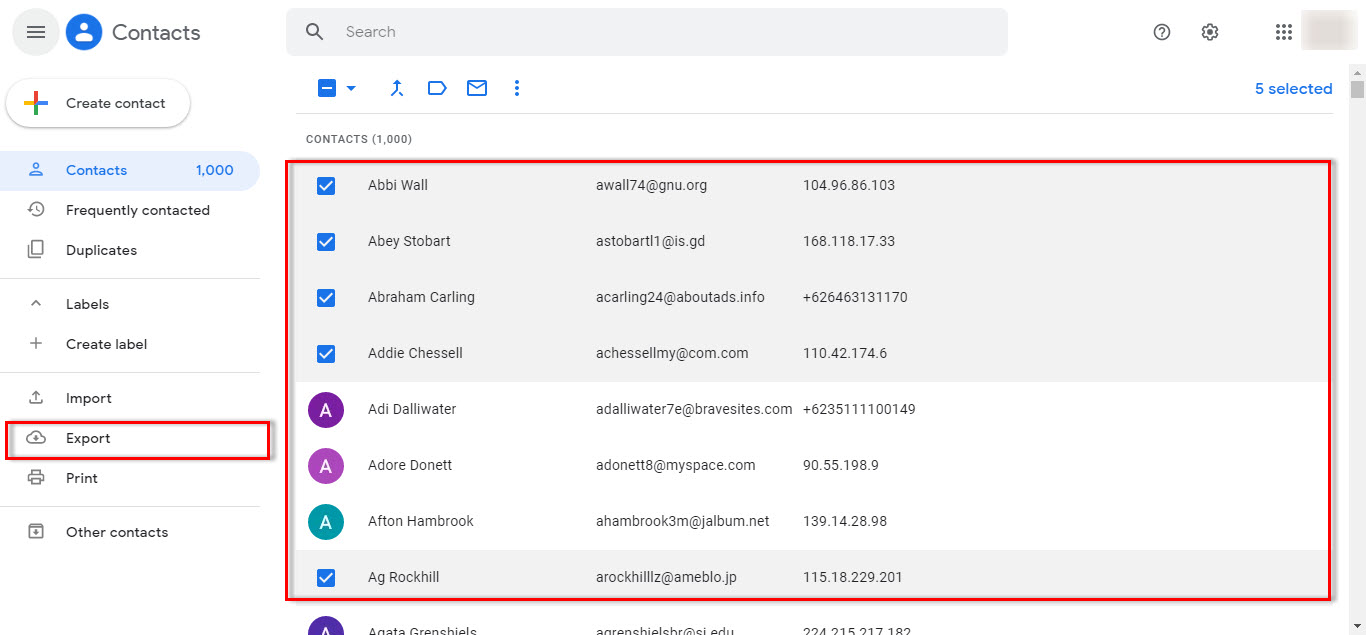 For selective export, choose the contacts that you wish to export from G Suite and then, click 'Export' option to save only these Google contacts to computer.
Now, choose your export format – Google CSV, Outlook CSV or VCF format.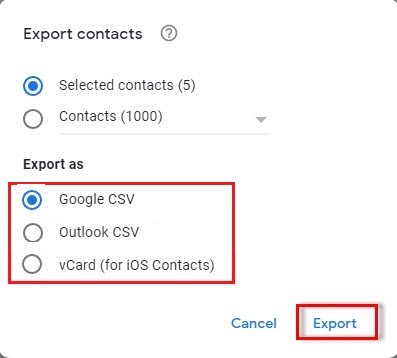 Click Export button to proceed.
If prompted, choose to save the file. The browser will download the files in the preferred format on your computer.
All the contacts of G Suite are successfully exported from one account. If you have more than 1 account to process, repeat the steps for each one of them. Or simply opt for the next method to export contacts from G Suite multiple accounts at once.
Recurring Issues During Manual Export of G Suite Contacts
It has been observed that people face distinct issues while manually exporting G Suite contacts to CSV file. Some of them are:
Error Message for Exceeding 2000 contacts: If you try to export more than 2000 contacts, an error message will pop up. To avoid this, export less than 2000 G Suite contacts at a time.
Instructions not applicable: There are instances where a user reads the instructions applicable to old layout of Contacts page and tries to apply it to new layout. Of course, it won't work. The same applies for the opposite scenario. For example, see this image user query: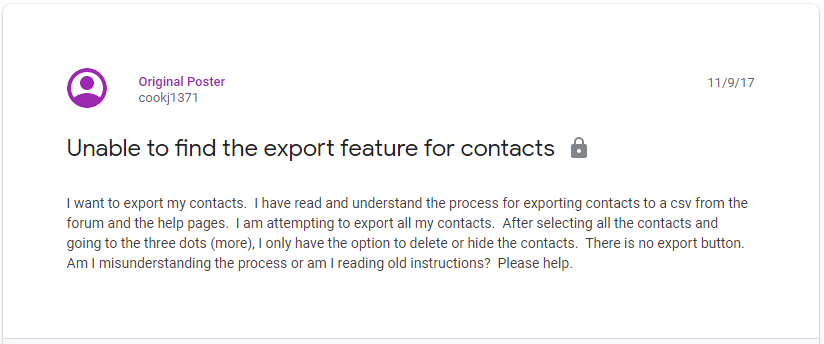 To overcome this, simply keep in mind that the new layout has Export option in the left panel. While the old layout has Export option here: More > Export
Lots of redundant contacts: This is a common problem where a lot of junk contacts are exported in the file.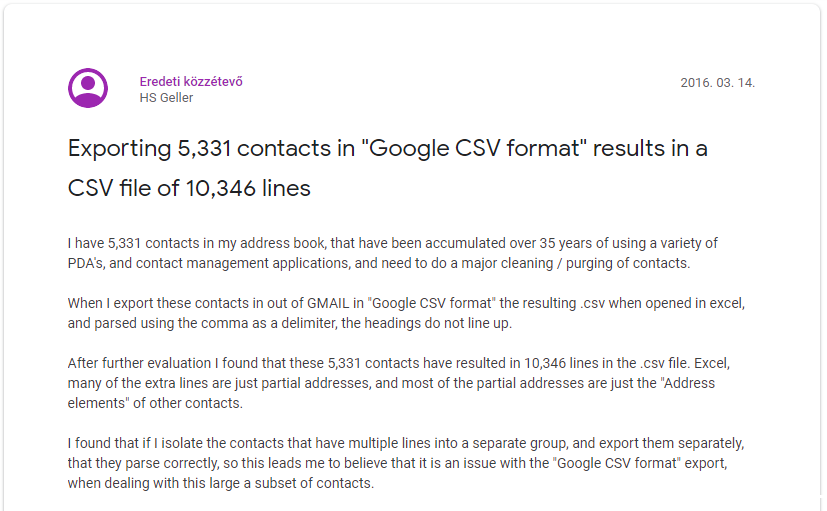 One User at a time: This method is applicable for only one G Suite user at a time. For 50 users, you will have to repeat the instructions 50 times.
Method to Export G Suite Contacts from Multiple Accounts At Once
It is evident from the discussion that the manual method is feasible for small number of accounts only. That's why we recommend G Suite administrators to use G Suite Backup Tool for this task. This software may not export G Suite contacts to CSV but uses VCF as the export format. But this is a blessing in disguise. Because VCF is accessible by every application that uses CSV format and more. So, you don't have to worry about editing, and accessing the G Suite contacts file.
This is a Windows oriented application that is free to download and try. The free version will export only 25 items at once, but it is more than enough to see its working and features. Also, it supports exporting emails, calendars and several documents along with contacts.
Here's how it works:
Step 1: Open the tool on your system and hit the Backup option.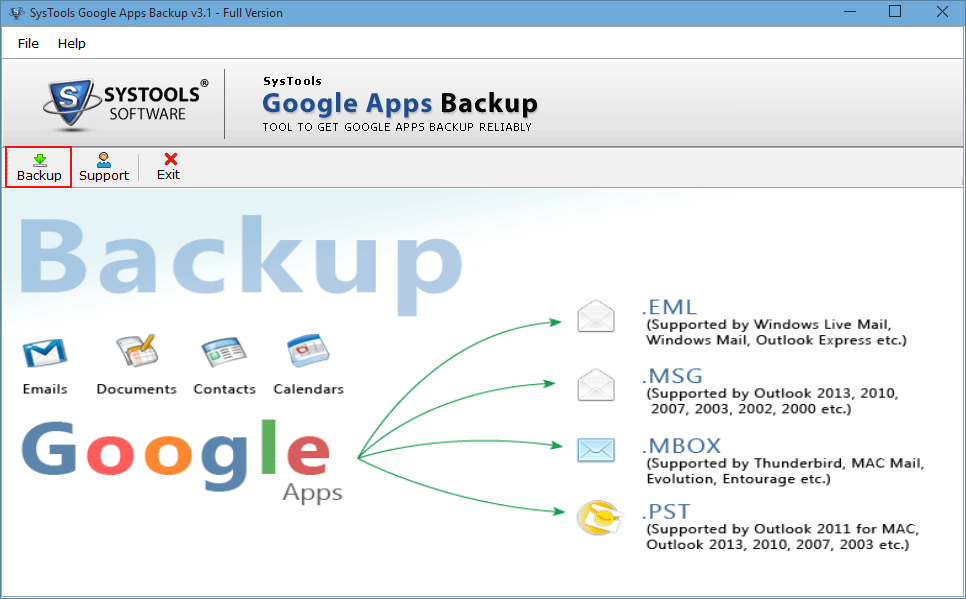 Step 2: Click on Domain Users.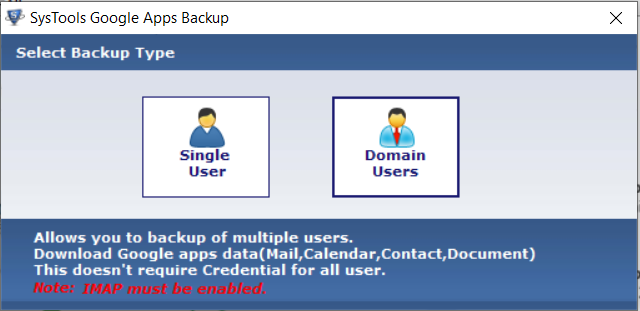 Step 3: Enter the admin id for G Suite and import a CSV file having the list of user accounts for processing. A sample is also provided.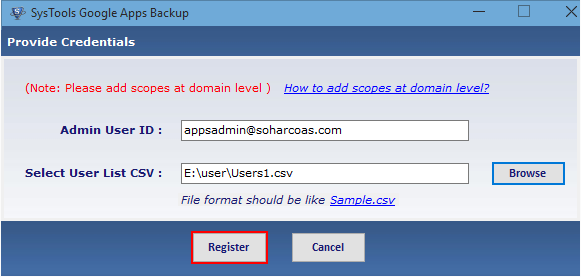 Step 4: Select Contacts from the Category and apply filters as per requirement.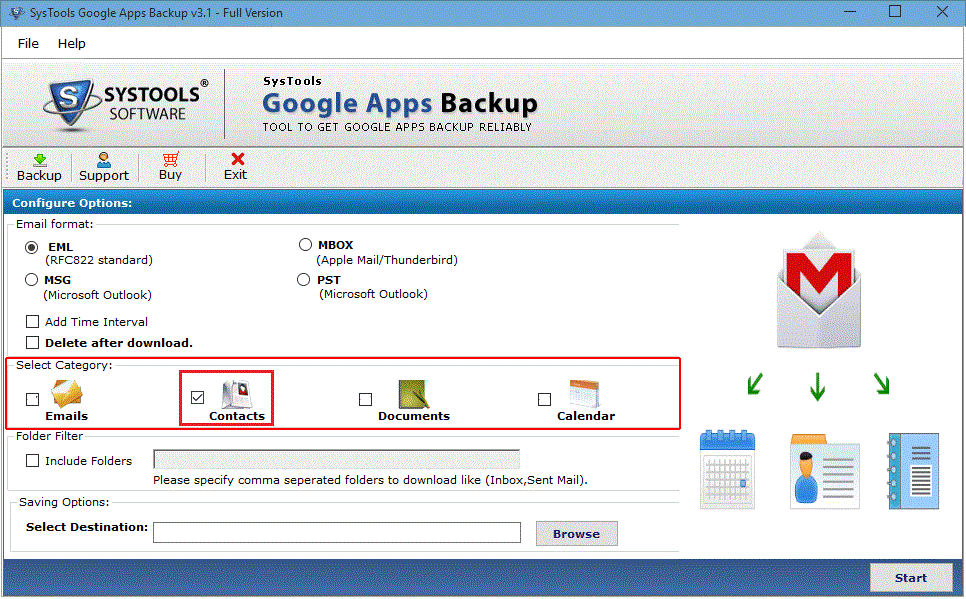 Hint: Please keep in mind that if you choose PST as Export, the resultant contacts will be exported in PSt as well. SO choose any other format.
Step 5: Choose where you want to export G Suite contacts and hit the Start button.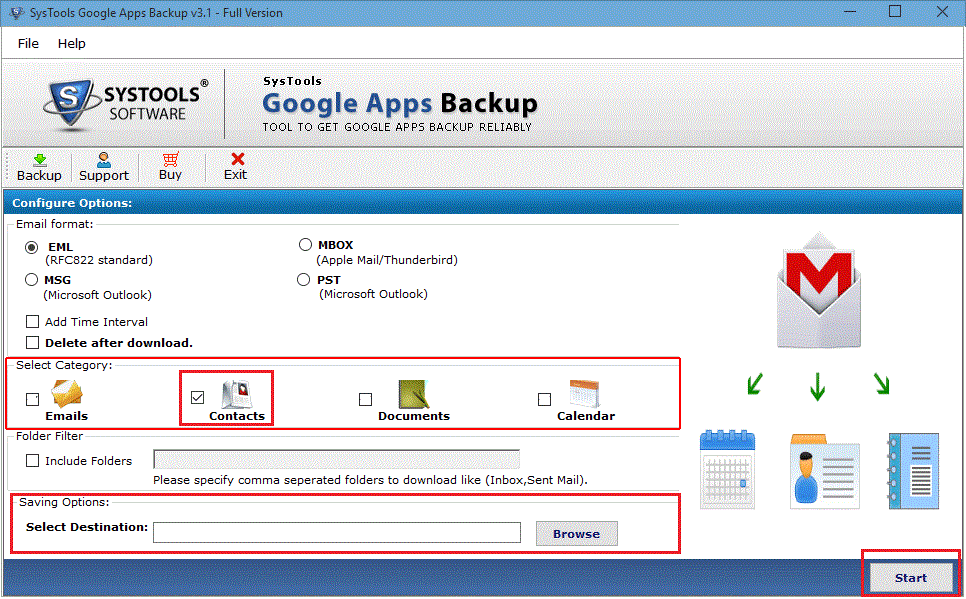 That's it. All your contacts are successfully exported from G Suite user accounts. The prerequisites and complete instructions are available on the official page in detail.
Conclusion
We have covered the solution to export G Suite contacts to CSV file from individual accounts. We also provided a method to export contacts from G Suite multiple user accounts simultaneously. You can verify your requirements and then choose the solution you wish to implement. Both the methods are efficient in their respective domain. This will surely make your export process seamless and hassle-free.