How To Backup Your Gmail Account To Your Hard Drive
Ashwani Tiwari | Published: March 10, 2021 | Gmail
This is a DIY guide of techniques to backup Gmail account to hard drive. Here, you will learn the working of Google Takeout and an automated tool for better & faster results. Before proceeding with techniques, let's take a moment and understand the various reasons and benefits of taking backup of your Gmail account.
Reasons For Backup Of Gmail Account
Gmail account is a well-known application that is used by people at large. The main reason for its extensive usage is cloud technology. A large number of emails, contacts, calendars, events, appointments, etc., are stored in the Gmail account.
So, to make sure that all the mission-critical business and personal information is safe, it is essential to backup your Gmail account to your hard drive for safekeeping.
Other important reasons are as follows:
There is a possibility of forgetting the credentials of the Gmail account
The data of Gmail account is prone to data loss because of malware or corruption
It might get unauthorized access by the hackers for their personal interests
In case of requirement for change of Gmail account into another account
In case of transferring the data to another person for some official requirements
Henceforth, it becomes important to keep a local or backup copy of your Google account data into your hard drive for safety and security purposes.
There are two methods for taking backup of Gmail account:
Backup Gmail Account to Hard Drive Using Google Takeout
Gmail account has its native tool 'Google Takeout' for taking the backup of Gmail account. Any user with a Gmail account can use it for taking the backup.
The following are the steps for taking backup of Gmail account using 'Google Takeout':
1. You need to go to 'https://myaccount.google.com'
2. On the left side of the page, click on 'Data & personalization'.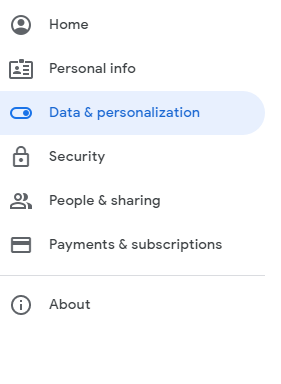 3. On the right side, under the heading 'Download, delete, or make a plan for your data', choose 'Download your data'.

4. Once clicked on 'Download your data', you will redirect to 'Google Takeout'.
5. Under the heading 'Create a new export' you may find 'select all' by default or you can 'deselect all' and choose the option amongst the data you want to take a backup of.

6. After choosing the data, you may now click on 'Next'.
7. Since, you need to take the backup on the hard drive so, let the option be ' send the download link via email ' in the delivery method.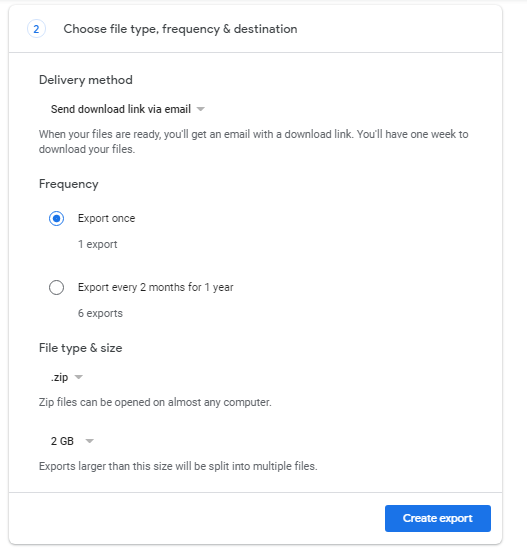 8. You can choose the frequency mode as desired. The preferred mode is 'Export once'.
9. You may now choose the file type and size. Now, click on 'Create export'.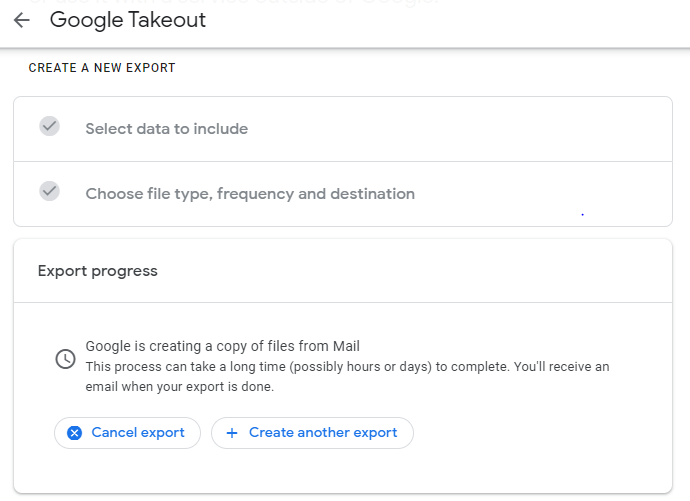 10. Once the export is completed then the download link will be sent on the email id. The data can be downloaded within 1 week. After 1 week the data will get expired.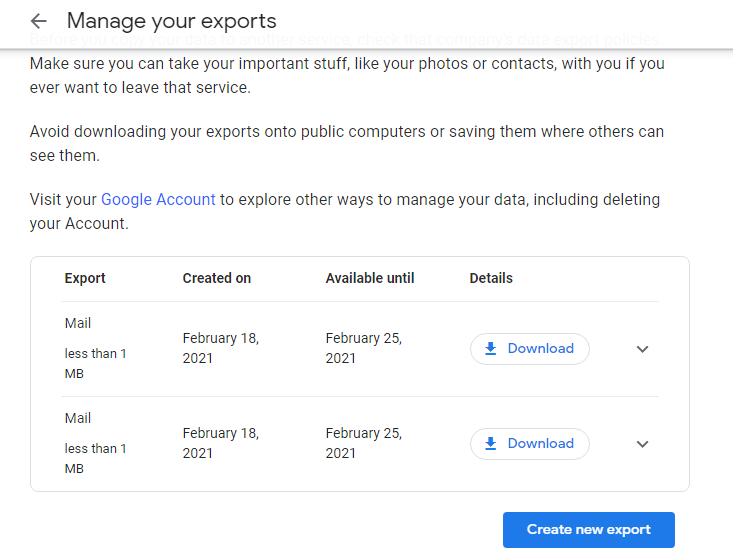 The 'Google Takeout' is an easy and simple way to take the backup. It is the native or inbuilt tool that Google provides. It does not cost anything. It is freely available and any user with the respective Gmail account can use it for backup purposes. However, it has few drawbacks which have been mentioned in the upcoming session.
Drawbacks of Manual method using Google Takeout
1. The export may take several hours or days which is a long process.
2. Uninterrupted internet connectivity is required for data download. Otherwise, it may lead to loss of data.
Directly Backup Your Gmail Account to Your Hard Drive
The Gmail Backup Wizard is an automated third-party tool that provides an easy way to backup Gmail account to hard drive. However, the Gmail account has its native tool 'Google Takeout' but it is time taking and does not bring 100% output.

Keeping in the mind, the possible drawbacks that the manual method provides, there becomes a need for a third-party tool. The automated tool provides a convenient and compatible environment with 100% output.
Some of the prominent features of the tool offered during backup of Gmail account:
Backup Gmail emails with attachments
Download contacts, calendars, and drive data to local storage
Backup Google Docs/Spreadsheets/Slides/Images/
Videos from the drive.
Use the 'Delete After Download' option to clear mails from the server
Use the Folder filter option to backup particular folder emails.
Provides date-range filter to backup specific date-range emails
Incremental backup to skip previously backed up emails & download newly arrived emails.
Using the following steps you can backup Gmail account to hard drive:
1. First download the automated backup utility and install it.
2. Launch the tool and provide emails id and password of your Gmail account for login.
3. Select the category of items you wish to backup from your Gmail account.
4. Next choose the email-format from PST, EML, MSG, MBOX and PDF.
5. Browse the location of your hard drive to store data.
6. Use Apply Filter options for folder and date-range features.
7. Finally, hit Start button of the tool to initiate Gmail account backup.
That's it! The tool will preview the live status of the backup and generate a report once the process is done. You can open your hard drive and check the backup data from your Gmail account and read the report file.
Why Do We Care?
There are many hackers lurking for the vulnerability in Google's security, so it's wise to backup Gmail account to hard drive to have a local copy of your account data.
In this blog, you have learned about both the manual method and third-party tool. Though the manual method is easily available by the Gmail account itself. However, it is extremely time taking and has flaws such as data loss. Whereas third party tool provides secure access to download all the required Gmail account data without any nuisance.