How to Migrate Microsoft Teams to a New Tenant? – All in Guide
Teams is a very powerful collaboration tool from Microsoft. This is why businesses are rapidly using this application for their business communication. Users are coming up with a lot of queries regarding the same. One such query is "how to migrate Microsoft Teams to a new tenant?". There are several solutions available but there are some gaps in most of them.
It's quite difficult for IT admins to execute this complicated task because of core technicalities. In this informative blog, we're going to discuss the challenges that most users face. Moreover, the solutions are also discussed here. This article is a great insight into this data migration process. Read this article till the end to clear all relevant doubts.
Critical Challenges to Transfer Microsoft Teams to Another Account
Now we are going to start discussing the challenges that users have to face if they want to execute this operation. The crux of the matter is that a majority of your data isn't stored in the Teams application itself. Let's dig a little deeper.
Most of the Teams data is stored in different file formats at various locations which makes it complex to gather data from different places.

There may be differences in the APIs, which themselves have restrictions,  particularly when it comes to migrating channel chat data.

Another major challenge is configuring

the source settings for Teams users in the new tenant to

migrate Microsoft Teams data

.

First of all, there is not any direct solution for this task, and secondly, the indirect manual solutions are complicated.
Know the Manual Method with the Complexities Involved to migrate Microsoft Teams Data
The manual method isn't a predefined method. It's just a basic download & upload method that demands in-depth knowledge of PowerShell scripts and Office 365 technicalities.
Step #1. Create Teams at the Destination
The very first step is to create Teams at the destination account. This is done to accommodate the data we transfer from source account to destination.
Here, IT admins have to recreate the entire folder hierarchy of the source Teams. This process may consume a lot of time as there are chances of errors as this is a manual process.
Step #2. Add Correct Users & their Permissions
There are four sub-steps in this particular step, and are mentioned below:
Make a CSV file of Users & their permissions.

IT admins need to Modify domains that are associated with each user.

Now, add the users to the destination Teams from the CSV file prepared in the first step.

At last, just modify permissions within each Team and move on towards the third step.
Enabling proper permissions is a crucial step in order to solve the user query of "how to migrate Microsoft Teams to a new tenant?"
Step #3. Download & Upload Data Files from One Place to Another.
Here, users need to download the content from teams that are stored in the associated SharePoint sites. 
Then users need to upload these files to the destination tenant in the "general" folder as shown in the image.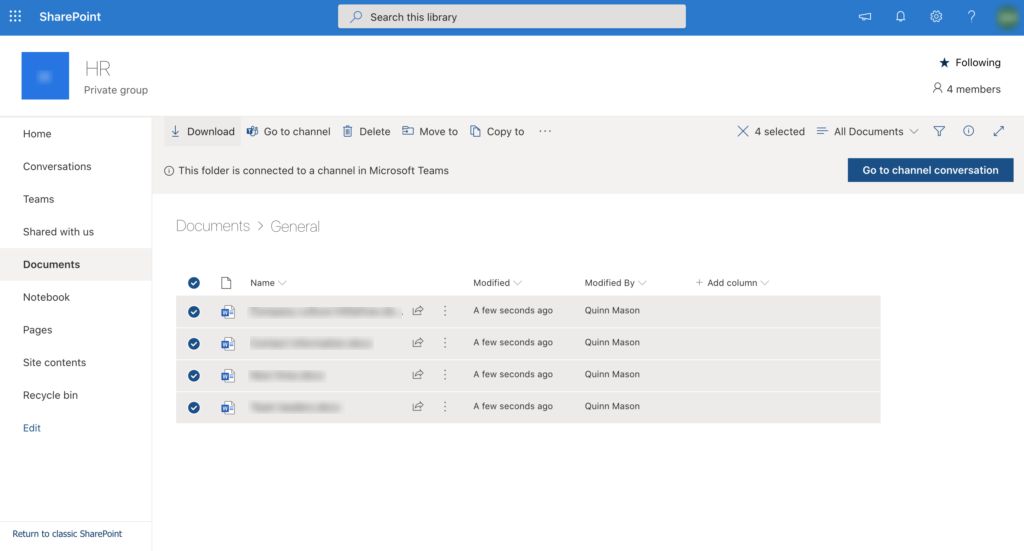 Step #4. Export or Import the Chat History of Teams
Users need to export each team's TeamChat data to the destination account. This step includes multiple steps that make this process even more complex. It only migrates Teams group chat history.
Best & Reliable Solution to Migrate Microsoft Teams Data
In order to move our data files from one MS Teams to another, we need an advanced Microsoft Teams Migration Tool. This utility is specially designed to counter all the current limitations of the process. Moreover, this solution is much faster than the manual method.
Download Now
Purchase Now
After downloading the tool, launch it & then simply follow the steps mentioned below with their respective images.
Step-1. Select Office 365 as both Primary & Targeted platforms.


Step-2. Select Teams in the category section > enable Teams & Channel creation.


Step-3. Enter Office 365 admin credentials for both primary & targeted platforms.


Step-4. Add users using the User Group Mapping feature & validate them.


Step-5. Fetch or Import Teams through CSV file or manually.


Step-6. Create Teams for the destination accounts accordingly.


Step-7. Click on the Validate button & then on the Start Migration button.


Step-8. After successful completion, Click on "Mark Teams Complete".


Step-9.  Under the Groups Tab, Fetch Groups or Import Groups.


Step-10. Provide a destination to the desired Groups, validate & Start Migration.

Characteristics of This Advanced Utility
Now, we know how to migrate Microsoft Teams to a new tenant, users must know the features of a modern approach. This section is all about the unique characteristics of the modern solution that provides it an edge over other solutions.
This tool holds the capacity to migrate Microsoft Teams, Groups, Files, Channels, along with the Channels Chats.

There is a feature in this utility to migrate Teams Site, Links & Members with their permissions.

In addition to the existing features, it automatically creates Teams & Channels at the destination accounts.

Folder hierarchy & Timestamps are maintained in the destination accounts post-migration.

 Delta-migration feature is available for migrating the newly arrived data.

Users can also migrate files & attachments to the destination platforms. 
Winding Up
After learning the detailed process of this complicated task in an easy way, finally, we are at the end. There is a clear-cut advantage to the automated solution as it can perform the entire task without any difficulties.
Organizations planning to undergo this migration project must be careful while selecting a Migration tool along with the right approach. Otherwise, the process can be a huge mess because of the complexities discussed above. The above-mentioned tool can handle the entire process and provide a reliable solution to the user query of "how to migrate Microsoft Teams to a new tenant?"
Also Read: How to Migrate Office 365 Users to another Tenant?