Learn How to Migrate Exchange 2013 to Office 365 With A Step By Step Tutorial
Summary: If you are looking for a detailed and comprehensive guide to migrate Exchange 2013 to Office 365 then, go through this writeup. We have described multiple ways to perform this operation and covered all aspects of migration to ensure a safe and secure data transition.
Cloud technologies are advancing at an exponential rate. The Microsoft Exchange server will become a decade old in 2023. Therefore, it is perfectly sensible to migrate Exchange 2013 to Office 365 which is a newer and more advanced technology. This article introduces you to automated software for Exchange server migration.
5 Simple Steps to Migrate Exchange 2013 to Office 365

Step 1. Download & Launch Software on PC.
Step 2. Choose Exchange & Office 365 Platforms.
Step 3. Select Required Workload & Apply Filter.
Step 4. Use Valid Credentials & Validate Permissions.
Step 5. Choose User Accounts & Click on Start Button.
Exchange 2013 is nearing its end. Microsoft will be discontinuing support for Exchange 2013 in the near future. It is now time to start planning to migrate Exchange 2013 to Office 365 step by step. The organizational data will be much more secure with the continuous security updates that are available with Office 365. It offers superior service and functionalities. 
As mentioned above, Exchange 2013 will soon reach its end of support. This means that Microsoft will soon stop providing support for Exchange Server 2013.  This will have some repercussions on the organizations still using this service.
What are the Reasons For Migrating Exchange Server 2013 to Office 365?
Microsoft Office 365 offers best-in-class features that were unheard of when Exchange 2013 was introduced. Now that Microsoft is planning to discontinue support for Exchange 2013, Office 365 becomes an excellent prospect for organizations. Let's discuss some reasons for the migration of data to Office 365.
Office 365 offers the latest security features to keep crucial organizational data out of the reach of cybercriminals.

With Office 365, employees get features that improve productivity and collaboration.

With Office 365, the local infrastructure will no longer be required. This will reduce staffing, maintenance, and infrastructure costs by a huge margin.

Microsoft Office 365 is a very flexible and largely scalable service. This can satisfy the needs of most organizations.

Office 365 improves employee management. IT admins can manage employees very efficiently.

When support for Exchange 2013 ends from Microsoft, users will start facing certain difficulties:

No support from Microsoft would mean the crucial organizational data will be vulnerable to cyber-attacks and criminals.

No assistance will be provided by Microsoft to deal with any technical issue.

Not getting up-to-date support will soon make it an obsolete service. This will have an adverse effect on the online communities and forums where the users seek additional technical help.
Also Read:- How to Import PST Files to Office 365 Mailbox Manually? Top Solutions
How to Migrate Exchange 2013 to Office 365? Some Methods 
There are several methods that can be used for Exchange 2013 migration. Here we will discuss two of those methods: Cutover Migration and Hybrid Migration. These methods also hold certain shortcomings in their working as well.
Also, Exchange Server 2013 migration is a tiresome process, but to make it more smooth organizations are advised to make use of professional-grade migration software.
Let's start with the processes.
Cutover Migration to Migrate Exchange 2013 to Office 365 Step-by-Step
A cutover migration is performed using the EAC(Exchange Admin Center). This type of migration facilitates the export of mailboxes in one go which makes the process much less tiresome. 
But the process of Cutover migration is only applicable for only certain versions of the Exchange server, namely Exchange Server 2003, 2007, 2010, and 2013.
How to migrate from Exchange Server 2013 to Office 365 Using EAC?
Start the planning for Cutover migration and choose the Workload.

Owner credentials are required for domain verification.

Make cutover batches for mailbox migration. 

These Cutover batches are used to

migrate Exchange 2013 to Office 365

. 

Reroute the emails to Office 365.

Verify the completion of the migration procedure. Delete the cutover batches.

Purchase the required Office 365 licenses for the migrated users.
The process of Cutover migration has a lot of shortcomings. Some are listed below:
There is a limit to the number of users that can be migrated in a single attempt. The limit is 2000.

This process will be hard to perform for users with less technological understanding. Also, the users have to be familiar with the functionalities of the Exchange Admin Center.

This process consumes a lot of time to

migrate Exchange 2013 to Office 365.

If the amount of data is huge, the migration process can take days or even weeks.
Note: Cutover migration is not the suggested method for a large number of user accounts. Microsoft itself has recommended that users choose this method when the number of user accounts is less than 150.
Hybrid Migration to Migrate Exchange 2013 to Office 365 Step-by-Step
This process uses Azure AD Connect for migration. First, the user has to set up the Directory Synchronization to perform the migration. This process proves to be significantly more complex than any other migration process like Staged and Cutover migration.
Steps Using Azure AD Connect:
Verify the domain by clicking on

Setup & Domain>>Add Domain

.

Navigate to

Setup & Data Migration

. Choose

Data Service

and then click

Exchange.

Input the required credentials and click on

Update.

Map the users and provide the necessary Office 365 licenses.

Now. go to

Setup

and choose the

Data Migration

option.

Click on the

Exchange

option to start the process to

migrate Exchange 2013 to Office 365 step by step.

 
The limitations of Hybrid migration are very significant. Some of them are:
Hybrid migration is only supported by Exchange server version 2010 or higher. This process will not work unless the Exchange server version is updated to Exchange 2010 or above.

This process consumes a lot of time.

The chance of data loss is much higher in this process if anything goes unplanned.

The user has to follow the steps very closely.
Using an Automated Tool to Migrate Exchange Server 2013 to Office 365
There are one or the other drawbacks associated with the manual methods mentioned above. These drawbacks make these methods unsuitable for the migration of organizational data. To overcome these drawbacks, many IT professionals suggest using the Most Used Exchange to Office 365 Migration Tool. This tool eradicates all of those limitations and adds a lot of functionality to support the user in the migration process.
Let us look at some of the features offered by the tool.
This tool can transfer all mailbox data like Emails, Calendar data, and Contacts without any loss of data.

Users can perform simultaneous migration of multiple user mailboxes.

Use the Re-Run Migration option to migrate the remaining items or the items that failed during the first process.

The user interface of the software is very intuitive and easy to understand.

Different Date and Category filters let the user perform selective migration.

This software has support for Concurrent data migration.

There are multiple options for source and destination account mapping. The users can use a CSV file to map the accounts manually.

Supports Sub-domain migration also.

The tool has support for the latest version of Windows OS
How to Migrate From Exchange 2013 to Office 365 Using The Tool?
Step 1. Download, install, and activate the software on your computer.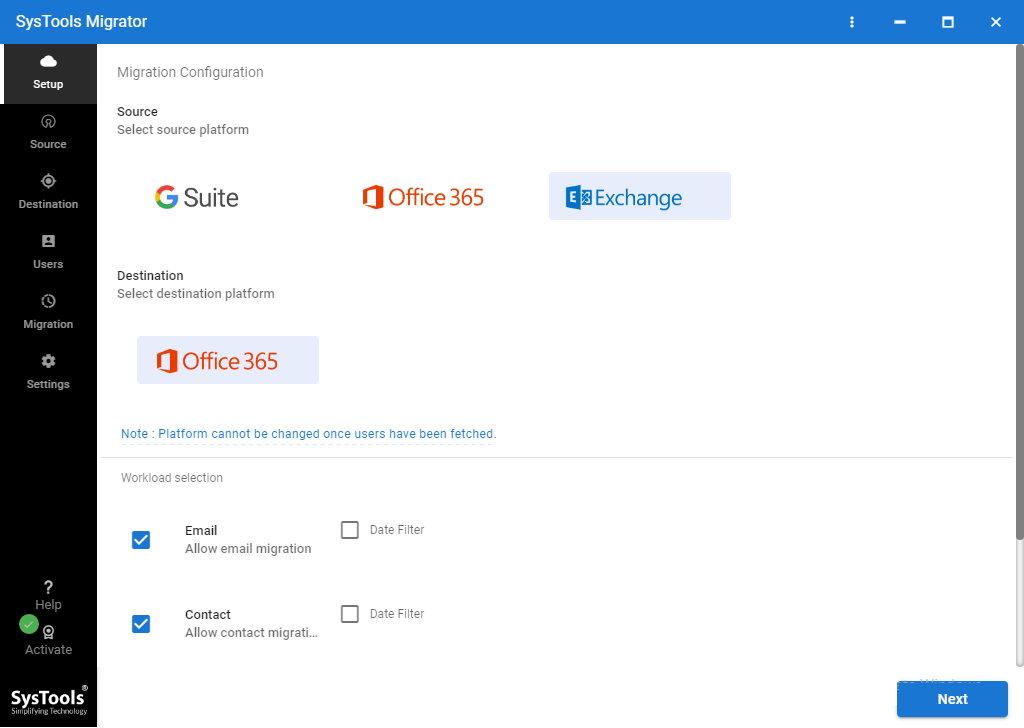 Step 2. Select the destination and source as Exchange and Office 365 respectively.
Step 3. Choose the workload and apply the date filters accordingly.
Step 4. Input the necessary details in the Source tab. Here, users can choose to migrate the sub-domains as well.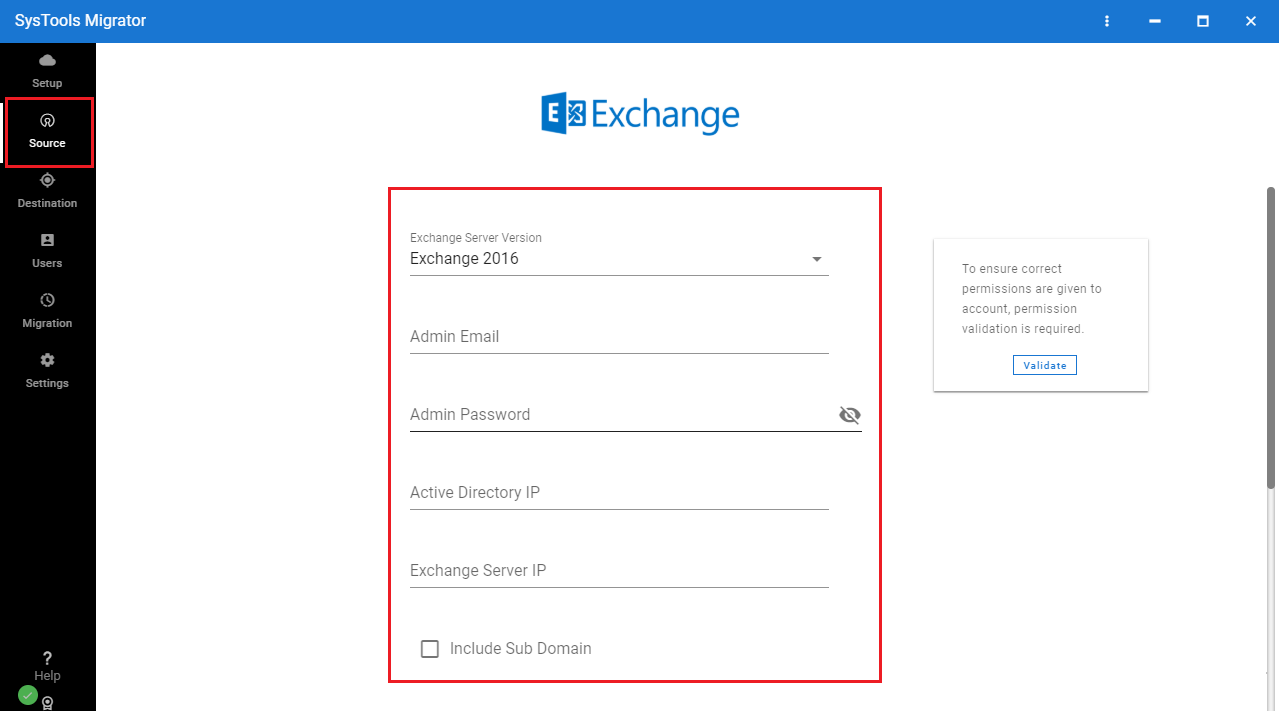 Step 5. Provide the destination account details and Validate permissions.
Step 6. Perform user account mapping using the provided options and Validate the permissions.
Step 7. Use the Start Migration button and monitor the migration progress using the Completed Pending, and In-Progress tabs.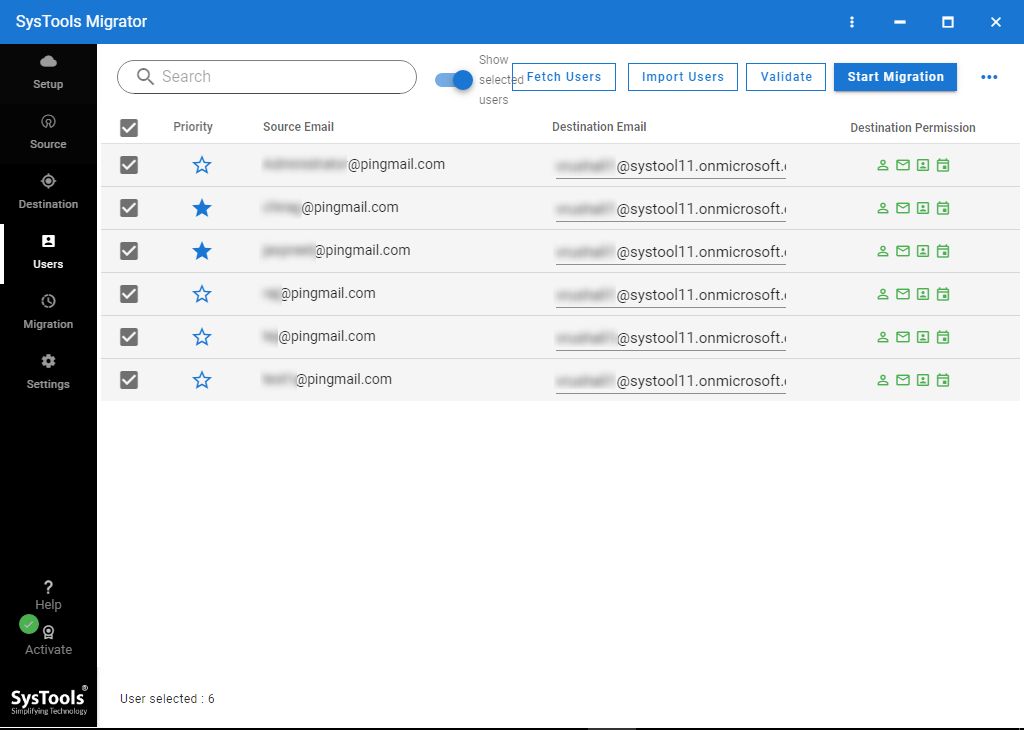 Also Read:- Import Outlook 2007, 2010, 2013 Calendar to Office 365 – Complete Guide
Conclusion
Exchange 2013 will become almost obsolete when Microsoft stops its security updates support. Therefore, it makes sense to migrate the data away from Exchange 2013. Additionally, by switching to Office 365 platform, organizations can get rid of the complex infrastructure and save maintenance and staffing cost. Since it is a complicated task to migrate Exchange 2013 to Office 365, using the above-featured tool makes the task much simpler.