Want to Extract All Attachments From PST File? Now You Can!
Ashwani Tiwari | Modified: April 10th, 2019 | MS Outlook
Personal Storage Table files are special data files generated by Microsoft Outlook to store its entire data items like emails, contacts, calendars, tasks and much more. These files preserve the integrity of Outlook emails and act like Outlook backups. So, it becomes very common that Outlook PST exceeds its defined size limit over time. After that, if you extract attachments from PST files and delete all the unnecessary emails then, it can reduce the size of your PST file.
However, there are several Outlook users who have no idea about how to extract all attachments from PST. If you're one of those users who gets stuck in the same question then, discover with this technical guide that how to extract attachments from PST file without Outlook in a simplified manner.
An Ultimate Solution to Export All Attachments from PST File
If there are thousands of emails in your Outlook inbox or any other mailbox folder that are making your PST excessively large in size then use PST Attachment Extractor. This is a powerful program to download attachments from PST file with maintaining their folder structure. In case if you've created a backup of your PST files then, this tool has the capability to extract attachments even from the backup PST files. This software allows to export unlimited attachments from multiple Outlook PST files in a single go. Below is how this tool works to extract all attachments from PST: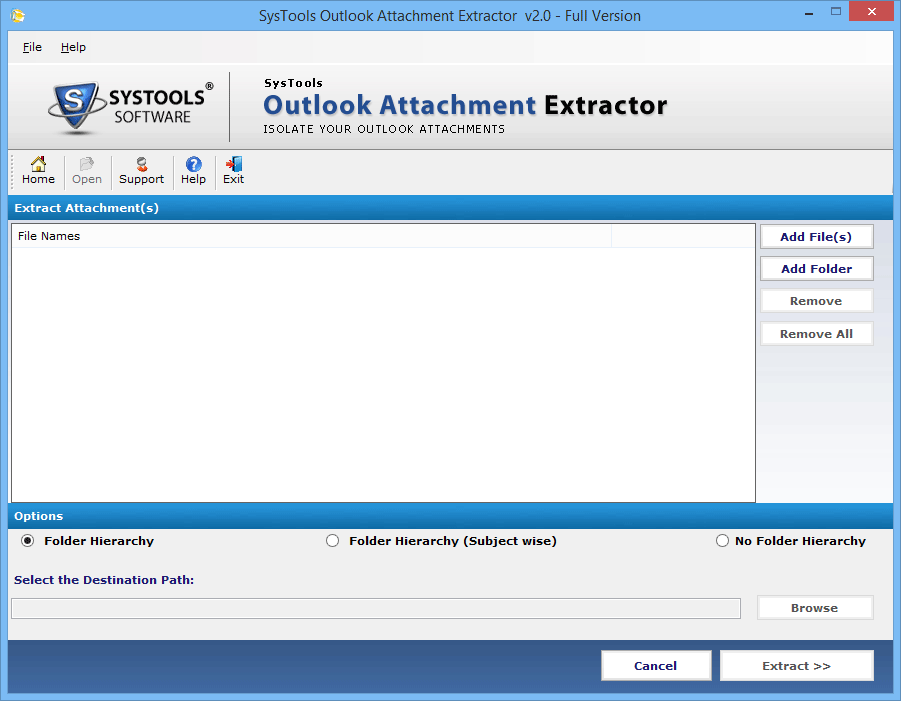 Once the PST file gets added in the software, you need to select the folder structure of the resultant attachments to remove attachments from PST file. In order to do so, the software will offer you three different options:
Folder Hierarchy: This option will maintain the original folder structure of PST file attachments and save all attachments from PST in respective email folders

Folder Hierarchy (Subject Wise):

This option also maintains the folder structure but will download attachments from PST files in different folders with email subjects.

No Folder Hierarchy:

If you want to extract all attachments from PST to a single folder then, this can be done simply using this option.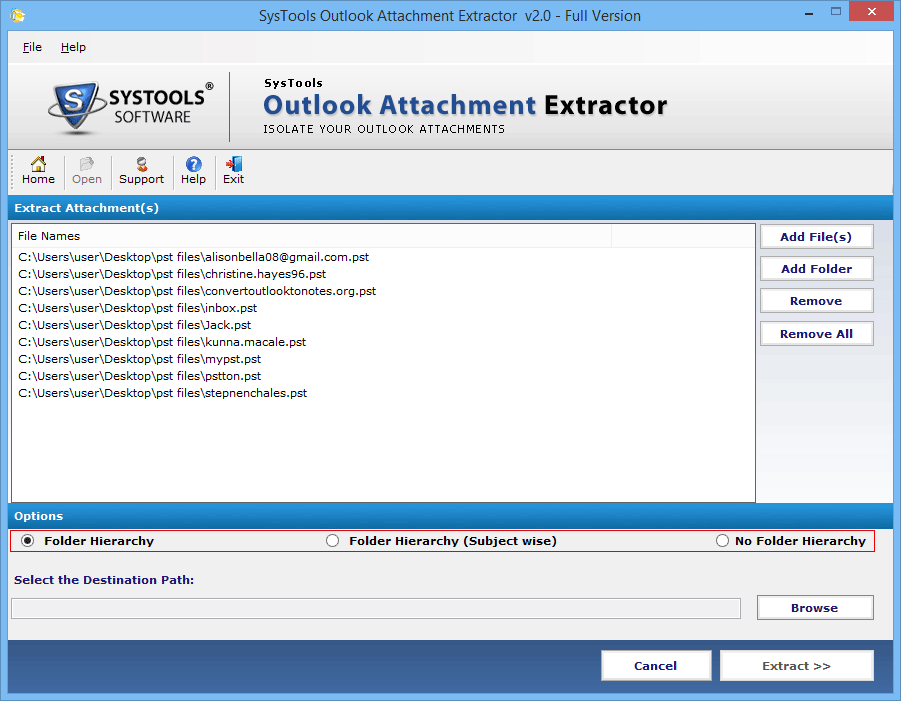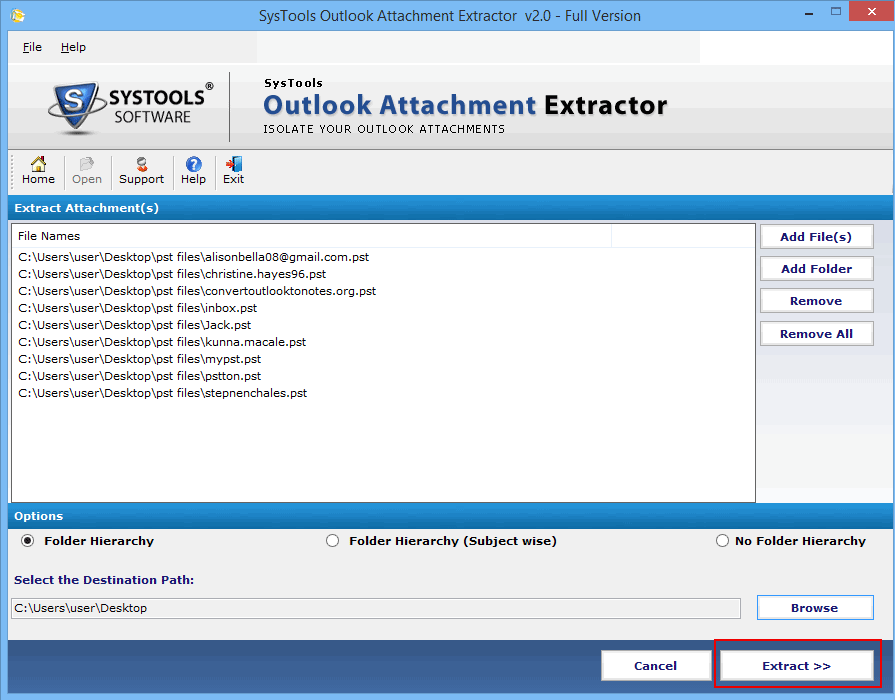 Once its all done, hit the Extract button and extract PST attachments process will begin just after this. The ongoing process status will be displayed by the software with File Name, Count and other attributes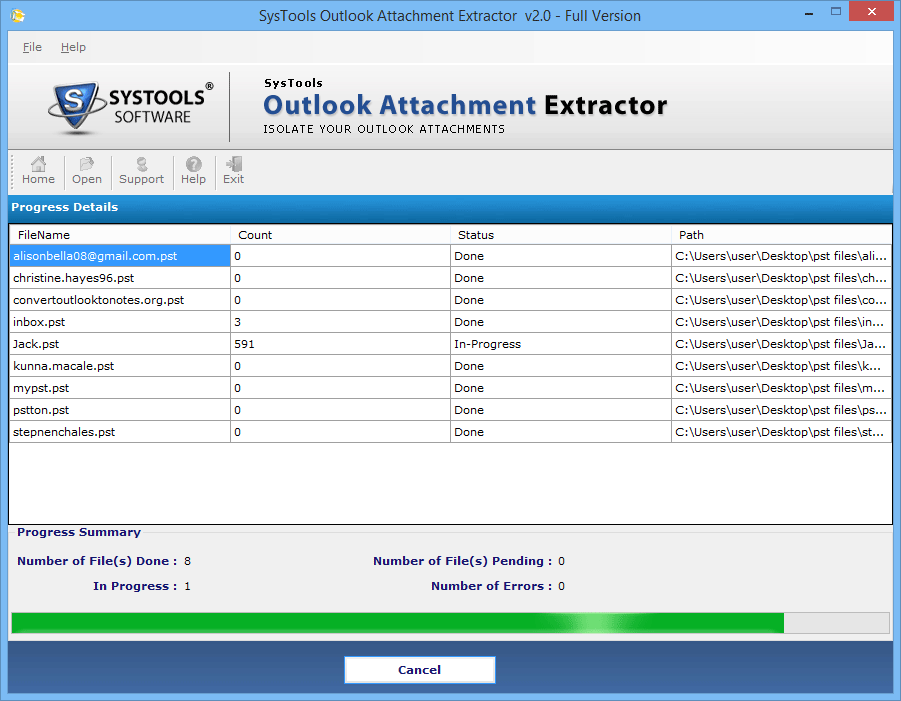 Why Choose Outlook PST File Attachment Extractor Over Others?
Well, it's an obvious question that Outlook users can ask as there are several other third-party tools available in the current marketplace for extracting attachments from PST files. Hence, below are some top reasons for what we're recommending to use Outlook Attachment Extractor to extract all attachment from outlook PST file instead of other applications available for the same purpose:
High Performance Speed: The complete process to extract all attachments from PST can be done in a very few amount of time using this software. Its working speed is very fast in comparison to other tools.

Precise and Error-free Results: The software extract attachments from PST files and does not result in any type of information loss.

No Changes in Attachment Types:

The tool export attachments from PST in their original file format even without making any modifications within them. So, users will face no difficulty while accessing the output data.

Extracts Unlimited PST Attachments: Users can opt PST File Attachment Download software to export any number of email attachments from PST file. There is no limitation on the number of attachments that can be extracted from the PST.

Test Functionalities Before Purchase: The software is available in two different versions to remove all attachments from PST: Demo and Full. The Demo version includes all the functionalities of Full version so that users can Try the Demo version of the tool before directly purchasing it.
Conclusion
All the users who are searching for how to extract all attachments from PST can get the answer to their question in this article. Here, we have talked about an efficient and actually working solution to extract attachments from PST files. So from now extracting attachments from PST files would be no more a difficult task for Outlook users.