Want to Extract All Attachments From PST File? Now You Can!
There are several Outlook users who have no idea about how to extract all attachments from PST file. If you're one of those users who is stuck with the same question. Then, discover the ultimate solution by following this technical guide and know the accurate process to save all attachments from Outlook data file.
Personal Storage Table (PST) files are proprietary data files generated by Microsoft Outlook to store its entire data items like emails, contacts, calendars, tasks and much more. These files preserve the integrity of Outlook emails and act like Outlook backups. So, it is pretty common phenomenon that Outlook data file exceeds its defined size limit over time because of large attachment files.
As a result, a majority of the users perform attachment extraction from Outlook emails and other data items. However, it is practically not feasible to remove all attachments from bulk PST files.
There is nothing to panic! All you have to do is avail the best yet proven third-party software instead of manually extracting attachments.
An Ultimate Solution to Extract All Attachments from PST File
Although there exist manual solutions which let users to extract attachments from Outlook PST file. However, it exposes various shortcomings such as complicated & time-consuming steps, requirement of technical expertise to implement the steps, etc. Therefore, to overcome all these hurdles, it is best suggested to make use of some relevant automated software.
If there are thousands of emails in your Outlook inbox or any other mailbox folder that are making your PST excessively large in size. Then, switch to Outlook PST Attachment Extractor. This is a powerful program to download attachments from PST file while maintaining the folder structure. The software is induced with innumerable advanced features such as option to extract attachments from all folder (s) or selected folder (s). One can also avail "Date filter" for selective attachments extraction.
One of the highlighted features of the software is that it can efficiently extract all attachments from PST emails, contacts, calendars, tasks, etc. without the occurrence of any technical disputes. Apart from extracting attachment from PST files, it is also capable to save all attachments from OST and BAK files. In case to avail any technical assistance, one can easily reach out to the team of technical experts to meet all your challenging queries.
Let's Understand the Functional Procedure of Outlook Attachment Extraction Using Tool
Step 1: To begin with, download and run the software on any version of Windows system
Step 2: Upload PST/OST/BAK file using Add File (s) or Add Folder option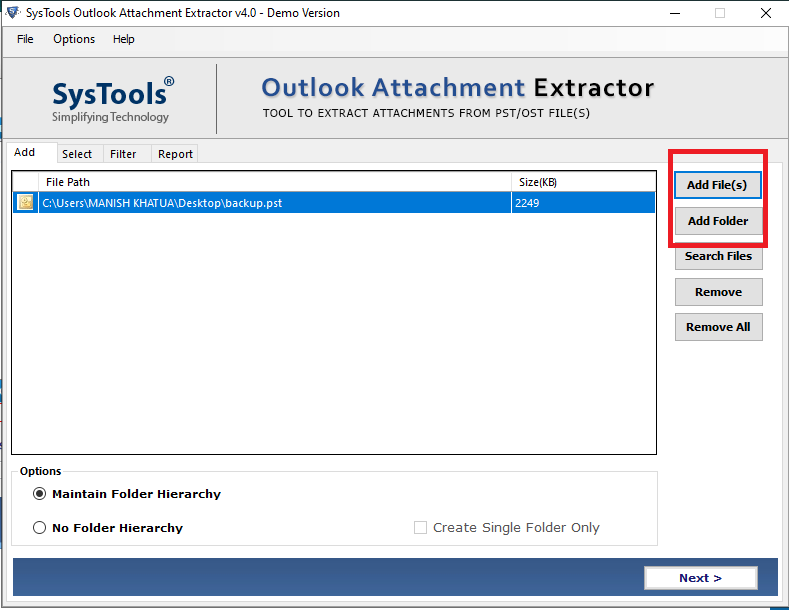 Step 3: After that, you can select the required option as per the need i.e., extract Outlook attachments from All Folders or only Selected Folders. Then, make sure to mention the folder path and proceed to the next step.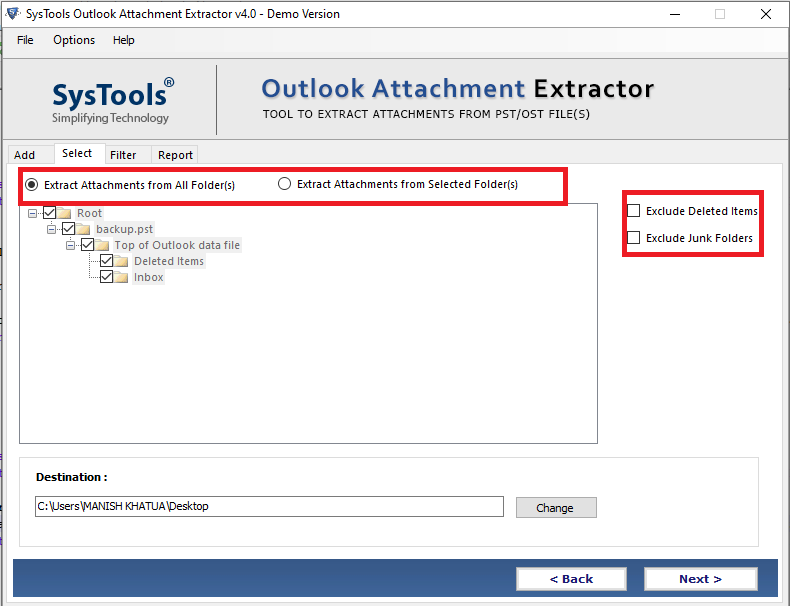 Step 4: From the next wizard, avail Various Advanced Options which are incorporated in the tool. This includes attachments extraction from selective mailbox items, date filter option, include/exclude attachment file type, multiple naming conventions patterns, etc.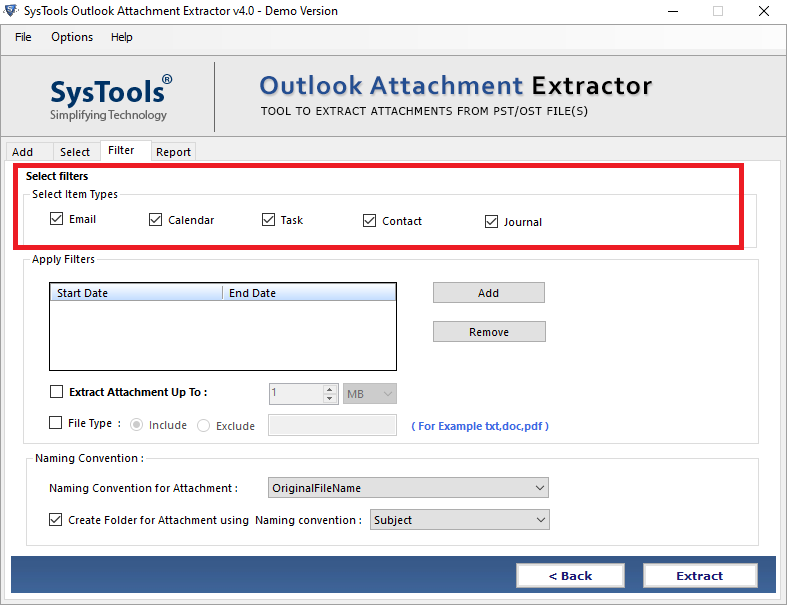 Step 5: After that, click Extract once all the settings are applied to extract all attachments from PST file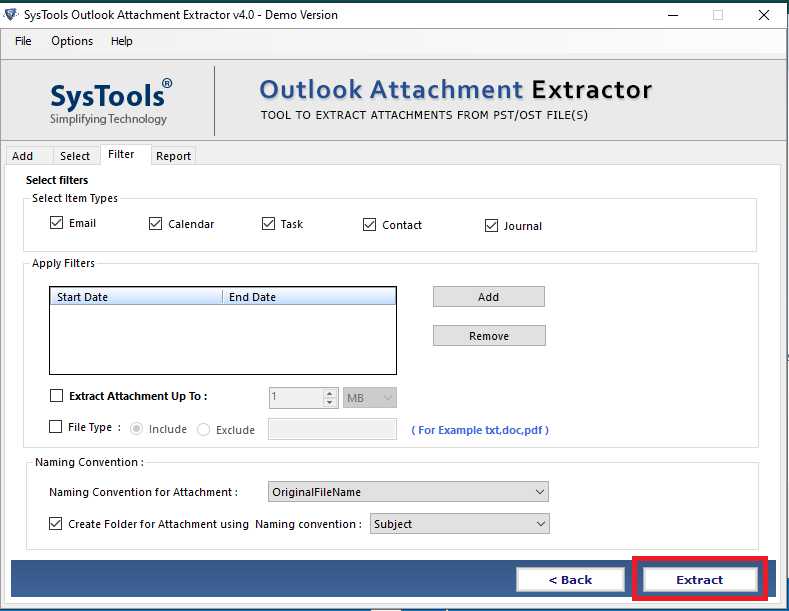 Step 6: Finally, at the destination location, all the detached Outlook attachments will be saved
Why Choose Outlook PST File Attachment Extractor Over Other Utilities?
Well, it's an obvious question that Outlook users can ask as there are several other third-party tools available in the current marketplace for extracting attachments from Outlook PST files. Hence, below are some top reasons for what we're recommending to use Outlook Attachment Extractor to extract all attachments from PST file instead of other applications available for the same purpose:
High Performance Speed: The entire process to extract all attachments from PST file can be done within a short span of time using this software. Its working speed is very fast in comparison to other tools.
Precise and Error-free Results: The software is designed to extract attachments from PST, OST and BAK files in which it does not result in any type of information loss.
No Changes in Attachment Types: The tool export attachments from Outlook data files in their original file format even without making any modifications within them. So, users will face no difficulty while accessing the output data.
Extracts Unlimited Outlook Attachments: The software lets users to remove all attachments from various data items. This means, it is not just limited to extracting email attachments but also contacts, calendars, tasks and journals attachments. Using the Add Folder option, one can extract all attachments from bulk Outlook data files.
Test Functionalities Before Purchase: The software is available in two different versions to remove all attachments from PST i.e., Demo and Full version. The demo version includes all the functionalities of full version so that users can try the demo version of the tool before directly purchasing the licensed one.
Time to Sum Up
All the users who are searching for how to extract all attachments from PST file can get the answer to their question in this article. Here, we have discussed an efficient and powerful solution to remove attachments from PST, OST & BAK files. So from now extracting Outlook attachments would be no more a complicated task for Outlook users.