Save Outlook Email Attachments to Local Folder: By Doing Less
Ashwani Tiwari | Published: September 18, 2020 | MS Outlook
" Hi, I am using Outlook from the past 5 years and I received approx. 50 emails on a daily basis along with attachments. Now, the issue is I want to save Outlook email attachments to local folder because there are lots of email attachments saved in my Outlook. And all these attachments making it slow and laggy. So if anyone knows the solution to save multiple attachments from Outlook to the local folder at once then please suggest to me." 
Well, we all know that Microsoft Outlook is very popular and completely revolutionized the email ecosystem due to its feature and security protocols. Hence, there are lots of small and large enterprises using it. But many of them suffering from the storage space and attachments is one of the major reasons for it. However, this the reasons many of them want to save it locally
So, keeping that in our mind we are going to discuss the simplest and effective way to save Outlook email attachments to local folder
How to Extract Outlook Email Attachments to Local Folder?
In this section, we are going to cover two effective method to save attachments from Outlook to the local folder
#Method 1: Save Outlook Attachments to Local Folder Manually

#Method 2: Automated Solution to Save Outlook email attachments to Local Folder
Now, everyone is seeking for the free method so, let's began with the manual method
#Method 1: Manual Method to Save Attachments from Outlook to Local Folder
1: First, open Outlook and go to the inbox
2: Now, select the email containing desired attachments that you want to download
3: Choose the attachment and right-click >> Click on the Preview option.
4: Select the Save All Attachments option.
5: Now, choose the desired folder to save the attachments >> click on the Save All button to save the attachments.
Note: This above-discussed method is not able to extract multiple attachments. It only saves a single email attachment from each email and multiple attachments from each email if the email containing more than one attachments
#Method 2: Instant Way to Save Outlook Email Attachments to Local Folder
Well, we see that in the above manual method we don't have to spend a single penny. But we spent something more precious than many and that is our time while saving single attachments one by one. So, if you think your time is more important than the money, then you can try Outlook Attachment Extractor Tool to save Outlook attachments to local folder.
It is a tool that is capable to save multiple attachments from Outlook to any desired location. Also, capable to extract attachments from Outlook PST, OST, and BAK files. The comes with very advance filter options like date filter, file size filter, and many more.
Follow the listed below step to save Outlook attachments to local folder
1: Firstly, you have to download and install the software.
2: After it click on Add Files(s) or Add Folder(s) option to add  the files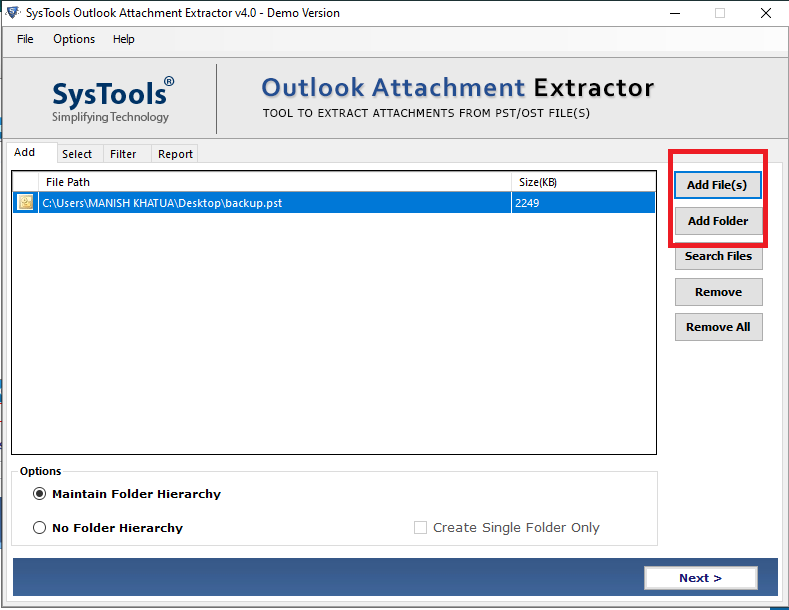 3: Select  Maintain a Folder Hierarchy option to preserve the folder hierarchy.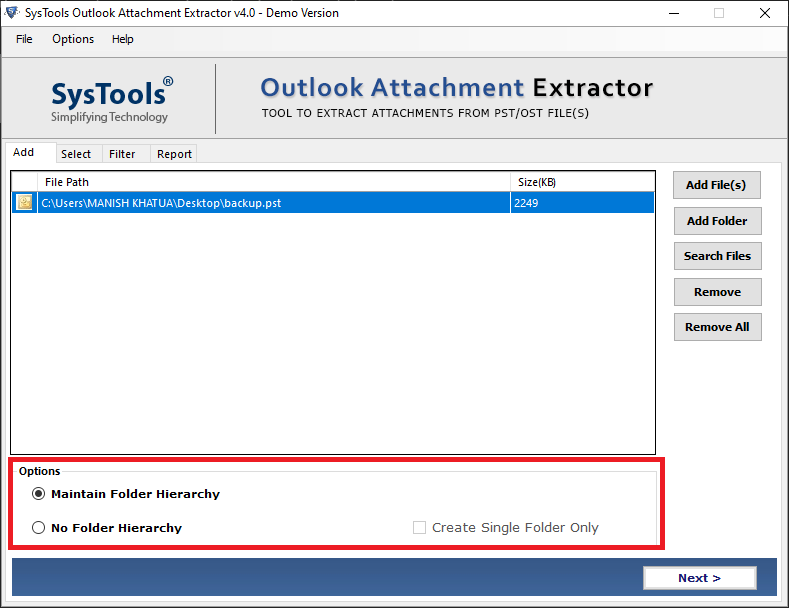 4: Click on the change button to select the destination folder location.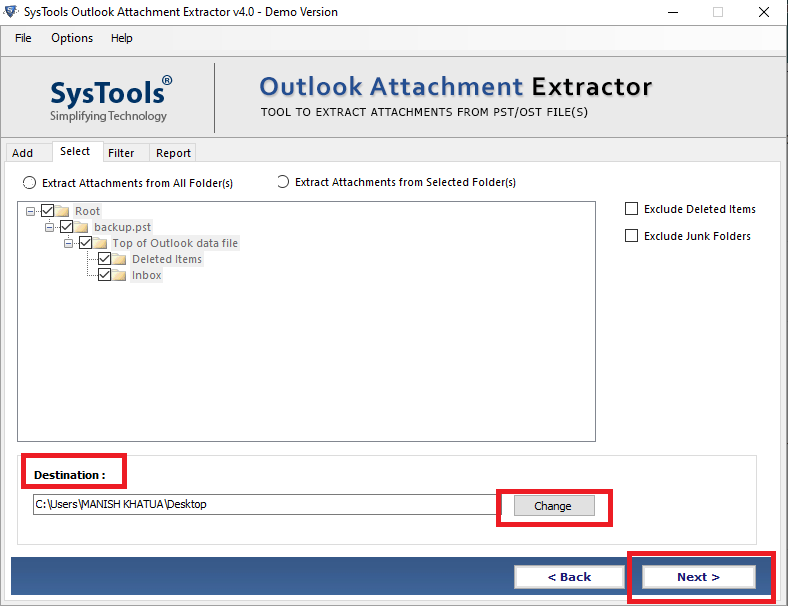 5: Choose the Select Items Types and other filter options as per your requirements.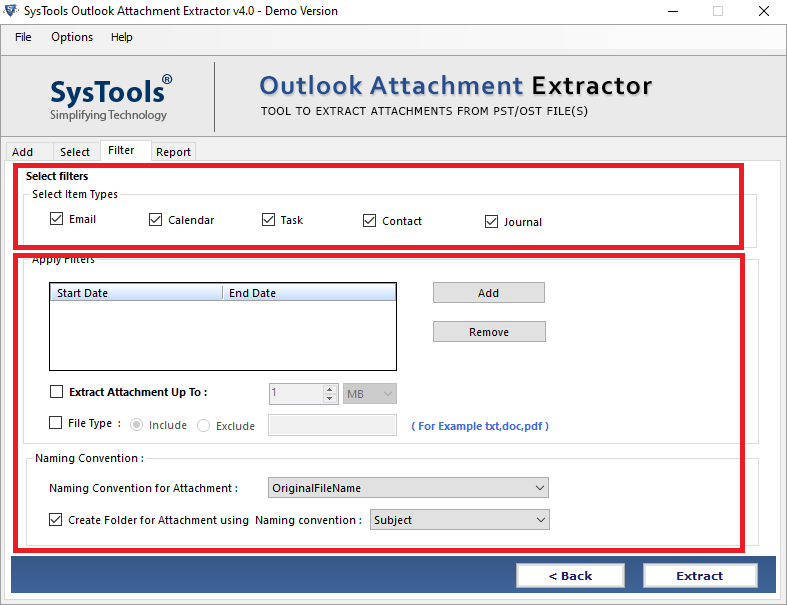 6: Click on the Export button to initiate the process of extracting attachments.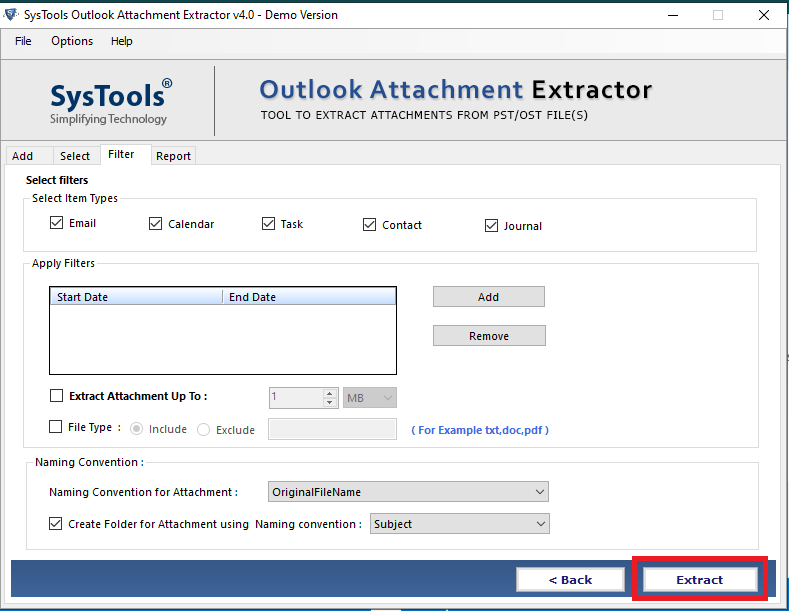 Why this Software?
Well, we are recommending this software because of its accuracy and straightforward users' experience which helps both technical and non-technical users. Also, advanced features and multiple filters option gives you an ease to save bulk attachments in a single click. Some of the remarkable features are listed below:
The Outlook Email Attachment Extractor is designed with highly advanced algorithms that make it simpler for normal users. It means the GUI of this tool is very user friendly
This software is capable to extract attachments from multiple emails stored in configured Outlook 2019, 2016, 2011, Outlook 365 profiles. It also extracts attachment files from the calendar and contacts as well.
There is an option to select any particular category to download attachments rather than from all categories, then there is an option to deselect those items as well.
Conclusion 
Although users can try both manuals as well as an automated solution to save Outlook email attachments to local folder. But in situations where users need to download multiple attachments from Outlook, then the manual method is not worthy. So, in that scenario, we would recommend using the automated solution because it will save your time and your data both.