Import Excel Contacts to Outlook Mac in a Few Simple Steps
Are you searching how do I import contacts from Excel to Outlook for Mac 2019, 2016 or 2011 but not getting a particular solution for the same? If you say yes in the answer, then you are on the right page. In this article, we will introduce you to a simple method to import Excel contacts to Outlook Mac efficiently.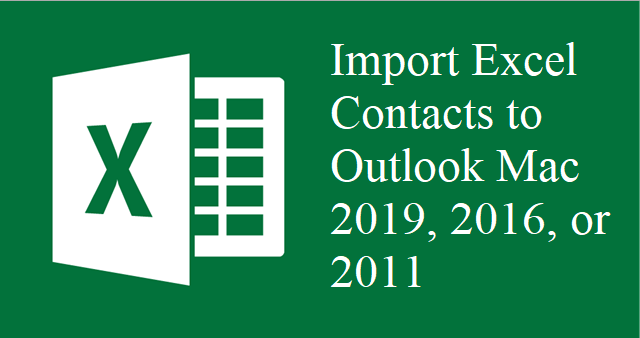 Import Excel Contacts into Outlook Mac – Simple Steps
If your contacts are saved in some other Excel file is saved like .xls, .xlsx, .xlt, .xlsm, .xlsb, .xltx, .ods, .txt or any other Excel file format then, you need to convert this file into CSV file format. Follow the steps below to do the same:
Open Excel file with Microsoft Excel application
Click on File >> Save as >> CSV (Comma-separated values) >> Save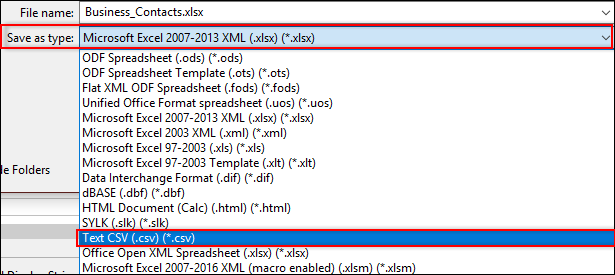 Once done saving Excel Contacts File in CSV file format, download and launch CSV to vCard Converter on your Mac machine
Download Software Now
Buy Software Now
Click on Add File(s) and add the contact CSV you want to import to Mac Outlook. Click Open
Choose VCF as an export option and select vCard version 3.0 or 4.0. After this, you will import vCard in Mac Outlook, so select just select Mac vCard option to import Excel contacts to Outlook Mac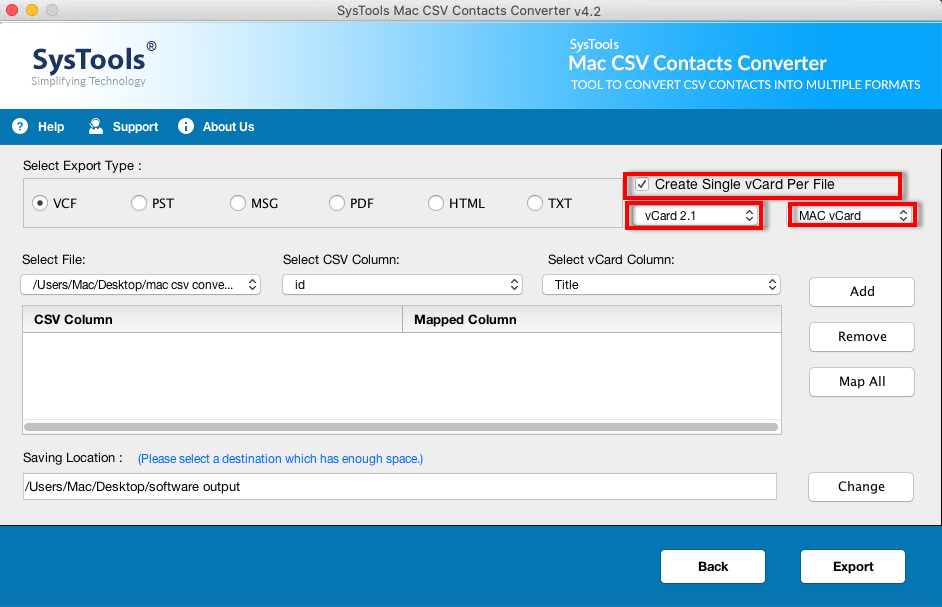 Now, select the CSV file and hit the Select CSV Column button. Select a CSV field and pick a respective field from the Select vCard Column section. Click on Add and map all the CSV fields with vCard unlike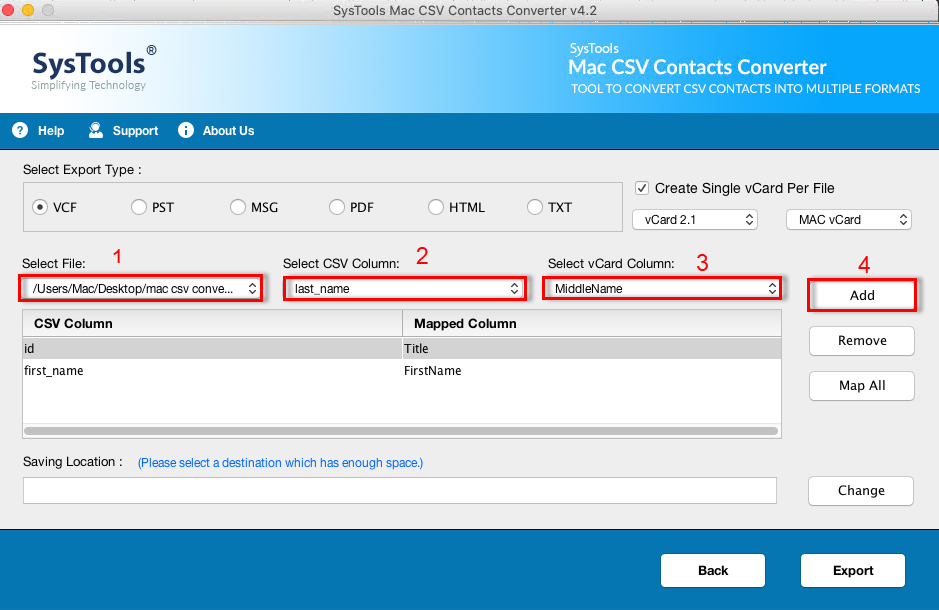 Once all the CSV Contact fields are mapped with vCard, browse a destination location to save the resultant file and click on Export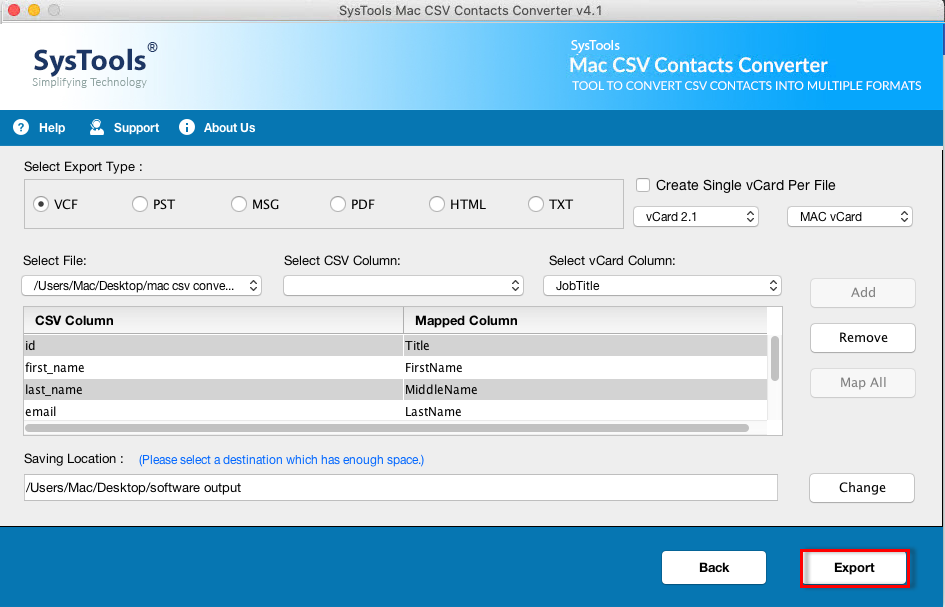 Excel CSV contacts to vCard conversion will start right after this and let the process gets completed successfully and you are ready to import Excel Contacts to Outlook Mac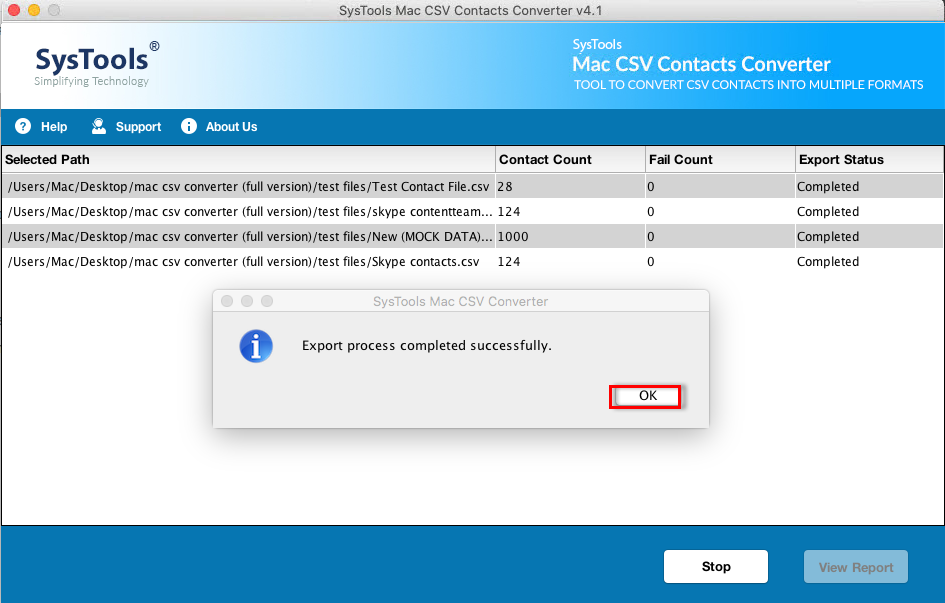 After converting CSV Contacts into vCard, you can import this converted vCard directly into your Mac Outlook contact list. Below is how to do so:
Compose a new mail from any email account from your computer and attach the converted vCard
Send this mail to your email account configured on Mac Outlook to initiate import contacts from an Excel spreadsheet to Outlook Mac process
Open this email on your Outlook account and hit double-click on the attached vCard file
The vCard file will open directly in the Contacts window, hit the Save button and quit the window
Now, open your Mac Outlook contacts and you will get to know that all your vCard contacts are synchronized with Mac Outlook contact list automatically
Import Excel Contacts to Outlook Mac issue RESOLVED!