Know How to Import MBOX File into Thunderbird Application
admin | Modified: January 6th, 2020 | Thunderbird
Do you want to know how to import an MBOX file inside Thunderbird application? Are you tired of checking out available online content that does not work at all? Stop worrying any more as this blog will share some of the best solutions to MBOX file to Thunderbird that are trustworthy and easy at the same time.
MBOX file format is a common file type used by a number of email clients to store their data. One is Mozilla Thunderbird, that also supports the MBOX file for data import. Users often need to open MBOX files without the source email client. Since Thunderbird is a free-of-cost email client, people usually want to import an MBOX file inside Thunderbird application.
Import MBOX in Thunderbird Easily

Get complete all in one utility for the Thunderbird import process. Simply download this utility and easily import MBOX file data like emails, contacts, calendars, notes, to-do, etc., in simple steps:

Download MBOX to Thunderbird Importer
Windows OS Buy Software Now
(100% Secure)
Sadly, many users do not know the right approach to add the MBOX file into TB. Many get deceived by incorrect suggestion to open the data in Outlook. Why move your
MBOX data in a paid application like Outlook, when you can access MBOX in Thunderbird for FREE? To guide the readers with the correct method, we have compiled some reliable methods of MBOX Import into Thunderbird.
Brief Introduction About Mozilla Thunderbird
Thunderbird is a desktop-based email client developed by Mozilla Foundation. Thunderbird allows multiple email accounts configuration using POP or IMAP protocol, similar to MS Outlook. In Thunderbird, users get complete email management facility including contacts, calendars, tasks. Thunderbird mailbox data is saved in the MBOX file. Apart from Thunderbird, numerous other email clients of both Windows OS and Mac OS use the MBOX file. Some email applications use the variants of MBOX files, for example, MBS and MBX files are used by Opera Mail and Eudora Mail.
Reasons to Import MBOX Files in Mozilla Thunderbird
There can be various reasons for the users to add MBOX files into a thunderbird. Of all, the prime cause is opening an orphan MBOX file. An orphan MBOX file needs the compatible email client that supports the MBOX file. People often choose Thunderbird to open an orphan MBOX file as Thunderbird is a free application available on both Windows and Mac. Besides, moving the Thunderbird profile to another computer also requires importing the MBOX file in a new Thunderbird.
How to Import an MBOX File Inside Thunderbird Application
There are two methods that can be used to import an MBOX file into Mozilla Thunderbird. Here, we will discuss both the techniques.
Import MBOX File into Mozilla Thunderbird Manually
Import MBOX in Thunderbird Using Software (100% Secure)
Migrate MBOX File in Thunderbird with Manual Method
There is a free add-on named ImportExportTool, available for Mozilla Thunderbird that can import MBOX file into Mozilla Thunderbird. This add-on is usually the first choice of the users who want to move MBOX file into Thunderbird. Before using this, remember that Mozilla Foundation has not developed this add-on. This is how to use this tool for the purpose of MBOX import.
1. Launch the Thunderbird application and click on the Tools button.


2. Put the cursor over "ImportExportTools" and choose "import MBOX file".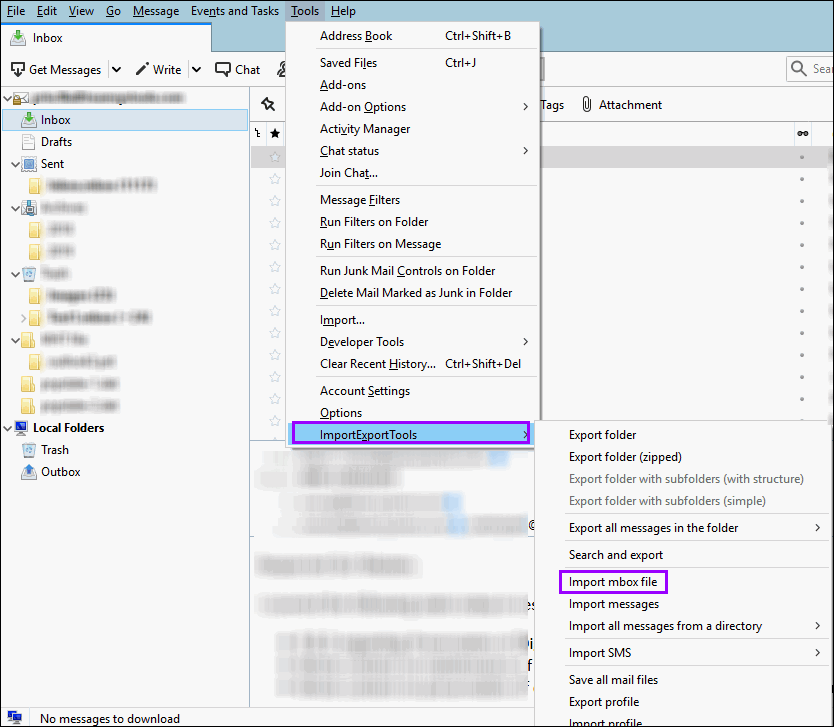 3. Select "Import directly one or more MBOX file" and click on OK.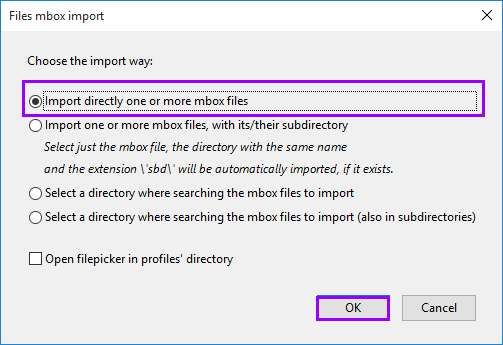 The Process to Install ImportExportTools
If someone is wondering how to install ImportExportTool, just go through these steps and implement them accurately:
Download importexporttools.xpi file from the site of Mozilla Thunderbird add-on.
Start Mozilla Thunderbird to select Menu >> Tools >> Extensions tab.
Click Gear, choose the "Install Add-on from file" option and choose the downloaded xpi file.
Once the installation is completed, restart the Thunderbird application.
Shortcomings of Manual MBOX File Import Process
Every manual method contains some limitations or others, and the same goes for this method using ImportExportTool. People who used this manual technique to import MBOX file into Thunderbird reported having these problems:
Import one MBOX file at a time
Missing attachments
Broken embedded images
Lost emails from the large collection
Incorrect header information
Import MBOX Files to Mozilla Thunderbird Using Software
If you want to avoid such issues and perform a data loss free MBOX file import into Thunderbird, Thunderbird Import Wizard the ultimate application. With the help of this data import software, multiple numbers of MBOX files can be imported at the same time. Two other MBOX file variants MBS and MBX files are also compatible with this tool. Users need to only install and run these steps:
Download MBOX to Thunderbird Importer
Windows OS Buy Software Now
(100% Secure)
Step 1: Launch Thunderbird Import Wizard and proceed to click on Add File(s) / Add Folder button.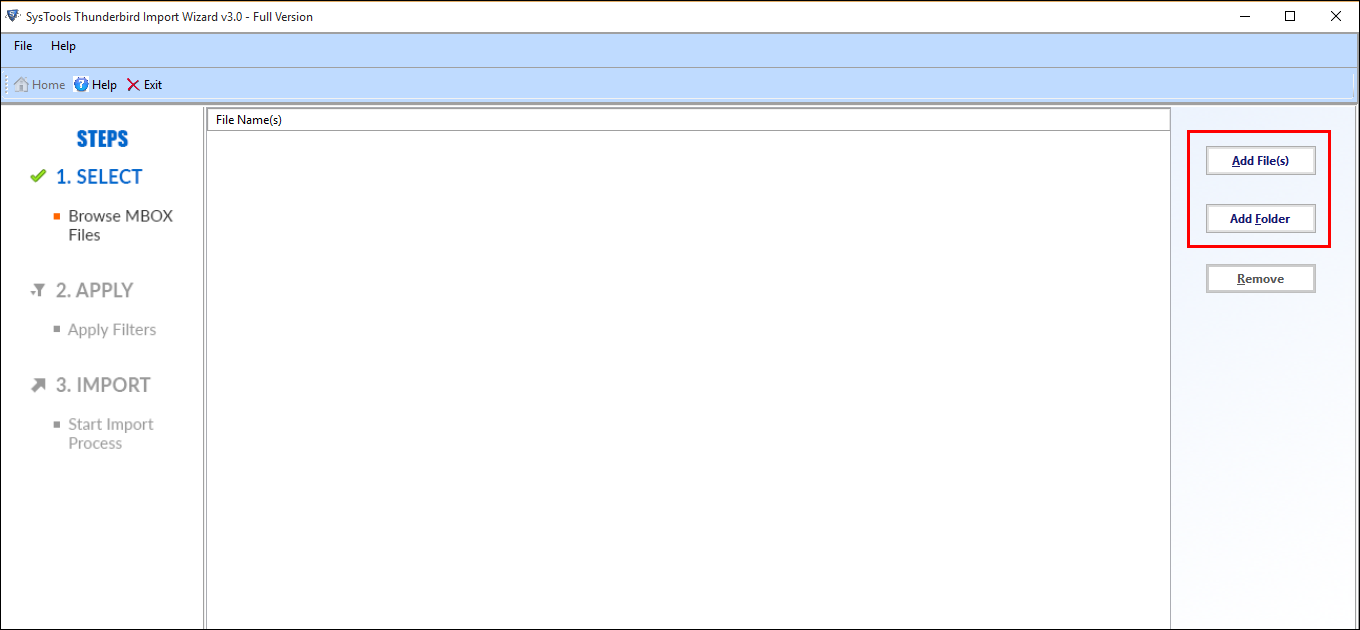 Step 2: Add the MBOX file/ folder containing MBOX files for migration.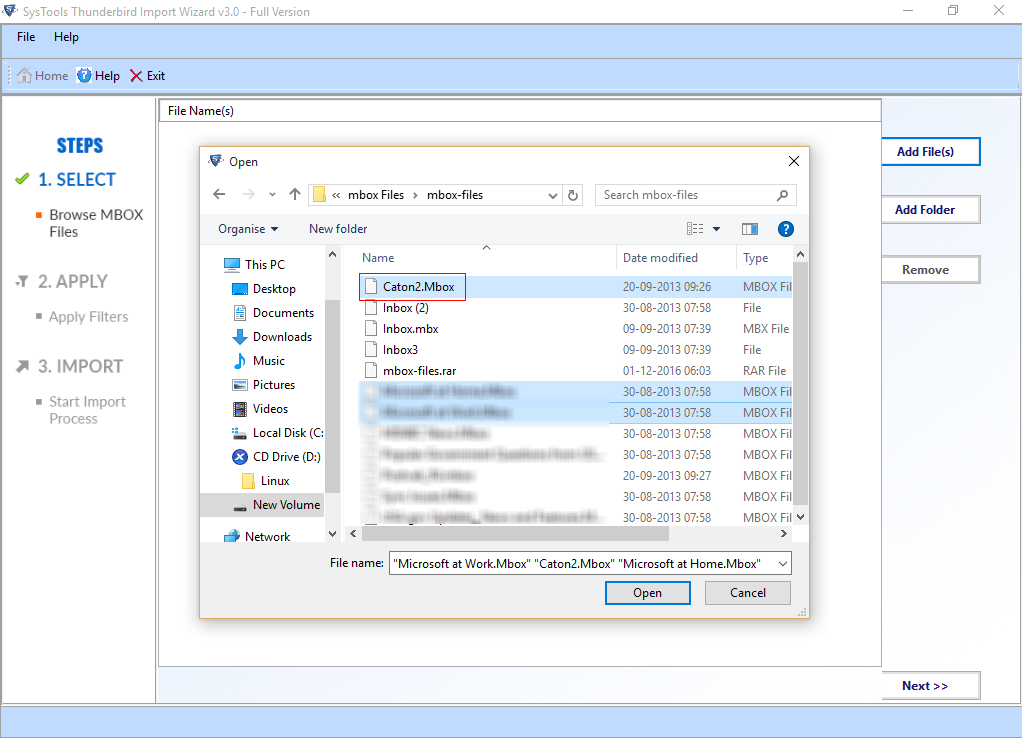 Step 3: Apply date-based email filter to transfer selective MBOX file data.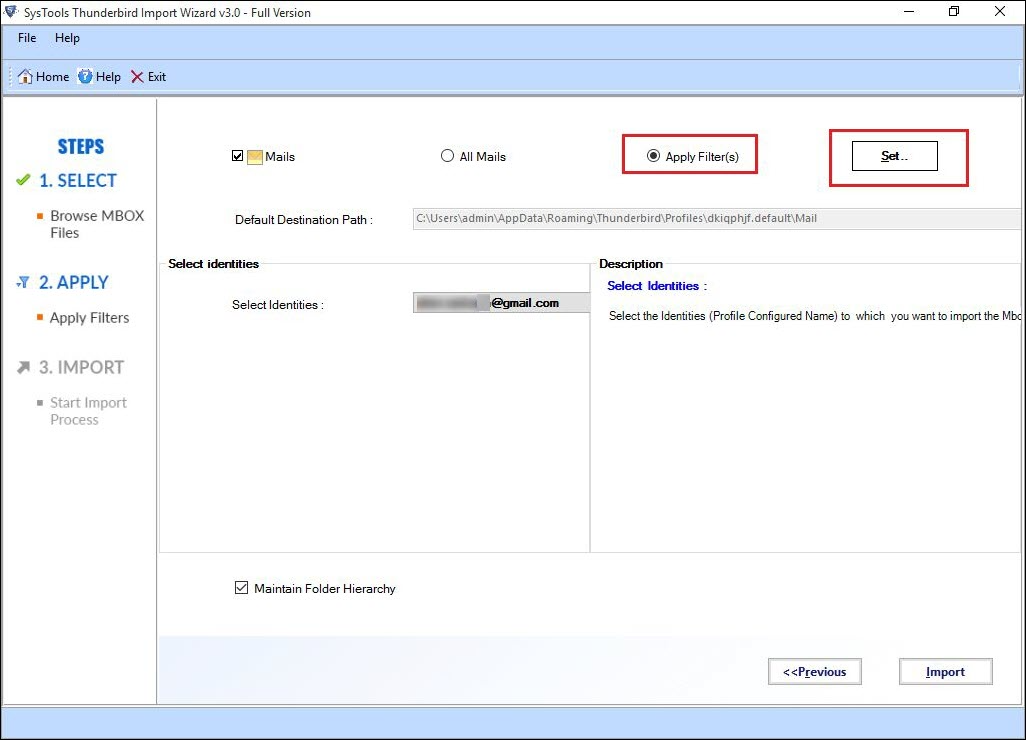 Step 4: From the drop-down list, select the Thunderbird profile where you want to import the data.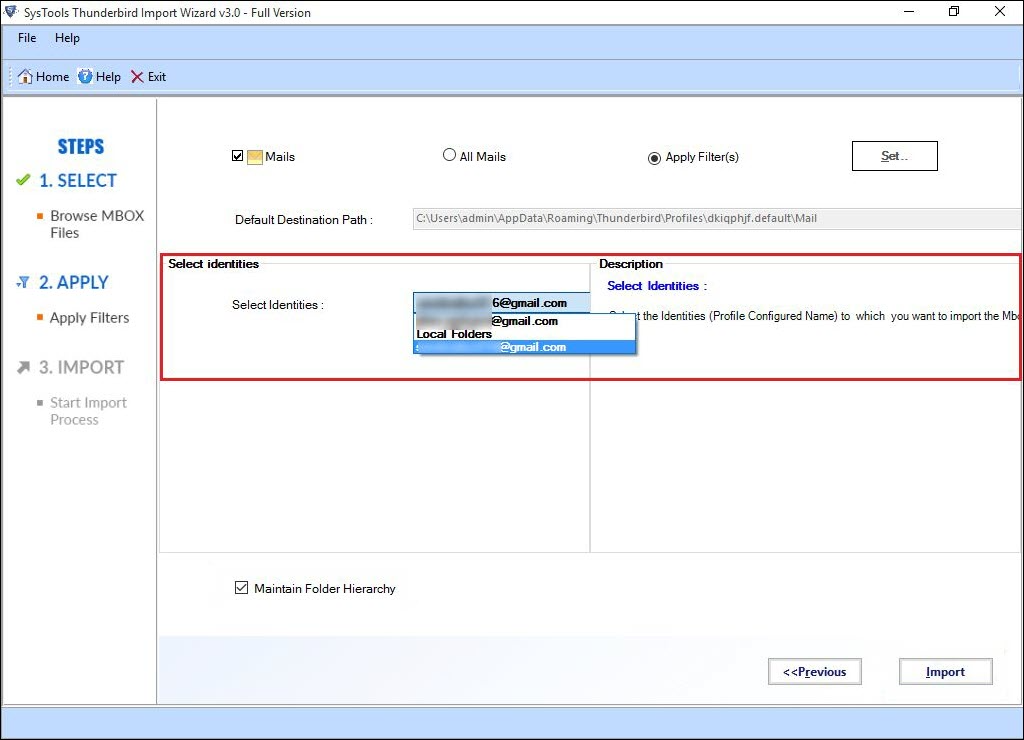 Step 5: Click Import in order to start the MBOX import process and complete it successfully.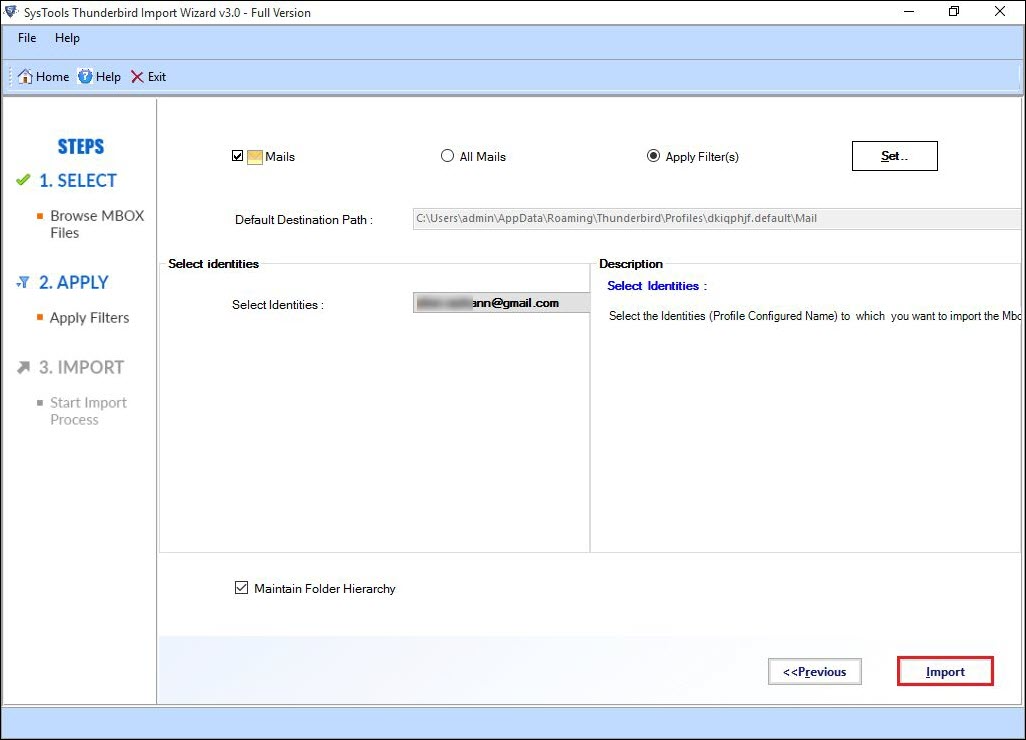 Concluding Thoughts
If you want to know how to import an MBOX file inside the Thunderbird application, this is the right blog for you to read. Here, we have discussed ways to move MBOX files into Thunderbird application using ImportExportTools or Thunderbird Importer Software to add MBOX file into Thunderbird. Depending on the requirement of the users, they can choose between these two methods.