The Ultimate hMailServer Transfer to New Server Roadmap
Are you looking for an hMailServer transfer to new server? If yes, then you've landed on the correct page. We will provide you with the best solutions through which you will be able to move hMailServer to another server. But, before that let us understand what type of situations users face while transferring hMailServer to another server.
User Query: Hi! I have been using hMailServer in my company for a while and recently they upgraded to a more powerful server. Now, we have to move hMailServer to another server with all the email data. Please provide me with any professional solution through which it could be easier to transfer it in one shot. If anyone knows about the same please do recommend it. It would be a great help.
This is just one, we are receiving many queries related to the same problem. And, most of the users have similar queries to get a direct solution. Therefore, we are going to share the step-by-step process to move hMailServer to another server directly. 
Is hMailServer Transfer to a New Server An Easy Process?
hMailServer is an open-source free email server for Microsoft Windows. When it comes to transferring email servers, the process of moving it to a new server can be both challenging and crucial. 
It's simple to connect hMailServer with various webmail systems using standard protocols like POP3, IMAP, and SMTP. Plus, it provides multiple features such as inbuilt anti-spam, secure interface, virtual domain, Backup facilities, etc. Despite all this, there are many drawbacks due to which users step forward to hMailServer transfer to new server. 
Now let's understand the key steps for smooth migration. So, before wasting time let's jump into the three crucial phases of a successful migration. 
Different Phases of Transferring hMailServer to New Server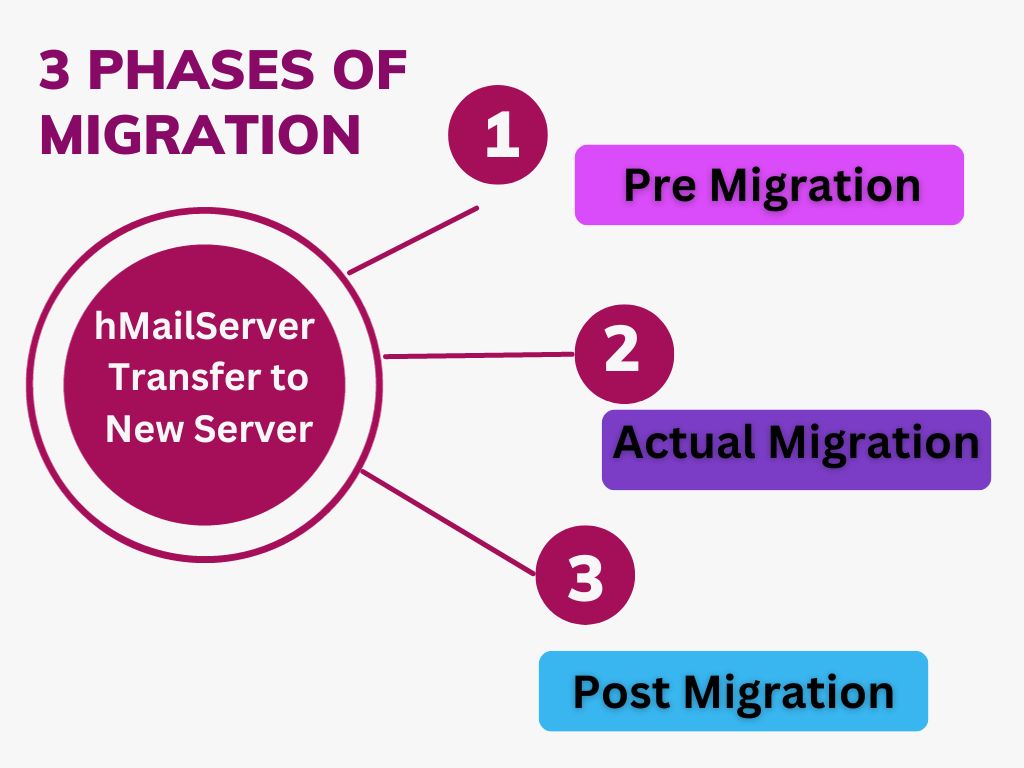 Let us now understand these steps briefly.
PreMigration Steps of Transferring hMailServer to New Server
Pre-migration steps are the crucial initial step required for smooth transformation. This is basically the preparation of moving hMailServer to another server.
Before moving your data to the new server, make sure that you have a

Backup

of your current hMailServer configuration and data. This includes email accounts, settings, and email data. 

This is the foundational step in which you need to install your hMailServer to the new server. Here, make sure that you use the same version or a compatible version as your old server.

 

Prepare your domain's

DNS Records

.

Also,

update them to the point of the new server's IP Address. This step ensures that all the incoming emails find their way to your new server. 

Also,

configure your firewall

to allow traffic to the new server's essential ports, such as SMTP, and POP3. This ensures that you'll not face any uninterrupted email traffic during and after the

hMailServer transfer to new server

. 
Also Read How to Migrate Gmail Email to AWS Workmail Account?
Actual Migration of hMailServer transfer to New Server
Now let's discuss the migration part. How to move hMailServer to another server? So, the Softwarepro hMailServer IMAP Migration Tool is the perfect solution. This approach allows you to transfer all your mailboxes to the new server. This utility develops with the latest technology and is capable enough to migrate large hMailServer data without any issues. This is also designed in such a way that it can also save the migration history of multiple accounts.
Through this tool, you will be able to transfer hMailServer mailboxes to a new server in a single process. It also comes up with different filter options that allow you to transfer selected emails from hMailServer to New Server. 
First, you need to Download the Mac IMAP Migrator. Also, you need to make sure that all your IMAP Settings are enabled for source and destination Accounts. Afterthat, start performing the steps. 
Step 1. From the source IMAP account, choose the Hostname from the drop-down menu. 
Step 2. Provide the Credentials and click on the Validate Button
Note-If you're not able to find the hostname then choose the other option and provide the credentials of same.
Step 3. Similarly, provide the credentials of the Destination Account as well. 
Step 4. The software also provides an Advanced Filter Option for IMAP email migration 
Step 5. After providing data and filter Click on Save. 
Step 6. Lastly, you can check the Final Output Data after the completion of the task.
After performing these steps your data will be successfully moved to your desired account. You will be able to view the report by clicking the View Report option. Now, let us understand the other advanced features of this utility.
Striking Features of hMailServer Transfer to New Server Tool
There are a large number of inbuilt features that make this utility unique among the others. Let us discuss some of the features in the below section:
This advanced application is capable enough to transfer all the data from multiple IMAP accounts in one go.

The software also has a feature to check the migration status.

This also provides advanced inbuilt features by which you'll be able to

hMailServer transfer to new server

by date range, email subject, email addresses, etc. The email-based filter allows you to specify criteria to migrate emails from specific folders. 

This application also allows you to choose between the various migration modes such as Skip Migration, Delta Migration, Retry Failed, Full Migration
Also Read How to Move Emails from One cPanel to Another?
Post-Migration Steps After hMailServer Transfer to New Server
After migrating to the new server, you also need to focus on some of the parameters that are mentioned below:
1. Now, that your new server is in place, you just need to crosscheck whether it's functioning correctly or not. Send test emails between accounts on the server to verify that the email flow is functioning flawlessly. Also, keep an eye on unexpected errors or delays to catch and resolve them. 
2. Make sure you update the Email client settings in the new server (Outlook, Thunderbird, etc.) This ensures that everyone stays connected without any hitch. 
3. After performing all the steps and when you're confident about server performance, Update your DNS records again. This time you have to remove the older server's IP address. This ensures that your domain correctly directs all traffic to the new email home. 
Common FAQs
1. What steps should I take to ensure email continuity during migration?
Step 1. Download and install the Software
Step 2. Provide Credentials for source and destination
Step 3. Apply Date Filter for range-based migration 
Step 4. Click the Start Migration to transfer. 
2. What happens to existing emails and user accounts during migration?
While doing hMailServer transfers to a new server, existing emails, and user accounts are transferred to the new server without any data loss or description
3. What should I do if I encounter errors or issues during migration?
If you find errors or any issues during the migration, you must reach out to the support team for effective troubleshooting. 
Conclusion 
If you're considering hMailServer transfer to new server then, you can opt for both manual solutions provided by HMailServer itself and advanced professional methods. The choice between these options depends on your technical proficiency, the size of your email data, and your tolerance for potential disruptions. So, it is better to go for the safe side and opt direct method to move hMailServer to another server. 
Also read Migrate Lotus Notes To ExCHANGE 2019, 2016, 2013, 2010- Most Preferred Way.