How to Consolidate PDFs Into One File On Mac – Know Solution Here
Ashwani Tiwari | Modified: September 15th, 2021 | PDF File, Technology
Are you searching how to consolidate PDFs into one file on Mac. If yes then, your search is ended now. In this write up we will let you know one extraordinary utility to to perfrom this task without any trouble. So let's start the article.
Most of the users use PDF as the shareable document format for various purposes such as contracts, legal statements, and much more. It provides several favorable features like – smaller size of files in comparison to other file formats, print exactly what you see in your PC or, its security.
But managing a large number of PDF files can be a big crisis for the users if they don't have any idea about how to manage them? And it also lead to loss of your important data. As we know, in these scenarios only one questions arise in users mind, how to consolidate PDFs into one file on Mac? Frustrated? Don't Be! Because, here we have some simple and effective techniques to troubleshoot this problem quickly. So shall we begin!
Instant Solution: You can Download free version of PDF Merge Software to quickly combine files with existing PDF / new PDF. This utility does not impose any limitation on number of files, it support a large number of PDFs without any file size limitation.
Why Do Users Need to Consolidate PDF Files?
It is easy to manage multiple PDFs if they are in a commonplace. Therefore, users want to consolidate PDFs into one file on Mac. Here we have mentioned some reasons for the same:
To avoid lost to accidental deletion of files.
Opening a single PDF file save time and efforts.
Easy to share and print the PDF when the file is consolidated.
Here we have mentioned two solutions. One is manual method to combine PDFs in Mac by using the Preview application and the second is the automated solution. We are going to discuss both methods step by step in the upcoming segment.
Consolidate PDFs Into One File Using Preview
Perform the given steps to consolidate your PDFs:
Open one of the PDF file you want to combine in the Preview application.
After that, Go to View and then Thumbnails. It will show page thumbnails.
Now, select a page thumbnail after which you want to add another file
Go to the menu bar and click on Edit option. Here, go to the Insert and then choose the Page from File button.
Next, select the PDF you want to add and click on Open. All your PDF files should now be arranged, you can change their order by moving them around.
Finally, Go to File then Export as PDF, select the location to save the resultant PDF, and hit Save.
Done, using the mentioned steps you can combine PDF in Preview. But it might stop working sometimes due to technical problem with your Preview application. If you also encounter such a problem when consolidating PDF document with Preview, then use the expert solution to complete the task quickly.
Best Alternate Solution to Consolidate PDFs Into One File On Mac
The above manual method can be irritable when you want to combine large numbers of PDF files. In such situations, using a professional solution to join multiple PDFs is the best approach. Use PDF Merger tool for Mac, it is an advanced tool offer different options to make the task easier. Along with this, the tool offer various options to split PDF documents into small parts.
Know the working of the utility to Consolidate PDFs Into One File On Mac
First of all download and install tool on your PC.
Next, click on the "Add Files" to add multiple PDF files or "Add Folder" to add the complete folder containing PDFs.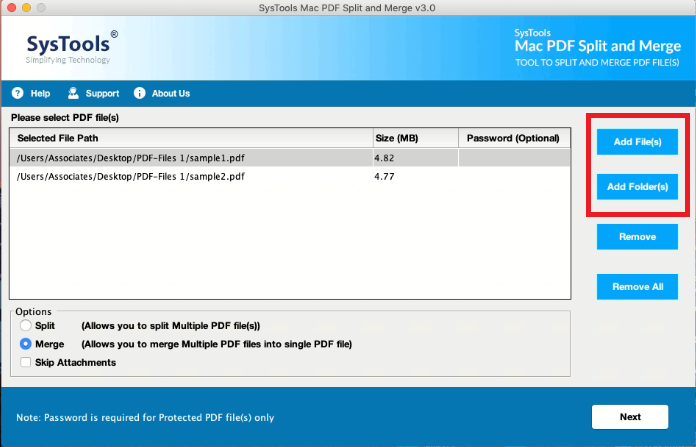 3. Choose any of the options as per your requirement. And then click Next.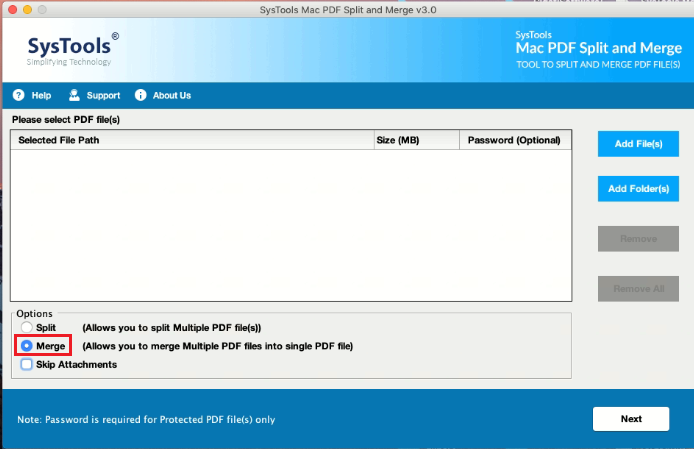 4. Here, choose to create a new PDF file or add into existing PDF. And finally click "Merge" button.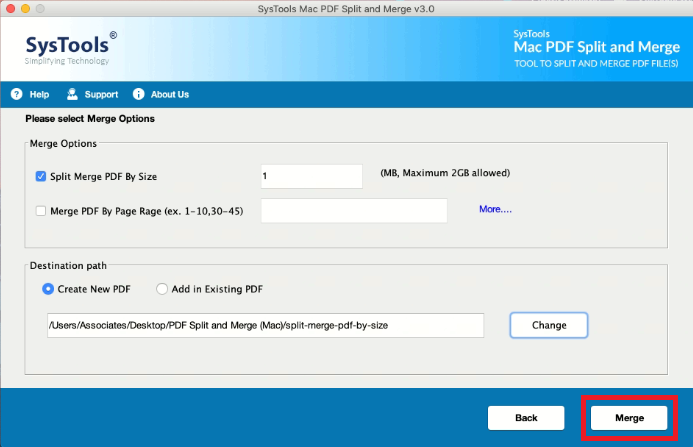 Read More: How to Break up PDF into Individual Pages
Final Say
Well, in this blog we have explained two different ways to Consolidate PDFs Into One File On Mac using the Preview application or professional tool. You can choose any of the methods explained above as per your situation and requirements. The tool that we recommend is an advanced utility that provides a safe environment to consolidate PDF file while maintaining data integrity and its safety.