How to Split PDF Documents on Mac OS – 3 Ways
Ashwani Tiwari | Modified: October 12th, 2020 | PDF File
Sometimes you have to break PDF files into smaller parts for easy handling of PDF files. It will be easy for you to send only the important parts of the PDF file to other people through email. Now, the question arises on how to split PDF Documents on Mac operating systems.
Don't be puzzled, I will tell exactly how to do it in the most efficient and affordable way possible.
Before I head on to the solution, let me tell you how to split a PDF file using Adobe Acrobat Pro. Acrobat pro utility is designed by the same company Adobe. It can be used in Mac operating systems. It is a utility software designed to create, view, and handle Portable Document Format (PDF). So, let's get started!
Break PDF Documents on Mac Using Adobe Acrobat Pro
Portable Document Format is created because people can access this file format from any device and any operating system. You get all the bank statements, eBooks, business-related documents, and other personal documents in PDF format. This format is portable and secure.
Let's see how to break PDF file into parts:
Open the PDF document in Acrobat Pro program. (you cannot break a PDF file using the free Adobe Reader)
Press the 'Tools' button that is given on the left side of the window.
Now, click on the 'Select Pages' option from the given menu list.
After opening the Pages menu, press on the 'Split Document' button.
Here you can provide the maximum number of pages for the splitting of the PDF.
Note: Acrobat gives you options to divide PDF files into multiple documents by bookmarks and by the maximum file size.
To select the destination location for saving the resultant files, click on 'Output Options'.
After Output Options, you need to press the "Split" button to break the PDF file into pages.
Finally, click on OK
Free Alternative: Using Preview Application in MAC
Preview application is a default PDF viewer for Mac operating users.
Technically, this application will not split your PDF document. You can drag the page of the PDF and create a new file. Basically, you are extracting pages from the PDF.
To do this, just drag-and-drop the desired page from the Thumbnails window of Preview onto your desktop. This way you will get a new PDF document only containing that page.
(I know, this method is not so efficient)
Now, let us move ahead to the most efficient and affordable solution that is using a PDF Splitter tool.
How to Split PDF Documents on Mac Efficiently
Using a trusted professional solution always gives you the most precise output in less time and effort. Thus, Using an automated tool to split PDF documents on Mac OS is a smart thing to do if you are a professional. The utility gives you 6 different alternatives to break the PDF files. Given as Split by Page Number, Even Pages, Odd Pages, Size, Each Page, and Range.
The tool software supports all types of Adobe PDF files. As this is a professional software thus, it will maintain the Page layout and formatting during the splitting process. The software is compatible with Mac OS X 10.15 (Catalina), Mac OS X 10.14 (Mojave), Mac OS X 10.13 (High Sierra), Mac OS X 10.12 (Sierra), Mac OS X 10.11 (El Capitan), Mac OS X 10.10 (Yosemite), Mac OS X 10.9 (Mavericks), MacOS X 10.8 (Mountain Lion).
NOTE: Java JDK & JRE 8 should be installed in your Mac system. It is very easy to install, click here.
Steps to Break PDF Documents on Mac Using Splitter Tool
It is quite easy to break the PDF using a splitter. Just a few commands and you are good to go:
1. Download and install this Mac tool. After launching the tool check the Split Option. (The tool also provides a PDF Merge option)
Note: You can also check the "Skip Attachment" option.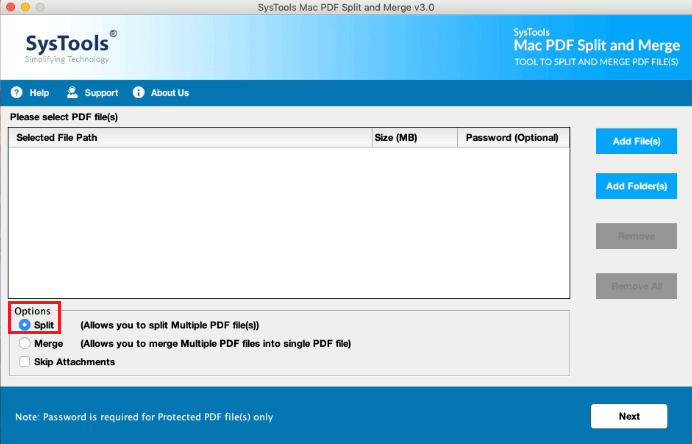 2. After that click on the Add Files / Add Folder button to insert the PDF file. After inserting PDF files click on 'Next'.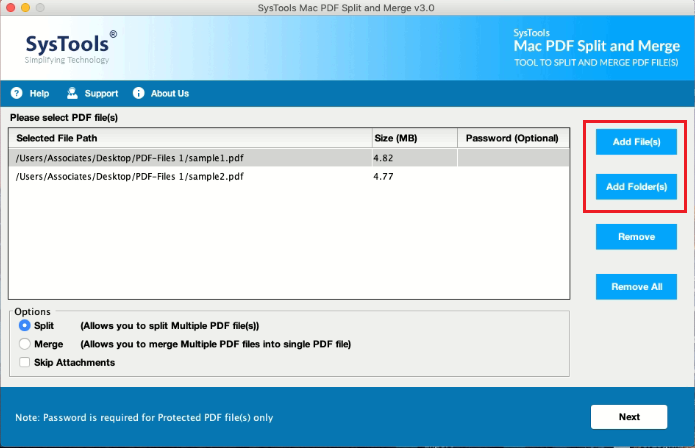 3. Now, you can see all the 6 split options, select the one according to your need.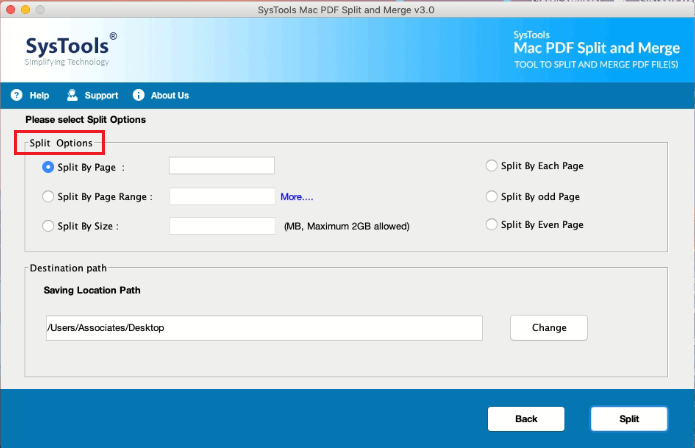 4. Press the "Change" button to provide the saving location for the new files.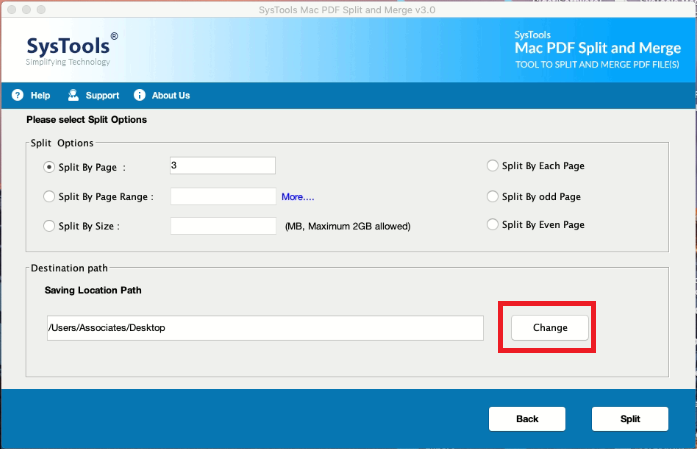 5. Finally, click on the "Split" button to start the splitting.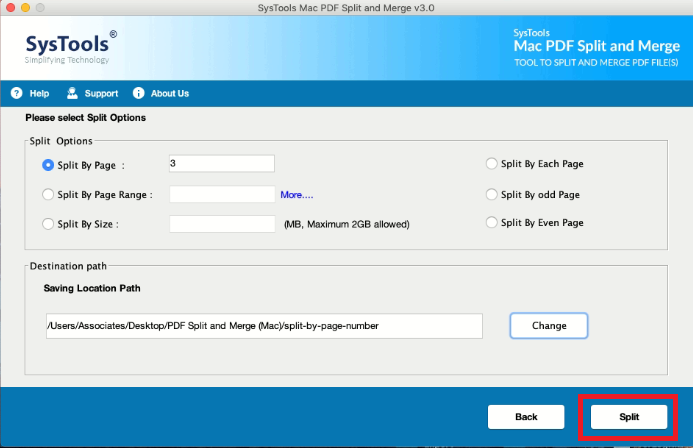 After the successful completion of the splitting process, the completion message will get displayed.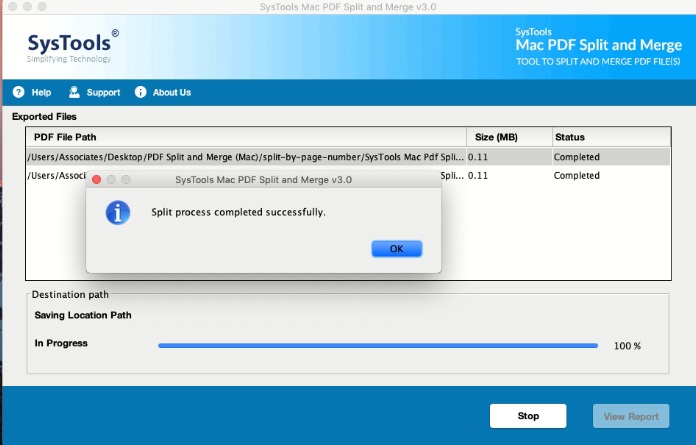 Conclusion
The most preferable solution to how to split PDF documents on Mac will be the automated software because it provides many ways to split PDF files too at an affordable price. However, you can use whichever method that suits you the most.