How to Delete Duplicate Emails from Outlook Backup files?
Ashwani Tiwari | Modified: July 6th, 2020 | MS Outlook
Suppose you restoring your PST file through your backup data and you will see they are lots of duplicate emails in your inbox after restoration is completed. We know that it is a bit frustrating scenario, hence to overcome this issue in this write-up, we are going to discuss how to delete duplicate emails from Outlook backup files?
As we know backup is one of the prime rescuers for every user when they lost their important data. Mostly backup files are automatically generated by most of the email clients. Microsoft Outlook is one of them, which creates the backup file during the execution of the inbox repair tool wizard. So, in the case of PST file corruption, users can use this BAK file to restore their PST files.
Generally, when you configure a POP3 account in Outlook. It stores all data like email, contacts, calendar, tasks, and notes on your PC inside a PST file. So, when you creating a backup of your Outlook PST and if there are duplicate emails present in your PST file, then it will also appear in your .bak file too.
Issues Related to Duplicate Emails in Outlook
If your Outlook inbox filled with unnecessary emails, then you might face PST corruption issue.
Duplicate emails also affect your Outlook application performance. Due to that, you may face lagging, freezing, or hanging issues in Outlook program.
Hence, to improve the productivity of Outlook and do not want the corruption issue in your PST file again. Because a few minutes back you have restored your PST file through .bak file. Therefore, it is important to delete duplicate emails from Outlook backup files.
Also Read: What are the Reasons for Duplicate Emails in Outlook?
Simple Method to Delete Duplicate Emails from Outlook Backup files?
As we said above removing duplicate emails from Outlook is one of the safest cures to protect your mailbox data from any kind of corruption or productivity issue. But the sad part is that Outlook does not provide any utility to remove duplicate emails from Outlook BAK files.
Download for Free Buy Software Now

Now, in this scenario users have only one solution and that is an automated solution. Although there are various tools and automated solutions are available over the internet that claims to remove duplicates from Outlook. But in this blog, we are going to suggest the most reliable and recommended tool by professionals to remove duplicate emails from Outlook BAK files and i.e., Outlook Duplicate Email Remover. It is a tool that is known for its accuracy and efficiency while removing the duplicate file from Outlook BAK file.
The tool is also capable to remove duplicates like email calendars task contacts journals and notes from Outlook OST/BAK/PST files without any data loss.
Steps of working
Step 1: Install and launch the PST Duplicate Remover Tool on your Windows machine.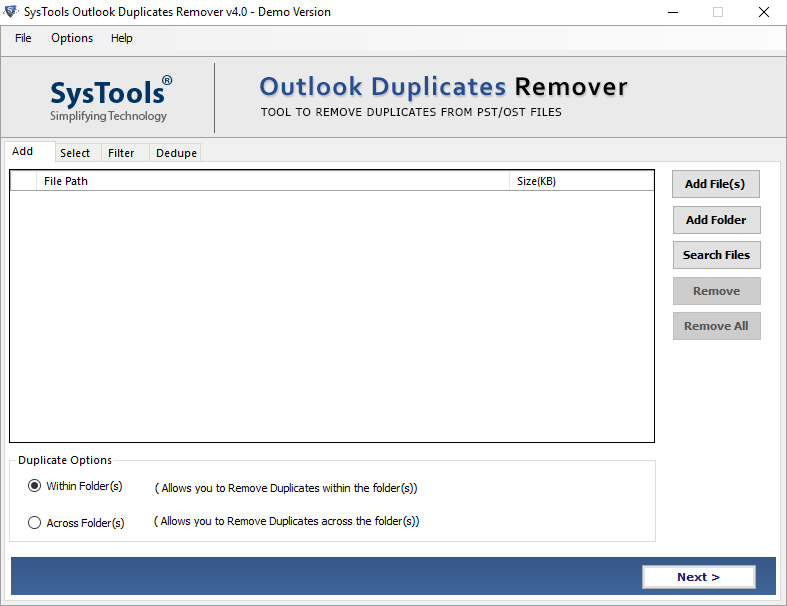 Step 2: Click on the Add Files or Add Folder to add backup files.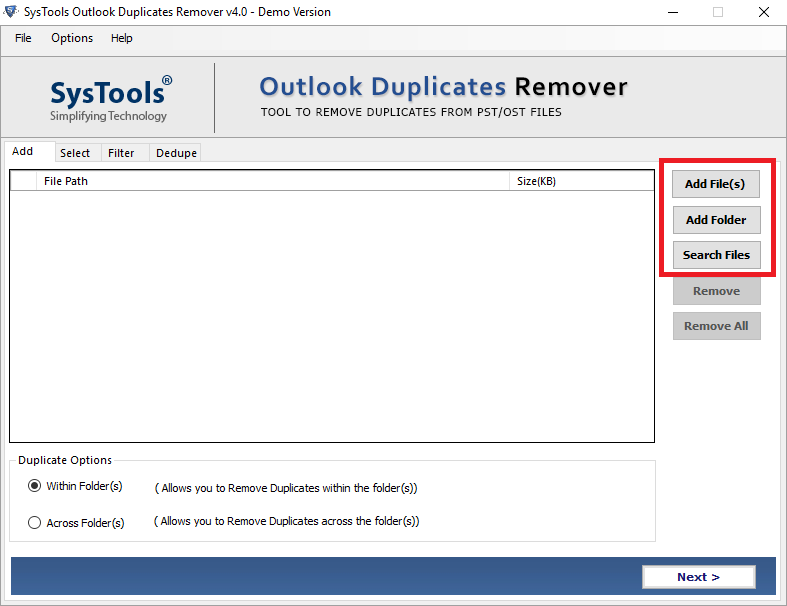 Step 3: Now, tick the checkboxes provided under the Select filter and duplicate criteria option.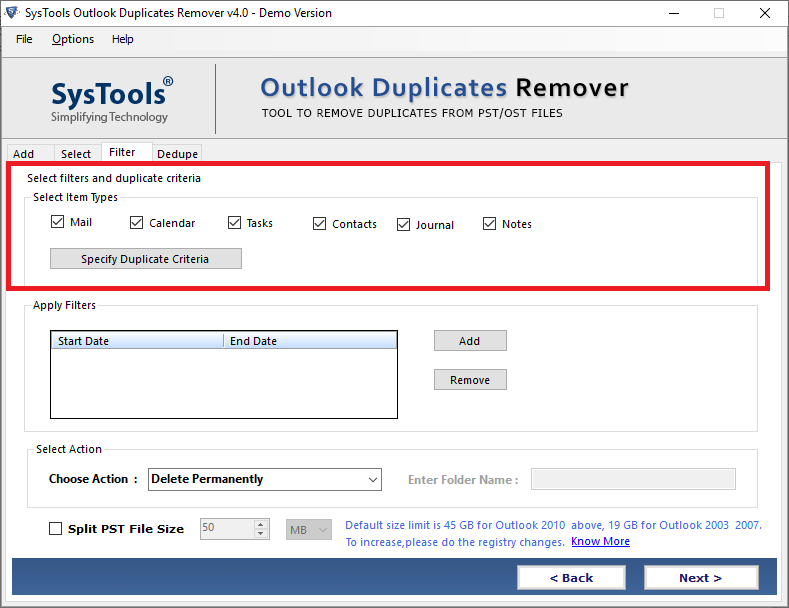 Step 4: After that, select one or more field to customize duplicate email processes from Specific duplicate criteria options.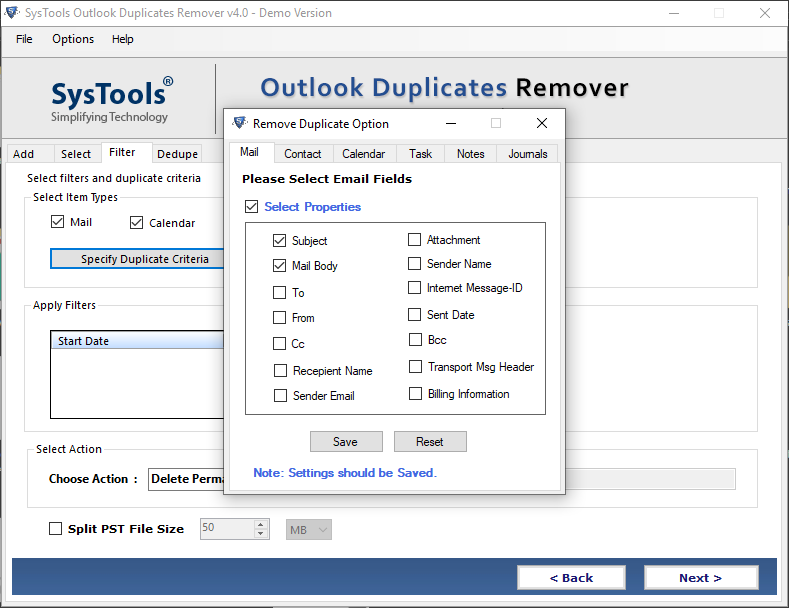 Step 5: After all the settings, click on the Next button to start the process of de-duplication of emails in Outlook BAK file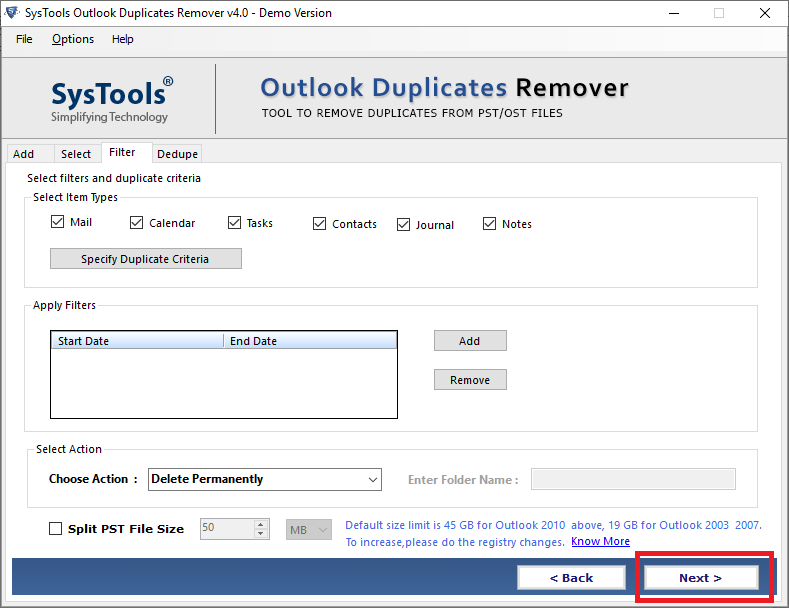 Remarkable Features of the Software
Preserve Data Items- This Outlook duplicate remover tool comes with some advanced features that will ensure to maintain the folder hierarchy. As well as preserve the metadata during the process
Various Fields Option- PST Duplicate Remover Tool gives you the option to remove duplicate data items according to various fields like BCC, Subject, Cc, Start Date, Body, and many more.
Diverse Removal Option- During deleting redundant items from Outlook mailbox like Emails, Contacts, Tasks, Journals, Calendars, and Notes. This duplicate remover tool provides different action to remove duplicate emails from Outlook such as Delete Permanently, Move to Deleted Item Folder, Move to Folder, Put Flag, and Mark as Expire.
Secure Duplicate Items- It will also give you the option to remove duplicate from password protected Outlook PST, OST, and BAK files.
Conclusion
Backing up your Outlook data is very important. Because if in case of data file corruption issues due to any reasons, then in such situation backup is the only solution for Outlook users to restore its mailbox data once again. But most of the users encountering the problem of duplicate emails in their Outlook backup file. Therefore, in this write-up, we have covered the best solution to delete duplicate emails from Outlook backup files. So, try the method and remove duplicate emails from Outlook BAK files.