Convert GIF to Base64 Format – 4 Step Conversion Process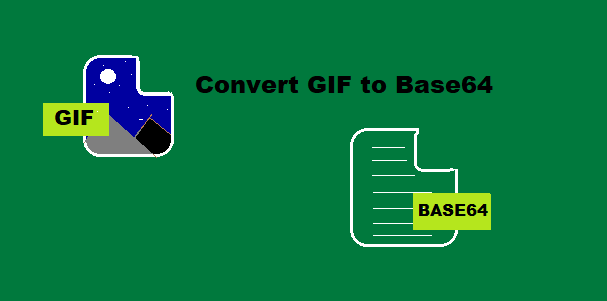 "Convert GIF to BASE64" is possible through the converter tool, so which tool users need to use? Is a question and we will discuss it in this blog. But first let's have a intro of animated GIF and BASE64 formats:
Prologue of the GIFs File Format
For me GIF is the cutest image format, as i search online GIF all those short clips are literally something. Either they are part of some movies or cartoons, GIF is such an invention by Steve Wilhite and his team.
GIF file is a Bitmap format that supports 8 bits / pixel for each image. For the single image, it allows its own reference Palette up to 256 various colors selected from the 24 bits RGB color space.
Read More: Convert BMP to PDF File Format.
At first GIFs are not for animated or sending / receiving purposes, it is for providing colors to the file downloading areas. The GIF file replaces RLE (Run-Length encoding), black and white format. That is why GIF is the first colour file for the websites at that time.
GIF image files don't contain any voice if anyone noticed and it's length is up to 2-4 sec. Now-a-days it is used in many ways
Prologue of the Base64 Encoding
Base64 is the way to embed images in binary text in CSS and HTML files. Basically, it is a binary-to-text encoding program that represents the binary in ASCII format that supports text content. Base64 removes HTTP requests separately for images by covering encoded images into CSS and HTML format. With this, the site performance will increase because web pages take time to load after transferring data online.
So, most users use Base64 to increase their site performance to save time as well as if one wants to transfer GIF images over the internet without anyone noticing file content.
However, normal users can't convert GIF images to BASE64 directly. There is no manual way of this conversion so, users need to opt for a converter tool. The "GIF to BASE64 converter tool" can solve this type of conversion process easily without missing and losing the integrity of the GIF image or other image file formats such as JPG, PNG, BMP, TGA, EXIF, etc. with this tool users can also convert bulk images in different formats. This tool can be named "Base64 Encoder".
GIF to Base64 Converter Tool has Multiple Features
Tool shows you Preview of added animated GIF files.
Software keeps the GIF image as well as other image formats properties and integrity.
One can add files in bulk and convert multiple GIF to Base64 file format.
Users can use shortcut keys also to perform functionality, manual is in the File option of the tool.
Tool also has buttons such as Remove, Remove all, Move, etc to execute functions.
Converter gives a destination path after the process is finished, click on it to reach the loaction.
Converter software is supported by all Windows (OS) operating systems.
Apart from animated GIF to Base64, the tool supports other formats such as DOCX/DOC, HTML, PDF.
Direction of the GIF to Base64 Converter Tool
If users want to try the tool, then get the trial version of the tool from the below-provided Download button. And once you get satisfy with the result, then simply go for the full version. Now, follow the steps to test how this tool actually convert animated GIF to base64.
Step 1: Finish the Installation process and Open the converter software.

Step 2: Add Files or Folder (both can be added) then press on Next.

Step 3: Preview the Added GIF Images or GIF animation and step forward by clicking on Next.

Step 4: Select Text(Base64) and tap on the Convert button.
Steps are easy and simple to execute even for non-tech users. The Base64 Converter Tool is design to keep in mind the user's perspective.
Read More: How to Create PDF from Multiple Images effortlessly
The Edge
Convert GIF to Base64 effortlessly without damaging the images. GIF to Base64 converter tool is the offline software so, users can install it and use it respectively. In the demo version, users can add up to 5 image files.