Solved – Windows Live Mail Stopped Working Error Message
Ashwani Tiwari | Modified: August 11th, 2020 | Windows Live Mail
Hi All, today I am here to talk on a serious issue i.e. Windows live mail stopped working error. It can occur due to multiple reasons. Here in this post, I am going to list some question and their solutions.
Fact: Microsoft discontinued Windows Live Mail application after Windows 7. In 2018, Microsoft also stopped providing support for Windows 7 OS.
Due to this, If a user upgrades from Windows 7 to Windows 8, 8.1, 10. Then there is the chance to get Windows not responding after Windows upgrade.
I know you are not here to know the history of Windows Live Mail or Windows OS. You need a one-step solution to deal with windows live mail has stopped working error message.
Quick Solution

Nowadays Microsoft paying more attention to Outlook. So, it is recommended that you should also move on the same.

Don't worry, you can easily use your Windows live mail data. Know complete steps for Windows Live Mail to Outlook.

You can also Directly Use The Application and get it done.

Download Software Now
Windows OS Buy Software Now
(100% Secure)
Now let's explore the real user's query for Windows Live Mail Not Working error.
Windows Live Mail Not Working Try This Solution
If your Windows Live Mail freezes while replying to an mail. Then, it might be because of Spell Checker not installed.
Real Scenario of Windows Live User
A user his name Alberto, using Windows 7 (64 bit) operating system. Everything working fine, but once I tried to replay to a mail and Windows live mail stopped working. Is it possible to fix this issue?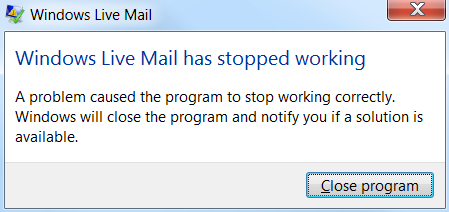 Now let's talk solution to this issue. How Windows 7 live mail not working error has been resolved.
Steps to Fix Live Mail Not Working Issue
In this case, you have to install the spell checker (you can also use Debugger) and for this follow steps listed below:
Open Windows Live Mail on Your System
After that press ALT key from keyboard to open menu toolbar
Here select Tools from the menu bar and then click on Options
Now click on Spelling tab
Here you will see a language list, select either English (United States) or English (United kingdom), After that click on "Set Default"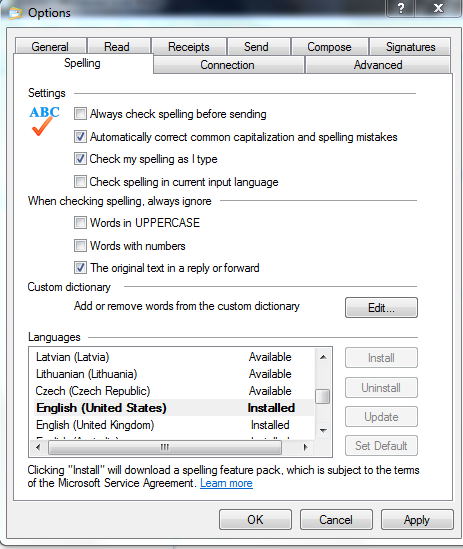 This solution will work only in the case of the Spell Checker not installed. If spell checker installed and working fine. Then reason behind windows live mail not responding error. Let's see some questions, asked on Microsoft forum.
Windows Live Mail Stopped Working Discussion on Microsoft Forum
Here I am going to list some screenshots of user query and Microsoft experts answer. In the end, you will also get a link to the query. Simply read and understand the main reason behind windows live mail not working after windows 10 upgrade error message.
User Query

Expert Answer

Method 1: – Fix Windows Live Mail Not Working Error
You need to perform the steps, suggested by Microsoft expert:

Method 2: – Steps to Fix Window Live Mail Stopped Working Error Message
The above-explained solution didn't work for you. Perform the below-listed steps:

Note: – The screen is taken from Microsoft community forum. I have tried to explain the reasons behind windows live mail has stopped working error message and all possible solutions. Want to see the actual message, click here
Some Common Question Which I Have Covered in This Post
You may also look for this, the above-explained solution will work in this situation:
Microsoft windows live mail has stopped working
Windows live mail not working windows 7
Windows live mail has stopped working error message
Windows live mail not responding
Windows live mail not working 2020
Windows live mail not working in windows 10
Windows live mail not working after windows 10 upgrade
Windows live mail not working after windows 10 update
Windows live mail 2012 not working after windows 10 update