Windows Live Mail Creating Problems in Opening Attachments [Solved]
Latest Updates: – Microsoft does not support Windows essential for new users (end on January 10, 2017). After that Microsoft also discontinued support for Windows 7 OS (end on January 14, 2020). So, it's better to upgrade Windows to the latest version and uses Windows Live Mail Emails in Outlook guidance.
Windows Live Mail does not open attachments is a common issue. It can be fixed via different solutions. Here in this post, we will list all possible solutions. Simply read this blog post:
Attachment Not Opening – Error
The question is taken from the Microsoft site. After reading this question you can understand that a lot of users are getting attachments not opening errors.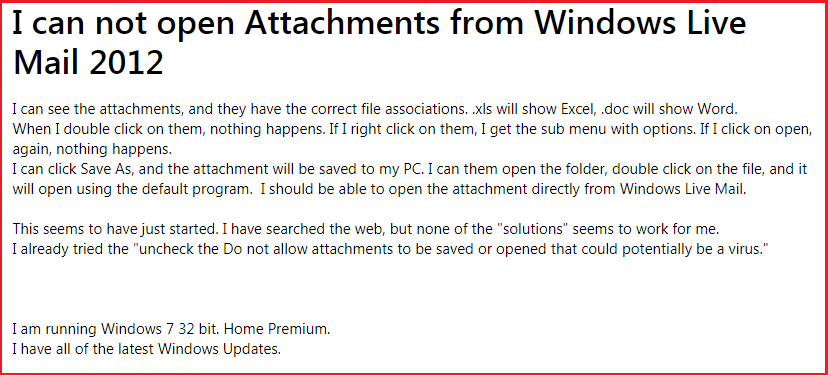 After understanding the question, let's move to the solution part. Know how to solve Windows live mail will not opening PDF attachments.
Methods to Fix WLM will Not Open Attachments Problem
WLM creating problems in opening attachments. There might be multiple reasons for this issue. So, there are multiple solutions as well. Perform the steps listed below, but before this take the latest backup.
Method 1: – Uncheck Don't Open Attachment Option from WLM Security
Open Windows Live Mail and open the Security tab from the menu bar. After that uncheck the "Do not allow attachments to be saved or open that could potentially be a virus" checkbox. Sometimes the WLM application detects that the attachment may be a virus or any malicious program. Then it restricts you to open.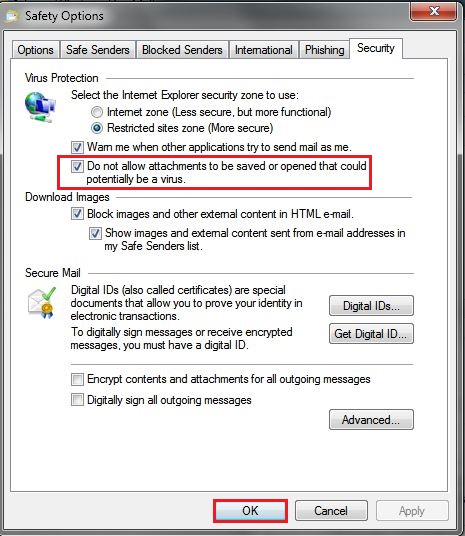 Note: – If this solution does not help you then you have uninstalled the WLM after that re-install it. But as for now, Microsoft does not provide option to download or install WLM. So it will not work in your case.
Method 2: – Uninstall and Reinstall to Fix Attachment Not Opening Error
Follow the below-mentioned steps, but before that take backup. You can take the help of Windows Live Mail Converter Wizard to backup emails along with all attributes. The Below mentioned solution suggested by Microsoft MVP.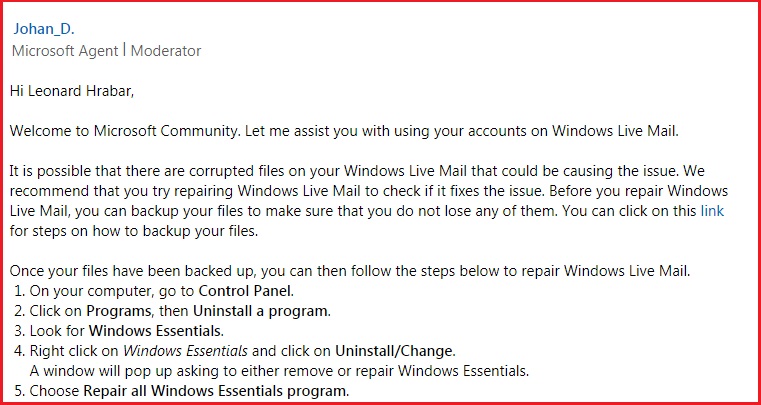 Final Words
You reached the end of this write-up, which means you have gone through with all points. I am sure, after reading it, you are capable to fix Windows live mail not showing attachments (PDF, DOCX, etc.)
Get the guide for:- Windows Live Mail stopped working error.
User's FAQ for Unable to Open Attachments in WLM
Windows Live Mail Not Opening PDF Attachments – What to Do?
The perfect solution for this error is mentioned on this page. Simply visit and perform steps to fix Windows live mail problems opening attachments.
Uninstall and Reinstall Method Will Work After January 10, 2017?
No, After January 10, 2017, Microsoft stopped supporting WLM. So you can opt for this solution to fix PDF attachment not opening.