Download OLK to MBOX Converter and Export OLK14message & OLK15message to MBOX Format
Are you looking for a solution for how to download OLK to MBOX converter tool to export OLK14message and OLK15message into MBOX file formt. Then read this blog and know the solution.
Microsoft Outlook is the widely used email application on both Mac and Windows OS machine. So, here, we will talk about Mac Outlook and its data file. Every Outlook user must be aware of the fact that Mac Outlook stores all its data in OLK file format. And, it is not supported by any other email application. Thus, it becomes really difficult for the users to access OLK file in some other application when Mac Outlook is not available. In such type of situations, users start looking for some solution to increase the accessibility of Mac Outlook data file.
When it comes to moving OLK file to some other file format, the MBOX file format will be the most preferable choice of the user. It is because MBOX is the only file format that is supported by a large number of email clients on both Mac and Windows machine. Thus, converting OLK to MBOX file format will be beneficial for the user as it increases accessibility on both Windows and Mac OS applications like Thunderbird, Apple Mail, Mac Mail, Entourage Mail etc.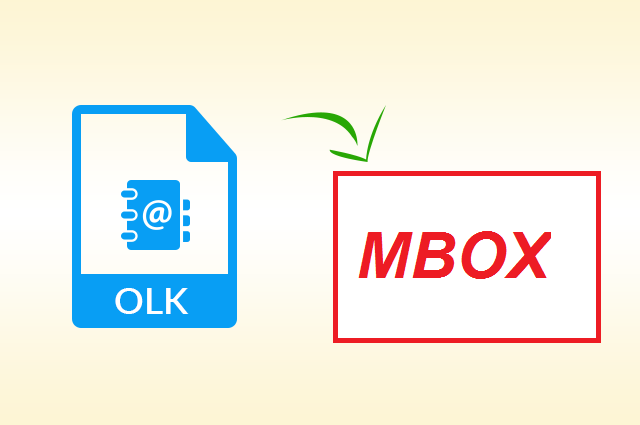 Now, the question is how to export OLK message to MBOX with and without contacts and calendars? If you are also having this query, then just stay calm. This blog will let users know the best possible way to convert OLK to MBOX file format.
Table of Content for OLK to MBOX Conversion
A Decent Way to Export OLK to MBOX Format
First of all, keep in your mind that there is no manual solution available that one can try to convert OLK14message and OLK15message to MBOX format. As you do not have a choice except switching to OLK to MBOX converter software. It will ensure you to export complete emails along with its all attribute of OLK file to MBOX file format.
Now, the number of tools available online confuse users in choosing the right one for them. To make this decision somewhat easy for the users, OLK to MBOX Converter tool is suggested here. It is the highly recommended tool by the users to export OLKmessage to MBOX format. It is very much famous among the users as it guarantees desired results without any loss of data. However, It is a Windows-based application to convert OLK file to MBOX format in the absence of Outlook also. After exporting complete data import the resultant MBOX file into Thunderbird, Apple Mail, Mac Mail, Entourage Mail etc.
Steps to Export OLK Message File to MBOX Format
Firstly, download and install OLK to MBOX Converter application on the local machine.

Click on the Add File button. (Note: If you are having Main Identity Folder (.olk) file, no need to check Advance Scan option.)

After that, click on the Browse button to upload the OLK file.
Then, choose the OLK14 File or OLK15 File as a file type option and select the respective file.

Now, click on the Open >> Add button to upload it.
As the scanning process completed, all data items of the OLK file will get listed in the left panel of the screen.

After that, click on the Export button from the menu bar

Next, simply select MBOX format radio button

Click on the Advance Settings button to customize the conversion process
Here, select the date range from which you want to move messages to MBOX format
Then, click on the Browse button to choose the desired destination location
At last, click on the Export button to begin the conversion process

Finally, When the process completed successfully, a message pop-up. Click on the OK button
Why Choose OLK to MBOX Converter Over Other Tools?
Before using this application, people must be wondering why only this one to export OLK to Thunderbird MBOX format? Thus, in this section of the post, some of the major highlights of this software are listed that is quite enough to go for it.
1. Export OLK file to MBOX Without Identity Folder
Application is capable enough to convert OLK14message to MBOX format even if you don't have OLK identity folder. The tool enables you to browse specific files like messages.olk, contacts.olk etc.
2. Option to Convert OLK15message and OLK14message Separately
The software provides an advanced option to export OLK14 and OLK15 files separately. You need to just provide the preferred Mac Outlook version. It will include only the selected version OLK file.
3. Easily Export Complete Data from OLK to MBOX Format
If you have complete Mac Outlook database in then this converter software provides an option to convert .dmg file of OLK into MBOX file format. Select the .dmg file and view complete data before exporting into MBOX.
List of Some Useful Features of OLK to MBOX Converter
Move all attributes also from OLK file emails to MBOX file format
Transfer selective emails from OLK14message to MBOX by the date-based filter
Option to perform category-wise conversion like Mails, Contacts, & Calendars
Capable to move any number of Mac Outlook OLK14 or OLK15 to MBOX format
Provide date filter option to convert OLK file to MBOX format selectively
User's Query
Question 1: – Can I use this solution to Import OLK into Thunderbird?

Answer: – Yes, The above-mentioned steps will provide an indirect method to export OLK Emails to Thunderbird easily.

Question 2: – How Do I Import OLK File into eM Client?

Answer: – There is not any direct solution to export OLK emails to eM Client. But after exporting OLK to MBOX format. The MBOX file can be imported into eM Client.

Question 3: – How to Import Mac Outlook OLK File into Apple Mail?

Answer: – Want to export emails from Mac Outlook .olk file into Apple Mail, then try above solution and export OLK to MBOX and Import it into Apple Mail.

Question 4: – Is it Possible to Import OLK File into Horde WebMail?

Answer: – Yes, It is possible to export complete emails from OLK to Horde WebMail. You can take help of above mentioned solution.
Conclusion
Accessing Mac Outlook OLK file in some other email client, it is important to convert it to some other file format. As MBOX file is supported by many applications so, users want to migrate OLK message to MBOX format. Thus, this blog will let users know how to export OLK message to MBOX with and without contacts and calendars. The professional solution OLK to MBOX converter suggested above is one of the best approaches to perform the conversion in a seamless manner. After that Import the resultant file into Thunderbird, Apple Mail, Mac Mail, Entourage Mail, Horde WebMail etc.