How to Convert Thunderbird to PST Manually | Practical Solutions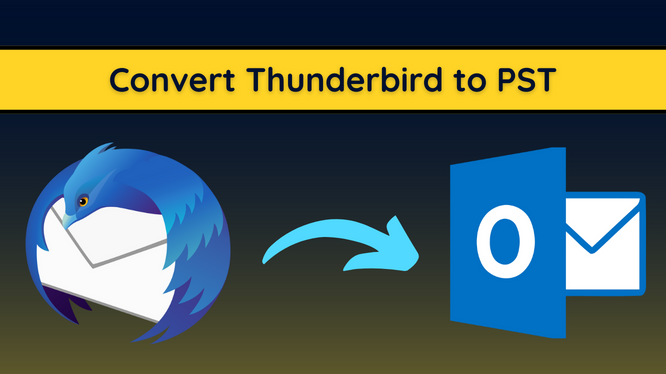 In this article, we will be dealing with the question i.e., of how to convert Thunderbird to PST format. Although Thunderbird and Outlook are regarded as two of the most popular email clients, both of them lack any native means of conversion between them.
Moreover, incompatibility between their data files (MBOX and PST) further complicates this issue. This is why we have come up with practical manual and automatic methods that can be implemented to perform this conversion easily.
Know How to Convert Thunderbird to PST Manually
No matter what the reason is for conversion to Outlook PST, the method to gain the required results remain the same. In the following manual solution, we will be taking advantage of the EML format, which is supported by both Thunderbird and the latest version of MS Outlook (2010 & above). The steps are as follows:
Now starting with the solution:
Step 1: Convert Thunderbird Messages to EML Manually
Run the Mozilla Thunderbird application and select the mailbox folder in which the emails to be exported reside.
Now select the required messages in this mailbox folder. Use Ctrl+A for the selection of all the email messages.
Next, right-click on any of the selected emails and hit the Save As option.
Create and select a folder on the local system to save the Thunderbird emails as EML files.
Step 2: Move the Convert Thunderbird to PST for Free
MS Outlook 2010 and newer versions support direct import of EML files via manually dragging and dropping emails. But do note that you won't be able to preview the added emails in Outlook. The steps to import EML messages into Outlook are as follows:
Run the MS Outlook application and create a new mailbox folder. Name it accordingly.
Now, open the folder containing EML files on the local system.
Next, simply select each and every EML file, then drag and drop them into the newly created mailbox folder.
If the ultimate goal of knowing how to convert Thunderbird to PST file is accessing emails in Outlook, these manual steps are fine enough! But if the user specifically requires a PST file, then use the free native Import/export option in Outlook to gain it.
Note: For earlier versions of Outlook, users will need to drag and drop the EML files to Windows Live Mail. Then use the free native means to export these emails directly from Windows Live Mail to Outlook profile. Do note that, inline images may get converted into empty attachments after export.
Important!
Although this manual process works well and fine, it is not feasible for users having concerns such as:
Time Consumption:- Depending on the number of emails, the process will take time, lots of it, while both extracting emails from Thunderbird or transferring them to Outlook.
Data Integrity:- Free manual conversion leads to loss of folder structure and puts the integrity of data at risk.
Bulk Conversion:- The repetitiveness of this free manual process for each mailbox makes it tiresome for users and hinders productivity during bulk export.
The Practical Way to Convert Thunderbird to PST Format
Manual solutions may be free but they suffer from a variety of risks and hence are unable to provide proficient results. So users tend to look for alternatives that focus on quick but effective migration. Thunderbird to Outlook Converter is a compendious solution for exporting emails from Thunderbird Mailbox to PST file format.
Its unique ability to automatically detect the configured Thunderbird mailboxes drastically minimizes the time factor. The tool is already among the most trusted utilities as it executes email migration without compromising with any constituent of Thunderbird messages.
Some Major Benefits Are as Follows:
Ability to convert orphan mailbox from Thunderbird to PST in bulk
Automated scanning and exporting mailboxes from configured Thunderbird to PST format
Retains all inline images and other email content in its original form
Extract and export Thunderbird attachments into the PST file with associated emails
Maintains formatting and internal structure of data
Preserves folder hierarchy during both automated and orphan mailbox conversion
The tool also comprises several other features to help users customize their export procedure and at the same time provide users with accurate and efficient results.
Also Read: How to Convert Thunderbird Email to PDF
Steps to Convert Thunderbird to PST File Format
Step 1. Download and launch the Thunderbird to PST conversion utility.
Step 2. Click on Add File.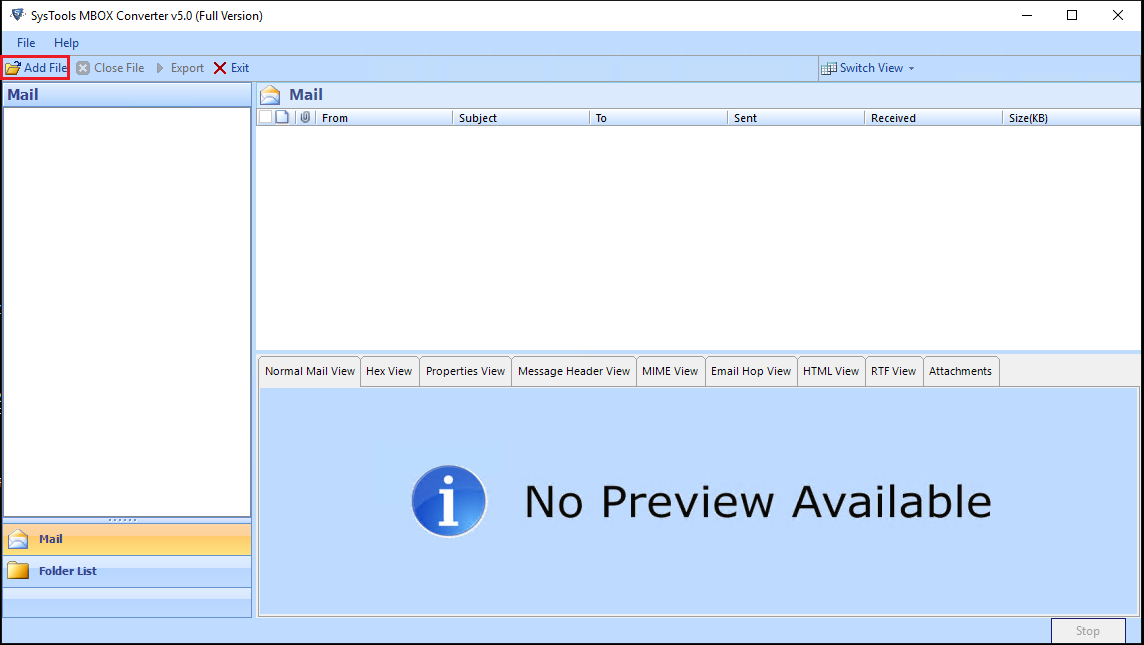 Step 3. Choose the scan option as per the requirement.
Default Profile Configured for automated Thunderbird mailbox detection.
Select file/folder from the file system is for adding orphan MBOX files from the local system.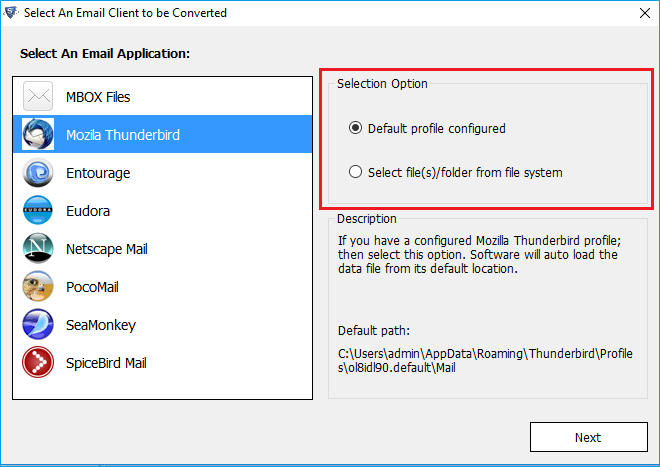 Step 4. Preview the emails and attachments before exporting them to PST.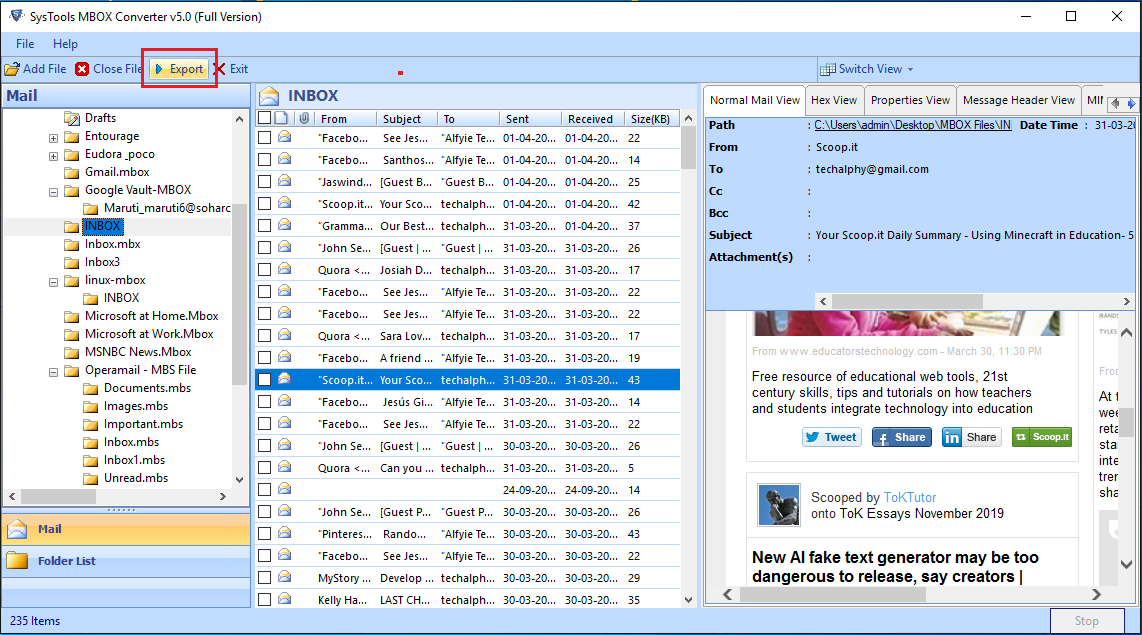 Step 5. Hit the PST radio button and Export the file with customizable export options.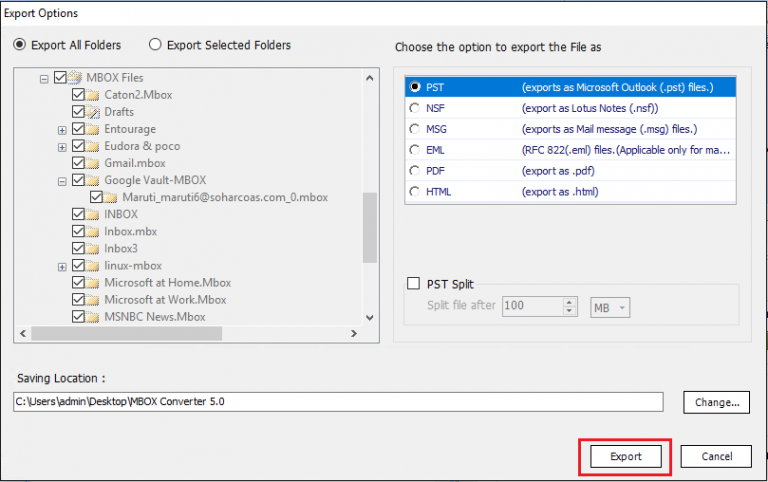 Step 6. Users can access the converted files by browsing the appropriate folder.
Bottom Line
The post provides users with an overall idea of how to convert Thunderbird to PST. Among all the possible ways, we described the most practical ones which actually work. Users can either go through all the free steps to convert Thunderbird to PST manually at their own risk. Or simply opt for the convenient utility to export Thunderbird emails to PST while they relax.