Learn How to Export Email from Office 365 to EML?
Ashwani Tiwari | Published: May 22, 2020 | Office 365

Office 365 is a hub of applications that offers many services under one roof. Office 365 is a collection of tool that offers a user to increase the productivity of their work at very negligible cost and also permits you to work from anywhere. You only need an internet connection to access it because it is a cloud-based application that is secure and remotely accessible from any part of the world.
However, if you are an email running company then you have a tone of emails some of them are very important or classified too. So, in case one day you wish to export them in another email accounts or you want to store them in your local drive, then what will you do you may think that is there any option or method to do so.
Let me think!
The answer is "Yes" you can easily migrate your important Office 365 emails into the most widely used EML file format. So, in this write-up we will go too discussed the automated tool to export Office 365 emails to EML format and the reason why EML? Let's have a quick look at what EML exactly is read the upcoming section carefully.
What is the EML format?
EML stands for Email as simple as that, EML is a standard format mostly used by several email clients such as Microsoft Outlook, Microsoft Entourage, Mozilla Thunderbird, Apple Mail, or IncrediMail. EML file format used to store email messages and each message are stored in a single file. Although, the EML file can be accessed directly through your local browsers and notepad or any text editor.
Therefore, EML files are of plain text and formatted like the MIME HTML file. EML file format is officially introduced by Microsoft.
Note: EML file is supported by all the major email clients like Microsoft Outlook, Microsoft Entourage, Mozilla Thunderbird, Apple Mail, or IncrediMail.
How to Migrate Office 365 emails to EML
There are several ways to do this, you might able to find some freeware tool but we recommend you use the licensed tool that will give you the surety of your data and also offers lots of features that will make this process so easier for you. In the upcoming section, we will be going to introduce the tool that assures you data safety, consistency and permits you to export emails directly from Office 365 to EML file format without any interference of other applications.
Also Read : Create Backup of Office 365 Mail to Local Storage
Features of the Automated Tool
Export Office 365 emails into 4+ file formats
Offers Pause & Resume feature during the process
Provide a Naming Convention to migrate Office 365 data
Delete After Download option deleted exported mails from the server
Supports all the latest version of Mac OS X
Working of Office 365 EML Migrator Tool
Follow the below steps to Export Office 365 emails into EML file format using this proficient tool.
Download and Install the tool on you Mac OS
Enter Office 365 credentials to the tool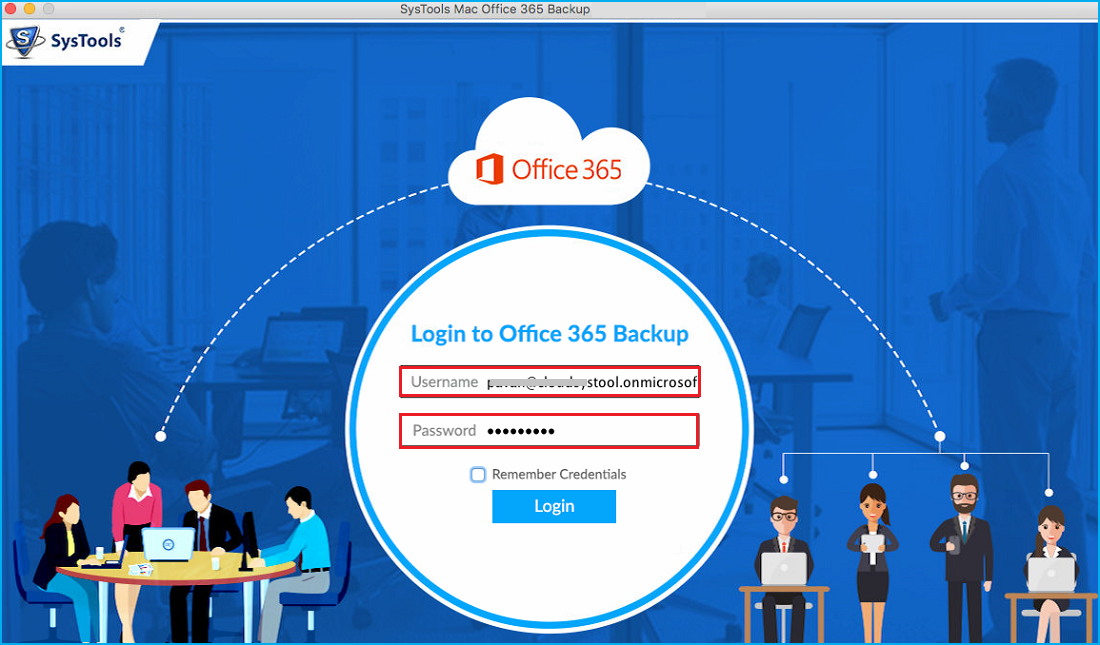 Select EML file format to migrate Office 365 to EML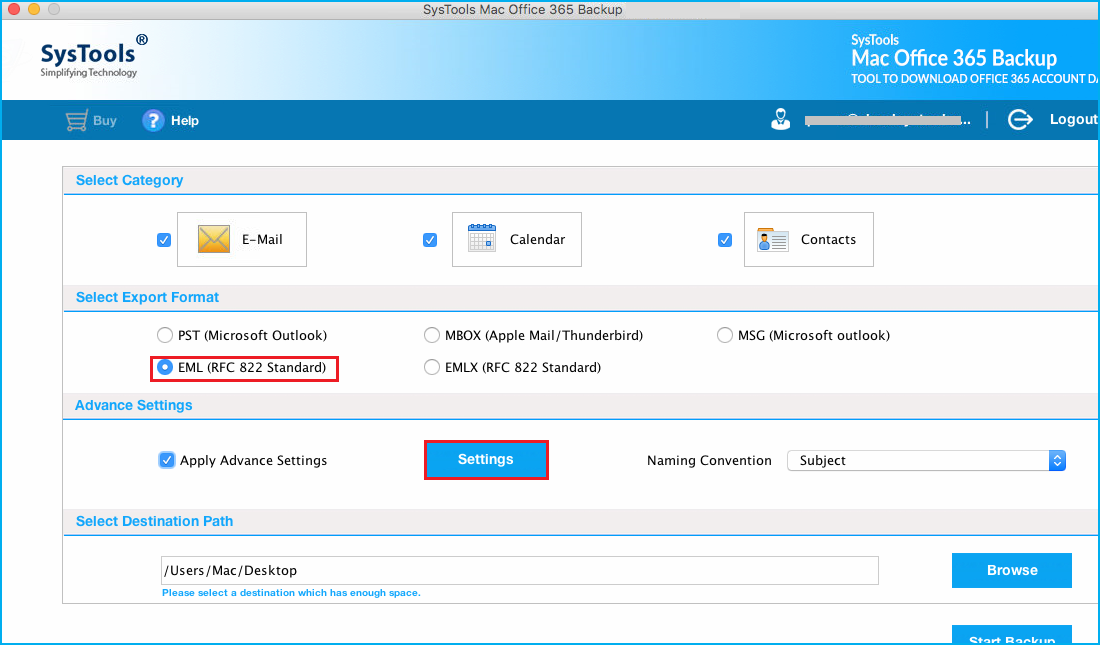 Browse the destination location for the resultant file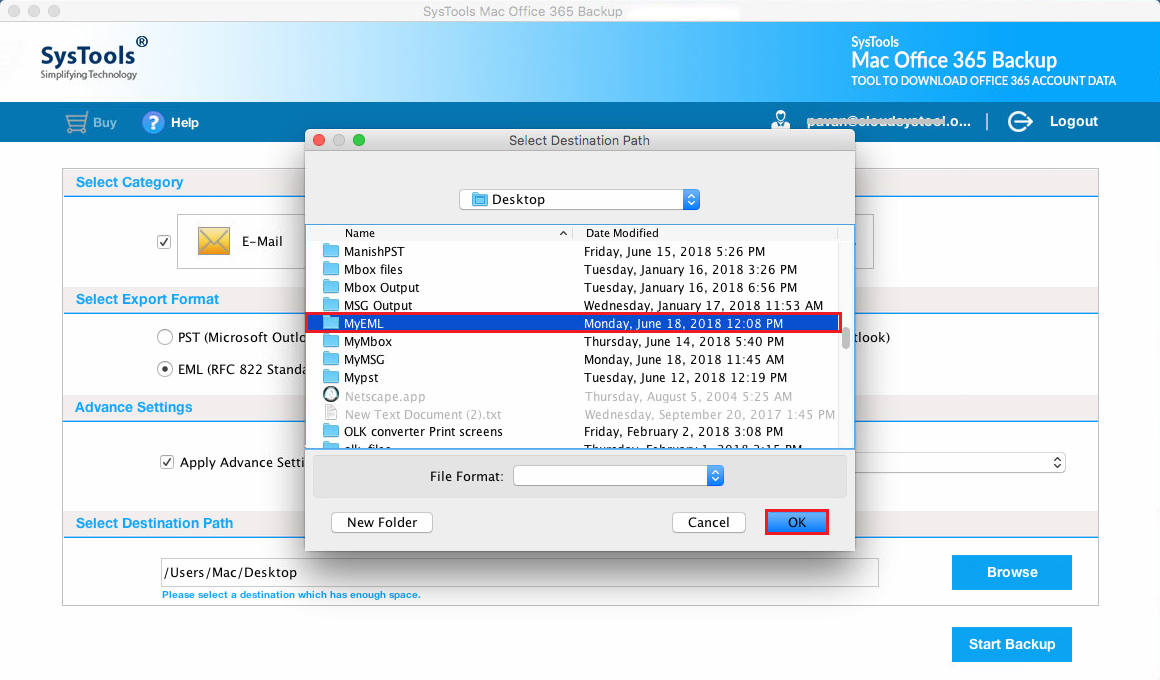 Hit the Start Backup button to initiate the process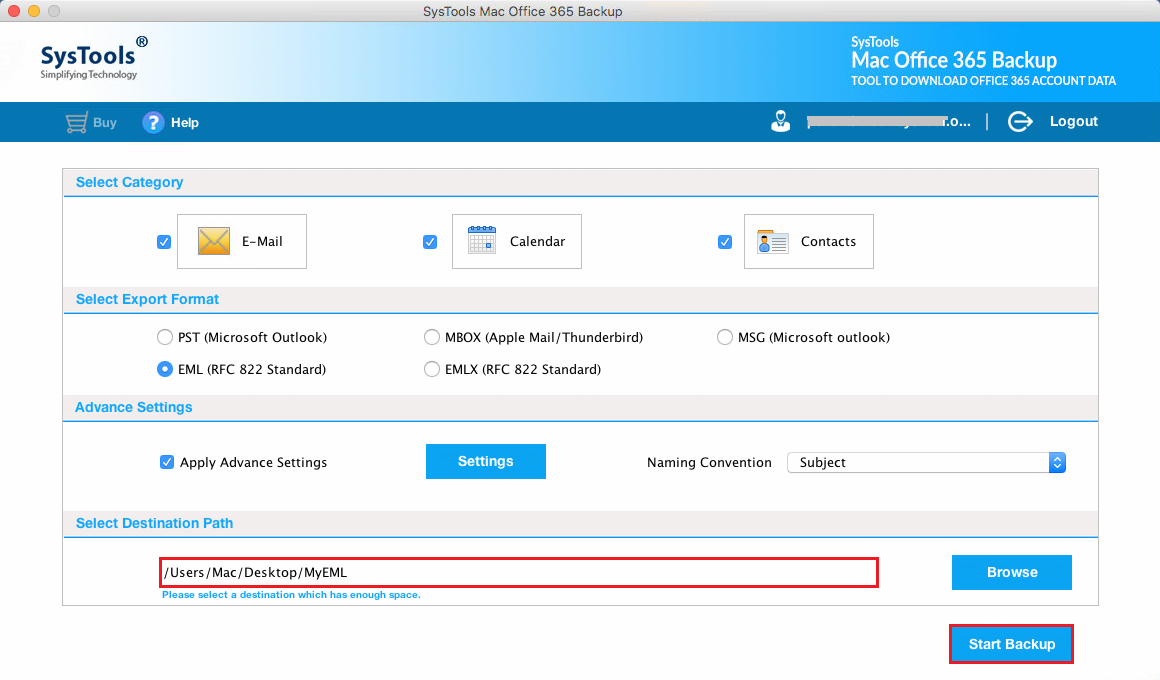 Once the process is completed go to the destination folder and access the EML file.

Also Read : How to Backup Office 365 Contacts
Conclusion
Congratulations! Your Office 365 important emails are successfully migrated to your local system. Now, you can access them separately according to your work. This all in one tool maintains the original folder hierarchy and also a non-technical guy can easily export Office 365 emails to EML using this tool.