Effective Ways to Resolve: Cannot Print Secured PDF
Ashwani Tiwari | Modified: April 12th, 2019 | PDF File
Are you looking for an appropriate solution to resolve the query such as "cannot print secured PDF?". You are at the right place. In this write-up, we are going to discuss the best ways to solve this issue. Firstly, go through the below-outlined user's query that will help you to understand more about this issue:
User Query
"Yesterday, I receive some important documents from my office colleague by email as password protected PDF's. I know the password and open them with the help of adobe reader. However, when I want to print a copy the option of printing is not appear there. I have checked the files again and reopen the application. But, I have found that the secured PDF won't print. I need an alternative to resolve my issue cannot print secured PDF. Please provide me any help would be appreciated."
Now, we are going to discuss the best and prominently used methods to resolve the issue.
Manual Method to Resolve Cannot Print Secured PDF
Here, in this segment we are going to discuss the manual method to solve the issue. A user can perform this manual process using "Adobe Acrobat Pro DC" utility. The following way is to describe in a descriptive manner. You just have to simply follow all the steps in sequence to get a positive resultant:
1. Firstly, open Adobe Acrobat Pro DC application.
2. Now, click on "File" option is in the top-left corner of the wizard. After clicking, it prompts a drop-down menu.
3. In the drop-down menu, you have to click on the "Properties" option.
4. Here, hit on "Security" option displayed on the top pane of the window.
5. Afterwards, select "Security Method" and choose "No Security" from the drop-down menu.
6. When you properly add no security. Now, the utility pop-up a permission box. You have to add a password in this field to move forward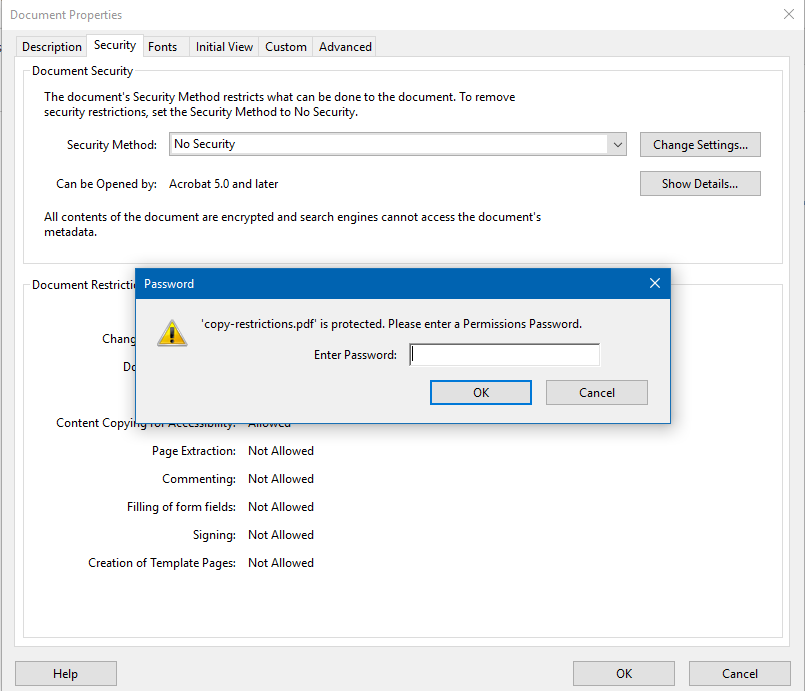 Note: If the user does not have the permission password then he/she will we unable to remove security by using manual approach. In such cases, they should try the next solution..
Automated Technique to Solve Cannot Print Secured PDF Effectively
As we all know, that the above-stated manual solution has some limitations. It is free trial but it has some limitations i.e. in order to have complete access, one needs to purchase the paid version of Adobe Acrobat Pro DC. Moreover, to unlock owner level protected PDF, the exact password is also required. If the user is not having it the file can't be unsecured.
However, in most of the cases, users are stuck in situations such as they do not have the password or they have the password but the option of print is disappear.
Now, to resolve such kind of issues here, we come up with an appropriate solution for not printing secured PDF without the password. This is a third-party application named as "PDF Unlocker Tool". With the help of this software, a user can easily reset and remove password restrictions. It is capable enough to overcome all the constraints of the manual solution and facilitates a better outcome.
Note: This tool can also be acquired in Demo version which is free of cost, for that simply click on the Download option below
Mainly, this software furnishes an understandable user interface. So, a novice user can also execute the task without taking external help. Moreover, this utility supports unlocking the PDF file from owner level security also. Simply follow the below-outlined step by step guide to perform print secured PDF:
A comprehensive guide to performing procedure
Follow these simple steps & learn how to print a secured PDF without password
1. Initial display of the "Software" as you download and run.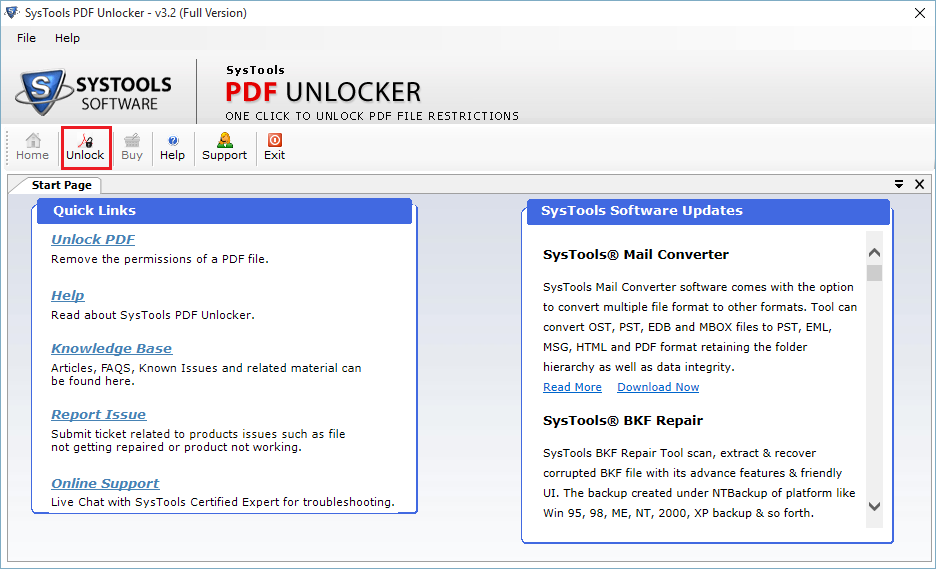 2. Now, add Adobe PDF file appropriately.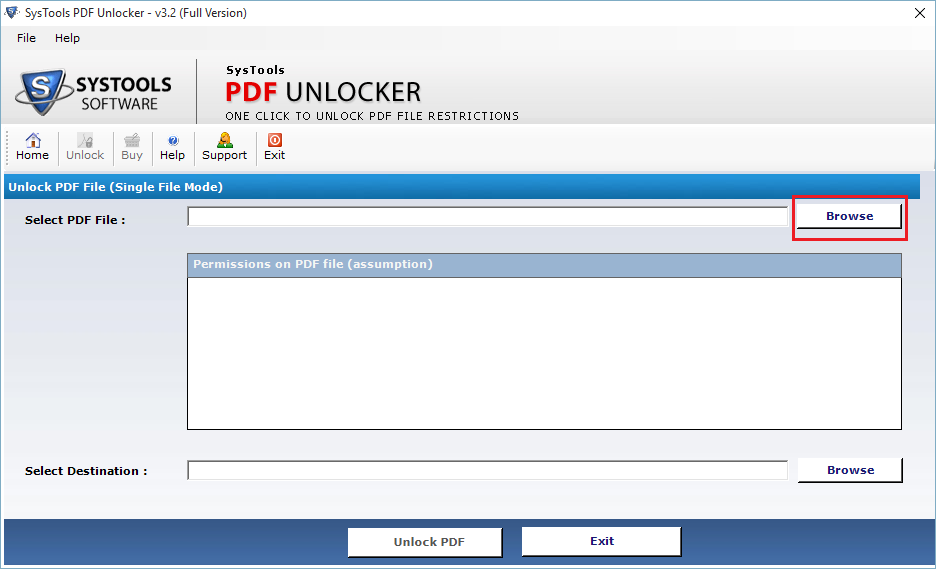 3. Here, you can view the restrictions integrated with PDF file.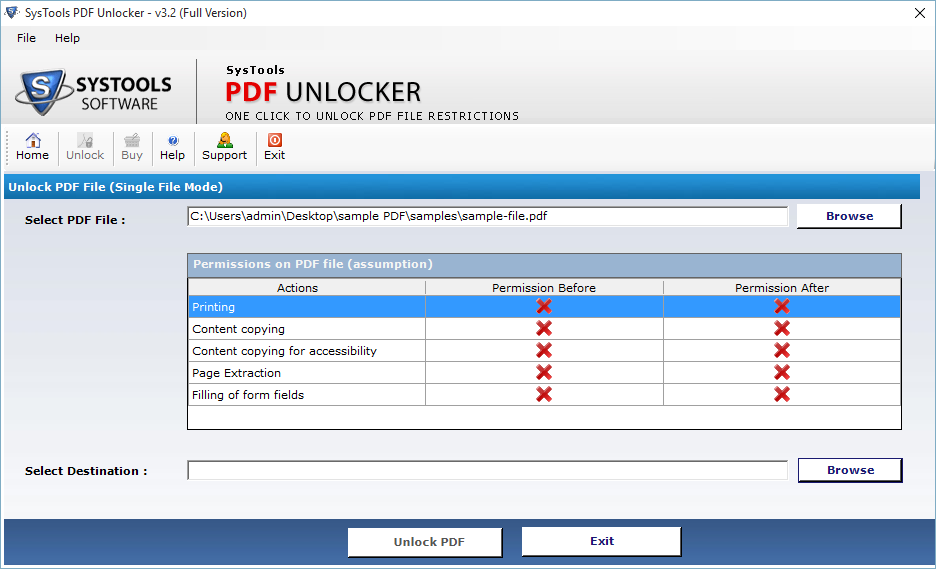 4. At last, after selecting the location click on the Unlock PDF button and remove restrictions from PDF files.
Conclusion
PDF is the most prominently used file format these days. But, sometimes users find the solution to cannot print secured PDF. So, in this article, we emphasize effective techniques to do the same. Due to some disadvantages of the manual solution. It is recommended to opt an automated workaround i.e. PDF Unlocker. With this tool users can easily leran how to print a secured PDF without password.