USB Port Lock with Password in Windows 10 – Easy & Clear Solution
USB drives or pen drives are extremely cheap and very easy to use. It is also very easy to carry from one place to another place. But USB data is always prone to illegal usage. The main concern that we have today is protecting our important data. Whether it is personal information or professional and prevention of malware and viruses are our priority.
Apart from protecting our PC from online threats and inside viruses, outside attacks can also pose threats to our computers. So it's vital to protect our PC from an unchecked flash drive or other external devices as they might also carry viruses.
With the exception of threats of viruses from portable devices, there is also the possibility of copying your personal data without your permission. Users can also save their data on CD/ mobile devices without users observing as they don't necessity any authorization to attach to your PC.
This situation is very scary for anyone makes sure to protect your PC and move data procedures through USB ports. It's time to protect your USB ports from being misused your important data by using USB blocker software that comes in handy by locking the ports. With the help of this tool, no one can steal your crucial data or infect your computer with viruses.
Also Read:- Remove Write Protection from Flash Drive
How to Make Password Protect USB Ports in Windows 10?
SoftwarePro USB Blocker Software blocks all the USB ports from any user's machine. This tool provides an option to recover lost users' passwords by using an email address. It is required to set a new password for USB ports blocking and unblocking. With this utility, users need to set a new password for USB port blocking and unblocking. By using this tool users can lock the USB ports with passwords in windows 10, 8.1, 8, 7, and all below versions.
The best thing about this utility is capable enough to block and unblock unlimited USB ports of multiple computers or laptops etc. It provides a free demo version to block/unlock the USB ports for 7 days.
Steps to Unlock USB Port with Password Windows 10
1. Download and install the USB blocker tool on your Windows OS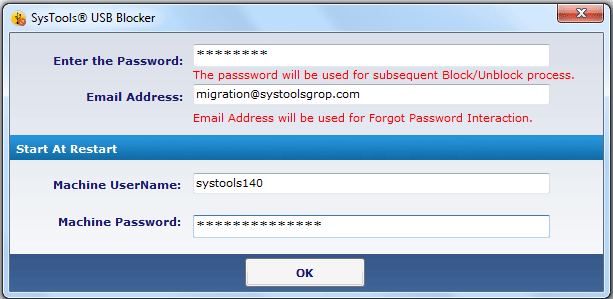 2. Now the tool will provide a block option, hit on it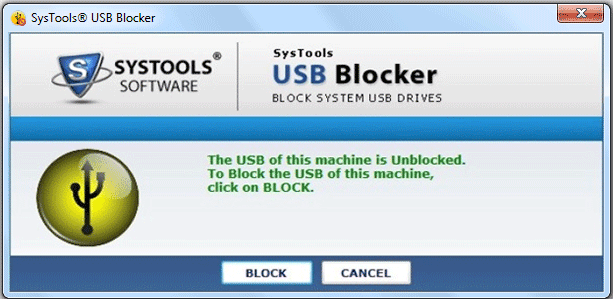 3. After that, type the password on it to block USB on your PC


4. If you want to unlock the USB port then click on unblock option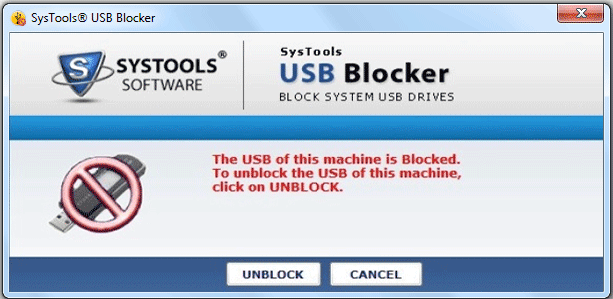 USB Port Locker with Password Manually?
Changes in Windows registry files.
To open the registry editor just type 'Regedit' in the search box and browse to the HKey_LOCAL_MACHINE\SYSTEM\CurrentControlset\Services\USBSTOR registry key.
Then hit on the start key which is in the right panel and choose to modify in the sub-menu of it.
After this in the small pop-up window, users will see the value as three under 'value data' which means that your USB port is enabled.
To make sure it is disabled, users require to change the data to 4. Finally, hit OK to let the changes take effect.
Via Device Manager
Firstly open the device manager, then, go to the search box and type 'MSC'.
Hit on USB controllers which will display the list of USB ports and here users require to right-hit on the USB port and hit on disable the device.
It is a simpler way to disable your USB ports on Windows 10, 8, and 7.
These are the methods by which users can guarantee the security of their computer from external USB threats, either by using the tool or doing it manually.
Conclusion
In this post, we have mentioned USB port locker with a password using professional software and a manual solution. Now it's your choice. You can anyway protect the USB port with the password by using the above solution. But remember one thing manual method have some limitation and required technical knowledge. Because if you did any mistake you lose your data permanently. But the USB locker tool is very easy to use and unlocks your USB port instantly without any hassle.