How to Unhide Hidden Files in USB Caused by Virus – 7 Ways to Fix the Issue
Table of Content:
Introduction
Today we are going to resolve the most ordinarily asked query such as how to unhide hidden files in USB caused by the virus? Mainly, USB flash drive, pen drives, memory cards etc., are prominently used gadgets these days. Most of the users are prefer this to store their personal data. But sometimes their data files hidden in USB due to virus attack. In this circumstance, they find an appropriate method to unhide file hidden by virus. So, with the help of this write-up, we are going to let you know, that how to show hidden files in USB windows 10 caused by the virus without any hindrance.
Unhide Files Hidden By Virus From USB
In this segment, you will get the free solutions to fix how to recover hidden files from virus infected USB pen drive. All the 7 methods are discussed in an appropriate manner. You can follow any one of them as per your need to get a positive outcome.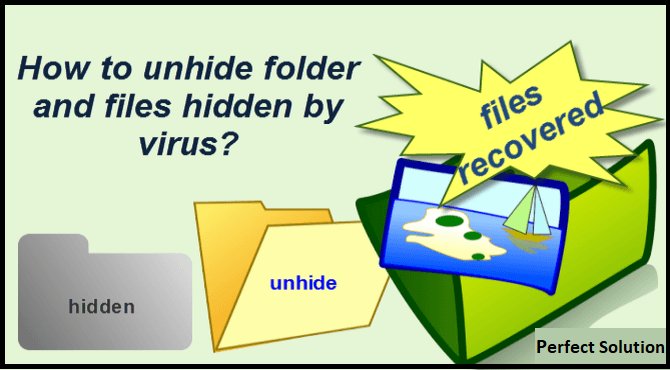 Method #1 Unhide Hidden Files in USB Caused by Virus by Using CMD Command Prompt
This approach is implemented with the help of the CMD command prompt. It is might be your foremost choice when you need to show hidden files windows 10. Simply follow the below-outlined steps to unhide files hidden by a virus to your memory card or flash drive using CMD.
First of all, you require to plug in your USB to your local machine
And then navigate to Start
Type cmd in the search bar field
Click on Enter to proceed forward
Now, cmd.exe is displaying under the programs list
Subsequently, you need to eight hit on this cmd. Exe
Here, you find that the command permitting you to unhide hidden files
Lastly, add in attrib -h -r -s /s /d drive letter:\*.* in it.
Method #2 Show Hidden Files in USB Windows 10 By Using this Method
If you do not get satisfactory output using the above-stated steps. So, you can try this one to execute the procedure to show hidden files in USB flash drive.
Initially, go to Start and then navigate to All Programs>>Accessories
Then, click on the Command Prompt
In new Windows OS version, you require to right click
Now, select RUN AS ADMINISTRATOR option
Hit on the Start button to begin the process
Here, go to My Computer and then find Removable drive
Type Drive Letter and click on Enter
Now, you view a blinking line going down and shows drive letter:\>
Additionally, type in attrib command -s -h -r /s /d and press Enter key
Navigate to drive
At last, check whether you can see your hidden files or not.
Method #3 One More Method to Unhide Hidden Files in USB Caused by Virus
This approach to show hidden files in USB flash drive is discussed in an efficient manner. A non-technical user also performs it without any hassle.
Initially, hit on Start after that click on USB flash drive for opening
Now, you have to click on Organize in that flash drive which is located at the top-left segment of the displayed wizard
Now, choose the Folder and Search Options
Then, select the View tab
Subsequently, tick the option for Show hidden files under the Hidden files and folders.
Simply click on Apply
Here, hit on OK
Finally, you might view your hidden files are getting visible perfectly
Method #4 Permanently Unhide Hidden Data in USB Caused By Virus
Apart from the above-explained ways. This is one of them which is able to unhide hidden files in USB permanently. Have a look:
When you are being able to view the hidden files using about-stated measures, then right-hit on the hidden file i.e., required to unhide permanently
After that hit on Properties option
Now, uncheck the Hidden option
Here, click on Apply
Ultimately, click on OK finally to unhide needed files permanently
Method #5 How To View Hidden Folders In Windows XP
In this section, we will be going to explain the steps to access hidden files/folders in Windows XP. Basically, you need to follow all the measures properly to get the better resultant.
At first step, you have to click on Start which is situated at lower left screen segment
Then, select Control Panel
Now, hit on the Appearance and Themes option
Here, navigate to the Tools>>Folder Options>>View
After that, click on the option saying to show Hidden Files and Folders
Hit a click on Apply option
Finally, click on OK to finish the procedure properly
Method #6 Unhide Hiden files of Windows Vista
Mainly, this solution is for the users of Windows Vista. Those users who are working with this version of Windows Operating System. Simply follow all the measures in a sequential way.
Primarily, go to the Start
And then, select the Control Panel
Here, opt Classic View option
Afterward, click on Folder Options
Navigate to the View tab after that check the option to Show hidden files and folders
Hit a click on Apply
Simply click on OK to end up the process in an appropriate manner
Method #7 How to Show Hidden Files in USB Windows 7 & 10
This approach is performed by only who are using Windows 7 & 10 Operating System. The method is discussed in a descriptive manner. You just require to follow all the measures adequately.
At first, hit on Start from the lower left pane
Afterward, navigate to Control Panel
Then, click on the Category button which is located on right upper menu corner
Select Small Icons from the drop-down menu
Now, from the All Control Panel Items and then hit on Folder Options
Choose the View tab after that enable the option for Show hidden files/folders and drives
Here, click on Apply
At last, click on the OK to end up the procedure
Special Tip & Trick Unhide Files in USB Caused By Virus
While you are trying to execute the above-explained manual solutions to show hidden files in USB flash drive. These solutions are lead to data loss issues. So, you may lose your crucial data when you are utilizing these free solutions. If you already lose something and find an alternative to get that back. Do not worry! Sit back and take a deep breath. Here, we come up with software to unhide hidden files in USB instantly. This is named as Pen Drive Recovery tool. With the help of this utility, a user can easily recover their deleted, formatted files and folders from USB caused by the virus. Moreover, this software provides ultimate features and functionalities to the users. Thus, you have to must try this to recover restore deleted, formatted and corrupted data from USB flash drive.
Final Words
In this technological arena, most of the user are rely on the USB flash drives to store their important data. Because this is handy and easily accessible anywhere without any hassle. But, sometimes the USB is getting highly affected by the virus and generates issues like users are getting unable to view their data file. In this case, users find an effective solution to resolve the issue. So, the foremost thing to do is buy an anti-virus program and use it perfectly. If you are still not able to do so. Then, in this article, we have discussed the approaches to fix how to unhide hidden files in USB caused by virus manually. Try these techniques hope, you may solve your issue efficiently.