Is Your PDF File Password Not Removing? Complete Guide to Fix Error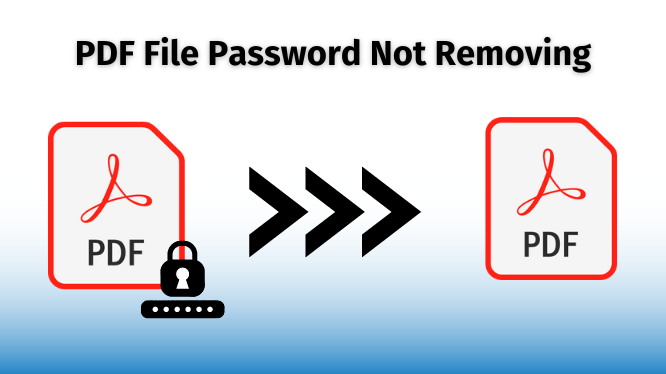 As we all know, Adobe PDF is a very popular application due to its great need in all organizations and at the individual level. Thus, users sometimes forget the password. And they start searching to remove PDF password and due to many duplicate solutions available on the web, users find that PDF file password not removing easily.
However, after forgetting the user password, it is not able to access the PDF file to read, edit and print your PDF documents. So, in the next paragraph, we are going to discuss the actual scenario that occurs.
"Hi, in the past few days I was given the task by my organization to provide us with the data of the employees working from home. This data must be saved in a password-protected PDF file. When I started to open my file PDF, I found out that I forgot the password identifying my PDF file due to bad memory. So I'm confused. But a friend of mine suggested software to remove password from PDF file without any data loss. And the software is very helpful for me to erase the password from my PDF file."
Here, if you are facing the same problem, don't worry, you have come to the right place. Now, in this article, we are going to discuss what to do if the PDF file password is not removed easily.
PDF File Password Not Removing – Manual Solution Available to Remove Password Security
Here, you find an easy manual method to remove PDF password using Google Chrome and Print Functionality. Now just go through the following manual steps:
Step 1. Open the PDF file in Google Chrome.
Step 2. Then, press the Print option find on the right side.
Step 3. Now, select "Save as PDF" as the destination & click "Save".
Step 4. Last, open the PDF file using Adobe Acrobat and do the editing operation.
Now, the above-mentioned manual method is having some disadvantages in that users are not found good enough.
Some of the Drawbacks of the Manual Method Which Users Dislike
This manual solution is not a perfect solution for multiple PDF files.
This solution does not work if the PDF file has restrictions on Print.
This process is technical and very time-consuming.
Now, to overcome all these drawbacks or limitations in the upcoming section we have come up with the best method which easily solves your query.
Automated Solution to Solve the User Query "PDF File Password Not Removing" Easily
In the manual solution above, we have seen that the manual method is not a good approach for non-technical users. So, if you forgot the password of your PDF file, you can easily remove it using the Most Recommended PDF Protection Remover Software. This software is recommended by technical experts with an experience of more than 15 years.
Moreover, easily solves your query "PDF File Password Not Removing" without any data loss. Moreover, this software has a very simple GUI with user-friendly behavior.
For Windows:
For Mac:
Some of the Best Features of This Software
This software permits the users to preview PDF documents.
This software gives the features to remove the comment restrictions also.
Also, this software is capable to work with both Windows and Mac OS.
Also Read: Decrypt a PDF File Without Password
PDF File Password Not Removing Watch This Short Video
End of Discussion
In the above article, we have solved the user query "PDF file password not removing". We have mentioned a manual and automated solution to remove password security from PDF files. But experts find the automated solution to be a healthy and smart solution for non-technical users with a simple user interface.
Also Read: PDF is Password Protected and Cannot Be Exported | Print | Edit Easily