How to Recover Deleted Data from SSD (Solid State Drive)
Ashwani Tiwari | Modified: August 7th, 2020 | Data Recovery
Summary:

After reading this write-up, you will come to know the verified solution to recover deleted data from SSD. The solution is available for Hard Deleted and Soft Deleted Files.
Download Software Now
Windows OS Buy Software Now
(100% Secure)
The SSD is an acronym of Solid State Drive. It contains non-volatile flash memory used to store data files. It is used in place of the hard disk. The SSD's are fast to respond to user requests. Despite having an advanced feature and security. The data can be deleted or lost from a solid state drive. So let's understand what to do if files deleted from SSD? And what not to do? Read the complete post and files a reliable solution to recover deleted files from solid state drive.
Tips: – If data deleted from solid state drive then stop using the same SSD. Because if data are overwritten then the data recovery is not possible.
Methods to Recover Deleted Files from Solid State Drive
You can recover deleted files from SSD by using manual method or by using automated software. But make sure the TRIM function is disabled. Both the methods are explained here: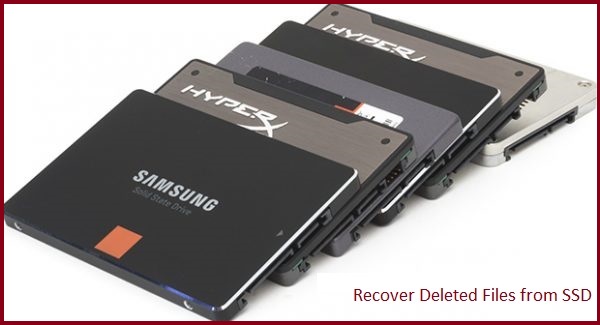 # 1: – Recover Deleted Data from SSD Without Software
The Windows OS stores deleted files in the Recycle Bin folder. So, you can easily restore all file and folders. The permanently deleted files can not be recovered from the recycle bin folder. Perform the steps listed here:
Find Recycle Bin folder and Open
Locate the deleted SSD files and Select
Right-click on selected files and hit on Restore
Now all selected files and folders will disappear
Go to the original location and check recovered deleted files
Note: – If files deleted by using shift + delete key or files deleted from recycle bin folder. Then in this situation, you can not recover files manually.
# 2: – Recover Permanently Deleted Files from SSD With Software
If the files and folders deleted permanently from solid state drive. Then you need a professional SSD Data Recovery Software. The utility is capable to restore normal deleted, permanently deleted, formatted files easily. You need to just download and the utility and install on any of the Windows 10, 8, 7, or below versions. Perform the below-mentioned steps:
Download and Install the software

Download Software Now
Windows OS Buy Software Now
(100% Secure)

Select the partition from which data deleted
Preview the deleted files and select required
Save the selected files or complete recovered data
Steps to Disable Function for Solid State Drive
The user should disable the TRIM function before using a solid state drive. The complete process listed here:
Open Command Prompt (Admin)
Type fsutilbehavior query disabledeletenotify and hit Enter
After that type fsutil behavior set disabledeletenotify 1 and press Enter
How to Recover Deleted Files from SSD? – User's Query!
Query 1: – Hello, I am using a solid state drive as my backup drive. I keep complete data backup at regular intervals. I have Dell laptops with Windows 10 installed. Last night accidentally I deleted some files from my external SSD. Now I want to know how can I recover deleted data from SSD? Thanks in advance!
Query 2: – I have purchased new computer with in-built solid state drive. My son was playing game on my computer. I don't know what happened? now three folders from E drive has been lost. Is it possible to recover permanently deleted files Windows 10 SSD.
Query 3: – Last night, I was deleting extra files from my external solid state drive. After deleting files and folders, I emptied the recycle bin folder also. Now I come to know that, some important files deleted. Can anyone here, who can help me to recover deleted files from solid state drive.
Query 4: – I want to know that, can you recover deleted data from SSD. Because I don't know anything about computer data recovery. I have my computer with SSD and I lost files. Now looking for a professional to recover my shift deleted files from solid state drive.
Solution: – All the queries are related to deleted data recovery from a solid state drive. The above-mentioned solution will work for you.
Conclusion
Files deleted either normally or permanently. You can restore deleted files easily. The manual and automatic solution explained in this post. Follow the steps and recover deleted data from solid state drive quickly.