Import Zoho Mail to Gmail Account Using Manual Method
Do you use a Zoho Mail account for maintaining your email data? Are you wondering how to keep your Zoho Mail data safe on another mail service? If so, then one top-rated webmail service is Gmail. Do you want to know how to import Zoho Mail to Gmail? If that's the case, then, in this article, we will describe some viable solutions for Zoho to Gmail migration. That will help you in this migration procedure.
Zoho Mail, as you may know, is a part of Zoho CRM. It is used as a bridge to generate a good relationship between the user and the consumer. Gmail on the other hand is the top-rated webmail service. In fact, Gmail offers a free account with 15GB of cloud storage. Whereas, Zoho Mail used to have an easier way of having an email forwarding function, which ended in January 2018. 
Quick Steps to Migrate Zoho Mail to Gmail
Step 1. Download the Zoho to Gmail migration tool.
Step 2. Choose Source as Zoho, enter credentials, and validate same.
Step 3. Choose Destination as Gmail, enter credentials, and validate same.
Step 4. Apply Advanced settings to customize the migration (if required).
Step 5. Finally, click on Start Migration.
Simple Methods to Import Zoho Mail to Gmail
As discussed, now we have only two manual solutions for a successful Zoho to Gmail migration process. We are going to go through each process in detail in the next sections. Know what they are called from the list below-
Let us start understanding each process in detail with step by step guidelines.
Manual Method to Add Zoho Account to Gmail Account 
Login to your Gmail account in the first place.
After that, go to the Settings Gear icon and click on the See All Settings option.
In Settings, go to the Accounts and Import tab. Now click on Add another email address option.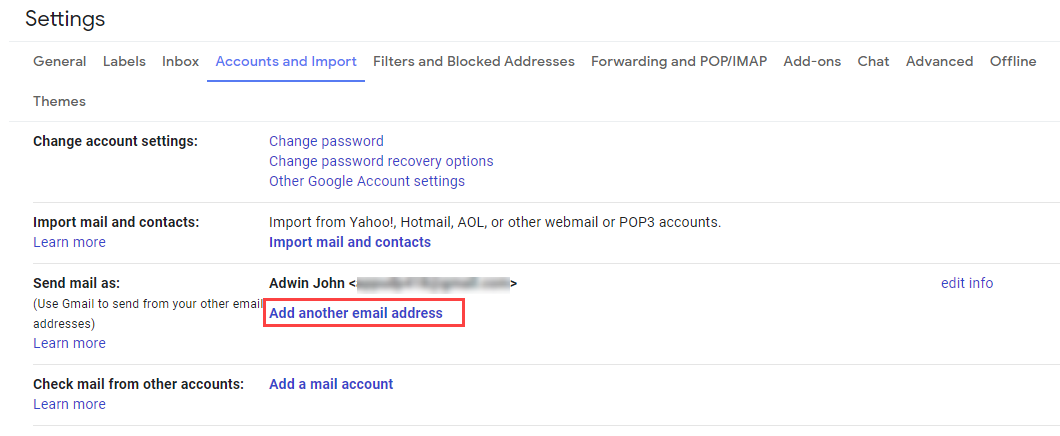 A new window is active. Enter your Name and Zoho Mail address. Click on the Next step.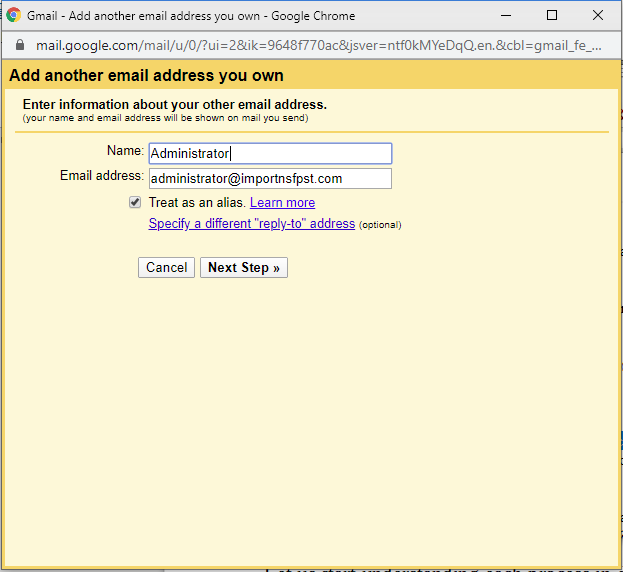 Enter the SMTP Server address, Port Number, user name, and password. Use the secured connection (SSL/TLS). Click on Add Account option.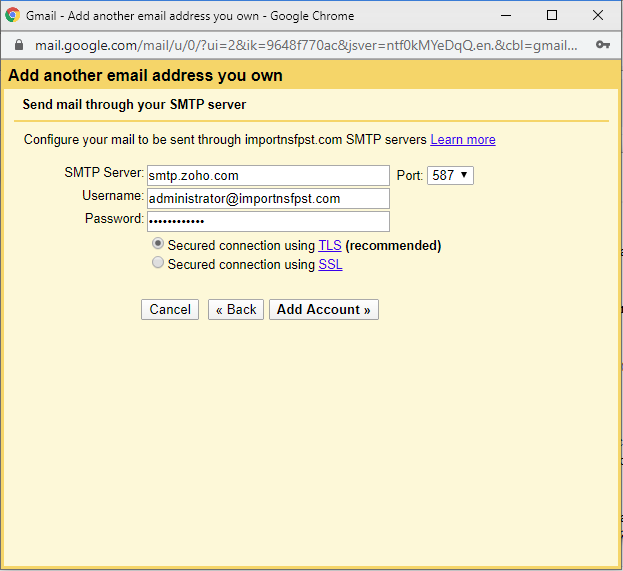 For account verification confirmation, you need to click on the verification link sent to your Zoho Mail. Or else enter the verification code in the provided field from Zoho Mail.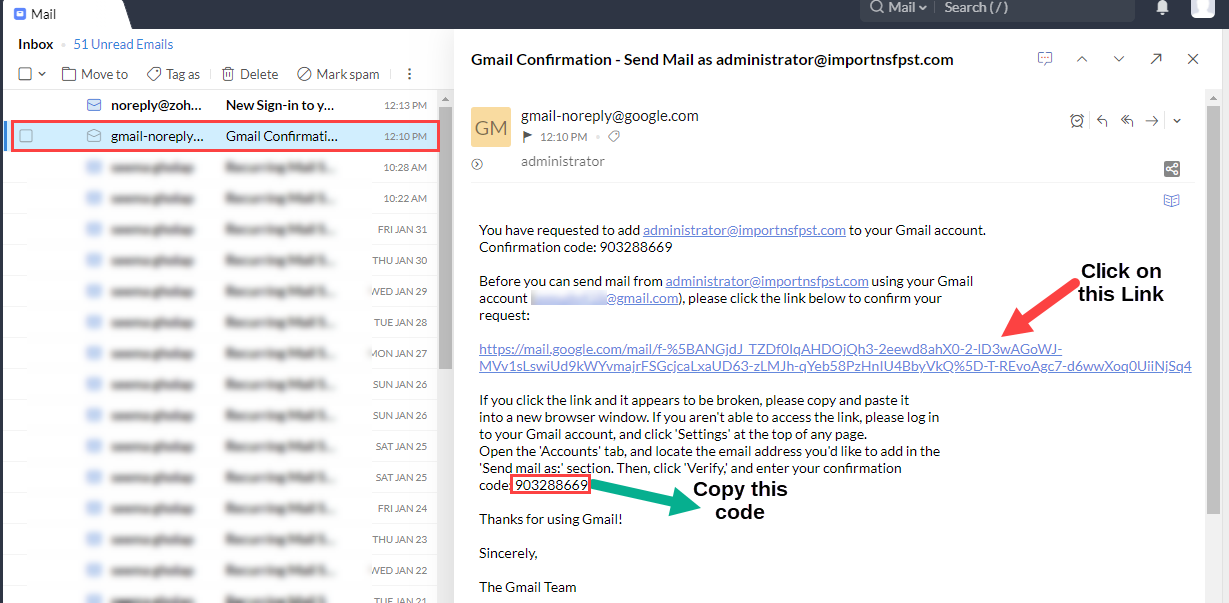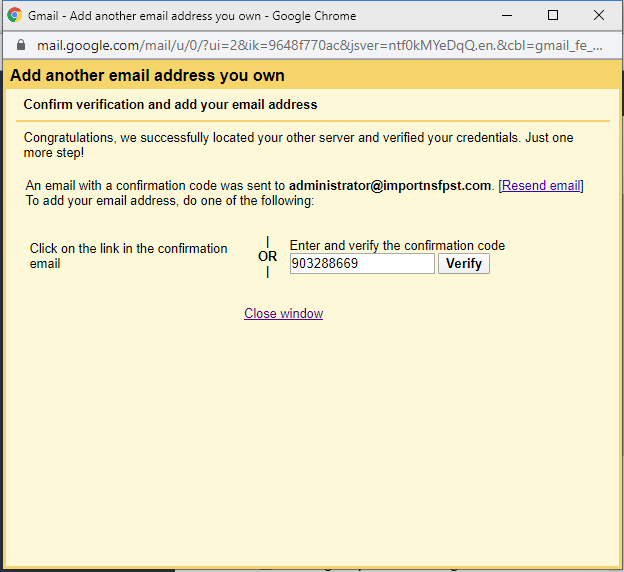 Important: If you have generated an app password for the Zoho account, then use that password while importing emails from Zoho to Gmail.
This will add the Zoho Mail to Gmail and then import emails into it simply. Now let us move to the next manual method for this task. This method is also done easily if you enter the right server hosting name correctly with the port number. Use SSL encryption for the secure transfer of email files.
Limitations of Using Manual Method 
Although, Zoho Mail users can use the above manual method to move Zoho Mail to Gmail account, but it has some drawbacks, such as-
This method will sync both Zoho Mail and Gmail account simultaneously, hence, it will create confusion while maintaining the data.
Furthermore, when you use this method to import Zoho emails to Gmail account, it will only move the Inbox folder from Zoho Mail account.
Similarly, this method will not allow you to add all the previous emails from Zoho account to Gmail account. As it will only be able to import new emails from Zoho Mail.
Also, if you are planning to migrate multiple Zoho Mail accounts at once then it will be a long process. Because you have to follow same steps again and again to add in different accounts.
Import Zoho Mail to Gmail Automatically to Prevent Data Loss 
To prevent any data loss and to eliminate all the limitations of the manual method, it is better to go with the professional solution. Therefore, we suggest you to take the help of the Best IMAP Email Migration Tool to transfer Zoho Mail to Gmail account.
Moreover, this automated solution will help you to perform the entire migration with complete security. And to import all the Zoho emails to Gmail account this tool has an intuitive dashboard. Hence, any user can use it simply even without having any hard core technical knowledge.
Step by Step Guide to Transfer Emails from Zoho to Gmail
To know the procedure of this automated solution, download the tool on Mac operating system and follow the steps-
From the initial screen, tap Continue once all the prerequisites are checked.
After this, select Zoho Mail as a source name in the source account and validate its credentials.
Then, select the Gmail option from the destination account list and provide credentials to authenticate the account.
After this, apply additional filters as necessary, select required Zoho mail folders to migrate to Gmail.
Then lastly, tap on the Start Migration option and begin the Zoho to Gmail migration on respective Mac desktop to prevent data loss.
FAQs
Q- Is it possible to migrate Zoho Mail to Gmail for multiple users?
With this tool, there is no such limitation on the number of users for the migration. You just need to Add multiple users to the tool.
Q- Are there any additional configurations needed for importing successfully?
When you use the tool, you don't have to go through additional configurations. However, small things you need to confirm before the migration. Such as:
IMAP should be enabled

If 2-step authentication is enabled then use App Password to log in or disable 2-step authentication
Q- Can I import my newly arrived emails in Zoho to Gmail?
Yes, of course. With the Delta migration option in the tool, you can skip the previously migrated emails and move only new emails.
Q- Is there any limit to the number of emails that I want to import from Zoho to Gmail?
No. There is no such limitation on the number of email migrations. However, if you opt for the free version then you will be able to migrate only 100 emails. That's why we suggest going for the full version of the software to leverage all the benefits.
Final Thoughts
In this article, we have learned some simple and efficient ways to import Zoho mail to Gmail. Users who need to migrate emails from Zoho to Gmail can go through the above-mentioned article and be successful in solving their mail migration issues. Using the above methods, you will be able to manage all your Zoho Mail emails in your respective Gmail account. However, you can go for manual or automated solutions from above. But, we highly recommend that you choose a professional way to prevent any data loss and batch migration.