How to Export Outlook Contacts to vCard? – Step by Step Solution Guide
Ashwani Tiwari | Modified: July 29th, 2020 | MS Outlook
Summary: Are you looking for ways to generate vCard files? In this article, we will show you two different methods to export Outlook contacts to vCard.
As quite a large number of people have MS Outlook as their primary email client and use it for personal and business purposes, the data it contains becomes extremely crucial. Therefore, keeping a backup is always recommended to be able to access them during a disaster or in case of an emergency.
Similarly, having a copy of Outlook contacts saved can be of great help in case they get accidentally deleted or overwritten by fault. As a contact consists of the personal & professional information and is a way to communicate with clients or friends, you can't afford to lose this essential data as it can cost big opportunities to your business.
"I have been using MS Outlook for many years now and as our business is expanding, we have a huge list of the contacts. Recently, I lost an important contact of one of our major clients. To not let this happen again, I have decided to save a copy to have easy access. Is there any way I can do this?"
How to Export Outlook Contacts to vCard Format?
A vCard (VCF) file format includes name, phone number, address, and other such data. It also supports custom fields, images, and other such media. Also, this format is pretty useful in transferring contact across different users. Here, we have mentioned two methods: a professional way and a manual method.
Method 1: Convert Outlook Contacts to vCard Format Using Software
The Outlook contacts to vCard converter tool is the perfect solution to meet the user's expectations with its feature-rich quality and easy to use interface. This application is capable of transferring multiple files in a single attempt. It even makes exporting corrupted or orphaned files possible.
Why Use This Application?
Maintains all contact details during conversion
Provides an option to preview the file attributes
Enables to transfer multiple files in a single attempt
Converts orphaned/corrupted/password-protected files
Move deleted contacts into vCard format
Automatically detects default Outlook profile
Option to scan and load the Outlook PST files
Facility to move all contacts or selective files only
Generates single/separate files for all contacts
Steps to Export Outlook Contacts to VCF File:
Step 1: Download and run the tool & load the file in the utility.
Download Software
(Windows OS) Buy Software Now
(100% Secure)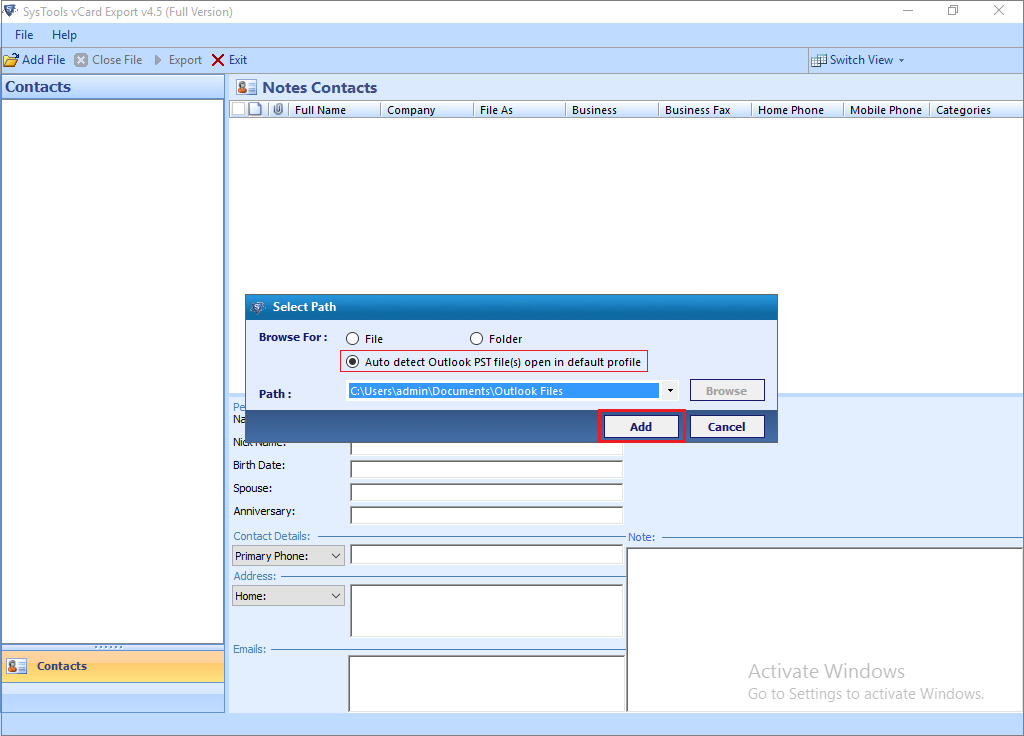 Step 2: Now, the application will scan the files and provide a preview.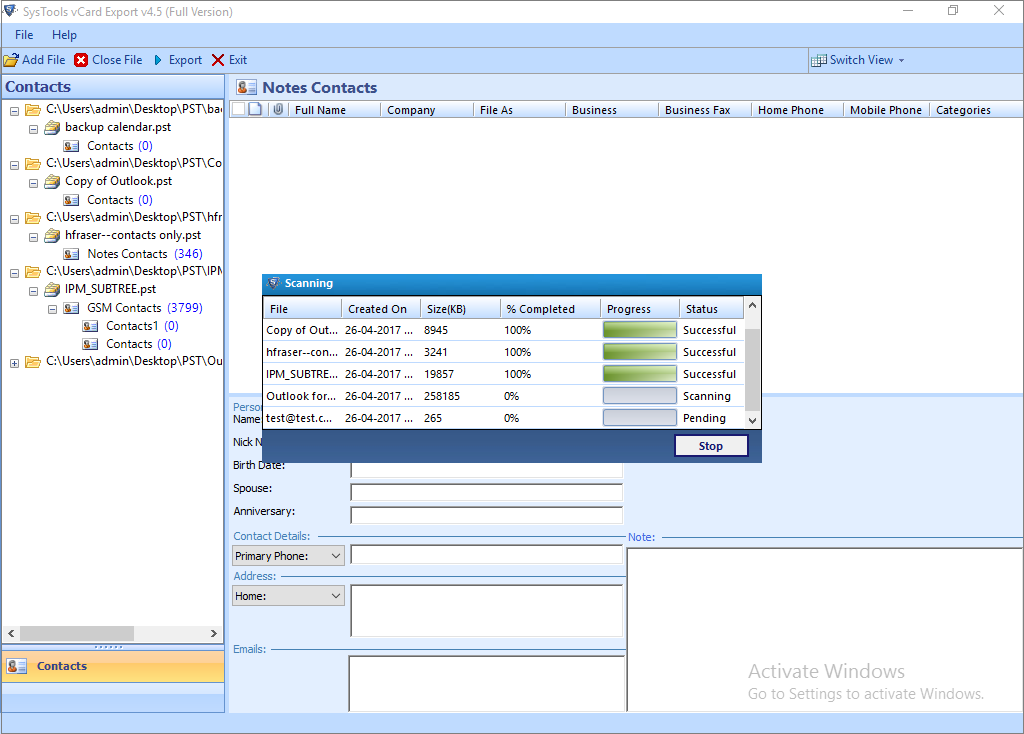 Step 3: Then, choose the vCard format and provide a destination location to save it.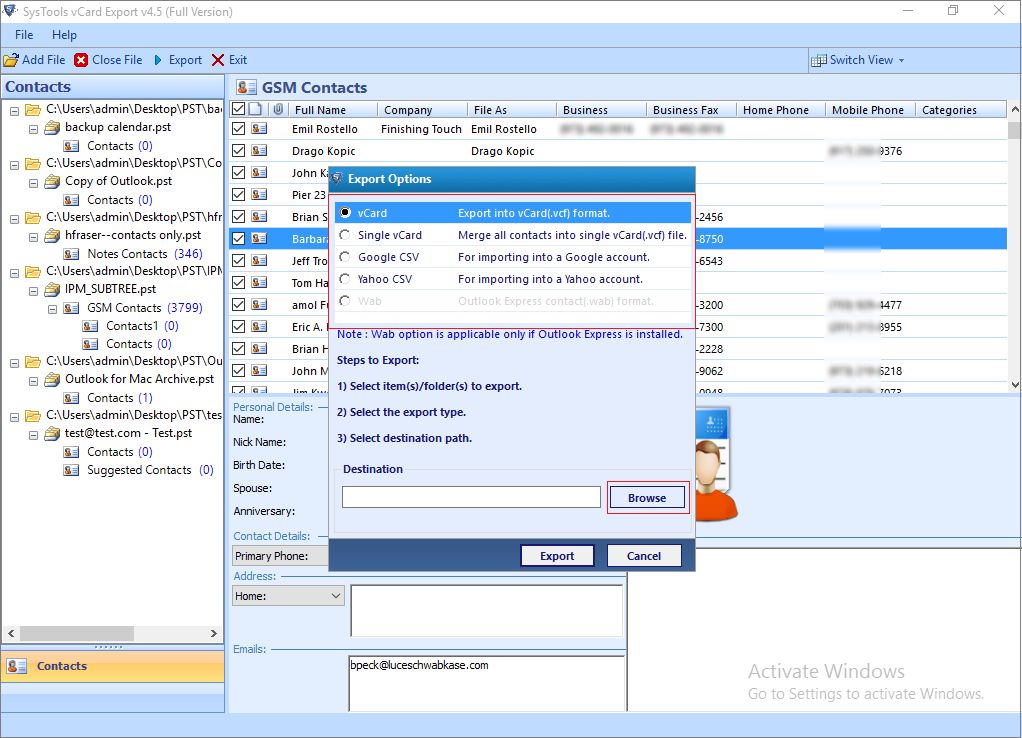 Step 4: At last, click the Export button and let the process begin.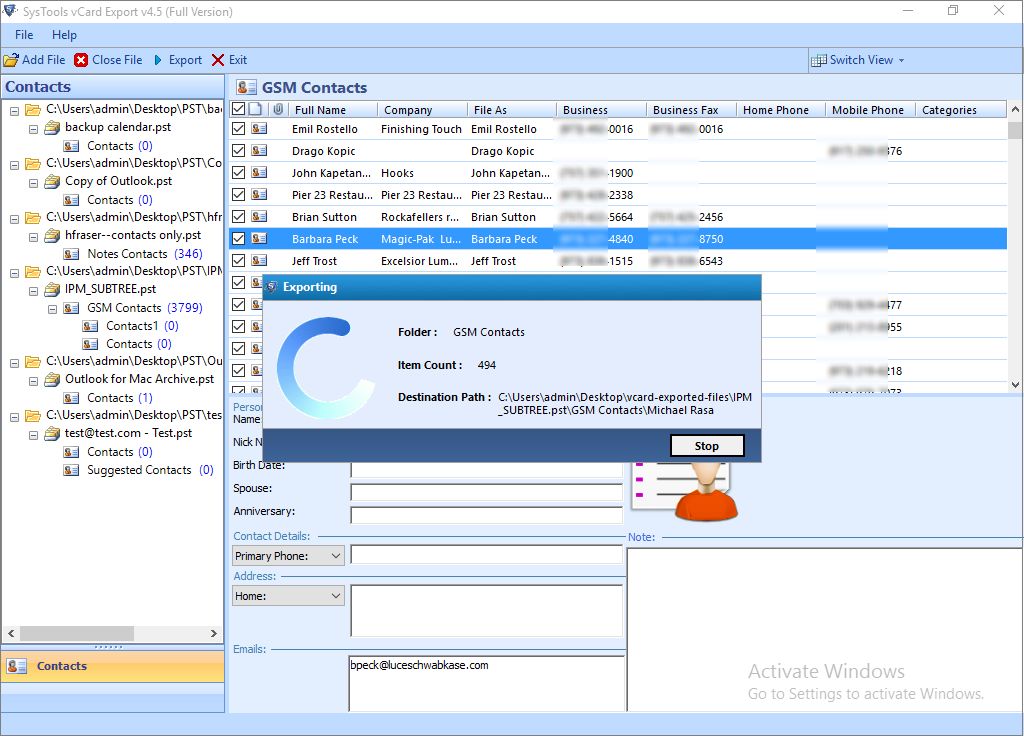 Done! Your vCard file has been generated. This resultant file is compatible with many email clients & devices and hence can be imported into any of them.
Method 2: Convert Outlook Contacts to vCard Manually
There are a few limitations associated with the manual practice. This process is time-consuming and a lot more tedious because the user will be required to select each contact file individually and export it which isn't very practical if you are dealing with multiple files. Below are some steps are given to achieve the target.
Step 1: Launch MS Outlook and click on File>> Open & Export
Step 2: Choose Import/Export>> Export to a File>> Next
Step 3: Select Comma Separate File and hit the Next button
Step 4: Now, choose the contacts folder and click on Next
Step 5: Then, search a location to save the CSV file & click on OK
Step 6: At last, map the custom fields and click on Finish
Which of the above two given methods is better?
Most of the users are in search of an easy and fast process. The manual practice is very complex and becomes quite difficult for a naive user to accomplish as it requires some technical sound knowledge. On the other hand, the recommended tool is convenient to use and completes the job without damaging the source file.
Frequently Asked Questions:
Does this tool allow me to export multiple files at once?
Yes, users can export Outlook contacts to vCard in multiple numbers in a single attempt with the help of the tool.
Can I import the resultant file into my other devices as well?
The final VCF file generated by the software is compatible with many devices and email clients and users can choose to work with any of them. They can decide to export the vCard in various versions such as 2.1, 3.0, 4.0.
Can I combine all of the contacts into a single file?
Yes, users are free to create a single data file for all contacts or make a separate resultant file for each source file.