How to Export Outlook Contacts to vCard? Step by Step Guide
Summary: Are you looking for ways to generate vCard files? In this article, we will show you two different methods to export Outlook contacts to vCard.
As quite a large number of people have MS Outlook as their primary email client and use it for personal and business purposes, the data it contains becomes extremely crucial. Therefore, keeping a backup is always recommended to be able to access them during a disaster or in case of an emergency.
Similarly, having a copy of Outlook contacts saved can be of great help in case they get accidentally deleted or overwritten by fault. As contact consists of personal & professional information and is a way to communicate with clients or friends, you can't afford to lose this essential data as it can cost big opportunities for your business. The most common requirement is to export Outlook contacts to vCard like this query below:
How to Export Outlook Contacts to vCard Format?
A vCard (VCF) file format includes name, phone number, address, and other such data. It also supports custom fields, images, and other such media. Also, this format is pretty useful in transferring contact across different users. Here, we have mentioned two methods: a professional way and a manual method to resolve this query. first, we talk about the manual way. 
Transfer Outlook Contacts to vCard | Manually 
In this section of this article, we discuss the manual solution to Export Outlook contacts to vCard. But the manual solution comes with some limitations like being time-consuming, the technical knowledge required, Outlook much needed, etc. Nevertheless, let's proceed to the manual procedure which is divided into 2 parts. 
1: Convert Selected Contacts Into CSV Format 
Firstly, launch MS Outlook and go to the File option, then select the Open & Export option and then Import/Export. 
From Import/Export option, now select the (export to a file option) and move to the next step.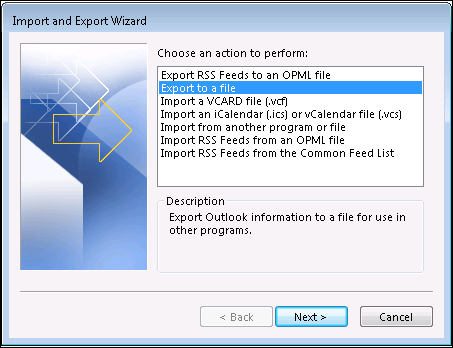 After this, Select CSV (comma-separated-value) and move to the next step.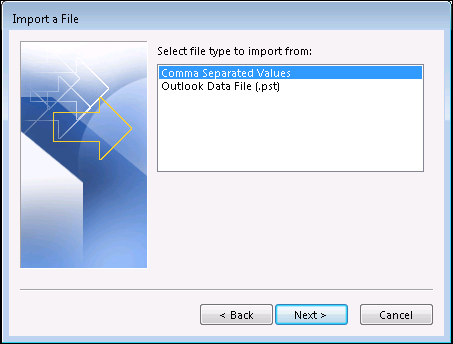 Provide the destination path .csv file and select the given options as per the need.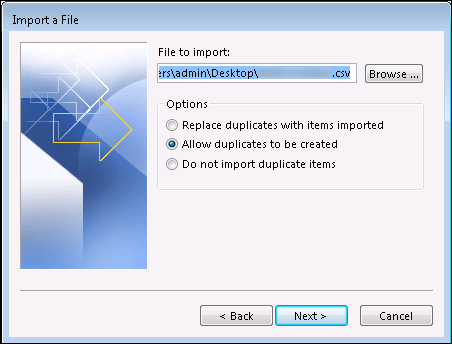 At the last, set the contact folder and click on the Next button.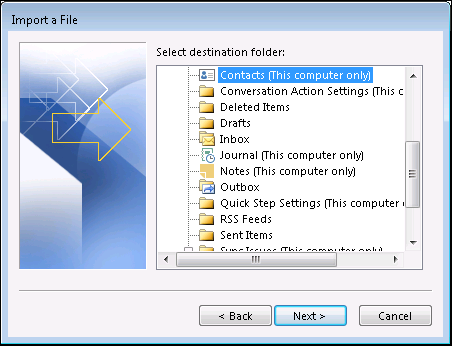 2: Convert the Selected CSV Files Into VCF Format 
First thing first, hold the Window button and click R (Window + R).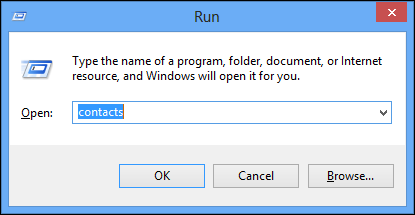 Then go to the Dialogue box through to the Windows Contact and then select the Import option. 
Next, click the CSV option (comma-separated value) and hit the Import button.
Browse the folder location and move to the next step.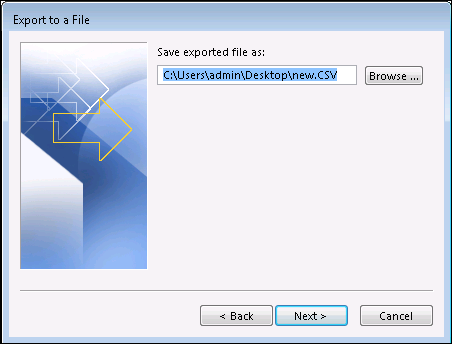 In the last hit the Next button. 
Drawbacks of Manual Solution 
This manual technique contains some limitations, where users can stuck or skip this solution too. Some of these limitations we mentioned below, check out all the drawbacks. 
This will be a time-consuming process, if you have multiple numbers of contacts then don't go with the manual solution. 
The above-mentioned manual solution can be tricky for you if you don't have basic technical knowledge. 
Highly data risk, it's not a secure way to transfer your crucial & valuable contacts can get into the data loss factor. 
Easy & Secure Way to Export Outlook Contacts to vCard 
As you can see above the manual solution is quite capable but there are a few limitations also, which make this procedure tricky and lengthy. To overcome all of these limitations, we are here with the best solution to export Outlook contacts. vCard Exporter Software. 
The simple, quick, and secure utility software to export single and multiple VCF files without any data loss, and there is no requirement for technical information. Best software for beginners though they can easily export Outlook contacts to vCard and a demo version is also available to understand this software completely. 
Steps for Exporting Outlook Contacts to vCard File:
Download and run the tool & load the file in the utility. The application also provides an option to auto-detect the location of the file.
Now, the application will scan the files and provide a preview.
Then, choose the vCard format and provide a destination location to save it.
At last, click the Export button and let the process begin.
Done! Your vCard file has been generated. This resultant file is compatible with many email clients & devices and hence can be imported into any of them.
Also Read:- Export Outlook Contacts to XLS
Frequently Asked Questions:
Does this tool allow me to export multiple files at once?
Yes, users can export Outlook contacts to vCard in multiple numbers in a single attempt with the help of the tool.
Can I import the resultant file into my other devices as well?
The final VCF file generated by the software is compatible with many platforms and email clients and users can choose to work with any of them. Therefore, according to the platform you choose, you can decide to export the vCard in various versions such as 2.1, 3.0, 4.0.
Can I combine all of the contacts into a single file?
Yes, users are free to create a single data file for all contacts or make a separate resultant file for each source file.