Convert EML to PDF File Format on Mac and Windows OS
Summary

In this write-up, we are going to explain a trusted and expert verified solution to convert EML to PDF File format with Attachment, links, notes, tasks, etc. Separate solution for Mac OS users and Windows OS users.
Are you troubled by the need to convert multiple EML files to PDF? Do you have a bunch of Apple Mail EML or EMLX files lying on your Mac machine that you need to export eml file to pdf file format? Keep calm and read this post to know EML to PDF Conversion.
"Hello friends, An urgent need has forced me to post in this forum. I have got a bunch of EML files on my Mac machine. Now I am supposed to transfer these files in PDF format for investigative purpose. Therefore, I do not know how to batch convert .eml to pdf. Can anyone tell me a simple method that can easily export EML to PDF format on my Mac Machine? Thanking everyone in advance."
There are hundreds of Mac users who are in need to save EML/EMLX files in PDF format. Eventually, EML or EMLX both are file formats used to store single emails.
Only a few email clients support EML / EMLX files and that is why, users often need to convert the files into other formats, such as PDF. Thus arises the necessity for EMLX to PDF conversion.
If you are also having the same issue, do not stop reading this blog. Here we will describe software that will fix your problem and convert multiple EML files to PDF without any trouble. In addition, Now we will go straight into the approach that actually works.
Quick Guide For You!!
Recommended Solution to Batch Convert EML to PDF on Mac
When it comes to converting EMLX / EML files to PDF without any data loss, or change in formatting, Mac EML to PDF Converter is the top choice for you. This EML file converter wizard will convert any number of added EML files to PDF format in the shortest possible time.
With this software, you can save EML files as PDF and export multiple email messages stored in a common folder to PDF at once. This Utility does not impose any limit on the number of EML files. You can directly select the folder that contains the .eml files and convert them to PDF Adobe. In other words, you can download this tool to convert EML to MSG file format. Before checking out how this tool works, we will go through some of the main features of this application.
Useful Features of EML to PDF Converter for Mac
There are many amazing features of Mac EML to PDF Converter tool that make the application one of a kind. In other words in this section, we are going to mention some of its core features for converting multiple EML files to PDF on a Mac machine:
Add Multiple EML / EMLX Files:- Users can add the folder which contains EML / EMLX files in this tool in a single attempt. All you have to do is to put all necessary folders within a folder and add the latter one. Similarly, each folder may contain any number of EML/ EMLX files. So, the software supports exporting EML files to PDF format.
Retain Folder Hierarchy After Conversion: The software provides an option to maintain the hierarchy of the added folders and files within it. This feature is optional so users can check or uncheck it as per their needs. After that, applying this feature the software will maintain the source folder order after converting it into PDF format. So, use this utility to convert EML files to PDF Mac OS. You can also import EML files into Outlook.
Naming Convention Option to Save Output File: While converting the files into PDF format, users can choose how the PDF file names will look. They can choose the naming convention from a variety of options such as Subject, Subject+Date, From+Subject+Date, Date+Subject, AutoIncrement, etc.
Filter Based on Date to Convert Selected EML to PDF: If users want to export EML emails of a certain date range, then you can do that by using this tool. The tool offers the option to convert selective emails based on the sent date. Therefore, to convert selected EML Files to PDF format.
Include Message Header Option:

Each EML file contains the email header information. By enabling the "Include Internet Message Header" option, users can include the header information in converted PDF files too.

Apply PDF File Page Layout:

The EML to PDF Converter tool also allows the users to determine the PDF file page layout. They can fix the margin size of the PDF ranging from 2.0 mm to a maximum of 10 mm. PDF page orientation (Portrait, Landscape) can also be controlled here. For printing purposes, the page size (A4, A3, letter) can be also controlled.

Bates Number and Date Stamp Option: With the help of this Mac EML to PDF converter, users can also add Bates number and date in the PDF files. Users can enter the starting Bates number, increment by, and Bates number position. They can also add the format and position on-page of the date stamp.
Steps to Batch Convert EML to PDF File Format
If you choose this tool for EML file migration, so, it will take only four easy steps to convert EML into PDF file format.
Firstly, Download EML to PDF Converter on your Mac machine.
After that, Browse the EML and EMLX file from your Mac Machine
After that, Select PDF file format & Apply Advanced Settings
Choose the destination folder and click on the Export button.
Free Download EML to PDF Converter for Windows Machine
If you are using Microsoft Windows 11, 10, 8.1, 8, 7, or below versions, and want to convert multiple eml files to pdf format. Then, download the utility for the below download button.
Convert EML to PDF Files on Windows Machine Step by Step Solution
Follow the steps listed below to export .eml to .pdf with attachments. The complete steps listed below:
Firstly, download and launch the EML to PDF Converter on Windows OS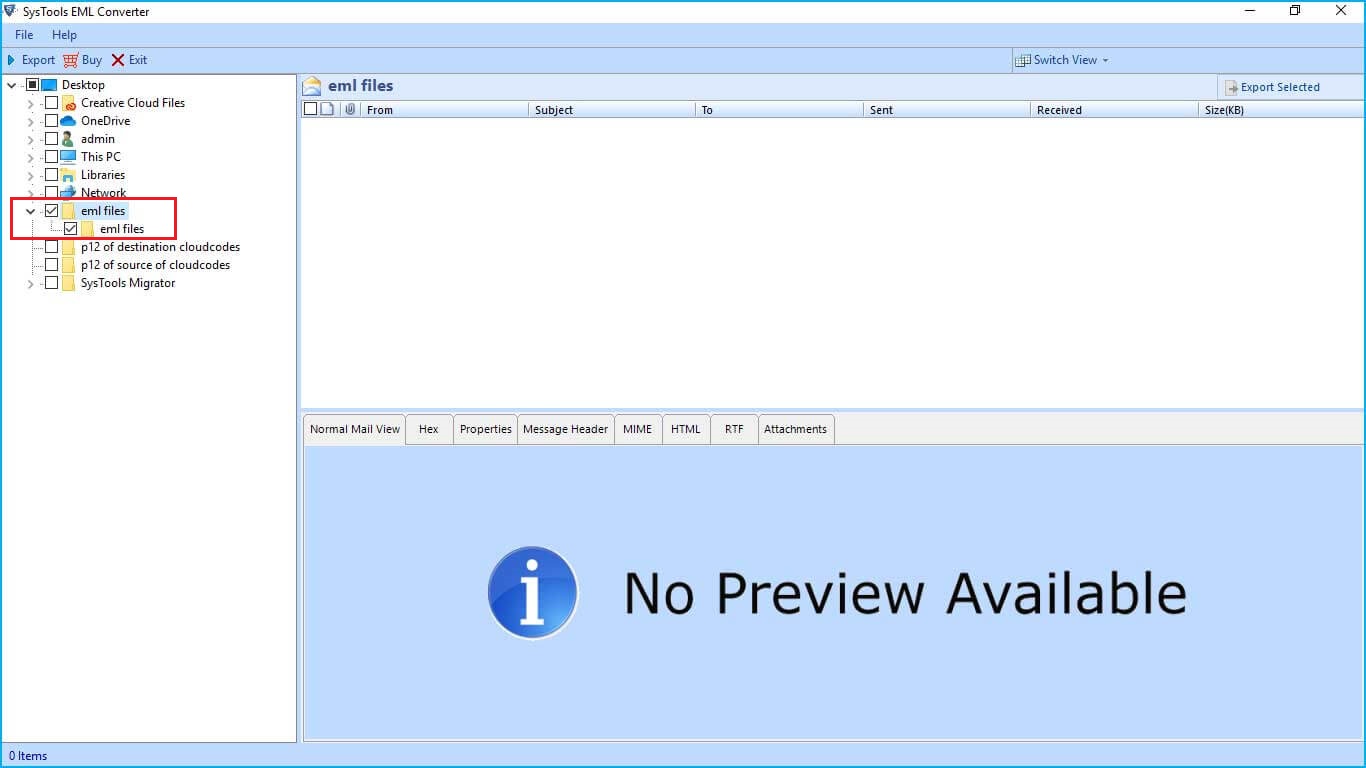 Browse the .eml or .emlx file from your Windows system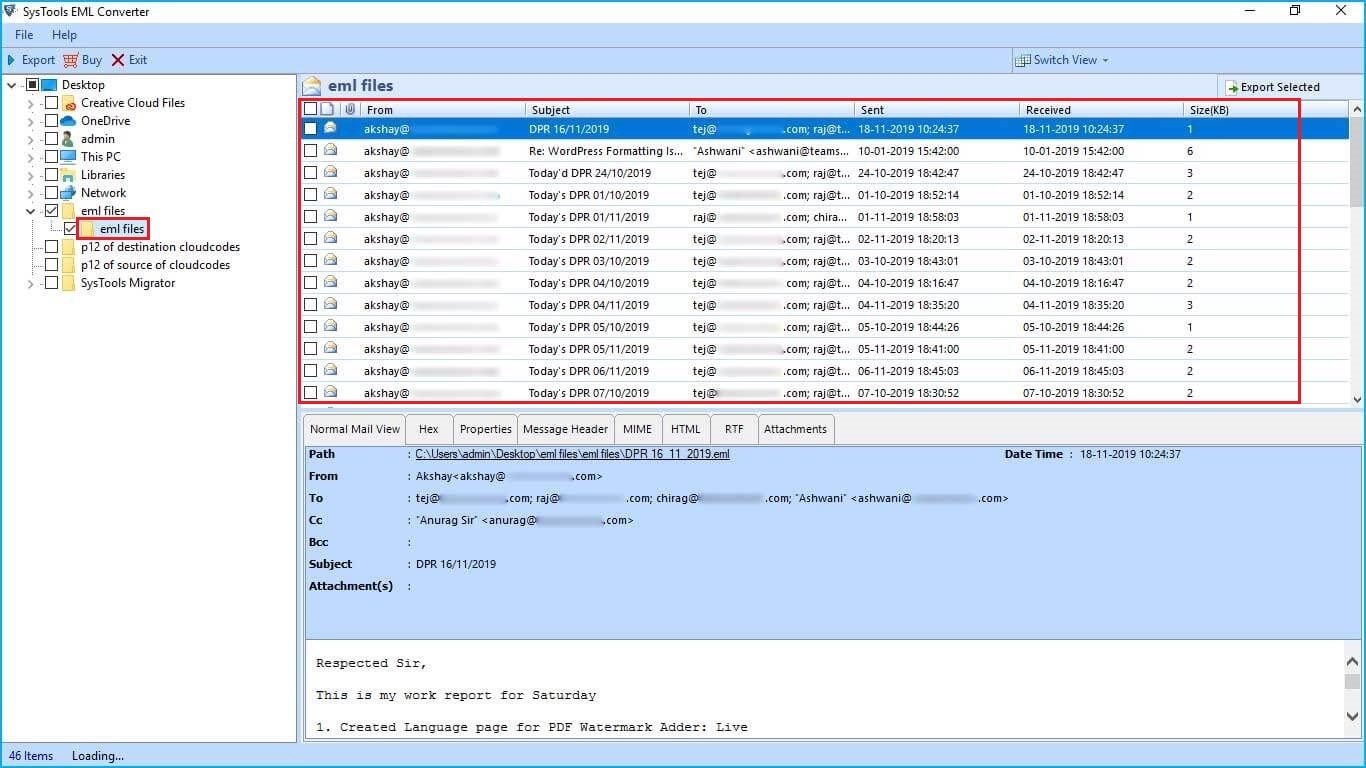 After that, Preview complete data into software panel before exporting to PDF.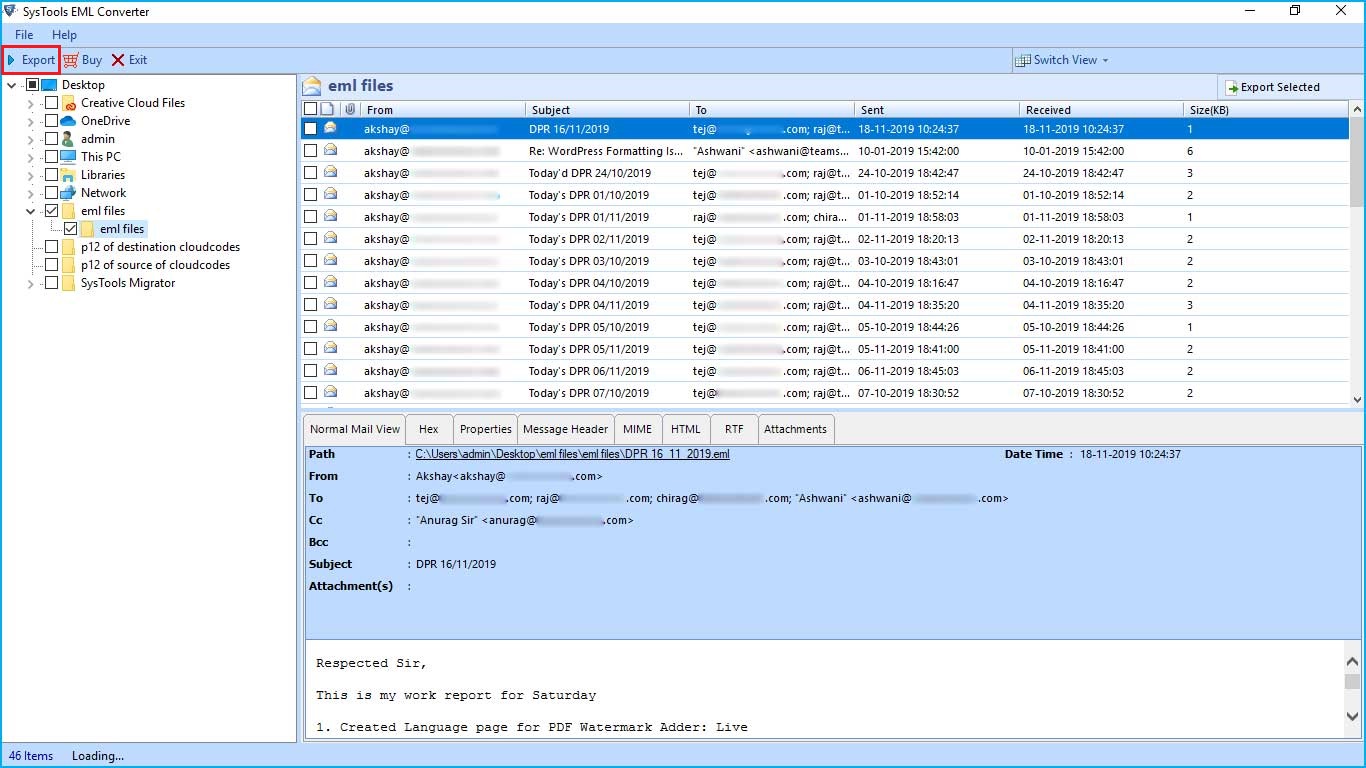 Finally, Click on the Export button and wait till it completes to 100%.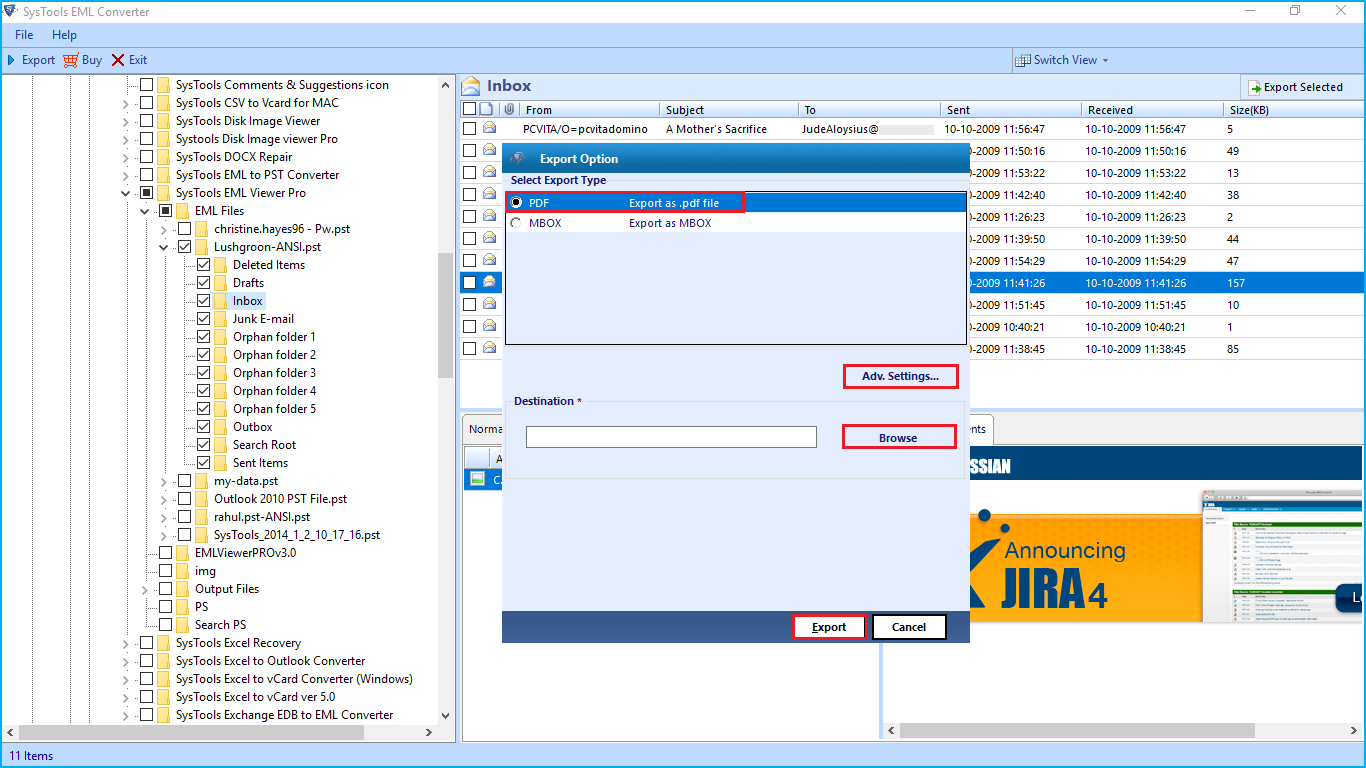 Export EML to PDF File Format With Manual Method
Follow the steps to convert eml to pdf format with the help of thunderbird. It is not a trustworthy solution to export EML file to PDF. If you want complete folder conversion then, opt above  mentioned solution. Or want to use free solution then follow the below mentioned steps:- 
Go to the thunderbird email application on your PC.
Choose the folder containing the EML messages and right hit for options
Now click on ImportExportTools NG option and choose export all messages in the folder
At the end, select PDF file format.
Convert Selected Messages
Right hit on the targeted messages. Click on save selected messages after that click on PDF format
Hit on navigate button to store email messages into PDF format
Select any desired folder to save the PDF file
Final Words
If you are looking for a short and simple solution to Convert EML to PDF File format With Attachment on Mac and Windows OS, this is the right post for you. Here we have mentioned the ultimate way to batch convert EML files to PDF without any type of data loss and data corruption. So, why choose unreliable tricks available all over the Internet that may result in severe data corruption? Grab this tool right now and get your EML / EMLX file conversion done in no time on Mac and Windows OS.