Cloud Hosting for Accounting Firms – Try Next Gen Accounting Means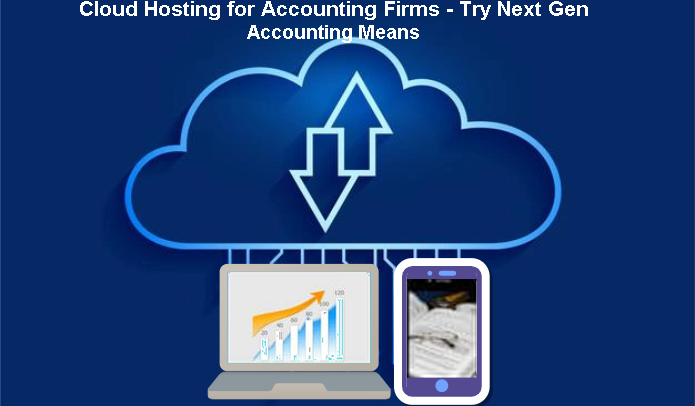 Bored with maintaining traditional books for accounting, then be paper-free. Because here in this write-up we are going to discuss the best cloud hosting for accounting firms. Well, staying up-and-running in managing finance. Maximize your professional performance and businesses from cloud hosting.
Dependency of Artificial Intelligence on Cloud in Accounting
Accounting uses AI for smart assistance. (AI), dependency on the cloud for uninterrupted performance makes the cloud crucial for accounting firms. Consider an example:
The role of AI in the accounting world has enhanced audit quality. The three businesses need that AI completes are:
Workflow management, data analysis, and engaging with customers and employees.
AI needs an enormous amount of data to be effective. Harmonization, a technique used in accounting software that gathers structured and unstructured data. With the help of AI, it becomes an easy task for accountants to rely on the output.
The reason behind discussing AI is that It depends upon three models on cloud servers. namely,
IaaS: Provides infrastructure to AI practitioners without getting them to wait to prepare infrastructure by their IT team.
SaaS: CRMs and payment gateways help users to consume AI services within the applications.
PaaS: Data centers provide a platform for AI developers to develop new applications that support AI.
How Organized your Accounting Will Be in Cloud Hosting?
One of the best advantages of cloud accounting software is how organized and secure they keep your accounting information.
Get a Cloud Hosting for Accounting for 30 day trial before start the journey with us
Instead of using the traditional method, switch to the best and easy sophisticated software with broadcasting and budgeting functions for managing finances.
Where you go doesn't matter, access to your data is with you only. Login from any device and obtain the financial records anytime.
Maintain a connection between accountants and clients anytime in this day and age.
Allowing both the parties to keep track of emerging problems. Also, accountants can provide timely advice to their clients.
The backup process is continuous and regular in cloud hosting. Therefore, the chances of data loss and security are minimized.
Turn to Cloud Hosting for Your Own Advantage
Here in this section, we are going to introduce what we are providing with our service. So keep reading to know the best about us.
Real-time Data Analysis
Update of financial transactions is a constant which empowers the managers to keep track of the business statistics. Cloud computing facilitates quick analysis of recent business activities and how well a business is doing. This helps to make the right decisions or act accordingly.
Improve Collaboration
With the use of traditional methods, it's a tedious way to be in a connection with accountants except at the time of tax returns. The lack of communication results in more workload and more time in getting the finances and budgets approved.
Free Updates and Maintenance
Cloud service providers take full responsibility for doing backup and updates. The company IT manpower will be free from maintaining the hardware and software resources.
In the case of new software releases, the upgrades will be carried out simultaneously in the entire organization. This provides businesses with seamless possibilities and agility to grow their businesses.
Ready to move your accounting services on cloud space, Here's what you need to do
Host your Tally ERP, Busy, or Microsoft Dynamics whatever ERP applications you're hosting.
Every ERP application is noble for cloud hosting. Now, let's put some limelight on the cloud service provider.
SoftwarePro, a standalone company recognized as India's best and Asia's largest data center. We are an independent company and solely own the server infrastructure of Tier 4 and Tier 3 data centers. It's been 20 years since we served the biggest brand names in India. We are the service providers for the last 15 years of dedicated, virtual, and shared hosting.
What Makes SoftwarePro#1 Service Provider
Server Availability
What defines the strength of a data center? Well, there are many factors, but the major one is service availability. We assure 99.995% and 99.982% of uptime of our Tier 4 and Tier 3 data centers. Consider an example to understand it better. You have the best accounting applications, but its hosting doesn't provide availability and most of the time application crashes. SoftwarePro guarantees less than 30 minutes of downtime over a year.
Un-matched Security
The struggle of keeping the data secure is always a concern. Pondering on data security, SoftwarePro has successfully achieved the badge for robust security. We have DDoS servers on top of that firewalls, antiviruses, blocking of private IPs, etc. Makes our server secure and reliable.
24x7x364 Support
We are the best in India however we are not behind in serving international markets. For keeping the utmost customer service, which is our priority, we have 24x7x365 days of support. No matter what time zone you are in, never lose a chance for our support.
Reduced Cost
Installation and maintenance of hardware and software resources to establish your own cloud services are too high. Moreover, the environmental variables required to keep the systems up and running is another tedious task. SoftwarePro provides you with all these services and support in monthly/subscription packages. We also offer a pay-as-you-go model, No need to pay for what you don't must.
Auxiliary Benefits
Admin Access
Access will be provided, above all normal user accounts through which account handling gets easier.
Server customization
Complete freedom to choose the hardware configuration for hosting your cloud services as per your business requirements. Assume you need more storage or memory, then you can get it updated without any second thought.
Use of mobile/Tablet
Use the device browser or application to access finances, ERP software anytime.
Read More Hosting Related Solutions
Author's View
To give an end to this reading, believe that it would have helped you. Especially for the firms that use AI in their accounting. The way normal human beings think technology is getting advanced beyond that. So, be the one to move along with the pace of technology.