A Perfect Technique to Convert XLS to Android Contacts
Ashwani Tiwari | Modified: June 15th, 2020 | Microsoft Excel
"I Previously worked at Microsoft where I use different software like Word, PowerPoint, Excel, and Outlook due to my work. But, now I left my job and I want to transfer all contacts from Excel to Android device. So that I can easily access my all contacts to Android phone. Can anyone suggest me a reliable and instant solution by which I can convert XLS to Android contacts?"
As in case of the above situation, the users are stuck badly and they search for a solution to import contacts from XLS file to Android. Moreover, they want to know a simple and trustworthy method to transfer XLS contacts to Android. For this, first, you need to traverse this blog post to know why users want to transfer the contacts to Android.
Why There is a Need to Import XLS Contacts to Android?
When users try to open Excel contacts, click File option as to save it as other file format using 'save as' option. But, there is no option to save contacts as a VCF file. That is why users cannot directly convert XLS to Android contacts. So, here we are going to discuss a complete procedure which is classified into two parts:
a) Excel to vCard (.vcf) Contacts Conversion
b) Transfer VCF (vCard) file to Android Phones
Step-by-Step Procedure to Perform Data Migration
Go through the following steps to convert XLS to Android contacts. Please have a look:
Step 1: Excel File to vCard Conversion
To do this, you can take the help of Excel to VCF Open Source Software. It can only work on your computer but, not on Android phone so whatever contacts are there in your Excel file must be on the desktop through which you can run the software.
Run the tool on your machine. Then, browse the Excel file and a new window will appear where you can open XLS file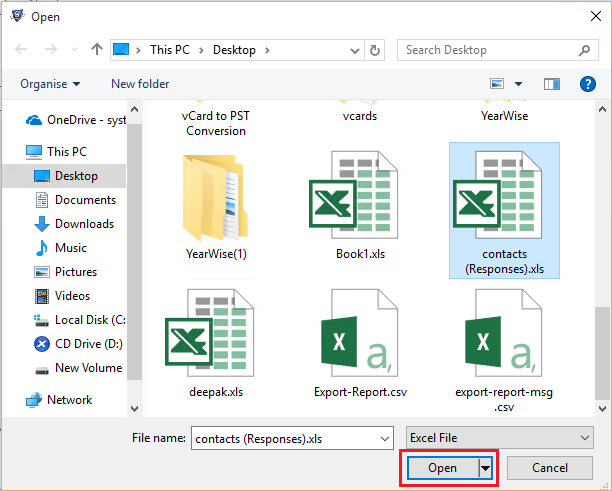 After adding the XLS file in Excel, all the contacts and data are shown as a preview, to continue press Next button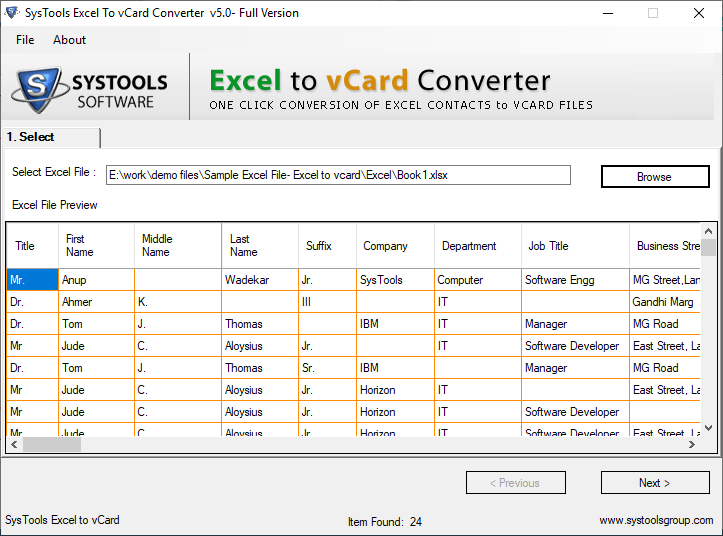 Now move to mapping option in which you must have to map the Excel fields with Outlook attributes. Then, choose a single field from the Excel data sheet.
Select the another field from vCard (.vcf) match it and add it accordingly. For e.g. you can match each field like this way :
a) FirstName –>> FirstName or FullName
b) Last Name –>> LastName
c) Email –>> EmailAddress
d) vCard-contacts-attributes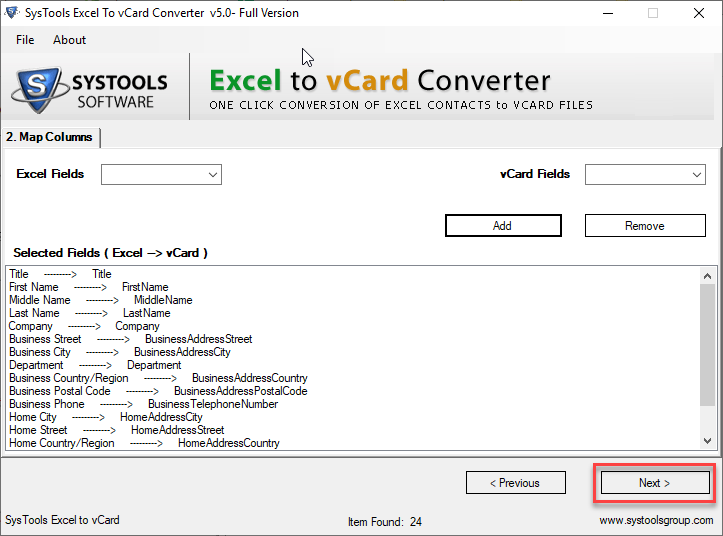 Then, check the options that you want the software will handle during the conversion process. Checking option will allow the software to move contacts with empty address fields. It can create one .vcf file for all the contacts and can also create individual vCard for contacts available in the selected Excel sheets.
Note: This Converter tool will support all versions of vCards such as v 2.1, 3.0 and 4.0
After that, click the Convert button to begin the conversion process. During the migration, the software will display some contacts and empty email addresses added to vCard file.
Once the conversion process is done, the software will show a confirmation message
At last, the software will create individual VCF file for each contact and save to the location selected during data migration
Step 2: Transfer vCard File to Android Phone
Once the XLS file is converted into vCard, then further you can move VCF file to android phone. Follow the below steps:
Now, you have to connect the Android phone to your computer system and copy them to your device. Copying alone do not make each contact present in the contact address book.
The process of exporting the contacts to address book that depends on the Android phone version.
Generally, this option exists in People or Contacts App. Move to this application and click the Action Overflow icon.
Note: Under any other Android phone, this option is present in the Menu Icon.
Then, choose an option Import/Export. As our need is to import contacts that were saved by us as a vCard file. Select Import from the Storage command. (The alternative is available as 'Import from SD card').
Afterward, choose where to save contacts in address book. In case, this message 'Import all vCard files' is prompted then, click Ok This will help to export all contacts to address book.
With this approach, you can convert XLS to Android contacts. Keep in mind you follow all the steps very carefully.
Time to Conclude
After considering the need of users, here we have come up with a complete process to convert XLS to Android contacts. For this, first, you need to export XLS file to vCard and then, transfer this vCard contacts to your Android phone. This technique is safe and secure and it does not require any technical expert to import contacts from XLS file to Android.