AOL Email Not Working in Outlook – Top 2 Ways to Resolve Query
Are you surfing the internet in search of an eminent solution to resolve AOL Email not working in Outlook issue? Do not worry! read this complete article and get the multiple techniques to fix AOL email stopped working in MS Outlook problem. Stay tuned!
Among the many email clients available for different operating systems and offered by different companies, AOL email is one that many use. But the AOL email account that stores lots of important emails and other items is very common. This makes managing email a bit tricky. So what would you do in such situations?
Most of the users, add AOL email in Outlook to fix it. But what if, AOL stopped working in Outlook? So, today, we consider this issue and come up with this flawless article to resolve this problem.
But, before proceeding further let's understand the possible reasons behind the AOL email is showing in MS Outlook issue.
What Are the Reasons Behind AOL Email Not Working in Outlook Error?
If you are having issues while accessing AOL mail through Outlook. So, there can be many reasons behind this. A few of them are listed below. Have a quick look:
1. Incoming Server details are not added correctly.
2. AOL does not synced with Outlook successfully.
3. AOL mail user changed the password.
These are few reasons now, lets move forward to understand how to fix AOL email stopped working in MS Outlook manually. In the upcoming segment, we will the same. Let's get a look:
Resolve:– AOL Email not Working in Outlook Issue Manually
Here, we will describe the manual solution to fix AOL email stopped working in MS Outlook account. This technique is available in three different ways. So, you should choose one of them as per your requirement.
#Method 1: Update Password
If you recently changed the password for the AOL user account. Then, you need to update it on the email client you use.
1. Just look for the Email Accounts or Account Settings segment of your application.
2. Then, choose your AOL email account and update your new password.
#Method 2: Check Incoming Server Details
In case, your AOL mail is not working in Outlook properly. You should check your IMAP or POP settings. Though you may be prompted to opt either IMAP or POP. Here, we recommend to use IMAP as it works effective with AOL email client.
Also Read: How to Save Images From AOL Mail Account
#Method 3: Update Email Application
If you are still using the older version of your email client. There can be possibilities that the outdated version is not compatible with the latest security setting.
So, we recommend to update the latest version of your email client, to fix AOL email not working in Outlook issue.
After performing the above-stated, you will get rid of this issue. But, then you have to re-add your AOL mail account to Outlook. So, in the upcoming section, we will disclose the steps to re-connect AOL email to Outlook without any hindrance.
An Ultimate Way to Resolve AOL Email not Working in Outlook Issue
After understanding all the factors related to AOL email stopped working in MS Outlook. Now, you have to delete and re-add your account in Outlook. The mail servers needs to enable the SSL for all ports. Additionally, the username field in the account settings should contain your full email address. So, you can use an efficient method named AOL emails backup software. With the help of this utility, you can easily re-connect your AOL email to Outlook mail account. Simply click on the free download button to install the utility on your system.
However, you can execute it on any Windows machine to troubleshoot AOL Mac mail problems. It is highly compatible with all editions of Windows Operating System.
Steps to Connect AOL Email in Outlook Without Any Error
This procedure is divided into two phases, you must follow both to obtain the desired result. Let's start:
# Phase 1: Connect AOL email to Outlook
Step 1: Install and launch the AOL mail backup tool by selecting download button.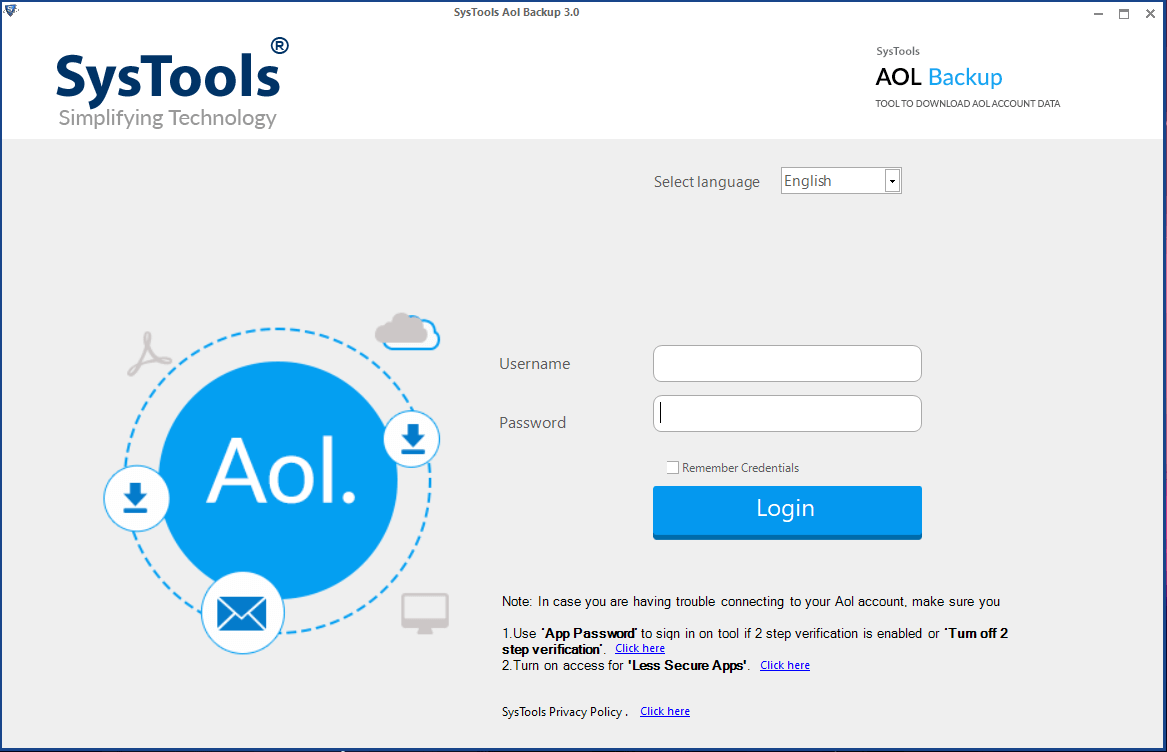 Step 2: Add credentials and log in to your account. Then, choose the PST format.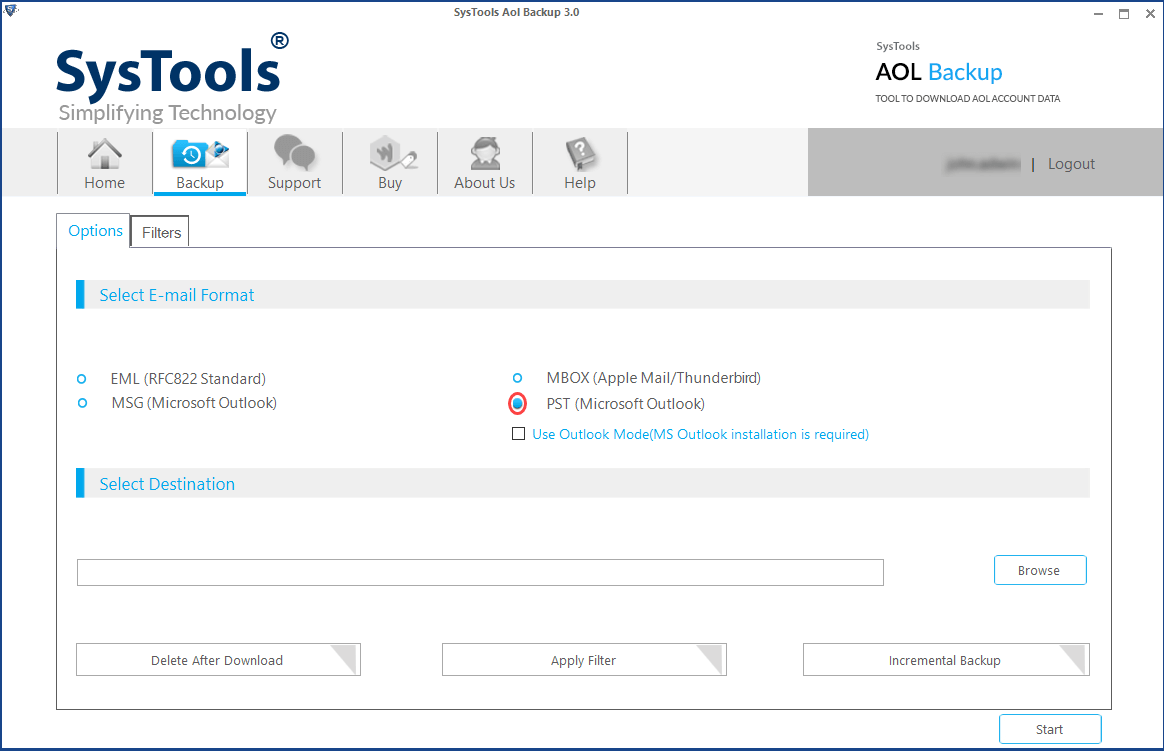 Step 3: Choose the Apply Filter and Browse button to save the output file to the preferred location.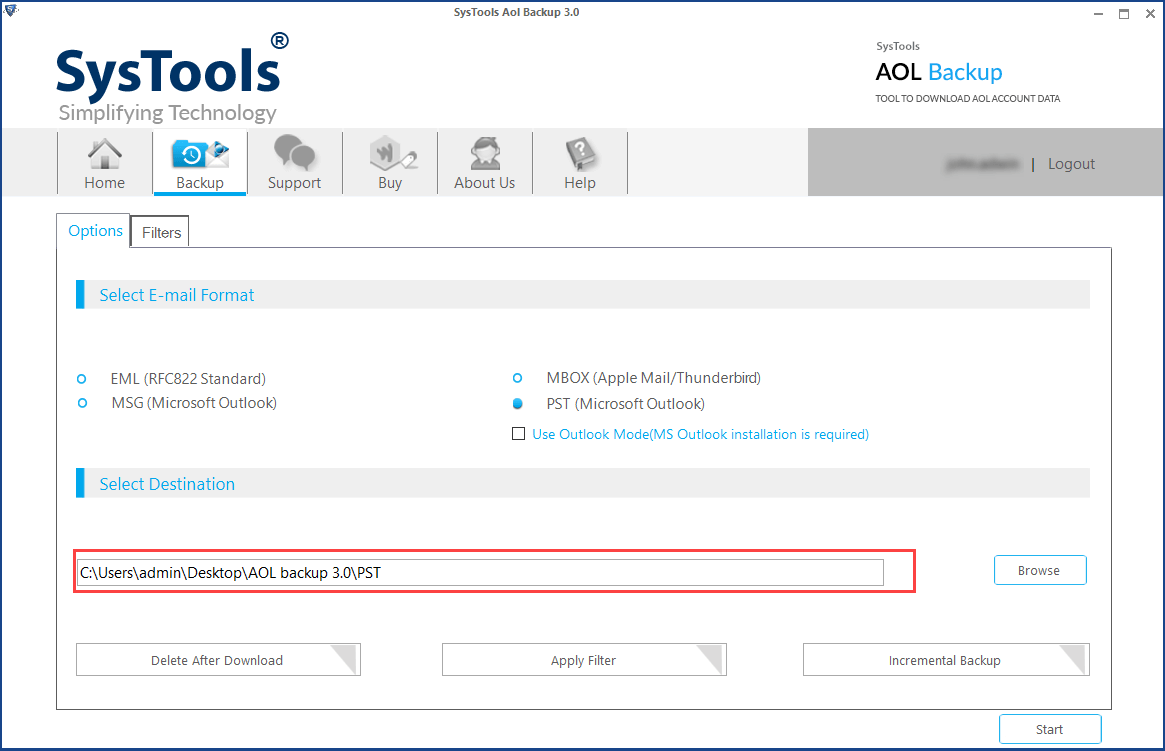 Step 4: Finally, the process to add AOL mail to PST format is completed successfully.

#Phase 2: Add AOL Mail to MS Outlook
Step 1: Initially, in MS Outlook, hit the File menu. Then click the Open button to choose the Import / Export option.
Step 2: Then select Import data from another program or file option. After that, click on the Next button.
Step 3: Choose the PST file option and click the Continue button to proceed.
Step 4: Now, hit the Browse button, select the AOL file and click the Next button.
Step 5: Choose the AOL data components to import and also select a mailbox to import the data.
Step 6: Finally press the Finish button to import the PST file into MS Outlook.
After performing the above instructions, you can get rid of this AOL email not working in Outlook problem without losing some crucial data.
Concluding Thoughts
Above in this article, we have mentioned all about AOL email not working in Outlook query. This is most commonly asked query these days. So, we explained multiple reasons behind the occurrence of this issue. Also, the solution to resolve AOL mail not working in MS Outlook problem without any hassle.
Thus, using the above-suggested solutions, you will get rid of this issue without any data loss.