Do You Want to Know the Best Alternative to Lotus Notes? Explore it Here!
As we all know that Lotus Notes is one of the best email application that provides improved business collaboration functions such as emails, discussion forums, file sharing, blogs, instant messaging, etc. Moreover, the IBM Notes can also be used with other IBM Domino applications and databases. Across the various forums, it is been noticed that most of the Lotus Notes users are running from pillar to post to know the best alternative to Lotus Notes. Well, there can be various reasons for an IBM Notes user to switch to other email application. This is due to changing business needs or difficulty in managing the email service in Domino server. Read on and find the reliable alternative to Lotus Notes!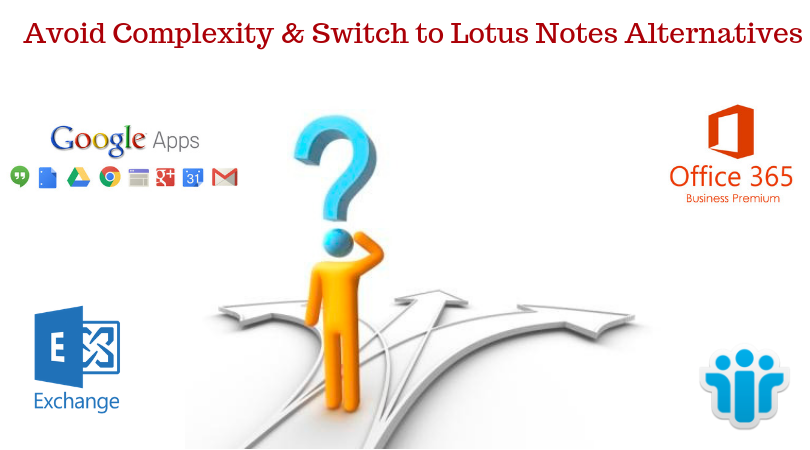 Are you an IBM Notes user and want to eagerly know the accurate alternative to Lotus Notes? If so, then you are fortunate indeed as you are reading the exact blog which will discuss the best and immediate substitute of Lotus Notes application.
So folks, your wait is soon going to end to know the alternative to Lotus Notes!
Why Users Want to Switch from Lotus Notes/Domino?
Most of the IBM Notes users relatively compare Lotus Notes with other application, just because to know the added features of other applications. IBM Notes users have to undergo a tough time because of its complex interface. In addition to that, it also causes accessibility issue as the NSF file from the associated account cannot be accessed to another system. For that, the native user of the NSF file should give the required permissions to access that file in another system. Furthermore, the maintenance cost is high as compared to other cloud-based applications. It fails to display a prompt message to the user if the user fails to insert an attachment to the email. Apart from that, the overall Inbox management feature is comparatively poor with respect to other cloud services like Office 365, Google Apps and Exchange Server.
Read on and find the reliable alternative to Lotus Notes!
A Quick Comparison of  Alternative to Lotus Notes
Google Apps VS IBM Notes
On comparing Lotus Notes with G Suite, we get to know that in Lotus Notes every single email appears as a separate email message in the Inbox Whereas, in Google Apps, all emails are grouped together thereby creates a single conversation or thread to the user. In IBM Notes, one has to hit Ctrl+F to search in the email. On the other hand, with G suite profile, a user can implement a basic search by its location, sender, subject, attachments, date, etc. In addition to that, G suite offers advanced options to mark an important email such as Star, Starred enables to find a valuable email later, importance marker that helps to prioritize the email. Altogether G suite provides an innovative interface with its intuitive design, which can be used as an alternative to Lotus Notes.
MS Exchange Server VS Lotus Notes
No doubt, Exchange Server and Lotus Notes deliver a set of unique features that enables users to swiftly send and receive emails. In Exchange Server, the active sync is a kind of synchronization program in which a user can easily synchronize the various applications on the desktop in their mobile devices or laptops. With Exchange Server, the voicemail can be seamlessly integrated for Outlook Web Access.
Unlike Lotus Notes, Exchange Server provides a wide range of advanced options in terms of user and data management perspective. The Active Directory in Exchange Server is the core component that enables to perform various operations like create, modify, delete and also query for ADDS(Active Directory Domain Services) data.
Office 365 VS IBM Notes
Office 365 is one of the widely used cloud-based solutions that provides a well-defined interface to the end users, unlike IBM Notes which offers a complex interface. Office 365 is a versatile application in which users can easily work from any place by using the various applications on different devices. It also provides a collaborative framework that helps to coordinate with the teammates to organize work efficiently. By which, users can instantly access the data from any place conveniently, which is one of the ultimate alternatives to Lotus Notes.
Office 365 renders SharePoint Online to manage the various online communities in a customization manner. Another added advantage of Office 365 over Lotus Notes is that it offers Skype for the business that instantly connects and easily communicates with the respective recipient.
Finally, the problem comes to an end!
Do You Know?
Now it becomes easy to migrate NSF file to Office 365, Exchange Server by converting into PST format with the help of an instant and reliable tool named NSF to PST Converter. One can also adopt Mail Migration Wizard, which is an exclusive and out of the box tool to import Lotus Notes mailbox items to Live Exchange Server.
Observational Verdict
Often times, Lotus Notes user get confused and undergoes a troublesome time to know the best and reliable cloud-based service. Here in this blog, we have described the top 3 cloud solutions which include Google Apps, Exchange Server and Office 365. We have also discussed its comparison based on its reliability, efficiency and potentially. So now, it becomes easy for the users to find the best alternative to Lotus Notes.