How to Save Specific Attachment from Outlook?
Ashwani Tiwari | Published: July 21, 2020 | MS Outlook
Microsoft Outlook provides save all attachments option to quickly download attachments. But what if you want to save specific attachment from Outlook like an only PDF file or only Excel file, then what will you do? To understand the scenario let's see and real-life examples faced by the user.
"Hi all, right now I am working on a project and due to that, I have to download some specific file type attachments from my Mac Outlook. The thing is that I know how to download attachments one by one but there are lots of image files that I have to download from various email attachments and one by one is a very long-winded process. So if anyone knows how to download some specific file type attachment from Mac Outlook then please suggest me because it is very helpful for me"
As we see in the above query the user has no clue how to download specific attachment from Mac Outlook. So if you are also facing this issue and seeking a solution, then stop your search here. Because in this blog, we are going to discuss a solution that will easily save only specific file attachment from your Mac Outlook.
Automated Way to Save Specific Attachment from Outlook?
As we know Outlook for Mac does not provide any solution that will help you to save specific attachments from multiple email attachments. Moreover, if you try to download attachments manually, then you have to save attachments one by one from various emails which makes it very time consuming and also takes lots of effort. Therefore, to save your time and efforts just go with the smart solution that will easily Save Specific Attachment from Outlook from multiple emails in a single click.
SysTools Mac Outlook Attachments Extractor is one of the most trusted and powerful tools that will easily save multiple attachments from any versions of Mac Outlook without any hassle. As well as this software will give you an advance option to Save Specific Attachment from Outlook from various emails at once.
This software also gives capable to add save attachments from OLK PST, and OLM files separately and also provide multiple options to preserve the folder hierarchy during the saving process of attachments.
Important Note

If you are using the Outlook in Windows, then this software is also available for Windows version s too. And it is as effective as Mac version so, click on the download button to know the details features.
Steps of Working of the Software to Save Specific Attachment from Outlook
Step 1:  First, download and install it on your Mac machine.
Step 2: Select Auto-Locate Mac Outlook 2019/2016/Office 365 Profiles option.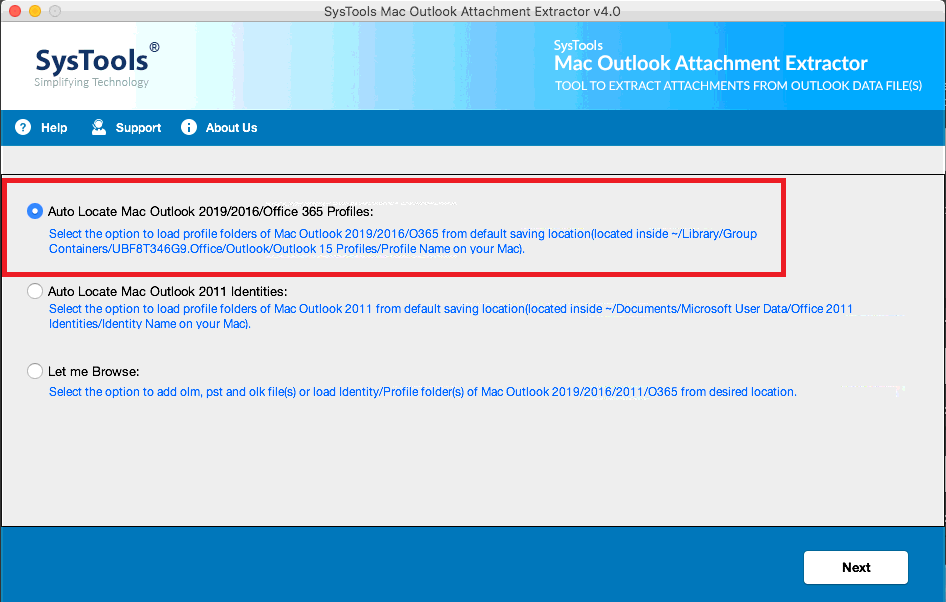 Step 3: Once the folder is added successfully on the software you will see it will be listed on the software user interface.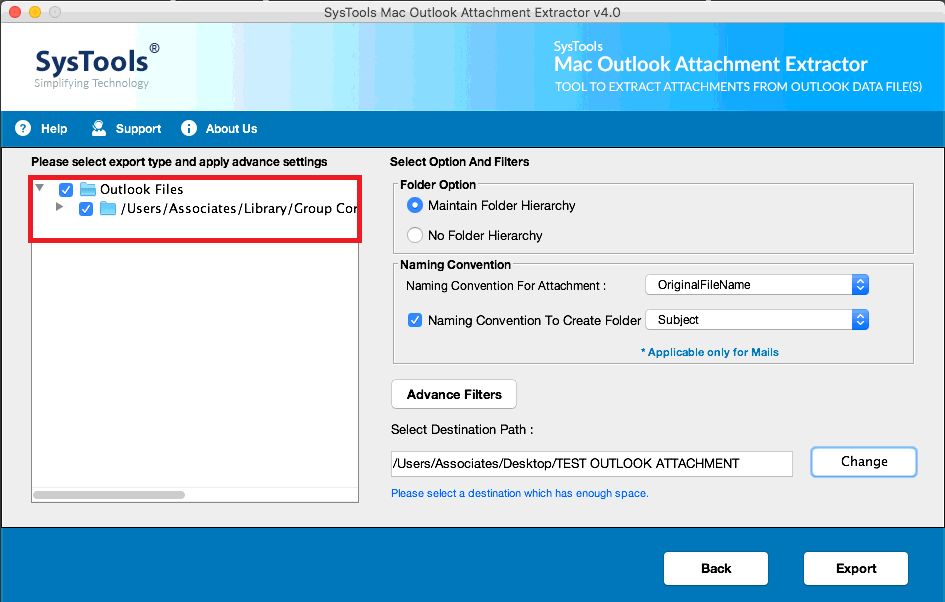 Step 4: At this stage, you will see two options that will help to preserve the folder hierarchy of your file.
Maintain Folder Hierarchy:  By choosing this option software will keep folder hierarchy intact after the extracting process.
No Folder Hierarchy:  If you choose this option then the software does not maintain the actual folder hierarchy.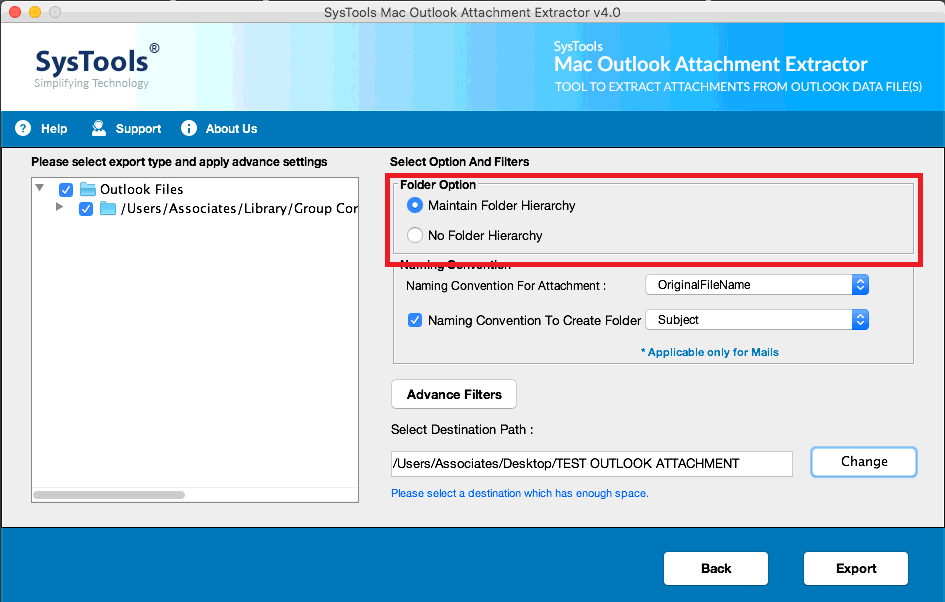 So choose to maintain a folder hierarchy option to preserve your folder structure.
Step 5: Under the Naming Convention section you will see two options.
Naming Convention for Attachment: Choose this option to save files by selecting the specified format
Naming Convention to Create Folder: If you select this option, then the subject is the naming convention of the file by default.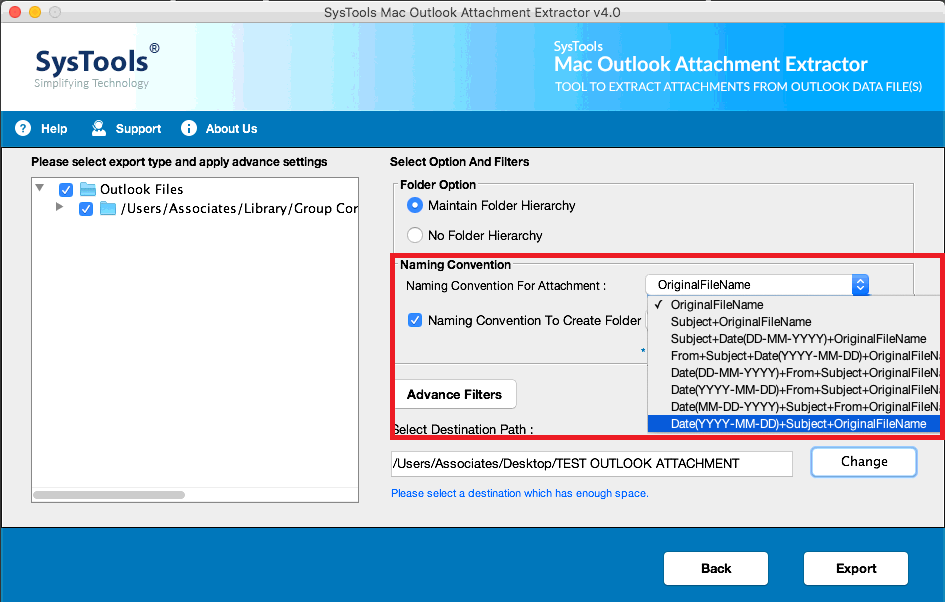 Step 6: After choosing the naming convention option click on the advanced filter and select Attachment Size and Extension to specify the file format which you want to save.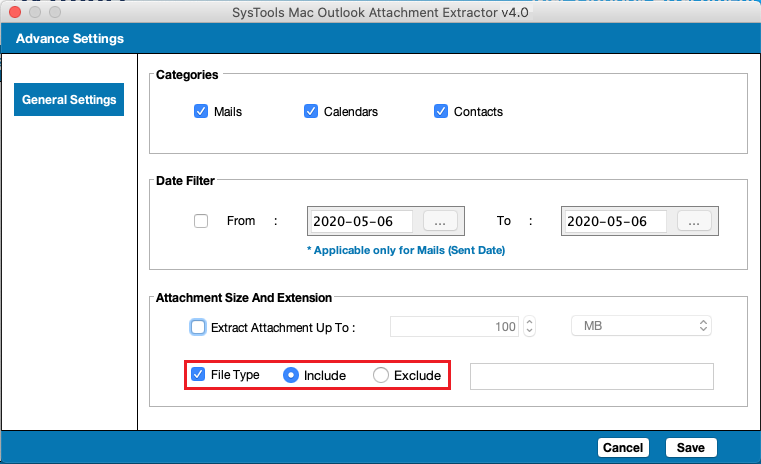 Step 7: Now, select the destination location to save the resultant file.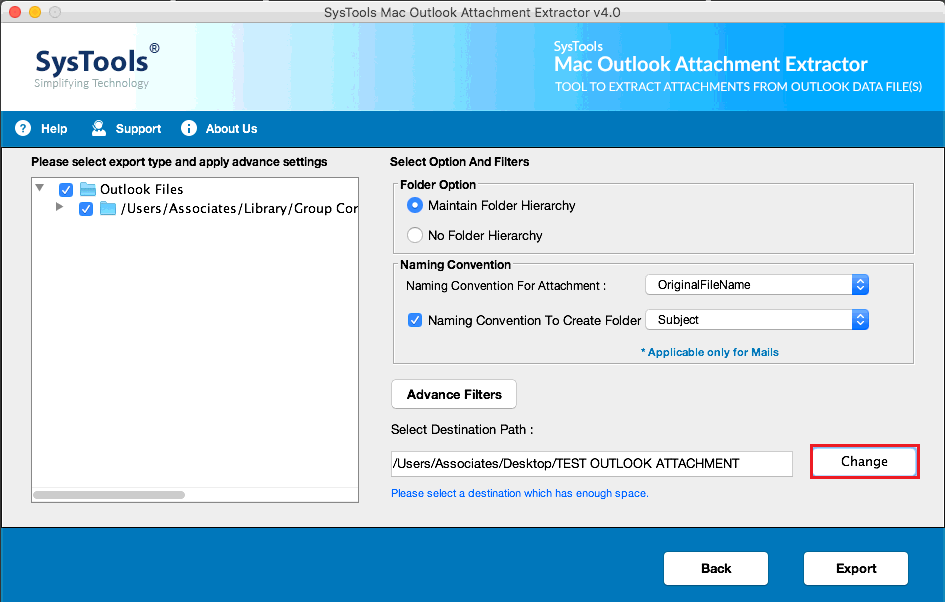 Step 8: After all the settings, click on the Export button to start the process of extract attachments from Mac Outlook.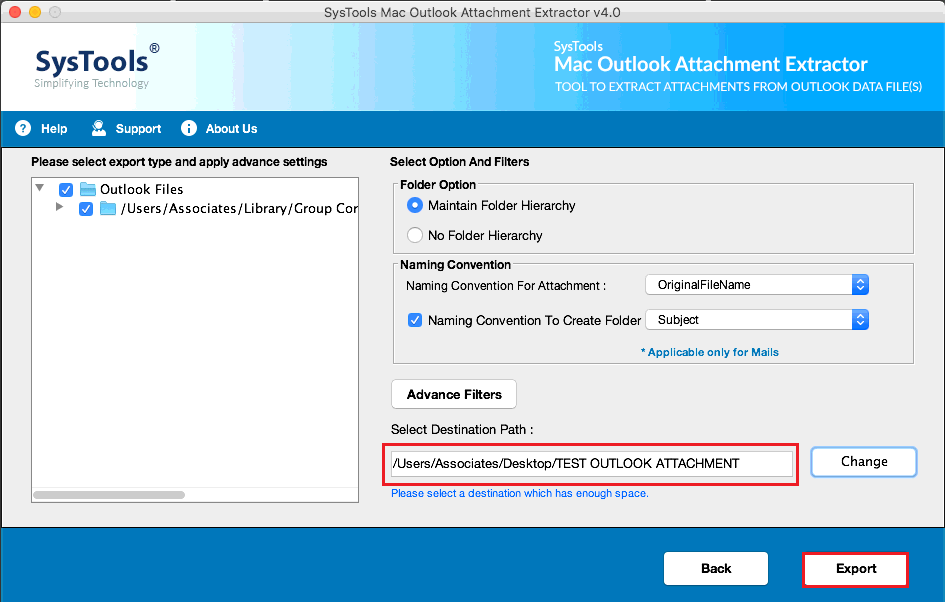 Highlighted Features of Software
Facility to auto Detect Configured Profiles in Mac Outlook 2019, 2016, 2011, and Office 365 for Mac.
Capable to maintain folder hierarchy to keep attachments in the same folders.
The facility of Category-Based Filter to Save Specific Attachment from Outlook.
Also gives an option to save attachments from contacts and calendars.
Conclusion
Saving specific file email attachments from Mac Outlook is a very lengthy process because it is one on one process. But in this blog, we have discussed a simple method that will allow you to Save Specific Attachment from Outlook from multiple emails at once.