Repair Damaged PDF Files-Easy Solution
Ashwani Tiwari | Published: October 13, 2021 | PDF File
In this blog, we will learn methods to repair damaged PDF files and corruption reasons in detail.
The PDF file format is often regarded as the most secure and well-designed file format. However, these files are prone to corruption. Many reasons corrupt PDF files and make them inaccessible.
Users encounter these errors while opening.
• Damaged PDF file is inaccessible
• The root object is incorrect or missing
• PDF file is not readable by your software
• Damaged or corrupted PDF file.
• Problem while processing this page.
Instant Solution

Avoid PDF corruption by using PDF Repair Tool. This software makes it simple to restore damaged Adobe PDF files.

For Windows

For Mac
Why PDF file gets damaged/ corrupted
PDF files may become corrupt for a variety of causes, depending on the circumstances. However, the degree of corruption can range from major to minor.
It is essential to understand the reasons for damaged and corrupted PDF files. Check them out below:
• PDF files corrupt when the network fails or the PDF file is partially downloaded.
• The viruses or malware-infected systems are causing internal problems with PDF files.
• The file structure could have been corrupted, resulting in an error message.
• Sudden shutdown of system when a PDF file was opened.
Simple Procedures for Repairing a Corrupted PDF File
Here are various methods that can help you in repairing damaged Adobe PDF files:
1. Download Online: Redownload the document from the original source and check for a recurrence of the problem. There can have been an issue with the downloading process, such as an incomplete download.
2. Backup: Restore the damaged PDF file for reading using the backup (if available).
3. Restore a Previous Version of a PDF File: To restore an earlier version, the user must first activate the backup tool. To do so, click the Windows icon, go to the Settings option, then to Update & Security, and finally to the backup option. If the backup utility is enabled, follow the instructions below.
a) Navigate to the system file location of the corrupt PDF file; right-click on the PDF file. Then choose the Restore previous versions option.
b) Select from the various PDF file versions in the Properties dialogue box and click the Restore option.
c) Then click the OK button and reopen the PDF file.
4. Change the PDF Viewer: There can be a problem with Adobe Reader or Adobe Acrobat's default reader utilities. Users must verify that they are compatible with other PDF files. Alternatively, users can try to open the damaged PDF file using a PDF Reader utility other than the default one.
5. Extracting Text: This method is time-exhaustive. And only the text can be retrieved from corrupt PDF files in this case. To begin, right-click on the PDF file, choose Open with, and then pick Notepad. The notepad utility displays a mix of PostScript code, text, and sets of unreadable characters. Now, pick just the text portion inside the file's blocks and copy it. Finally, copy the text and paste it into a new document.
6. Reinstall Adobe Reader: Select and remove the current Adobe Reader version from your machine through the Control Panel Programs and Features area. Restart the system now. Then go to Adobe Reader's official website and download the newest version on your PC. Now attempt to open your PDF files.
Professional method to Recover damaged PDF using the PDF repair tool
We covered manual methods to repair damaged PDF files. However, if the corruption level is major then these methods will fail miserably. Additionally, there is a possibility of data loss. To avoid all of these disadvantages, it is recommended that you utilize expert software, such as PDF Repair Tool. This software easily repairs damaged PDF files and replaces them with a healthy version. It is a simple-to-use utility that is equipped with advanced features.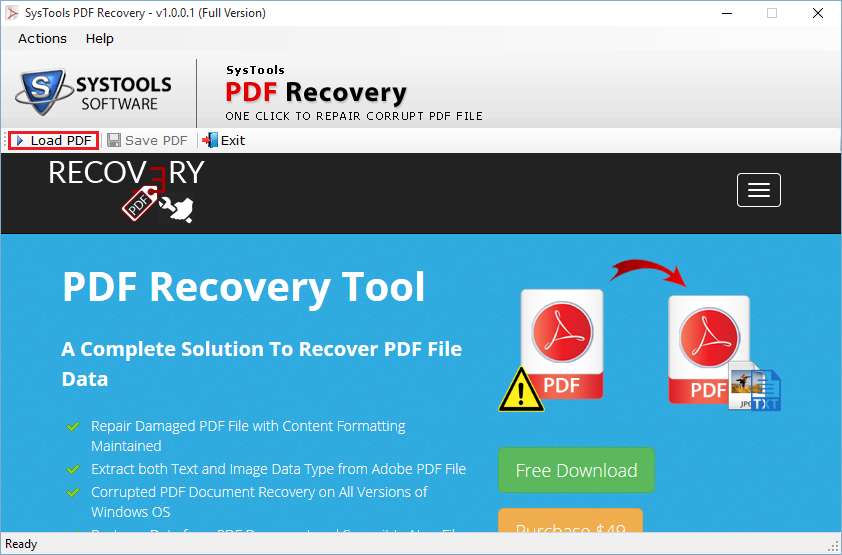 Steps to repair damaged PDF file:
Step. 1 Download and install the PDF Repair tool.
Step. 2 Browse and add the damaged PDF file to the software.
Step. 3 Customize the setting according to requirements.
Step. 4 View a preview of the recovered PDF document.
Step. 5 Save the healthy PDF document to the chosen place.
Now you can access the repaired and restored PDF files in any Adobe Acrobat version without any issue.
Conclusion
This blog discussed the potential root causes of PDF file corruption. We provided techniques to repair damaged PDF files. You can use manual methods but they won't fix highly corrupted PDF files and also have some disadvantages. Henceforth, it is suggested to use an automated solution i.e. PDF Repair Tool that helps users to restore PDF files in their healthy state.