A Tool to Export Mac Outlook Cached Contacts to PST File
Ashwani Tiwari | Published: July 22, 2020 | MS Outlook
Here in this blog, I will talk about how to transfer Mac Outlook cached contacts to the PST file. In non-technical words, you will be able to export Mac Outlook auto-complete list of email addresses to Windows Outlook.
FREE DOWNLOAD AVAILABLE

For Mac Outlook 2011, 2016, 2019 / Office 365 for Mac.
Mountain Lion, Mavericks, Yosemite, El Capitan, Sierra, High Sierra, Mojave, Catalina.
Java JDK & JRE 8 need to be installed in the Mac system. Download it from HERE.

 
Outlook cached contacts or you can say autocomplete list of email addresses are the list of contacts that almost every email client saves. This works the same as any search engine finder textbox. As soon as you start typing a letter, some suggested contacts or email addresses appear.
Your cached contacts can be different from the main contacts list in Outlook. Because most of the time this list contains email addresses that are not present in your main contact list. When you send or receive emails from strange contacts, emails clients cleverly save those contacts in its cache.
Every Mac machine having Outlook for Mac creates a local database for these cached contacts and is called a database of Recent Addresses. Also, for Mac Outlook these contacts cannot be sync with Exchange Server.
So if you are looking to change to Windows Outlook then, you can take the help of this tool for Mac Outlook cached contacts. With this tool, you can export recent addresses to the PST file. Then you can import this PST file in Windows Outlook.
How to Convert Mac Outlook Cached Contacts to PST
It's very easy to transfer Outlook cached contacts to PST. Just download the tool and follow these steps:
1. To insert Outlook 2011, 2016, 2019 Profiles/Identities: Choose Auto-Locate or manually browse. After choosing the desired way, click on the Next button.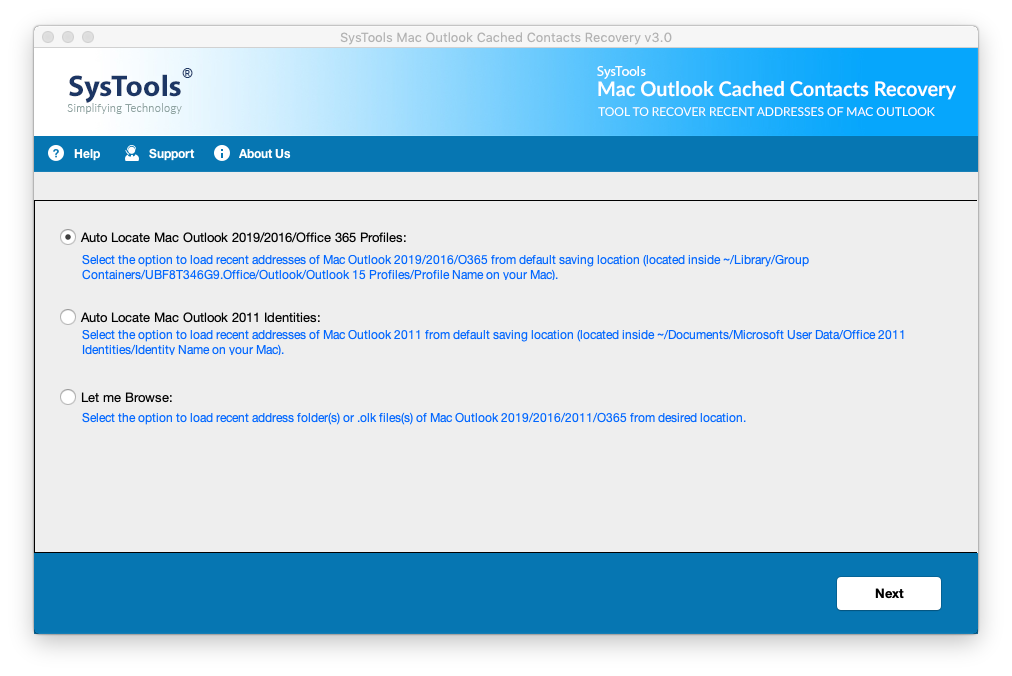 2. Select Profiles/identities: Check Profiles/Identities from which you want to export recent addresses to the PST file.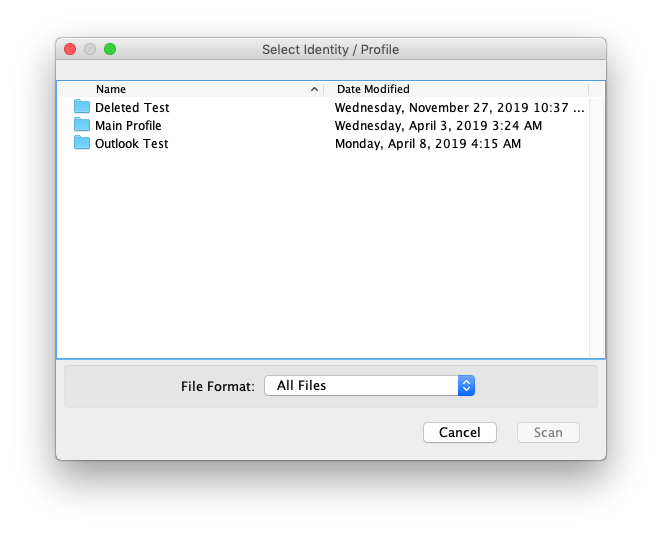 3. Select export format: You can see there are various format options given in this tool. You can select the PST file format.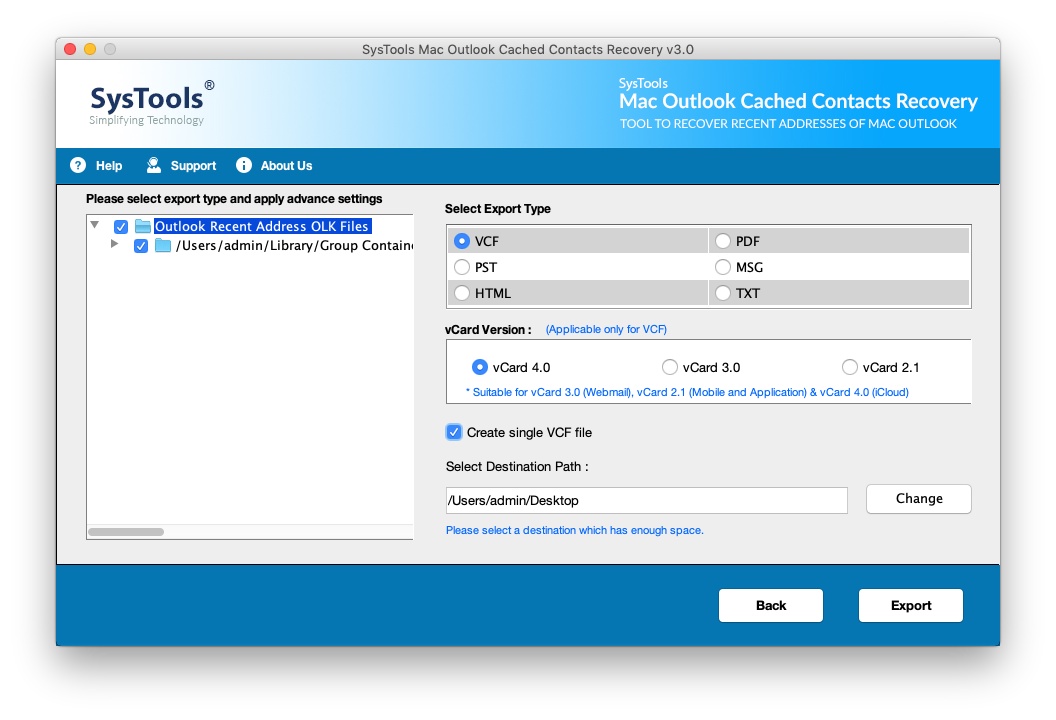 4. Start the exporting process: Click on the Export button.
Let's Have a Look Into The Tool's Features
DO YOU KNOW- This tool can also recover lost Mac Recent Addresses. Yes! You read it right. Lets deep dive into the features.
Restore MAC Outlook Recent Addresses
If your Mac Outlook cached contacts or autocomplete list of email addresses has been disappeared or lost. Don't worry! This tool can help. Also, it can easily process OLK 14 & OLK 15 files without any problem. Now, this feature led to the second feature.
Regain All Properties of Recent addresses
Tool's advanced technology is efficient in recovering all the properties of recent addresses like email addresses, first names.
Automatically Locate Profiles or Identities
You must have seen the first working screenshot of the tool. In that, there are two options to locate Mac Outlook profiles and identities. Either you can let the tool do the locating for you or you can manually browse them.
Different vCard Versions Option
vCards are the electronic business cards that can be shared on different platforms on the web. This software gives options to create vCard 4.0/ 3.0/ 2.1 versions. By default, this tool will create a 4.0 vCard version.
Create Single or Individual Files
This tool for MAC Outlook gives you the option to create a single PDF/ VCF file for all recent addresses files. By default, this tool will create individual PDF/ VCF files for each recent contact.
Various Export Options
You can convert Mac Outlook cached contacts to PST, PDF, VCF, MSG, HTML, TXT formats.
Conclusion
You will not find any other tool that recovers and exports Mac Outlook cached contacts to various formats like this tool. You can see this tool is designed only for Mac Outlook Recent addresses. You can easily transfer mac Outlook cached contacts to PST files. Remember Outlook for Mac stores these cached contacts as OLK file format. Also, Outlook stores 1000 cached contacts.