Network Upload to Import Your Organization PST Files to Office 365 Manually
Ashwani Tiwari | Modified: June 3rd, 2020 | Office 365
Summary:

Network upload method is for administrators. It is not recommend to use by anyone. In this post, you come to know all 6 steps of network upload method. If you are not technically sound, then use trusted and expert suggested utility.

Download Software Now
Windiws OS Buy Software Now
(100% Secure)
Are you also facing the same difficulty? Do you have a large organization whose Outlook data you want to backup? Do you also want to restore your Outlook mailbox to O365? If the answer is Yes, just read the blog to the end and get the method.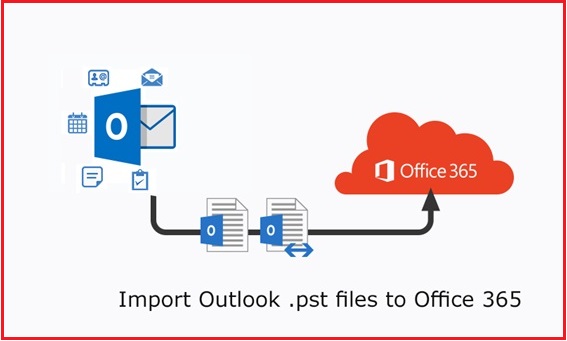 Ways to Import Organization's PST Files to Office 365
You can backup large PST files in Office 365 by using these two techniques.
Network Upload Method to Import Organization's PST to Office 365
Use Expert Suggested Software to Import PST to Office 365
Network Upload to Import Organizations PST to Office 365
Use Network Upload to import your organization's PST files to Office 365. It is a free manual method. To use this process one requires high and sound technical skills.
This technique is very complicated and not reliable for non-technical users. But if you still want to use this technique, follow these below mentioned steps to bulk import PST to Office 365.
In the Network Upload method, you have to perform 5 steps.
Know These Before Begin
By default, the Mailbox Import Export role in Exchange Online is not assigned to any role group. You need to get this role. Use the Organization Management role group to assign Mailbox Import Export to your mailbox.
Another way is to create the new role group, assign Mailbox Import Export role, and then add yourself as a member.
Apart from this, also you need to be assigned to the Mail Recipients role in Exchange Online which is by default assigned to Organization Management and Recipients Management role groups.
Or to use Network Upload to import PST files to Office 365 you need to be a Global Administrator in your Office 365 organization.
Step 1: – Download Azure AzCopy tool & Copy SAS URL
Open https://protection.office.com and login to Office 365 organization using Administrator account credentials.
Go to the Security & Compliance Center and select Data Governance >> Import
A new Import dialog box will appear, choose + New Import Job
The New Import Job wizard will be displayed. Give a name to the Import Job and click Next
Do, you want to upload or ship your data? Window hit on Upload your data and click on "Next"
A new "Import Data" window will be displayed. You need to do the two things here: Copy SAS URL and Download & Install Azure AzCopy Tool
A pop-up will appear, choose Run to install Office 365 Network Upload tool completely.
Note: Copy your SAS URL carefully in a text file as it is unique to your organization. You will need it later for transferring PST files to Office 365. Download Azure AzCopy version 7.1.0 only.
Step 2: – Import Your Organizations PST files to Office 365
Open your command prompt by typing "cmd" in the Run window
Go to the directory location where you have installed Azure AzCopy.exe
Perform the following command with the following syntax
AzCopy.exe /Source:<Location of PST files> /Dest:<SAS URL> /V:<Log file location> /Y
The actual command will be like this
AzCopy.exe /Source:"\\FILESERVER1\PSTs" /Dest:"https://3c3e5952a2764023ad14984.blob.core.windows.net/ingestiondata?sv=2012-02-12&se=9999-12-31T23%3A59%3A59Z&sr=c&si=IngestionSasForAzCopy201601121920498117&sig= Vt5S4hVzlzMcBkuH8bH711atBffdrOS72TlV1mNdORg%3D" /V:"c:\Users\Admin\Desktop\AzCopy1.log" /Y
Step 3: – Create Mapping File of Imported PST
This is the most crucial step of Network Upload method to import your organization's PST files to Office 365 After the complete upload of PST files to Azure Cloud Storage, create a CSV file which will specify the mapping of the PST files to which mailbox it is to be moved.
This CSV file will be required in the next step where you need to create an Import Job.
Step 4: – Create Import Job in Office 365
Log in into your Office 365 account and do the steps as shown in step 1
This time select the following options in the dialog box
On the Import data page, select the following options
Select Mapping File option in the next window and choose "Validate"
After successful validation, click on Save and finally select Close after the job is created
Step 5: – Filter and Start PST Import Job
A window will be displayed, in the Security & Compliance center and select Ready to import to Office 365
In flyout page, click Import to Office 365
After clicking that, filter your data page will be displayed. You can easily apply filter according to your requirement and import your organization PST files to Office 365
Limitations of the Network Upload Method
As you can see, the network upload method is very complicated and lengthy to use. It requires high technical knowledge.
Steps are too hectic and time consuming. If PST file size more than 20 GB, then it will create a lot of issue.
You have to save PST file on server or shared folder.
To overcome that, we have come up with an extremely extraordinary solution for import multiple PST files into Office 365 which is discussed in the next section.
Note: – If the network upload method is not helpful for you. Or you are not able to perform all steps perfectly. Then you can use expert suggested and widely used software to import PST to Office 365 mailbox.
Final Words
Network Upload to import your organization PST files to Office 365 method is messy and difficult to execute. Instead of using the manual solution, go for the automated tool which will do the work more efficiently and that too without any hustle.