Leading Data Center Company in India – With Affordable Plans
The term data center might hype you at times. What it is, how does it operate, and so on? You need not worry more! Here, in this blog, we will put a full stop on all your Data center in India related queries in a seamless manner.
A data center, in simple language, is a physical facility that one can use to store critical applications and data effortlessly. Also, the design of the data center is solely based upon the computer networking and storage of the resources. Routers, firewalls, storage systems, switches, and application delivery controllers are among the most important components.
To clarify further, let us talk about India's leading data centers!
Data Center – Most Powerful in India
Our Data Center offers the best, reliable, secure, and affordable Tier-IV environment in the industry. It provides commercially managed top-class services like fully managed Windows dedicated services, Virtual Private Cloud Servers, Colocation Hosting, network access, disaster recovery, etc. It offers a wide variety of services all around the globe, at affordable prices.
You can connect with our executives by clicking on the link below
Besides this, we facilitate physical security, access to carriers, easy scalability, flexibility, 99.995% uptime track record.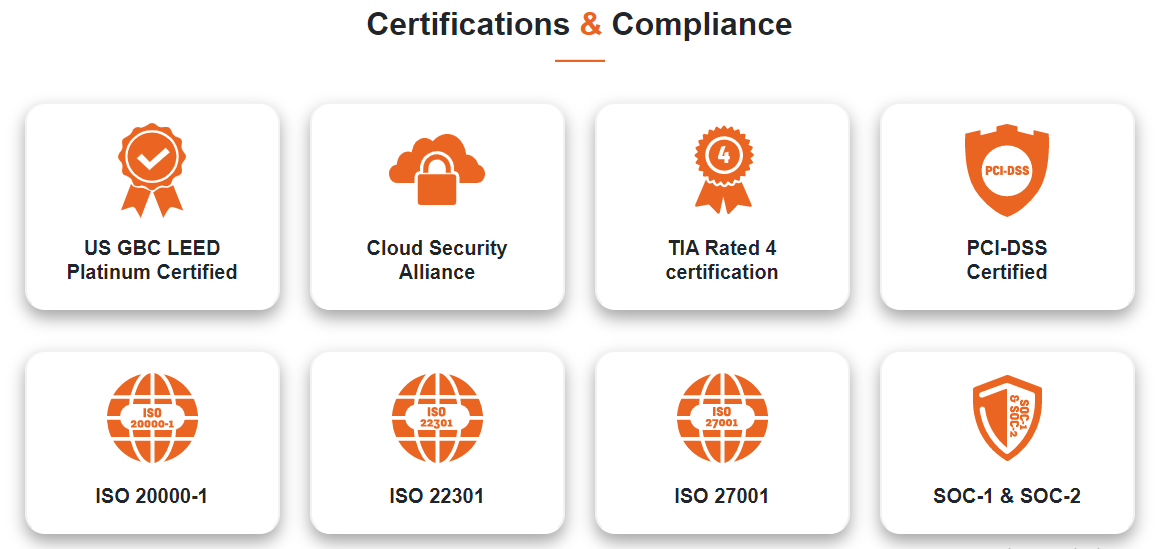 Above all, the below section of the blog consists of a few characteristics offered by the best data center in India.
Best Data Center Service Provider – Reliable & Secure
Network Infrastructure: We have specialization in multiple web hosting services including backup services, cloud computing with a comprehensive N+N data center redundancy. Also, we offer a high-speed bandwidth to keep up your operations in a seamless manner.
Hardware of the Servers: We offer premium enterprise-grade hardware to our clients. To streamline the services, we only function on the adept, and high-quality equipment.
DC Physical Security: In addition, we ensure 24X7 surveillance, multi-layered access control, and other security gateways to restrict the entry of intruders.
Scalability: Users can expand their business at any point in time with the customized options offered. This is because every organization has a different set of needs and hence requires different models.
Tier 4 Data Center: To clarify, it is supported with a pool of resources to meet the demands in a streamlined manner with efficiency.
Specifications of the Offered Servers
We are committed to providing the best of both worlds to our customers. To sum up, the offered services are mentioned in the section below:
Commercial-Grade Hardware
SSD Storage
High-Quality part of servers
Latest Gen Processors with gigabit processors
Uptime of 99.995%
Uninterrupted supply of power
Low or no latency
N+N Redundancy
Multiple Security Level
Neutrality of Carrier
Know about the best VPS Server Hosting in India
Best & Diverse Data Centers Service in India
There are mainly four types of services which we offer. Consequently, we will discuss them in the next section of the write-up.
Enterprise Data Center: These are created by any single organization (basically the tech giants) to fulfill their personal needs.
Managed Data Center: They provide data storage, processing, and other related services to the customers directly.
Colocation Data Center: Colocation Hosting Service is a rental data center space for those who want to store their data.
Cloud Data Center: These are the decentralized services provided at a low cost to the customers.
The Final Verdict
We offer you a wide range of reliable and efficient options to fulfill all of your requirements to store your data. Other than this, you can access all of the services just by connecting to our experts.