How to Remove Duplicate Items in Microsoft Outlook?
You are moving items in Microsoft Outlook, but did not recognize that duplicate detection option is turned off due to which Outlook skips the duplicate items. However, when you move all data items, you cannot remove duplicate items easily. Here, in this statement "you cannot remove duplicate items easily.", it means yes, you can remove the duplicate items, but not easily.
In order to know the procedure on how to remove duplicate items in Microsoft Outlook 2016, 2019, or other versions, continue reading the blog below.
Instant Solution

For a quick and simple solution, try some third-party tool like Outlook Duplicate Item Remover and remove duplicate items from your Outlook PST mailboxes.
Problems Created by Duplicate Items in Your Mailbox
MS Outlook comes under the list of complex applications provided by Microsoft Suite. To maintain the performance of Outlook, a large number of resources are required. However, Outlook users mostly face duplication of messages and emails issue from time to time. And, these duplicates creates lots of problems hence, it is very important to remove duplicate items in Microsoft Outlook. 
If you take help of Instant search option of Outlook to locate any specific file or message, more than usual time will be taken by Outlook because a big list of messages needs to be searched.
When you receive multiple copies of the same message with attachments, the size of the mailbox also gets increases. And, it is pretty much clear that the bigger the size of the mailbox, the poor will be the performance.
On the other hand, the duplicated items will occupy more space on hard drive also and make emailing application bulky. In addition, it increases CPU utilization.
As the time passes, Microsoft Outlook will become slow, start freezing, hanging or stop responding! In addition, it might corrupt the PST file
Possible Causes Behind Duplication of Email Messages
There can be several reasons behind this issue and all of them are mentioned below.
Wrong Configuration of Rules
If rules are not configured properly, there are chances of confusion when an email message is received. In addition, generate duplication of emails.
Small Intervals in Sending and Receiving Messages
If inbox is updated on low frequency having short interval time, the emails and other data items will not get synchronized properly and results in duplication of data.
If are using same email account in other devices like laptop and mobile, it repeat the synchronization of incoming message. It can be one of the possible reason behind email duplication in the Outlook mailbox.
Inappropriate Mailbox Settings
When you create an account in Outlook, you did not set mailbox parameters properly. This is the reason you are receiving same email or messages for multiple times.
If there is some technical problem in the mail server, there may be duplication of Outlook items. Such instances frequently happen if you activate If "Leave Messages on the Server" option is checked, this type of instances will occur frequently. If two or more "move a copy to" rule is set for a specific incoming email, wrong configuration of Microsoft Outlook. However, it results in duplication of emails also. Merging two or more PST files into a single PST can also create a duplicate in Outlook.
It does not matter what reason is creating multiple copies of a single message; it will surely affect Microsoft Outlook productivity. Thus, you must remove duplicate items of Outlook!
Want an Easy Solution to Remove Duplicate Items in Microsoft Outlook 2016, 2013, 2010 and 2007?
It is important to clean the duplicated files from your mailbox. However, handling hundreds of duplicates will be tough. If the number of duplicate items goes high, then manual deletion of them becomes impossible. And, there is no such easy manual available that a user tries to remove duplicate items. Even Microsoft itself does not offer an easy fix for the same in any Outlook version.
Manual Tricks to Remove Duplicate Items in Microsoft Outlook
Are you looking for a solution to eliminating the duplicate messages from your Outlook?
Before jumping directly to the solution to remove the duplicate items of Microsoft Outlook, it is important to look for the reason behind the problem and then fix it. However, if you are unable to look for the same, here all possible ways of doing the same are covered.
Top 5 ways to remove duplicate files from Outlook mailbox.
1# Configure Outlook Rules Properly
The very first thing that you need to check is Outlook rules are configured properly or not. If they are configured properly, there are chances of confusion between the different email folders. So, it is important to configure the rules correctly.
2# Modify the Inbox Updates Frequency
Another possible way of avoiding duplicate is to change the inbox update frequency. Now to do the same, start Outlook and move to Send/ Receive. After that, choose Define Send or Receive Groups option. Then, set the value of inbox updates frequency between 15-30 minutes.
3# Use Clean Up Tool to Inbox
There are number of tools and add-ins used by Outlook. One of them can help you out in cleaning duplicate messages. Follow the steps mentioned below to clean up your mailbox:
First of all, open Outlook
After that, choose the mailbox folder
Then, choose Home >> Cleanup Now, choose any of the below options:
Clean up Conversation: To delete and move the duplicate message present in the conversation.
Clean Up Folder: To remove the duplicate message from a particular folder
Clean Up Folders and Subfolders : To clean up duplicate folders and subfolders
At last, right-click on the Deleted Items folder >> Empty Folder. It will surely delete the emails.
4# Antivirus Application
Another possible reason for duplicate files in your mailbox could be the settings of Antivirus application. If a server connection is not shut down in an appropriate way, emails are not flagged even after receiving and results in duplicates. Now to fix this problem, you need to check the manual of Antivirus application and turn off the email protection option.
5# Outlook Duplicates Remover : A Professional Solution
If any of the above solutions do not fix the problem, go for a third-party Outlook Duplicate Remover tool for removing the Outlook duplicates permanently. This tool is developed in such a way that the management of duplicate messages or other duplicate Outlook items will become easy.
This Outlook Duplicates Remover tool will look and remove duplicate items from your Outlook mailbox. It is one of the best and proven ways to remove Outlook duplicate items. It offers so many options to look for duplicate messages ; for example, you can specify the email field, i.e., subject, to, cc, attachment, etc. The demo version of the software is also there using which you can remove duplicate items. You are allowed to remove 15 items per folder via this free Outlook Duplicates Remover tool.
Now, follow the steps below to remove duplicates in MS Outlook:
Step 1: Download & Install Outlook Duplicates Remover application and click on Add File button to add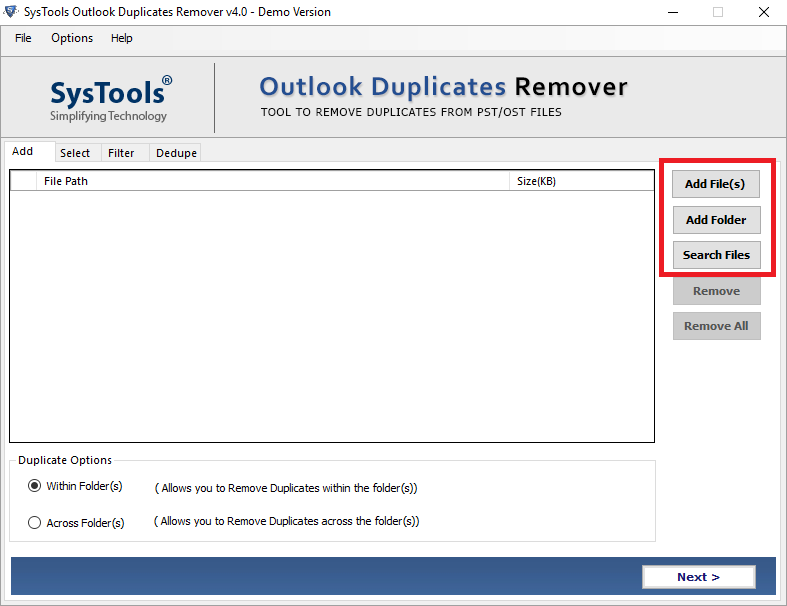 Step 2: Now, choose the Duplicate option between Across Folders or Within the folder as per your requirement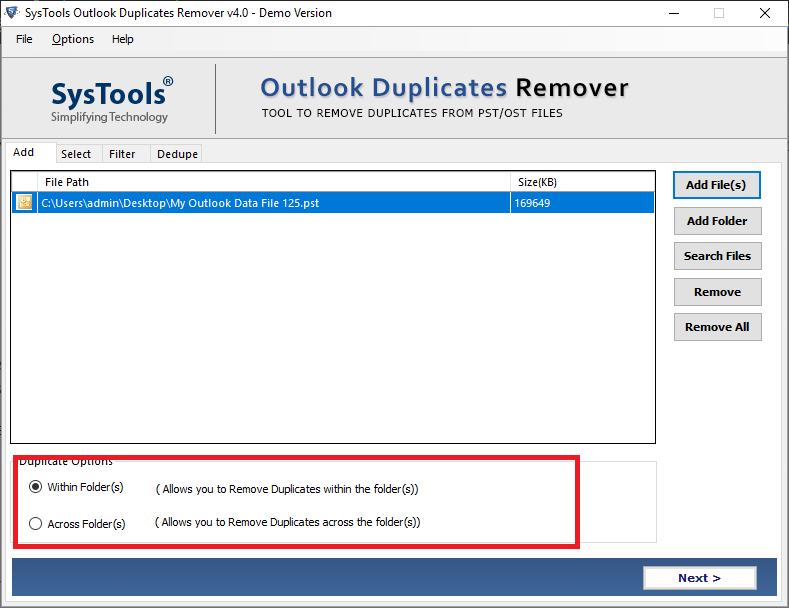 Step 3: Then, choose the destination location to save the duplicate-free PST file on the local machine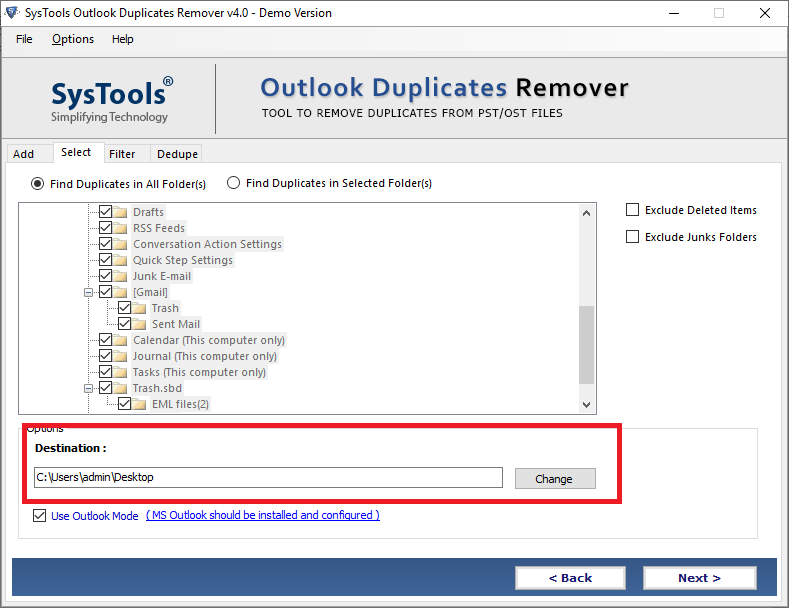 Step 4: After that, choose the categories i.e., emails, contacts, calendars, task, notes, and journals >> Next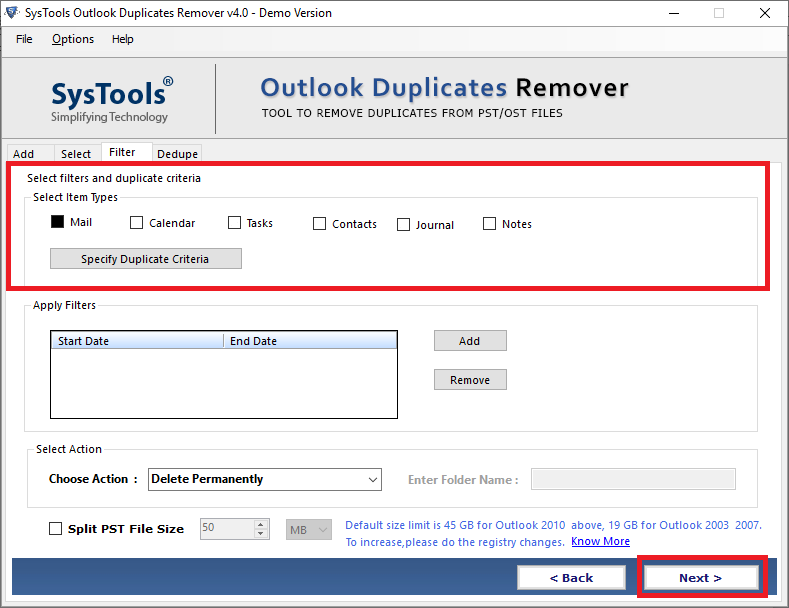 Step 5: After clicking on the Next button the tool begins the process. Once the process is completed the message " Duplicate Removed Successfully " is pop-up click on OK to finish.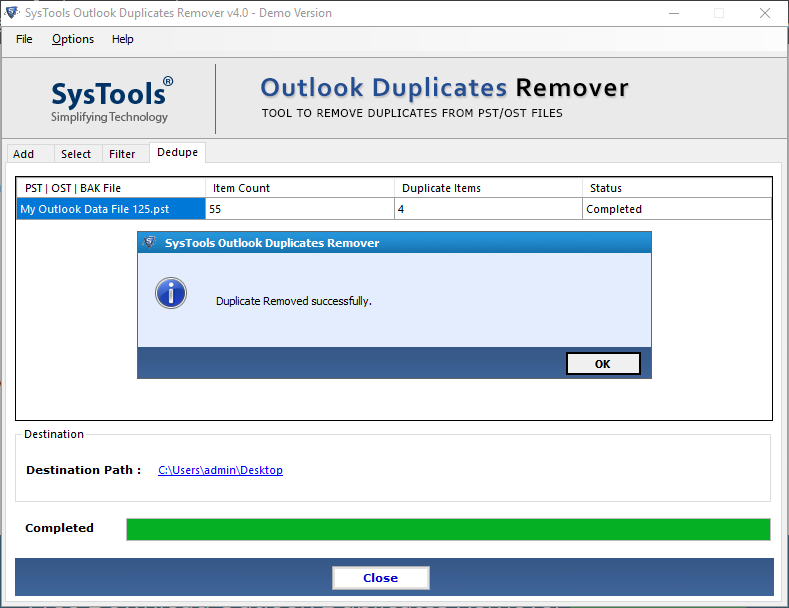 Step 6: Save the export process or duplicate item reports by clicking on Save Report button in CSV format.