How to Prevent and Remove Duplicate Items from Microsoft Outlook?
Ashwani Tiwari | Modified: November 4th, 2020 | MS Outlook
If you are using Microsoft Outlook, then you will definitely encounter duplicate items issues like emails, contacts, calendar entries, and many other duplicate items in your Outlook mailbox. Having duplicates causes confusion while receiving and sending emails. Due to that most of the Outlook users want to know how to prevent and remove duplicate items from Microsoft Outlook.
Moreover, a large number of redundant items increases the size of your mailbox data. And if your mailbox reaches its size limits, then you may face data corruption.
So, if you want to overcome from data corruption and productivity issues of MS Outlook, then read this article and find out how to prevent and remove Outlook duplicate items, here in this blog we going to discuss how duplicates occur in Outlook and how will you remove duplicate items from Outlook easily.
Why Duplicate Items Appears in Outlook Mailbox?
There are many factors that are responsible for creating duplicates in Outlook like incorrect Outlook settings, technical failure or user errors, etc. Some of the most common reasons for duplicates in Outlook are mentioned below.
Incorrect mobile device sync with the desktop version of Outlook.
Frequent email receiving and sending
Improperly configured Outlook rules
Importing or merging multiple PST files into one.
Restoring your mailbox from backup
Working with a single mailbox on more than one device
Using antivirus software with the email scanning feature
Tips to Prevent Outlook Duplicate Items
As we said above there are many things that cause a duplicate to appear in Outlook mailbox. So preventing them from occurring in the future is the first step to eradicating them.
Solution #1: Stop Receiving Duplicate Email Messages
To stop receiving duplicate items in Outlook, then there are few things you have to check. So start by checking your Outlook rules, be sure that copies are not being made to the inbox, and make sure that all your rules end in "stop processing" action.
Always remember that your task manager running only one instance of Outlook. If two instances of Outlook are running, then it can create two messages arriving at the same time.
Solution #2: Prevent Sending Duplicate Email Messages
Third-party antivirus is the reason for Sending multiple or redundant email messages in Outlook. Some antivirus scans outgoing emails and due to that, you may face duplicate sent emails in your Outlook Sent folder. So change the anti-virus property to not scan outgoing messages.
Solution #3 Prevent Duplicate Appointments
The reason for creating duplicate appointments is multiple Outlook processes running during the synchronization process. To see if you have run more than one process, then quit Outlook and open your task manager and go to the process tab and search for outlook.exe. Moreover, if you want to end the process, then select it and click on the end process
Solution #4: Prevent Duplicate Contacts
While importing contacts in Outlook and if you forget to enable "do not import duplicates" option, then duplicate contacts will save in the Outlook contacts folder. So always remember to choose "do not to import duplicate" options if you are importing mailbox data items from other sources.
How to prevent and Remove Duplicate Items from Microsoft Outlook?
There are two methods available in order to remove duplicate items from Outlook
Let's begin with the manual method
#Method 1: How to Remove Duplicate Items from Outlook-Manually
Microsoft Outlook comes with a Clean Up tool that helps you to remove the duplicate item from the Outlook PST file. So, to use in a proper way follow the steps listed below.
1: First, open Microsoft Outlook application
2: Now, click on the Clean Up tool option from the ribbon bar.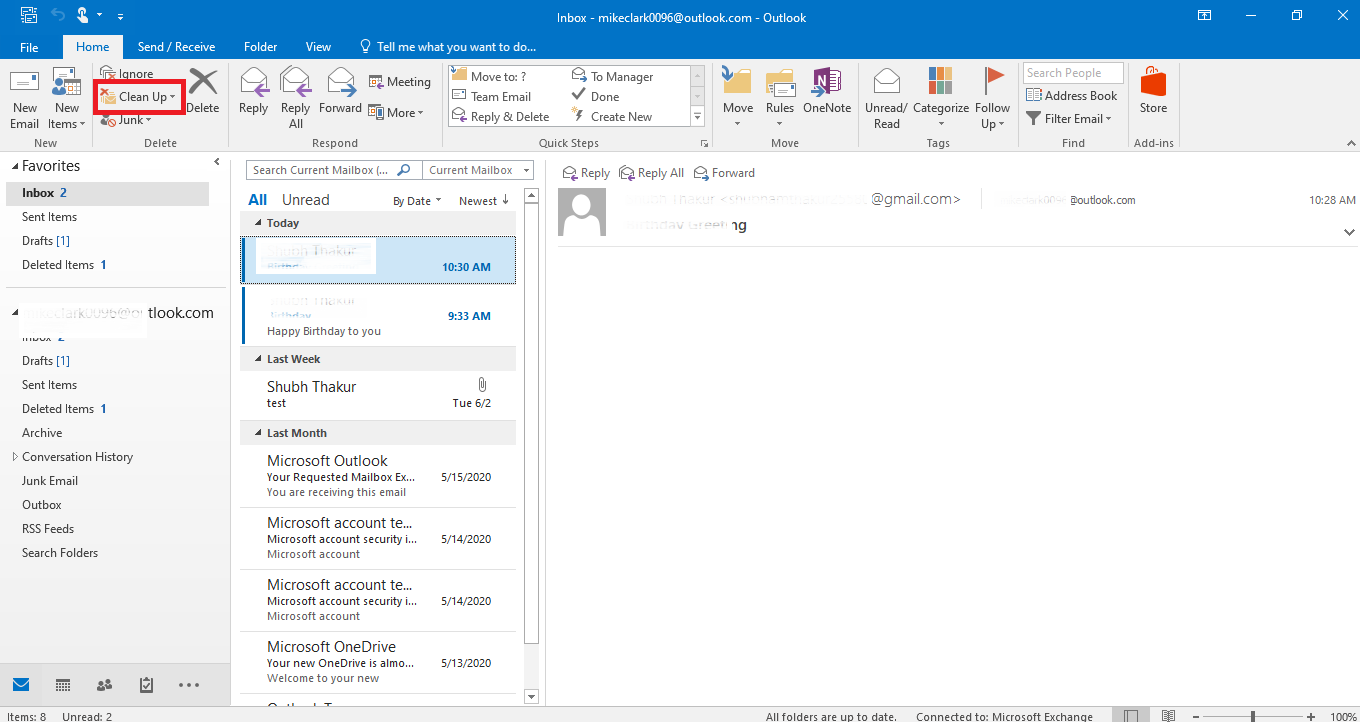 3: Choose Clean Up Folder and Subfolder option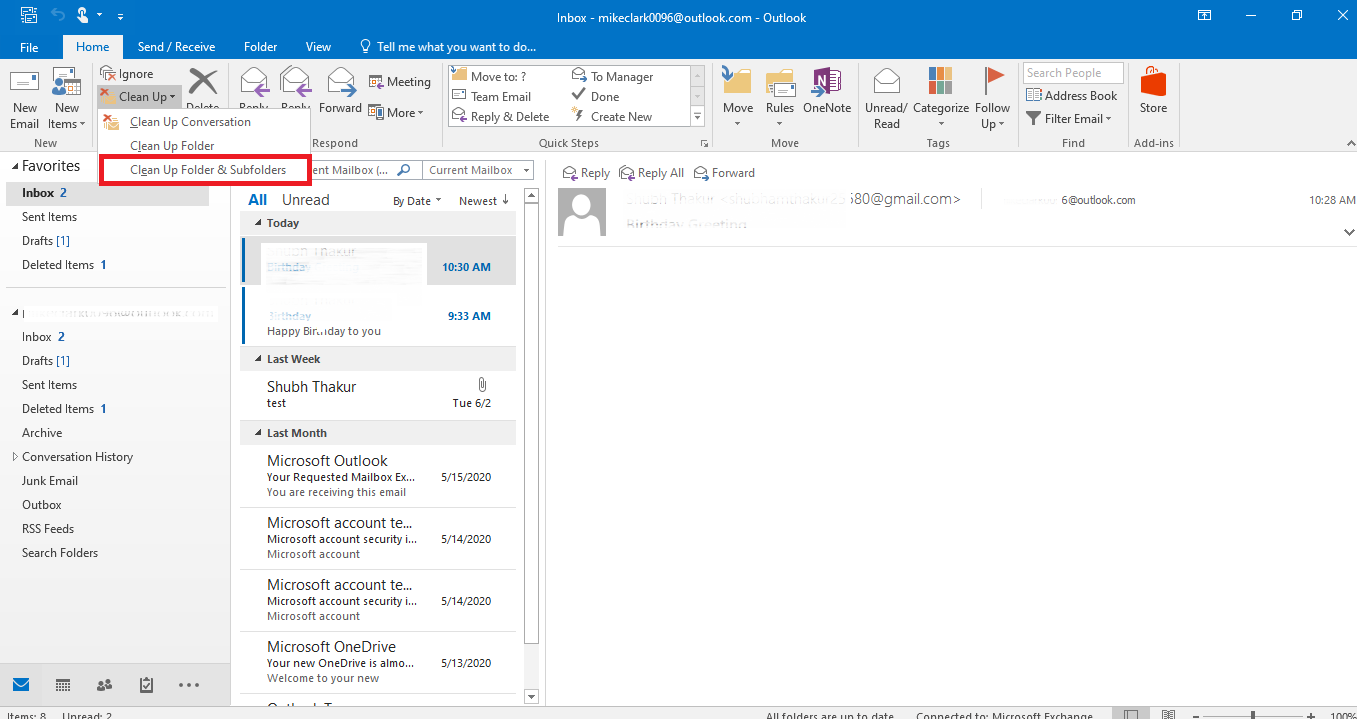 4: After clicking on the Clean Up folder and subfolder a dialogue box will pop up be asking you whether to proceed with Cleanup or Cancel? Simply click on the Clean Up option
Note: After the cleanup process completed successfully your all duplicate items will move to deleted item folder.
#Method 2: Professional Way to Remove the Redundant Item from Outlook
A manual method is a nice approach when the number of duplicate items in Outlook is less. But we have a large number of duplicate items then it takes lots of effort and time. And also while using the Clean Up tool sometimes it generates error messages like "No message was cleaned up."
Download for Free Buy Software Now

Therefore, professionals suggested to try a smart solution i.e., Outlook Duplicate Remover Tool. It is a tool that removes all the duplicate items from Outlook like emails, calendars contacts, journals, notes, and tasks in the minimum time span. This PST duplicate remover tool also supports OST and BAK files.
Follow this step by step process to remove redundant items in MS Outlook.
1: First install and launch the software on your local machine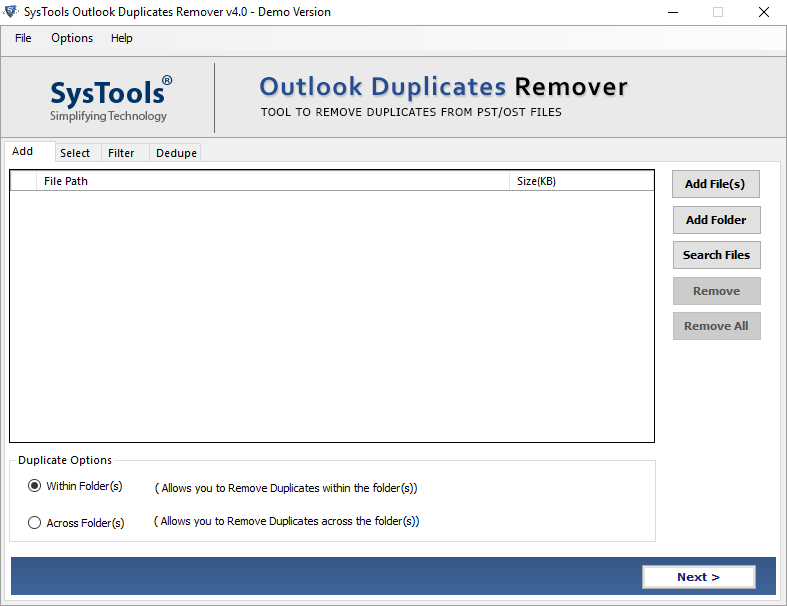 2: Now, click on the Add Files or Add Folder option to add PST/OST/BAK files.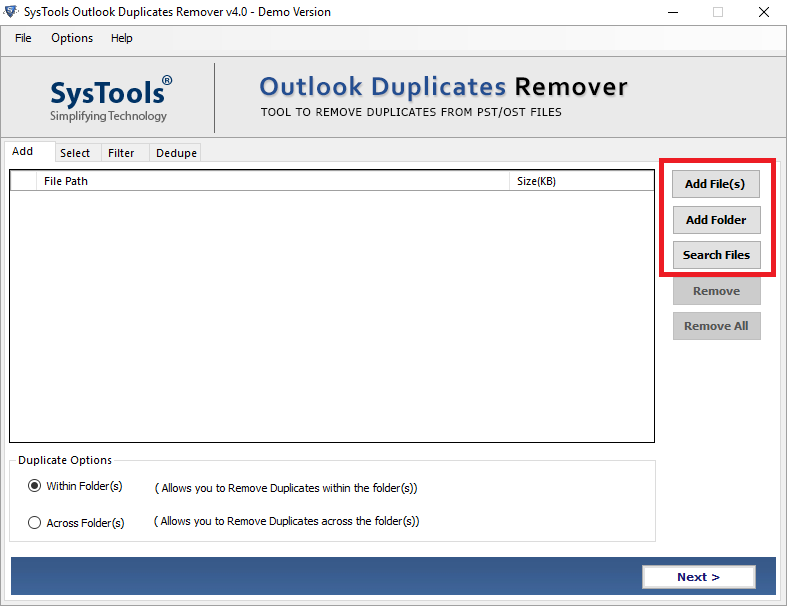 3: After that select the Within Folder or Across Folder option to remove duplicates.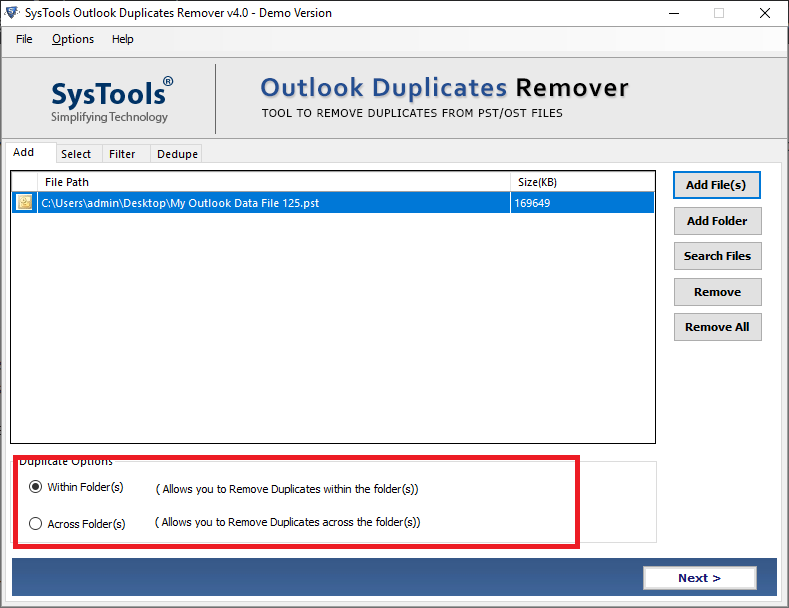 4: Click on the Change button to choose the destination location to save the result in PST/OST/BAK files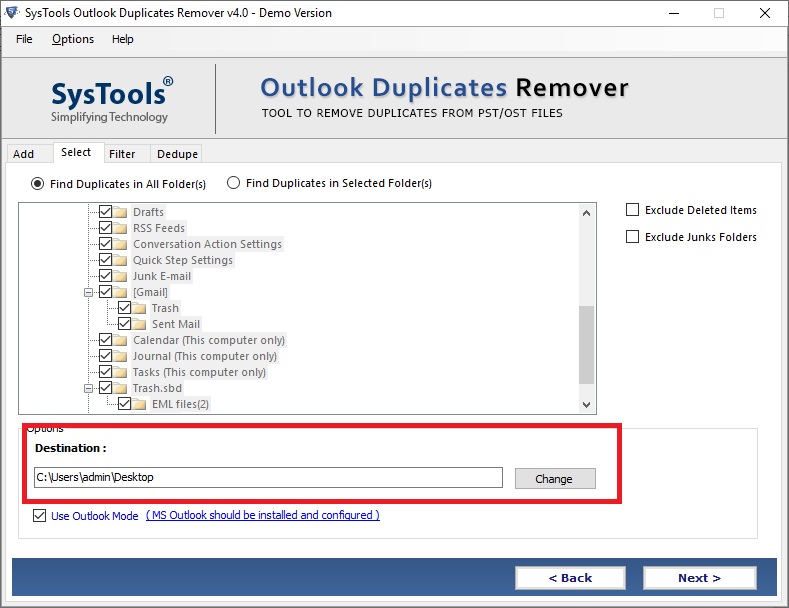 5: Now, choose data items from the Select filter and duplicate criteria option.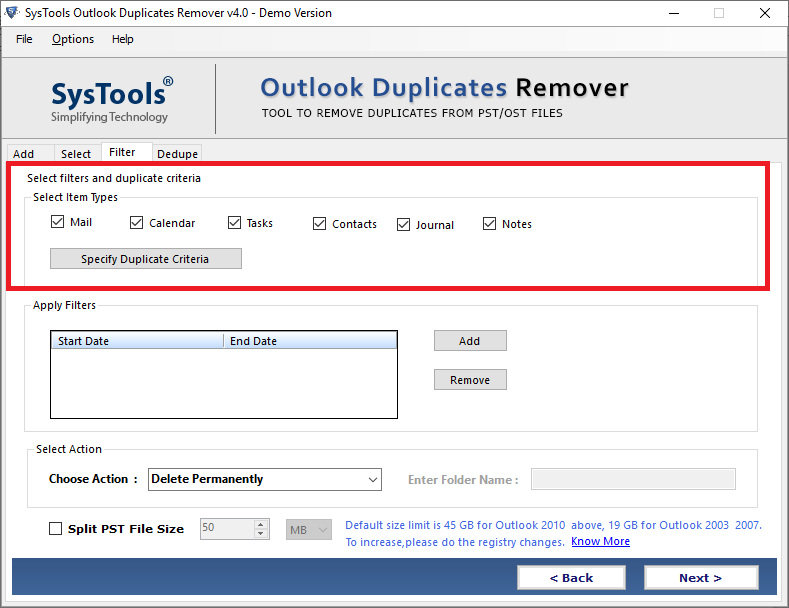 6: After all the settings, click on the Next button to start the process of deleting redundant items in Outlook.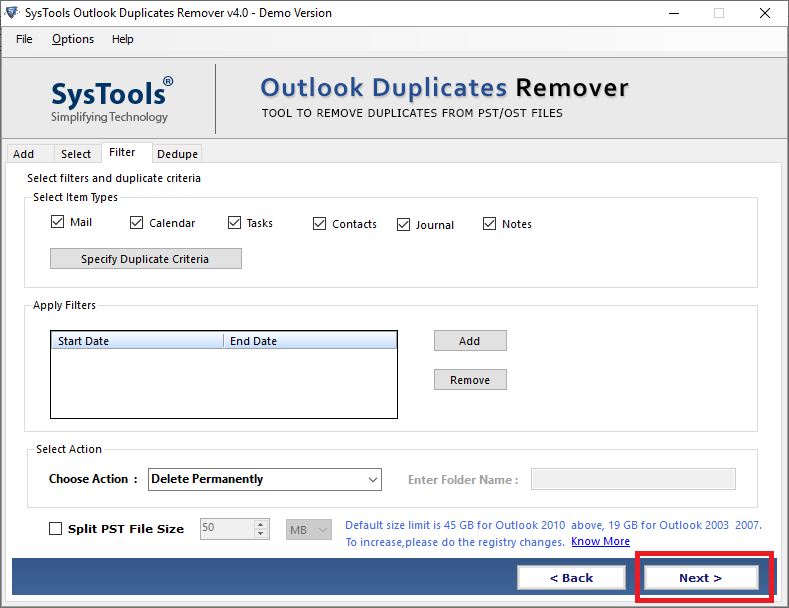 Read If you want to know: How to Delete Duplicate Emails from Outlook Backup files?
Final Words
Duplicate items are very frustrating for those who work on Outlook on a daily basis. Once the duplicate is created in the Outlook mailbox, then it is very hard to remove it. Thus, to make this task easier, in the above article we have discussed the best possible methods on how to prevent and remove duplicate items from Microsoft Outlook without any data loss.